11 VR Marketing Campaigns that prove you are already late!
VR is no more a technology only for gamers. It has captured the imagination of content creators from movie-makers to advertising agencies.
VR provides an up-close, interactive, personal and potentially impactful experience to viewers. VR video viewers wear a VR headset that has controls to facilitate an immersive and interactive experience. VR videos place the viewer at the center of an experience. They would not be able to feel the product, service or place, but through reality emulation, the viewer virtually experiences them.
A few unique VR experiences are: VR boxing matches, a virtual tour of Buckingham Palace and VR roller coaster rides from Alton Towers Theme Park.
The launch of Samsung VR Gear headset, the proliferation of Google cardboard and cheaper imitation versions, is helping VR go mainstream. With Facebook's Oculus Rift, Sony Playstation VR, HTC's Vive, and Mattel updating its classic View-Master toy, the VR hardware market is getting quite exciting too.
In this post, we have listed 11 instances where corporate brands used VR to influence their audience effectively and make an impact.
1.

ABC Tests VR Ads by Weaving Lexus into 'Quantico':

During the screening of ABC Studios' Quantico serial, a promotional banner appeared at the bottom of the TV screen suggesting viewers to take a look at www.QuanticoVR.com. Once inside the website, viewers assume the role of a new recruit on a mission with Quantico characters Shelby Wyatt (played by Johanna Braddy) and Caleb Haas (played by Graham Rogers) as they track down a target. All of this is done with the assistance of a Lexus LX 570 flagship SUV.

Since the launch of the campaign, these Virtual Reality ads have racked up more than 2.2 million views on Facebook and almost a half-million on YouTube.
2.

Carnival Corp. cruise liner provides a preview of their tours through VR videos:

Carnival Corp has created its own Virtual Reality content to show in a demo at AT&T stores in many states. AT&T store visitors can walk up to the Gear VR demo, put on the headset and get instantly surrounded by the sights and sounds of a warm & sunny cruise vacation. Viewers will see scenes from Holland America Line, Princess Cruises and Carnival Cruise Line. They also get to experience visuals of sunny beaches and other excursion offerings in Spain, Mexico etc.
3.

Samsung markets its VR sets to help millennials overcome their fears with realistic simulations:

A total of 27 participants were invited by Samsung from around the globe for a four week VR training program. The aim of the training program was to help the participants combat and overcome their biggest fears in life like walking on the roof of a skyscraper, jumping out of an airplane or speaking in front of a packed lecture hall. By using Samsung Gear VR, the minds of participants were tricked into thinking that they were really on the roof of a skyscraper. With VR technology and constant practice for four consecutive weeks, participants with acrophobia (fear of heights) got better at dealing with the real thing.
4.

McDonald's Sweden had kids turn Happy Meal boxes into virtual-reality viewers:

About 3,500 of happy meal VR boxes (Happy Goggles) were made available at 14 restaurants during "Sportlov" annual recreational Swedish family skiing holiday. McDonald's created a ski-themed Virtual Realit game, "Slope Stars," for use with the goggles. To turn the iconic red boxes into Happy Goggles, kids had to tear along perforated lines and fold, insert the VR lenses (included) and a smartphone (bring your own). The boxes were priced at $4.10.
5.

Marriott Hotels launches VR Postcards allowing its guests to experience "holistic and experiential" 3-D videos of exotic locales in Chile, Rwanda and Beijing:

How does this work? Marriott's guests request a Samsung VR headset and accompanying headphones. The set is available on loan for up to 24-hours. The devices come pre-loaded with videos that Marriott calls VR Postcards. The first three VR Postcards were shot in the Andes Mountains in Chile, an ice cream shop in Rwanda and the streets of Beijing. These offer intimate and immersive travel stories that users experience in 360-degree 3D. Each story follows a real traveler on a journey to a unique destination. Viewers are immersed in the destination and hear the traveler's personal stories about why travel is important to him. Samsung VR postcards are also available to the general public via Samsung Milk VR premium video service, accessed via the Samsung Gear VR headset.
6.

The New York Times distributes Google Cardboard for free to 1 million of its print subscribers:

In so doing, it opened an easily accessible window into what Virtual Reality can be for both content companies and marketers. Through the NYT VR channel, viewers can (virtually) stand alongside mourners in Paris after the terrorist attacks, attend a presidential campaign event in Iowa, or visit a refugee camp in South Sudan during a food drop. Content is added to the channel as it becomes available and stays there. NYT VR also has paying advertisers on this platform; TAG Heuer, Mini, and General Electric are a few among them.
7.

Best Western allows customers to preview rooms,lobbies and amenities through VR in more than 2,200 locations:

Best Western is collaborating with Google Street View to collect approximately 1.7 million photos of its North American hotels. By integrating Google's street view technology with custom music and narration, Best western has created a way for potential customers to experience what they will be paying for. This has been termed as the Best Western Virtual Reality Experience (BWVRE). Best western has plans to implement this unique previewing experience in all its branded hotels by summer of 2016.
8.

Hiking boot brand Merrell's VR initiative allows viewers to feel as though they're walking over a rickety bridge in the mountains:

Merrell TrailScape is an immersive journey that had viewers feeling like they were walking on a crumbling ledge and over a treacherous wooden bridge high in the mountains. The experience, which Merrell says was the first commercial use of "walk around" virtual reality.
9.

Lexus uses VR to let prospective customers experience its Lexus NX luxury compact crossover:

Using Rewind's VR Car Configurator and Simulator for the Oculus Rift DK2 headset, a viewer can fully configure a Lexus NX luxury compact crossover to their own specification and then take it on a test drive. This is a full-fledged immersive brand experience created using the latest CGI VR reality technology which immerses the viewer in a virtual world.
10.

Red Bull uses VR to bring its customers a fully immersive flying experience:

Red Bull provides Virtual reality enthusiasts an ultimate interactive flight experience through Oculus Rift headset. Viewers sit directly in the pilot's chair and experience the blistering pace and quick turns of an Air Racer. The experience is fully developed into a marketing stand, suitable for deployment at key events around the world. Viewers enjoy a lap of the Ascot racecourse in full stereoscopic 3D.
11.

UNICEF created an 8-minute 360-degree film called 'Clouds over Sidra' to draw attention to the Syrian refugee crisis:

The film focuses on the life of a 12-year-old girl living in a refugee camp in the Jordanian desert. By giving viewers a more realistic ground level picture of their sufferings, UNICEF made people understand the real adversity that humanity was enduring.

These 11 instances are just examples of how brands have tested the waters with VR Marketing. The real scope of using this medium for marketing is boundless and is only limited by our imagination.
Future of VR Marketing
Adopting Haptic technology allows Virtual reality equipment to impact the body as well as the mind. Haptic or kinesthetic communication recreates the sense of touch by applying forces, vibrations, or motions to the user. For instance, brands may create room-scale simulations where viewers will interact with branded content. It will not just be viewing; it will also be feeling.
Let's look at how VR could revolutionize the way how products and services will be marketed in the near future.
For an Automobile, a car dealer sends out the URL link for a YouTube video to an audience of potential customers. The video provides immersive and interactive features to the viewing audience. The audience that watches the video locate cars parked in a remote location. They choose a particular car using the controls located in the headset. The controls allow them to sit inside the vehicle, start and operate it. The audience gets a 360-degree view of the car's interior. They will even be able to walk around the car. Imagine doing this inspection and probably even a test drive from a remote location. You may be sitting in Kathmandu, Nepal, but would still be able to test drive the latest Maserati sports car parked remotely in a showroom in Southern California.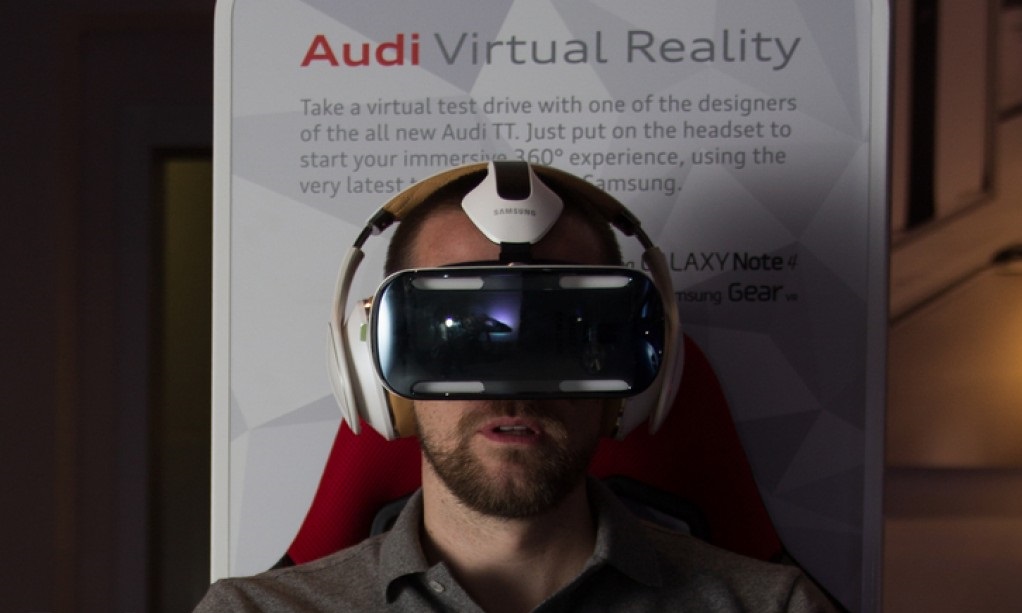 Terminologies used here:
Virtual Reality: Virtual is that which does not exist physically. Reality is that which exists physically. VR is experiencing something that does not exist in a physical world. It implies reality emulation.
Reality Emulation: Imagine a digitally simulated world that portrays the realism and complexity of the real world. Inhabited by lifelike flora and fauna, this world is populated by human-like animated characters that look, move, and behave like natural humans. Creating this world is reality emulation.
VR Marketing: Virtual Reality Marketing is bringing about desired behavioral change in a set of people through reality emulation. The customer who experiences it would be able to immerse themselves into the environment where the product/service/place is located, in a virtual manner. They will be able to interact with the product/service/place and virtually experience it remotely from anywhere in the world.
Enjoyed reading this article? You might also like to read