Eid Special: Launching Animaker in Arabic!
On this beautiful day of Eid, we at Animaker have really BIG & BREAKING news! We have planned a special Eidi for our Arabic user family! 😄 We are thrilled to announce that we are launching a new Animaker website exclusive to the Arab community! Currently, over 100k+ Arabic speaking users use Animaker for their video-making needs. They often use Animaker in Arabic with translation-aiding tools like Google Translate. With that in mind, we wanted to provide our users and over 300 million+ native Arab speakers with a seamless video-making experience. So, here we are! At the launch of
Animaker.ae
! Now, if you're one among the Arab community and wonder what's special with this Arabic release.
Here Are 6 Reasons Why You Will Love Animaker.ae!
1) An All-New Homepage just for Arabic users!
We have optimized the entire experience to suit the needs of an Arabic user. The first exposure that a user has to an application is through the app's homepage. Well, we just revamped the entire homepage to suit your needs. You will no longer have to deal with the rough translations of Google translate or struggle to read text that is not in the ideal RTL format.
In addition, all of the website resources FAQs and Tutorials will now be available in Arabic. So when you dive into the website and explore it deeply, you will find accurate and easy-to-understand content.
2) RTL Text for 2.0 is finally here!
When it comes to entering Arabic text, we know that the struggle is very REAL. Entering Arabic text in a textbox that does not support Right to Left typing could be time-consuming and frankly, frustrating. RTL on Animaker 2.0 has long been in demand. Now, you can now heave a sigh of relief because Animaker fully supports Right to Left typing!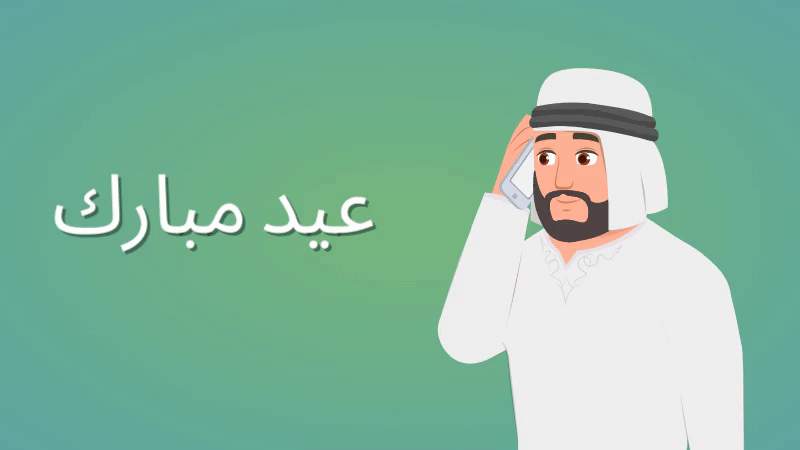 You can enter your Arab text with absolute ease! Want to try typing RTL text? Here's how you do it. 1. Select the textbox you would like to apply RTL. 2. Now from settings, tap on the text direction feature (highlighted in the image) to enter text in RTL.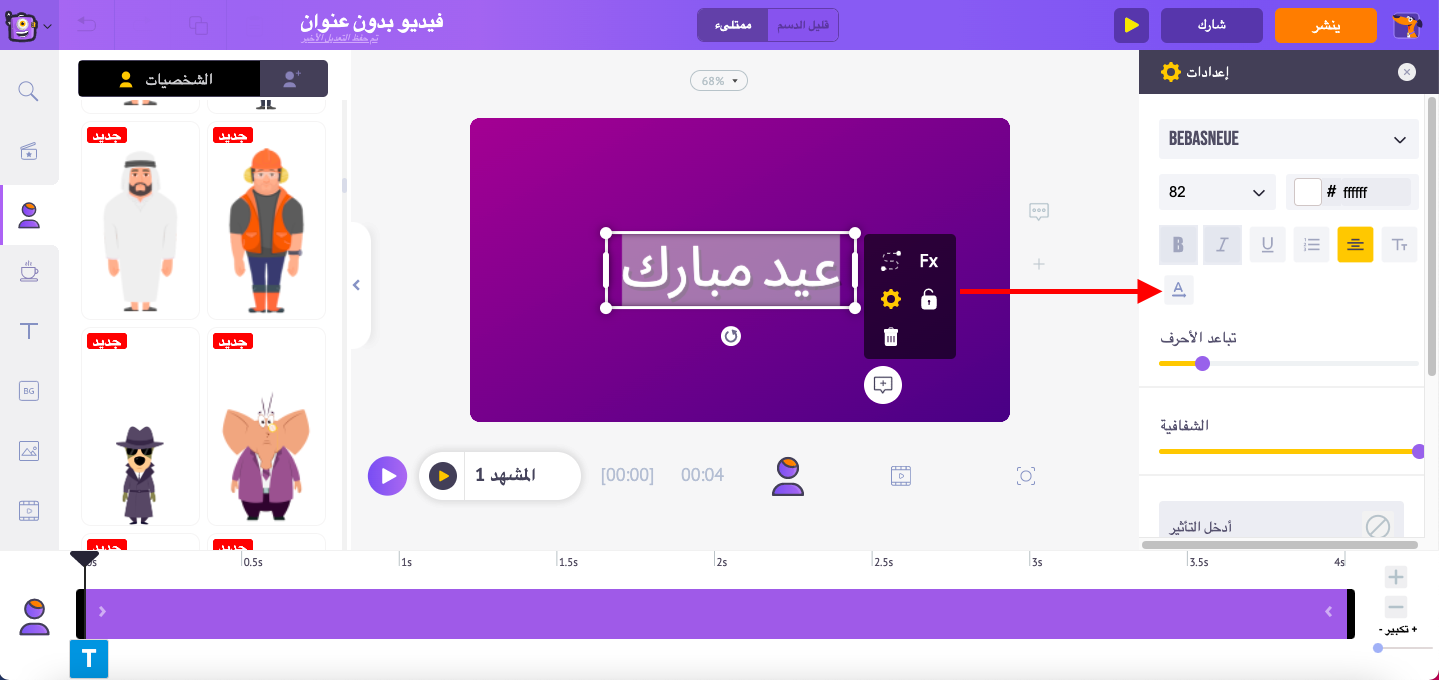 3) Arab Styled Characters & Outfits at your Disposal!
Animaker also powers you with Arab ethnic characters that will help you connect with your audience better! These characters have been carefully designed to reflect the beauty of their ethnicity & culture.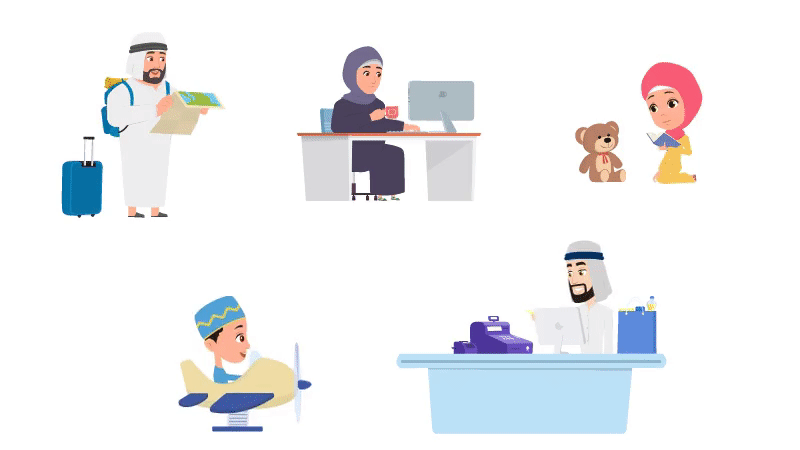 All these characters are just a scroll away in the Character section! And do you know what the best part is? You can add ethnic and cultural outfits to the Custom Characters you create too!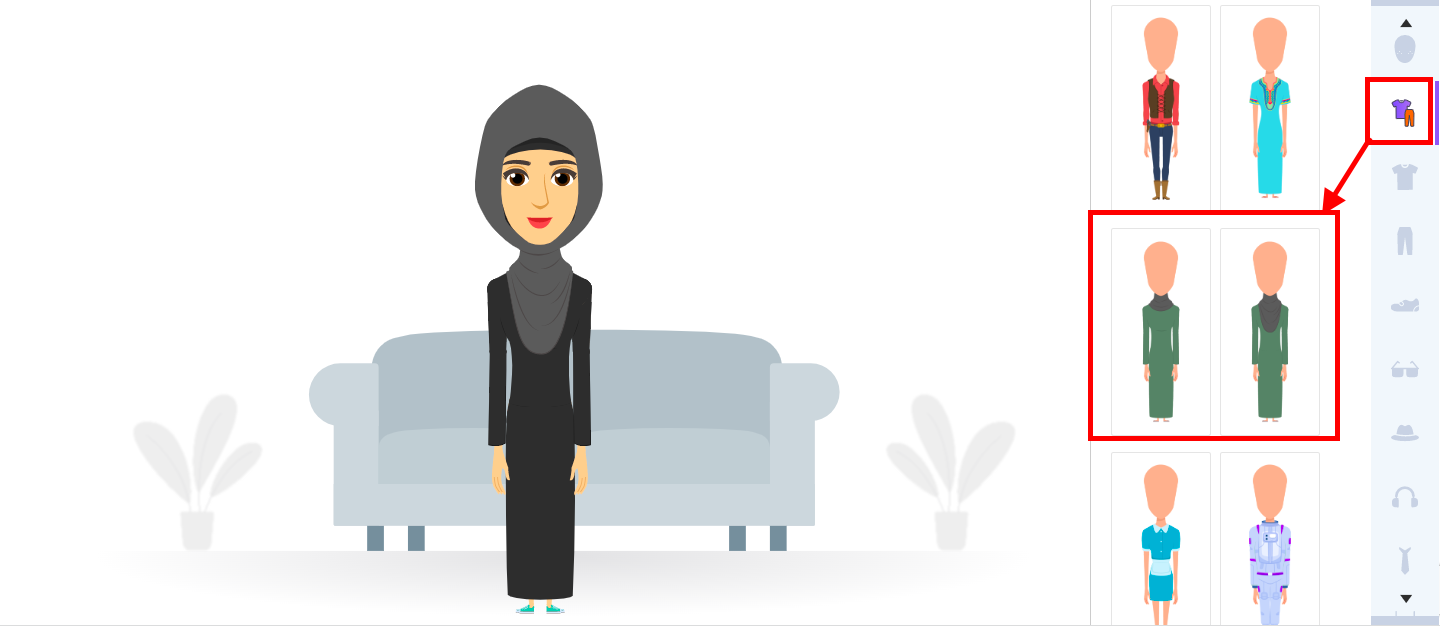 4) Text-To-Speech Voiceovers in Arabic!
You can also now add Arabic voiceovers to the characters you create! Not just as a recording or an audio file but using Animaker's AI-powered TTS solution as well! We have added 4 new Arabic Voices (2 Male, 2 Female) options for you to choose from! Just type in the text you like to add as a voiceover, and you will be blown away by the results. Here's how you can use it too. Step 1: Click on the character you would like to add a voiceover. The item menu will pop up. Choose the Voiceover feature (represented by the microphone icon).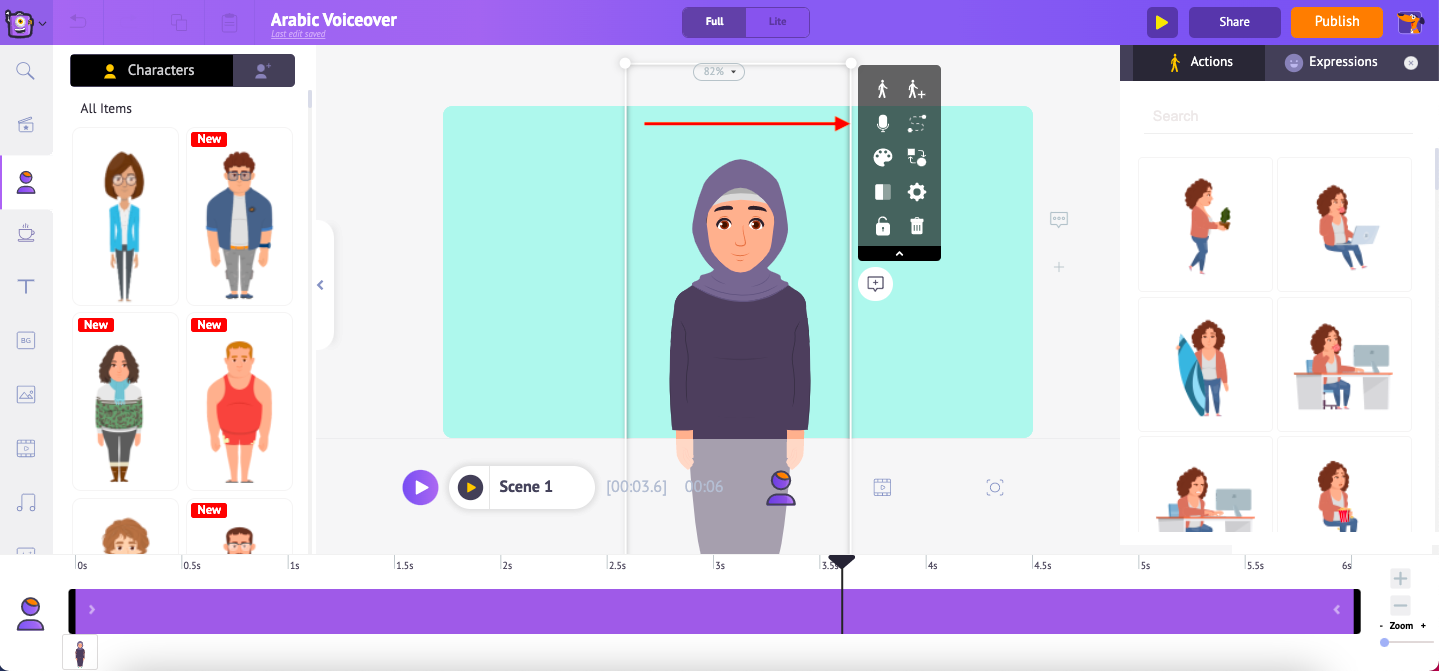 Step 2: Voiceovers can be added to a character in three methods (Recording, Text To Speech, Audio File). Choose the Text To Speech option.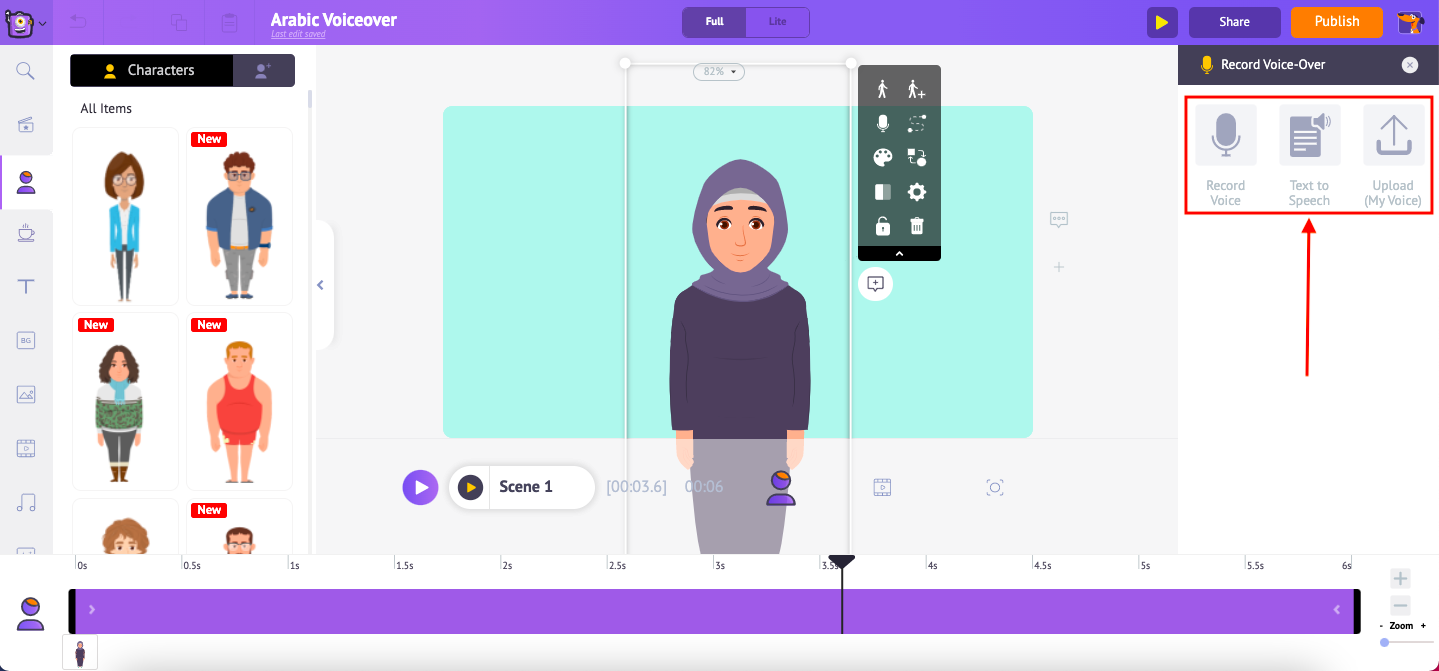 Step 3: After you enter the text, make sure you change the language setting to "Arabic / Arabic (Bulgarian)" to try out the exclusive Arabic voice options.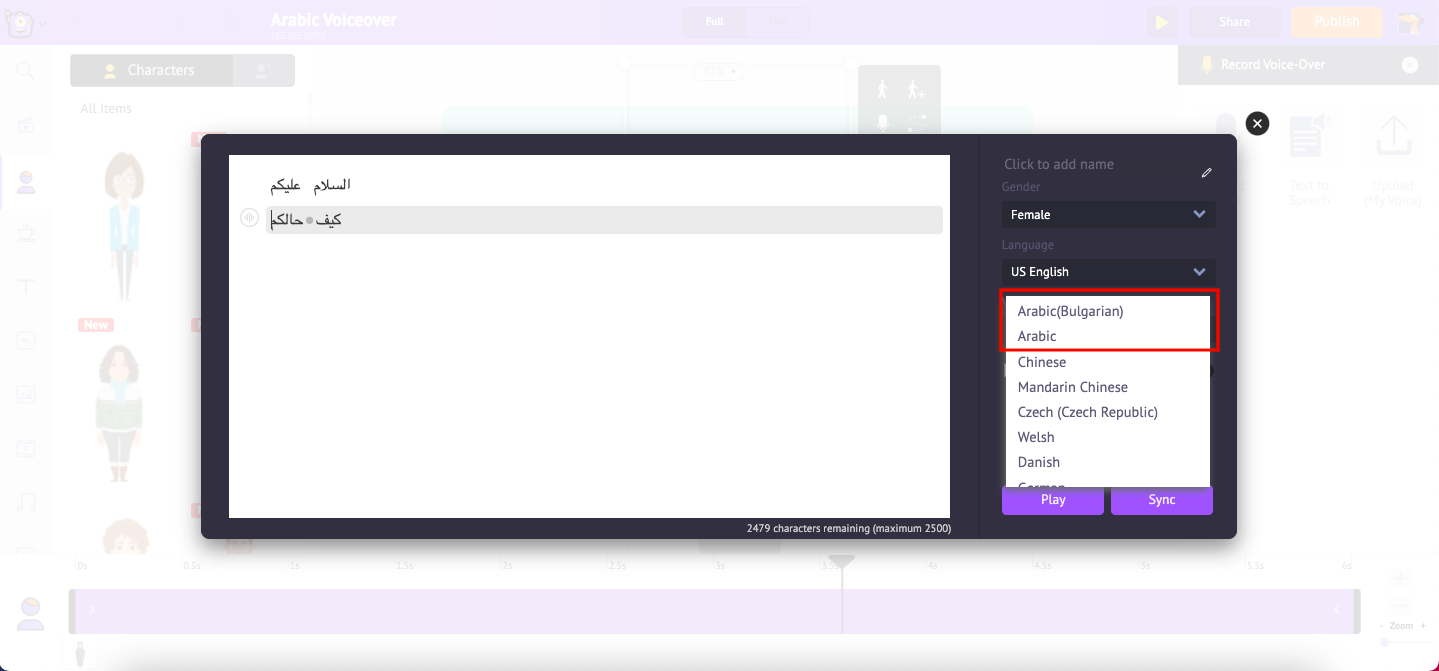 And that's it! Click on play to give it a listen.
Once you're happy, click on "Sync" to add the voiceover to the character. It's that easy!
5) Detail your scenes with Arabic Props & Assets!
Remember the saying, "the beauty lies in the details"? That's why in the Animaker library, you would find 100 million+ assets & 70k+ props to add to your scenes. These include a wide range of traditional and cultural assets & props for the Arabic community as well!
In short, you will simply be spoilt for choices in Animaker!
6) Coming Soon: Library on your right!
To make your experience as users even smoother, we are working on a special update just for our Arab family. The entire application will be flipped and the library and menu will move to the right side. Why? Because nothing will feel more natural than an app that is fully optimized for the Arabic community. So, if you still haven't tried out the newly launched
Animaker.ae
, now would be a perfect time! Jump right in and create videos in the comfort of your native language!