A glimpse into the digital archives: The History of Explainer Videos!
Having a business without an explainer video is like having a website without a proper domain name. Only 12 percent of online businesses do not own an explainer video. And if you belong to this category, you are seriously selling yourself short! Yet, it's only been 6 years since "explainer video" as we know it came into being.
But have you ever wondered where it all began?
We did some research. Coupled it up with a few trips back in time. Here's what see what we found: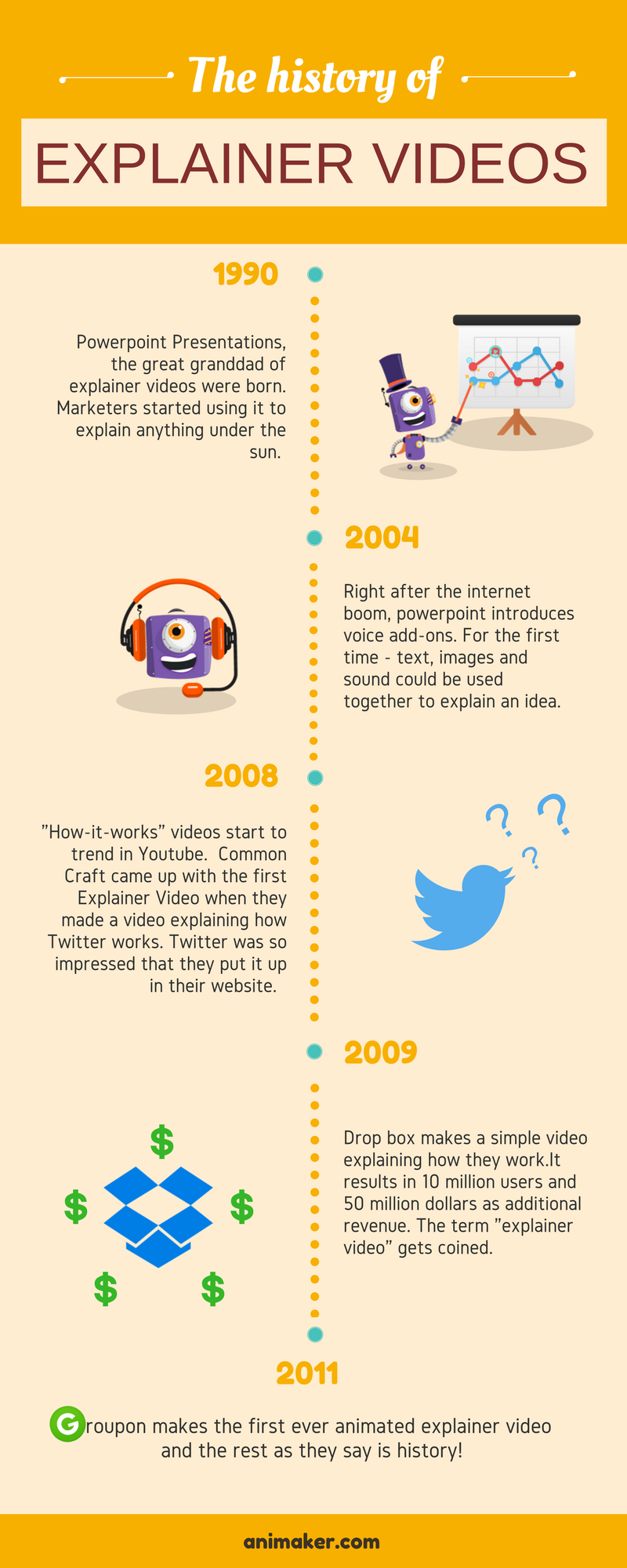 The coming of Explainer videos was a natural progression. Just when PowerPoint was turning out to be the ultimate "explaining" tool, Youtube was launched. People had found a simpler format. They preferred watching a one minute video rather than reading a document. This paved way for many "how-to" and "what-is" videos which explained concepts in a simple manner.
Common Craft was leading the way in making such videos. They hit gold when they made a video explaining how Twitter works. It was so good that Twitter posted it in their homepage!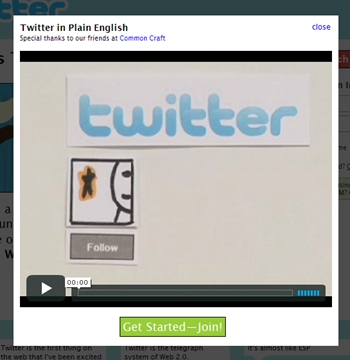 That's right, the first explainer video in the world was a gift! Over 10 million people saw this video. Yet, the term "Explainer video" had not been coined yet. It took another one and a half years.
On Nov 16, 2009, Common Craft helped Dropbox, a small startup to come up with their own explainer video:
It quickly propelled their growth to 10 million users and 50 millions dollars in revenue.
This is the moment in History, when it really shook the world. The term "explainer video" buzzed in every marketers mouth. It wasn't just a small trend anymore, it suddenly became a prerequisite for any business. Just like the internet boom resulted in all companies having a website, the video boom had struck!

Soon, companies like LinkedIN and Quora came up with their own explainer videos. The story obviously doesn't end there. The first animated explainer video was made by Groupon:
It was a perfect kill. The video became viral and acted as the launchpad to make Groupon the billion dollar company it is today. What is interesting is that it took 46 explainer-like videos before we found the clone of our modern day Explainer video (Groupon- How it works).
So has anything changed?
Initially, a video was made by first shooting the video and then dubbing the voice over based on it. But as explainer videos evolved, the whole process changed. Now, every explainer video starts with a strong script. Why?
The emphasis these days has shifted to the "core message" rather than visuals. Marketers have realised that flashy visuals with no story won't add much value to their brand.
The takeaway
So what can we learn from brands like Groupon and Dropbox?
Vision combined with speed is a cocktail for unprecedented growth. Vision - to have the eye to detect trends early on; and speed - to implement before everyone else wakes up to it.
There is one more secret ingredient which can catalyse your efforts: Innovation.
Groupon used animations in explainer videos which was never done before. It became an instant hit. They literally changed the course of how explainer videos would be made from then on. This is exactly what you need to do.
So what could be the future of Animated explainer videos? Is it too late to catch the Explainer video train now?
Not really! The explainer video trend is still very much alive. It's just going to evolve. And you can leverage that!
So here's Animaker's prediction for the future of Explainer videos.
Virtual reality: the future of Explainer Videos
Wall Street Journal had called branded content and virtual reality as the most shiniest objects in Marketing in the year 2016. Facebook's Oculus Rift, Sony Playstation VR, and HTC's Vive are using virtual reality for two things: experience and engagement.
Here is a level-up virtual content video by Oreo that takes the viewers into its chocolaty world.
The main advantage of this video is that there will be many repeat viewers. They'll keep on coming back just to explore things they might've missed the first time.This sort of repeated exposure to a brand and the thrill-factor involved will give returns like never before.
Use VR to give your customers an experience they'll never forget! Big brands have already seen huge returns and greater fandom. Startups and companies have also started eyeing on Virtual reality to introduce their product in a grand way.
Explainer videos in VR is the future.
So what is your prediction? Do you think explainer videos will move in another direction? Do you have any VR ideas that can be implemented in Explainer Videos? Let us know in the comments!