Quora Launches Video Answers - the end of Youtube?
Quora dethroned Yahoo 8 years ago and has been the King of QnA ever since. It doubled its user base from 100 million to 195 million last year. Now they have decided to expand the Quoran Army by taking down the King of videos - Youtube.
Back in May, they started playing with native videos in a closed beta release. Only users in the certain groups like beauty, cooking, fitness, and parenting had access to it.
After months of testing, they have finally rolled it out to Apple users! Pretty soon, Android and desktop users will get the same feature.
So How did Quorans react?
Back when Quora launched the beta version of this feature, they got mixed reactions. While some welcomed it, many were not happy. People like Eric Lauritzen thought that it will spell the end of Quora itself!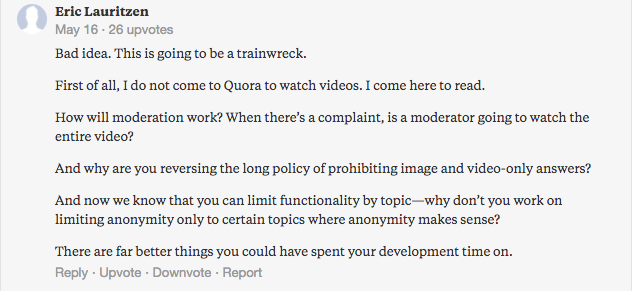 Contrastingly, some were so excited that they wanted to be a part of the beta testing:

While videos are obviously the way forward, it was Quora's turn to provide Answers this time. The Questions were like:
How will Quora keep folks like Eric from deserting the platform?
Will this destroy what Quora originally stood for?
Should they ditch the whole idea of introducing video itself?
Quora answered all this in sublime style!
The Video Tab
They created a new feed exclusively for video answers thereby protecting the original newsfeed. In this way, people who hated the idea of marrying Quora with Videos could just wouldn't be affected. But for the video enthusiasts, you can always indulge in videos by going to the video tab:
Once you click on the Videos Icon, you get to see the questions and answers pertaining only to Videos:
You can answer with videos at the click of a button!
You can either shoot a video or upload it from your library: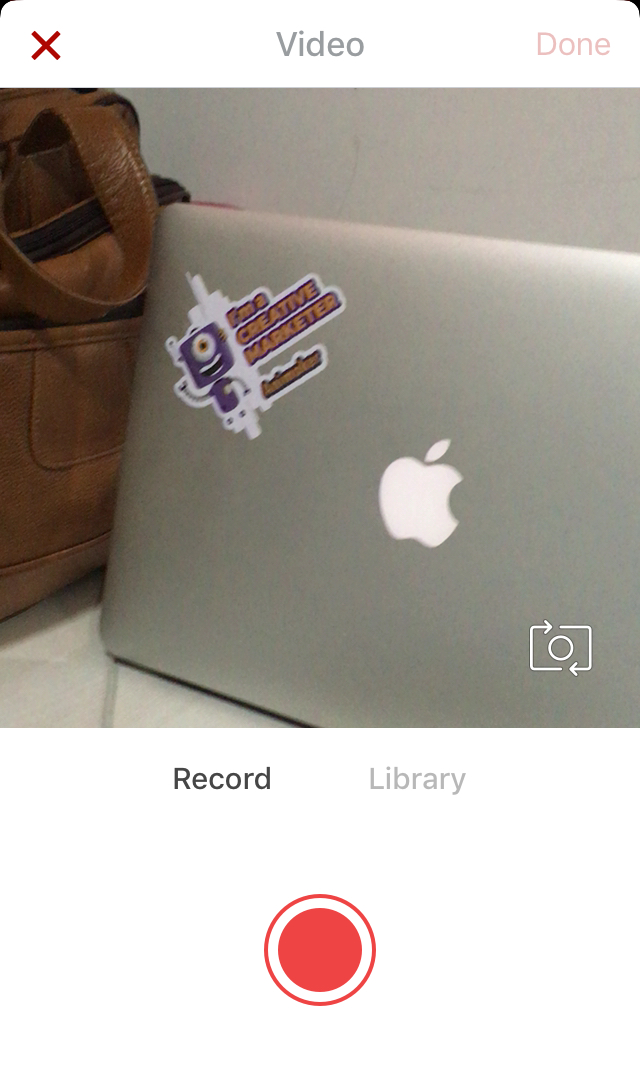 You can upload videos in horizontal, vertical or square format.
Once you are exhausted shooting all those videos, you can even request a video answer: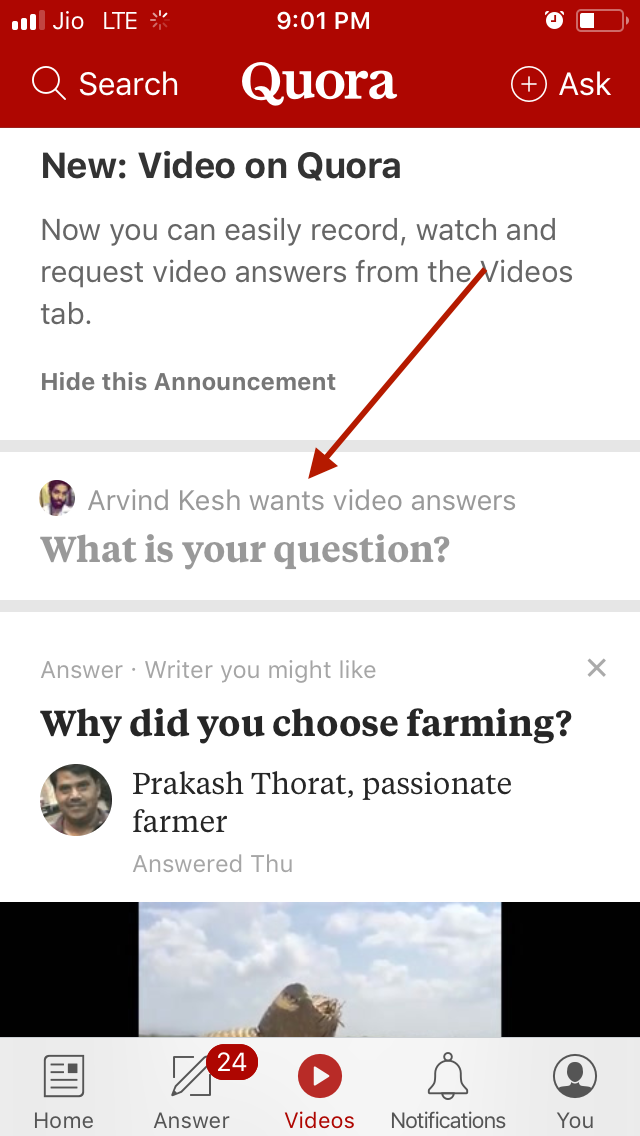 Though questions are segregated into two tabs, Quora doesn't restrict to only video or textual answers for a particular question.
You can give a written answer to questions in the video tab by tapping on the 3 dots at the bottom right corner: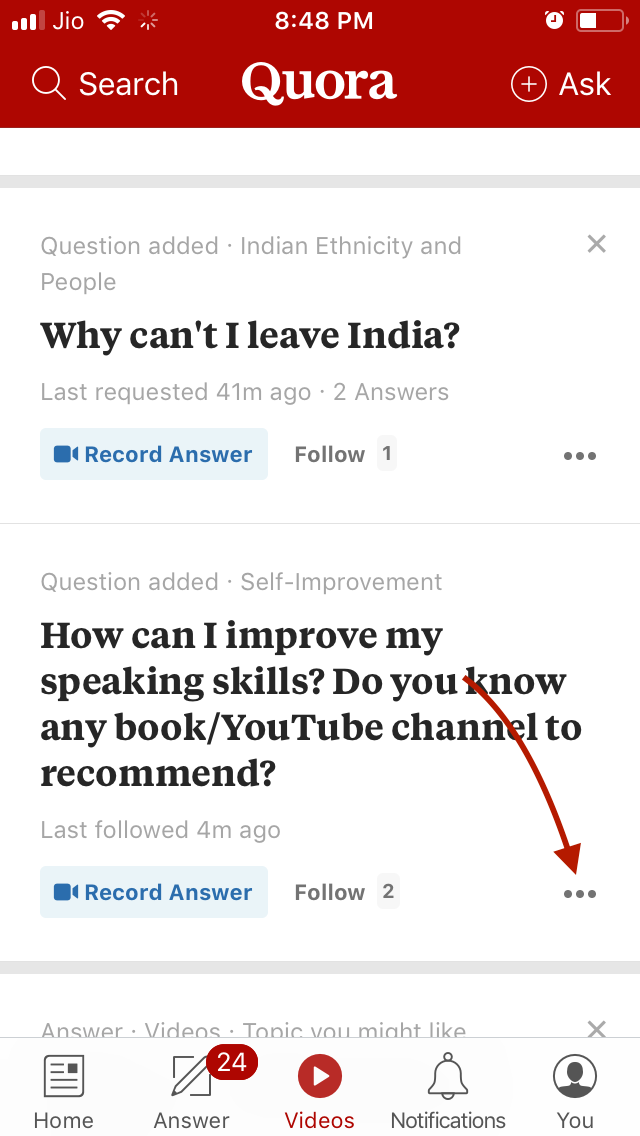 Now you can simply choose to type in your answer.
The same applies to questions in the normal tab. You can give a video answer by clicking on the video icon at the bottom left corner of your draft: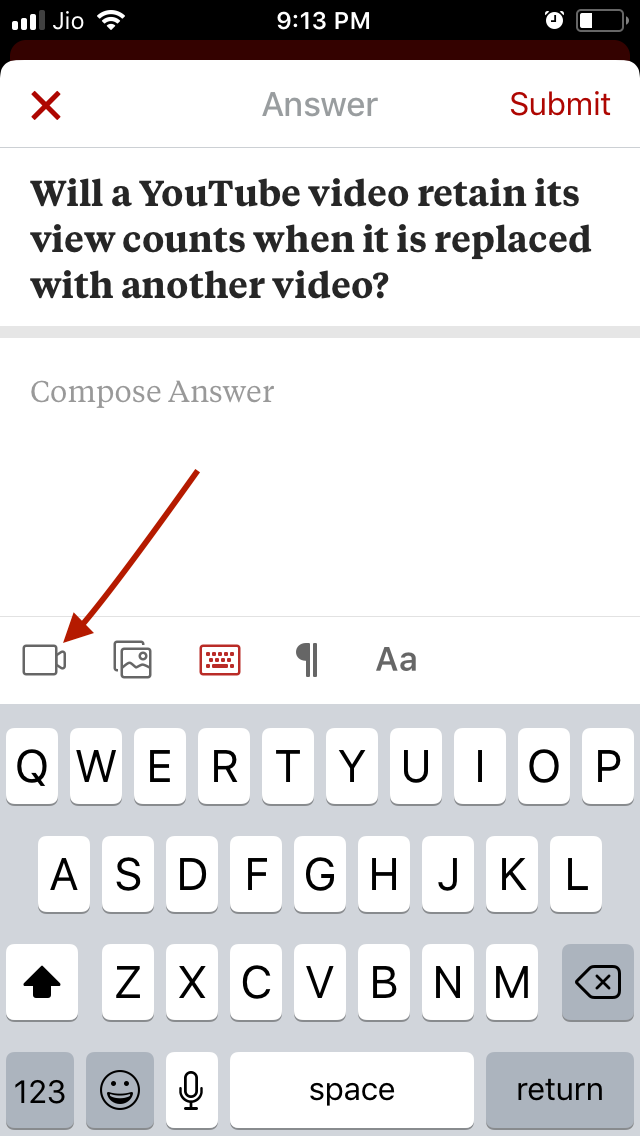 A new wave of Quora Influencers
Quora has always been the go-to platform for writers to express themselves.
With the addition of video, we can now see a new set of Influencers who're good at making videos.
This will make Quora the first social media platform where two types of content creators will co-exist side by side.
This will be a threat to existing media channels like Youtube.
Quora vs YouTube
Youtube has always been known for tons of "How To" videos. Now, Quora is going to give them some competition head-on.
Quora might even follow Facebook's strategy and kill the possibility of Youtube Videos getting spread within their platform.
Moreover, as Quora videos are directly answering questions posted by real users, it will be more relevant to search results. Also as the answers can be a combination of both text and video, it can easily outclass some Youtube videos and steal some traffic from YouTube.
Conclusion
With Facebook gearing up to take down Youtube with FB watch, this will be in an interesting 3-way battle for us to sit and watch.
So what are your thoughts on Quora Video? All set to become the next Quora Influencer? Leave your thoughts below!