How to escape the Lame Gift Syndrome this Valentine's day?
Love is a beautiful thing. If you have someone special who is like the Yin to your Yang or like the peanut butter to bread or the cream on your coffee, then you might be aware of the fact that Valentine's day is just around the corner!
Now is usually the time when many realize that they still haven't got any gift for their Valentine. Of course, you still have the saving grace of Chocolates, Flowers, or a greeting card. But, those gifts still don't say 'I love you' like a well thought out and personalized gift. You could still gift a box of chocolates and a greeting card like Phil down below. However, instead of excitement and happiness, you might get a reaction which is more of a disappointed shock!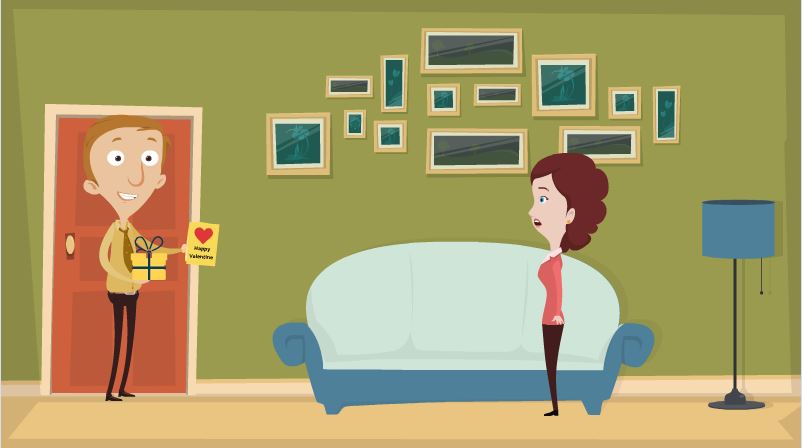 We at Animaker decided to embark on a mission to help you escape the lame gift syndrome.
1. Experiences are greater than any material gift
Men tend to think that women are complicated and difficult to impress. The reality is not so. What women really want is to spend quality time with their better half. Something as simple as a candle light dinner or a visit to the beach can very well convey the deep love you have for them. And if you are a person who thinks ahead and is also loaded, a trip to the World's most romantic city Paris or the Snowy Swiss Alps will give them a time of their life.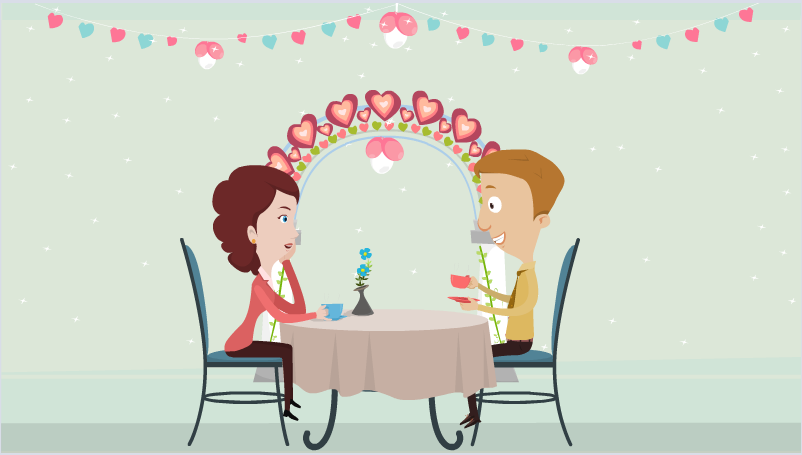 2. Think beyond a last minute greeting card
For starters, when you give your loved one a greeting card, you just giving them words which are written by some stranger. Even when you think you have found the perfect greeting card, you know deep inside that it doesn't perfectly convey what you feel about them. What would be better is a video which is a mix of a photo montage with pictures of you as a couple and the surprise for your loved one.
To help you do that, we have created a fun and easy to edit template which can be used to convey your feelings to your Valentine.
7 Perfect Valentine's Day Templates for your Valentine!
1. Will you be my valentine?
Kick start the journey to your love life by asking him/her the most important question of all time. That's right! "Will you be my Valentine?". Wondering how to ask someone to be your valentine? Well, say it through a video. ;)
2. Thank your Valentine for everything! 
Show that you cherish your valentine and what you have, with a beautiful Thank You video. Say that you are grateful to be together and you have each other no matter what may come. Thank them for every little moment. 
3. Recall how things turned up! 
Go back to the day when you started to realize that you have fallen for your love. Recall every little moment since then, thank them, and appreciate them. Most importantly, tell them how they changed you for the better. 
4. Wish your Foodie Valentine with a Style! 
Is your valentine a foodie? Then be prepared to wish your valentine in a foodie style. Mention the foods that remind you of your valentine and share every little food memory that brought joy to you, in style! ;)
5. Cute Video for A Cute Pear! 
Do you think of yourselves as the cutest pair? If yes, then why not add more cuteness to the lovely day. Make a cute valentine's day video with a cute template. Add pictures and moments that you find cute to make it more memorable. 
6. Love is in the air! 
Feeling loved and at home whenever your love is beside you? Then, tell your valentine this valentine's day that their love for each other is the oxygen to your soul. And that will be all that you'll ever need with a small video. 
7. Special Video for a Special Couple!
Tell your valentine what makes them special on this valentine's day. Be it their laugh, character, or them being supportive, tell them what it is and why you love them so much with a special video. 
If you want to check out more awesome templates, you can do so by visiting our Valentine's day video maker page.
Do you have any other awesome ideas to escape the Lame Gift Syndrome? Please let us know in the comments below.