How to make a book trailer video using Animaker?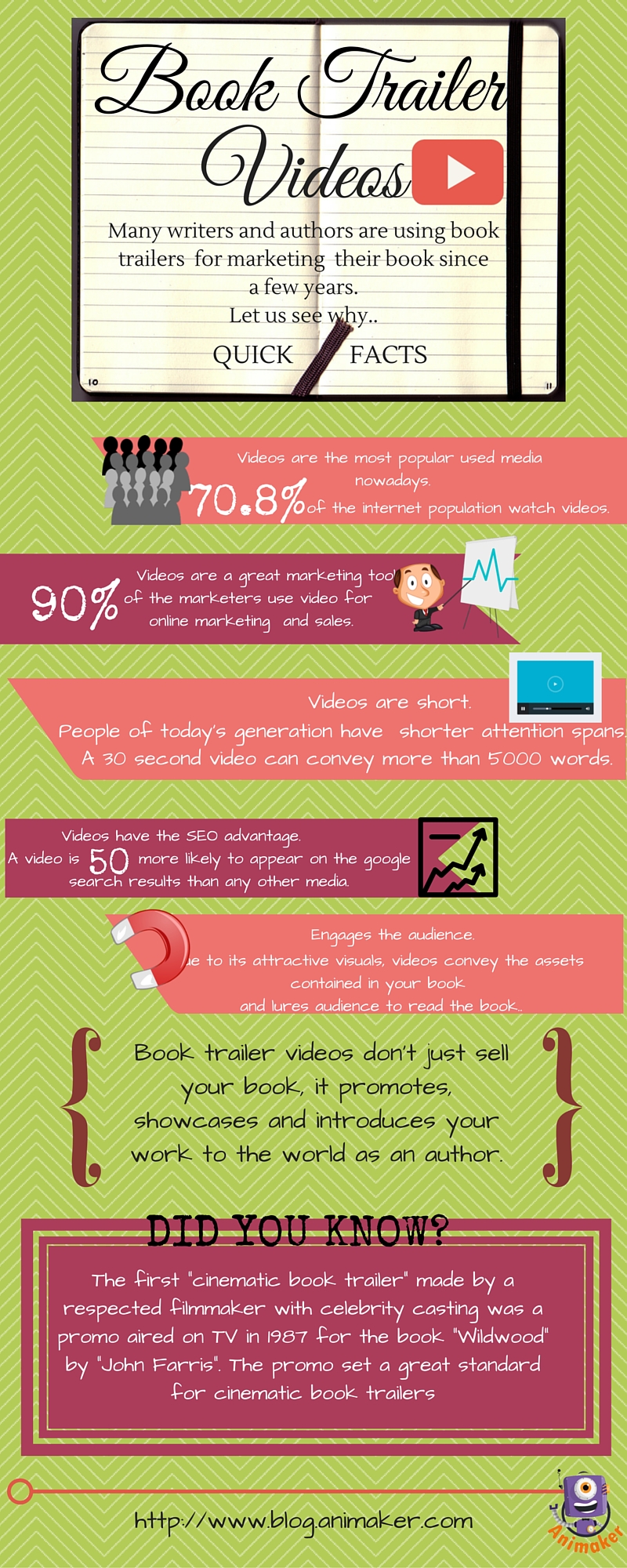 How to make a book trailer video?
A book trailer can serve as a great marketing tool in creating a pre-release anticipation for your book. For authors, writers and publishers, book trailer acts as a promoting medium to reach your book to a larger audience.
Book trailers are easy to make. Using images, music, text, video, and voiceover, a minute-long book trailer can give away just enough about your book to leave viewers excited for more. Especially with animation, you can make it provocative by a combination of attractive visuals, characters and audio.
Here is a book trailer video which is created using Animaker. The book trailer is beautifully illustrated from the cover page to the end exhibiting the story-line and capturing the book's spirit. The captivating visuals and the suspense it creates, lures the audience to read the book.
To make your own fascinating book trailer video, Use this editable book trailer template from Animaker (Click here to edit) and see the response it can create.
Learn how to make your book trailer video using Animaker.
Here are the sequencial steps.
1.

Know the demographics.

Before you start making your book trailer video, you must have an idea of who your viewers are. Knowing your demographics is very important as every class of the viewers have a different taste and understanding. A clear cut idea of your target audience will help to create a tailored book trailer effectively.
2.

Have a rough idea.

Before jumping into the storyboard, you must have a rough plan about the book trailer you are going to make. Keep an idea in mind as to what character, scenes and theme you are going to portray. Decide the logical sequence of your video. Then use the characters from Animaker to give life to the character you have imagined. We have a great collection of characters, backgrounds and effects that adds glitter to your video.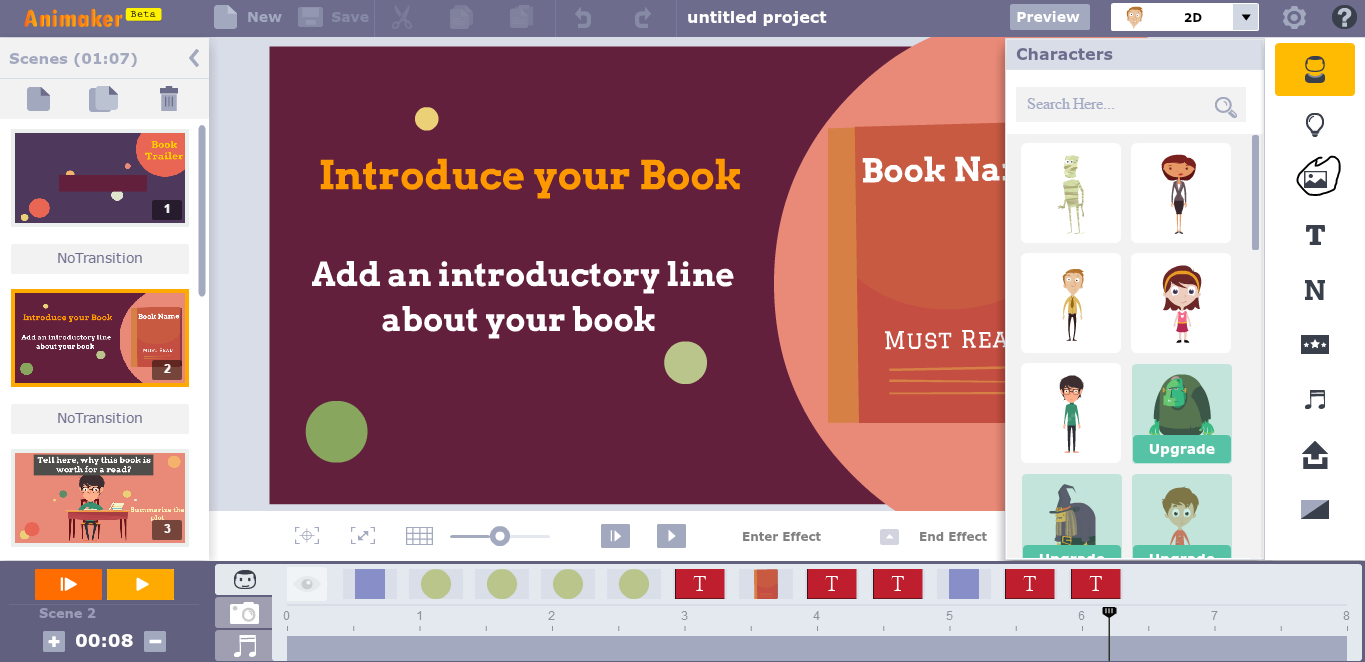 3.

Create your storyboard.

This step is not as hard as you imagined. Basically, it just involves dropping in elements from the panel in your left hand side into your timeline situated below your workspace.

Select your character from the panel.
Add required background to it.
Give your character a property or a action.
Adjust your timeline elements for a finish.

If you have not got an idea about what I am saying,

use this tutorial

for an easy start. It is as easy as it seems.
4.

Add soundtrack.

There are two components of a soundtrack .One is the dialogue and another is the music. Nothing is alive without music. Music adds an emotion to your video. Select an appropriate sound track that defines your video. When the video and the music is played together, you must feel the emotion stirred in your video. In Animaker, we have numerous soundtracks that will suit as an sfx or a bgm. If you are not satisfied with the soundtracks, there are a huge number of stock clips available online. A tailored soundtrack is as important as the video itself.
5.

Your first rough draft edit.

You have now created your book trailer video. Your video must be able to exhibit all the emotions at this stage of time. Test the video all over again and check whether it has reached your expectations.

Share your accomplishment with your friend. Your friend is your first audience.

Take down the feedback, edit it and rectify the mistakes.
6.

Finishing touches.

All that is left is the minor changes in the video. Don't forget to add the
Additional titles.
Your official book Availability information
Testimonials.
7.

Show it to the world.

Its time that you show your book trailer video to the world. Export it to Youtube or the author's website and help the audience reach your book through your book trailer.
Tips for a successful book trailer video.
Making a book trailer is easy, but making it successful involves some important tips and tricks.
Capture the spirit of the book.
Use good quality visuals.
It's not necessary to summarize your book in your trailer.
Proper usage of titles and credits.
The idea behind book trailers.
The idea behind a book trailer video is creative visualization. People are more media oriented nowadays. Gone are those days when people look for book reviews in newspapers. Technology has even surpassed internet revolutions.
Since over a decade, video has tremendously shown its reign. Since a video is capable of conveying more than 30,000 words in a span of 30 to 60 seconds, book trailers are seemingly effective.
Scholastic, a leading U.S publication,education and media company has used book trailers and book talk for kids to advertise their books. They used book talks as reviews in their videos to bring in an impression about the book.
Be it fiction, adventure or education, book trailer videos are an effective way of book advertising.
Book trailers brings in a visibility quotient to the author.
They serve as a creative advertising and builds an impression about the book.
Since video is a sharable medium, it can be "social".
Book trailers can get benefit from SEO.
Marketing your book and letting the people know about your work is as important as the book itself.
Book trailer videos don't just sell your book, it promotes, showcases and introduces your work to the world as an author.
"Don't judge a book by its cover, but it can be judged using a book trailer."Make your book trailer video now and share your experience with us.