How to make an Intro Video online in 4 simple steps!
Intro videos are an integral aspect of any video series. It sets up the tone for what people can expect from you as a brand.
The world always had to rely on either complicated software or template companies for their intros.
The complex software gave them powerful editing capabilities but was super hard to use. Template companies made things so much easier but gave them zero editing options.
Moreover, millions of people would have the same intro video!
When it comes to Animaker, we bring the best of both worlds.
Where to start?
There are two ways to create intro videos using Animaker:
Use a template
Start from scratch
Whatever path you take, you still get all the powerful features. This means that you can even take a template and build on top of it to create an intro video which is truly unique!
How to edit an Intro Video Template
Editing a template is the easiest thing to do. You can create your intro video in less than 5 minutes by following these steps
As soon as you log in. You will find yourself on the dashboard. From there just click on "Get Started" to go to the template section: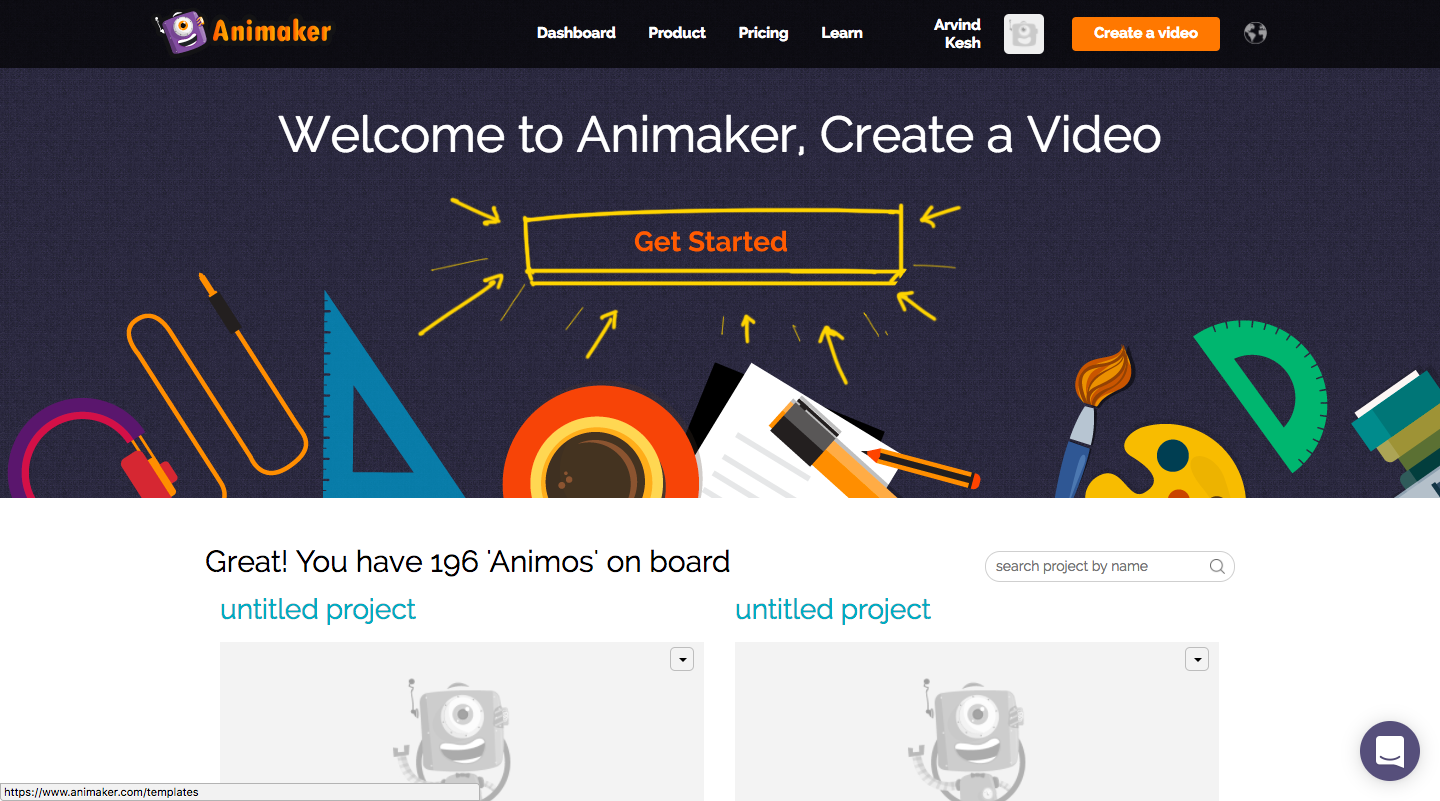 In the template section, choose the 'Intro' category and select the template you want: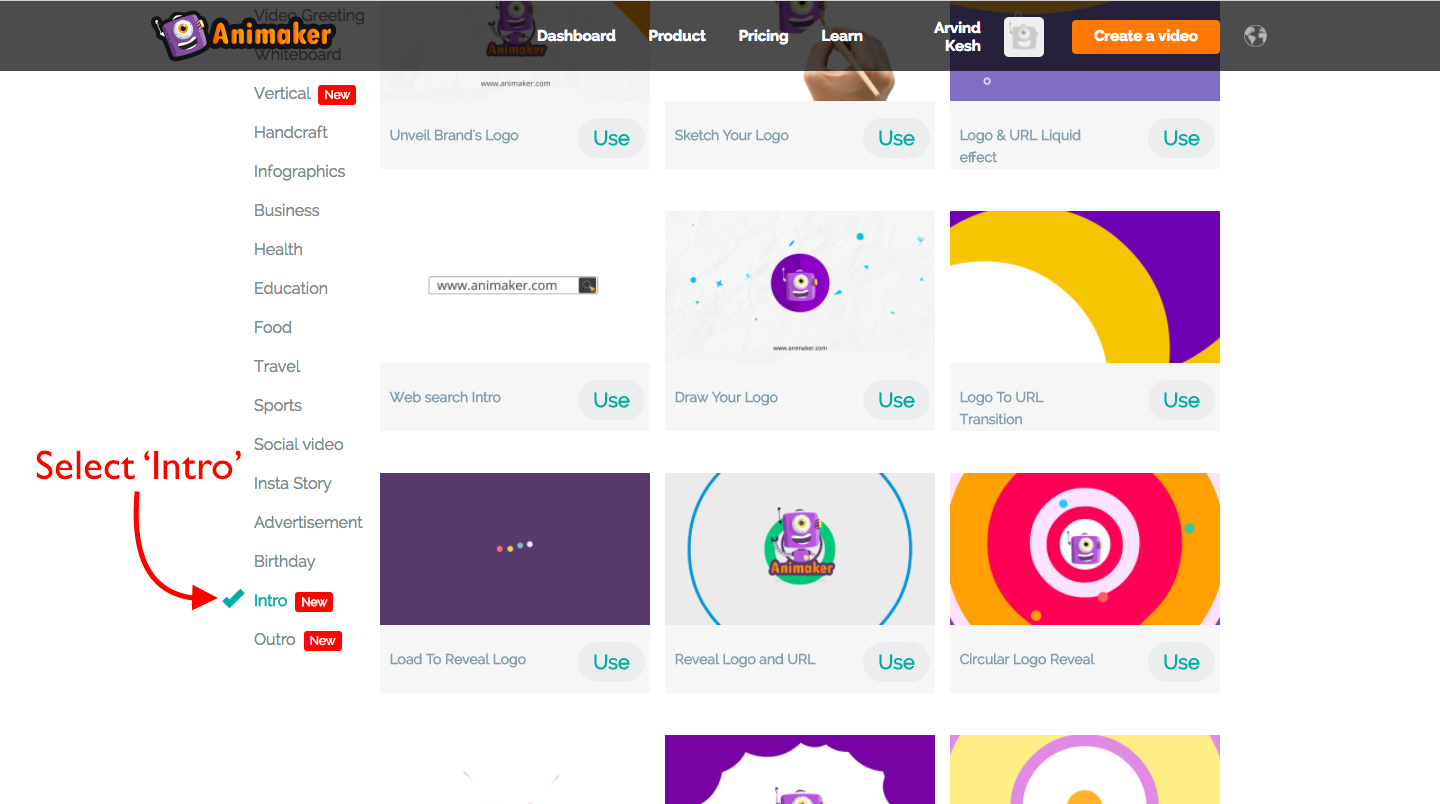 As soon as you choose a template by clicking on 'Use', you will be redirected to the app.
Let's start with the basics
This is what the app looks like: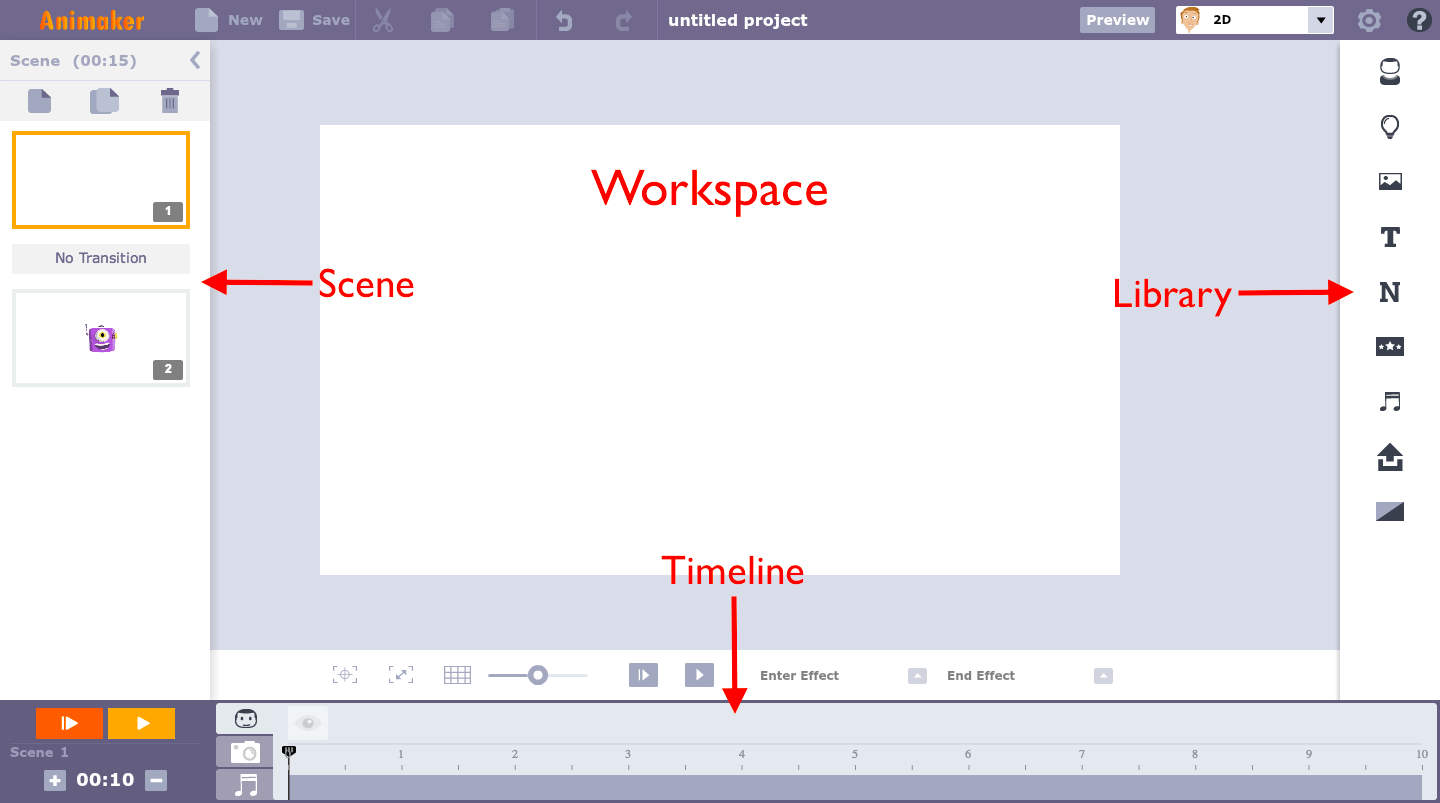 As you can see there are mainly 4 elements:
1. Workspace
It's the whitespace in the middle. This is where you create your intro video.
2. Library
It's the menu to your right. This is where you will find all the animation effects required for your intro video.
3. Scene
It's the menu to your left. This is where you can add multiple scenes to your intro video.
4. Timeline
It's the menu down below. This is where you adjust the timings of the elements used in your intro video.
STEP 1: Insert your logo into the template
Being an intro video, your logo is always the most important aspect!
In all the templates, we have used different versions of the Animaker Logo. You can swap it with your own logo.
To do this just follow these steps:
1: Go to the Uploads section in the library and upload your logo: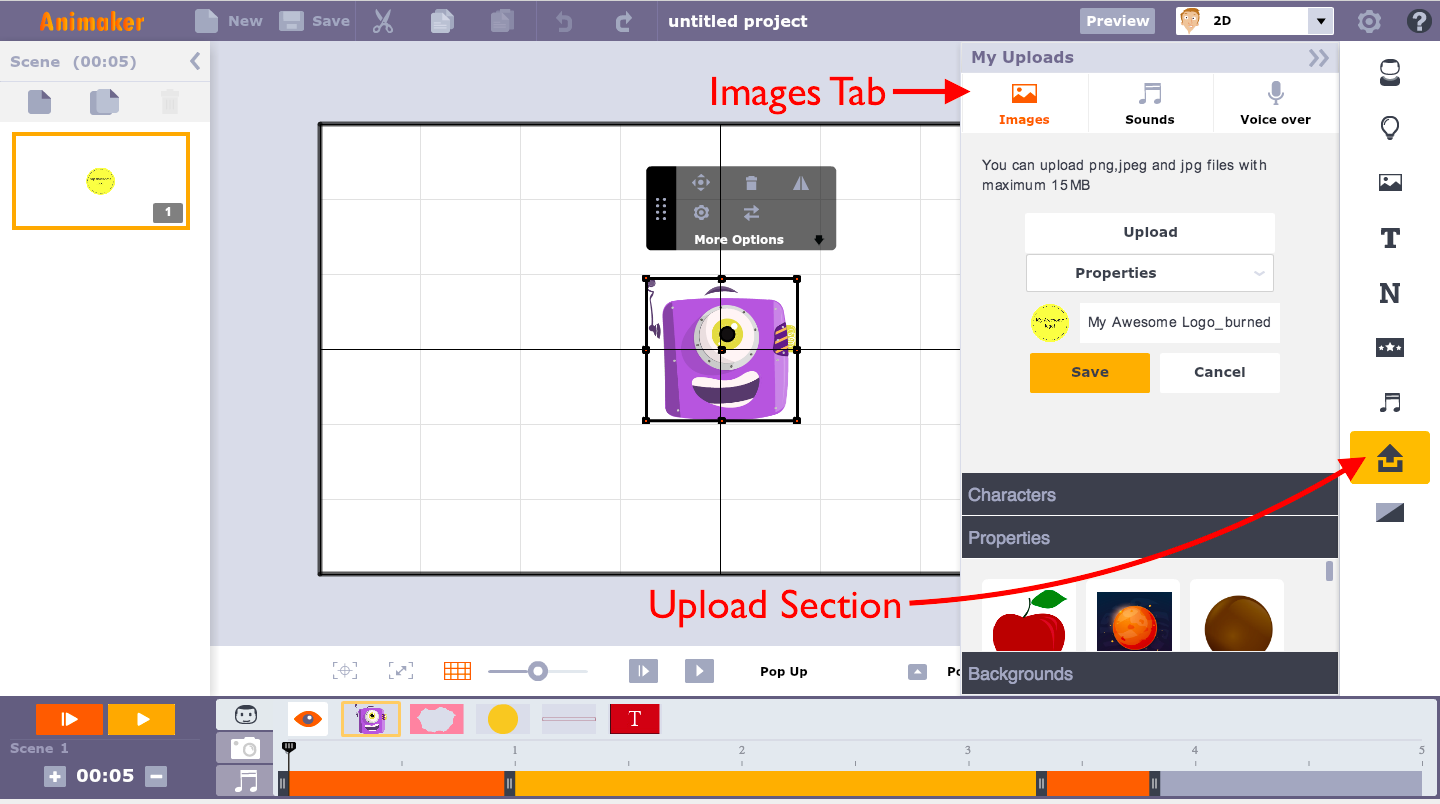 Make sure it is in the Images tab. Select your logo file from its source local location. Give image type as "Properties" and click on Save! Make sure your logo has a transparent background.
2: Click on the swap icon from the item menu!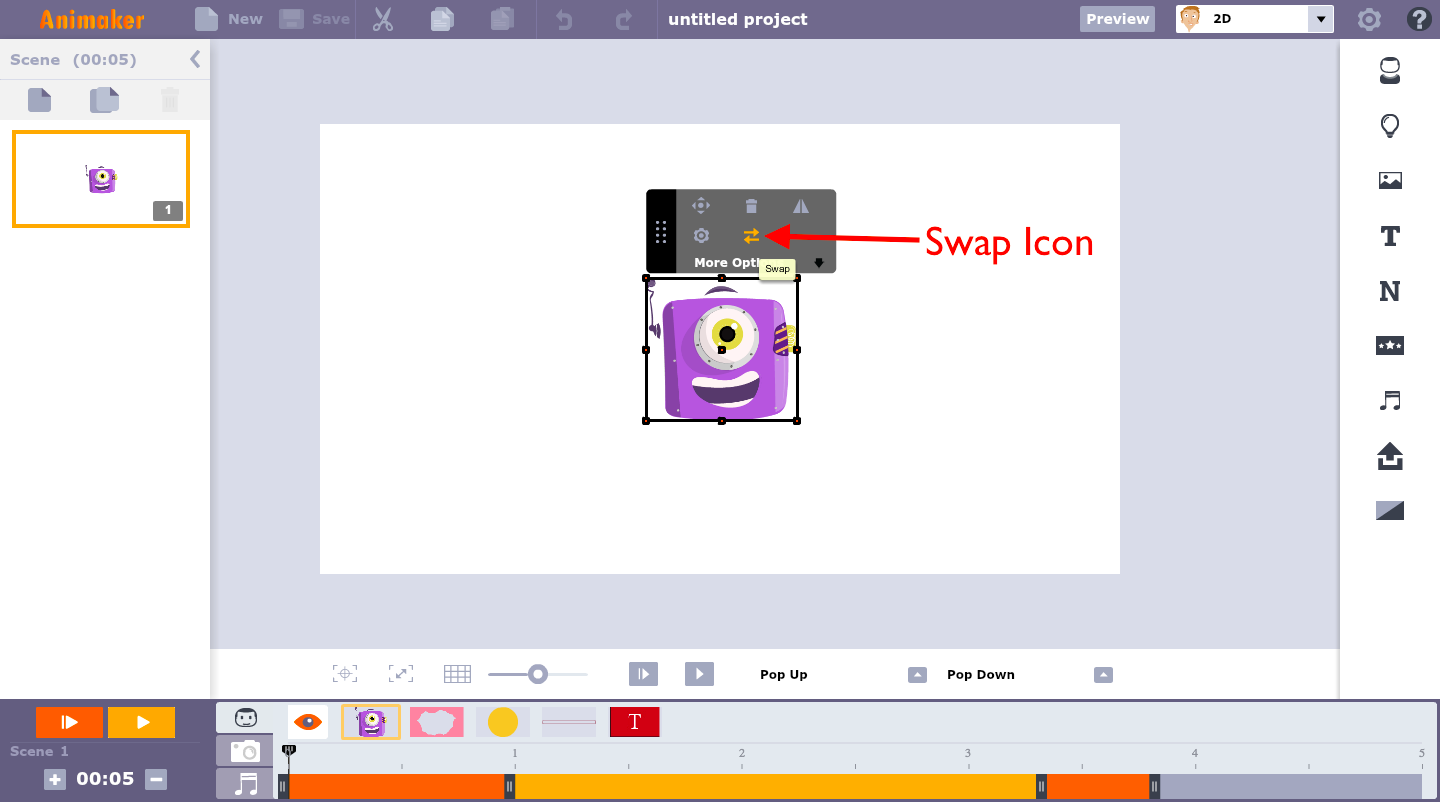 The item menu gets revealed when you click on the logo.
3: Choose your logo from the upload section: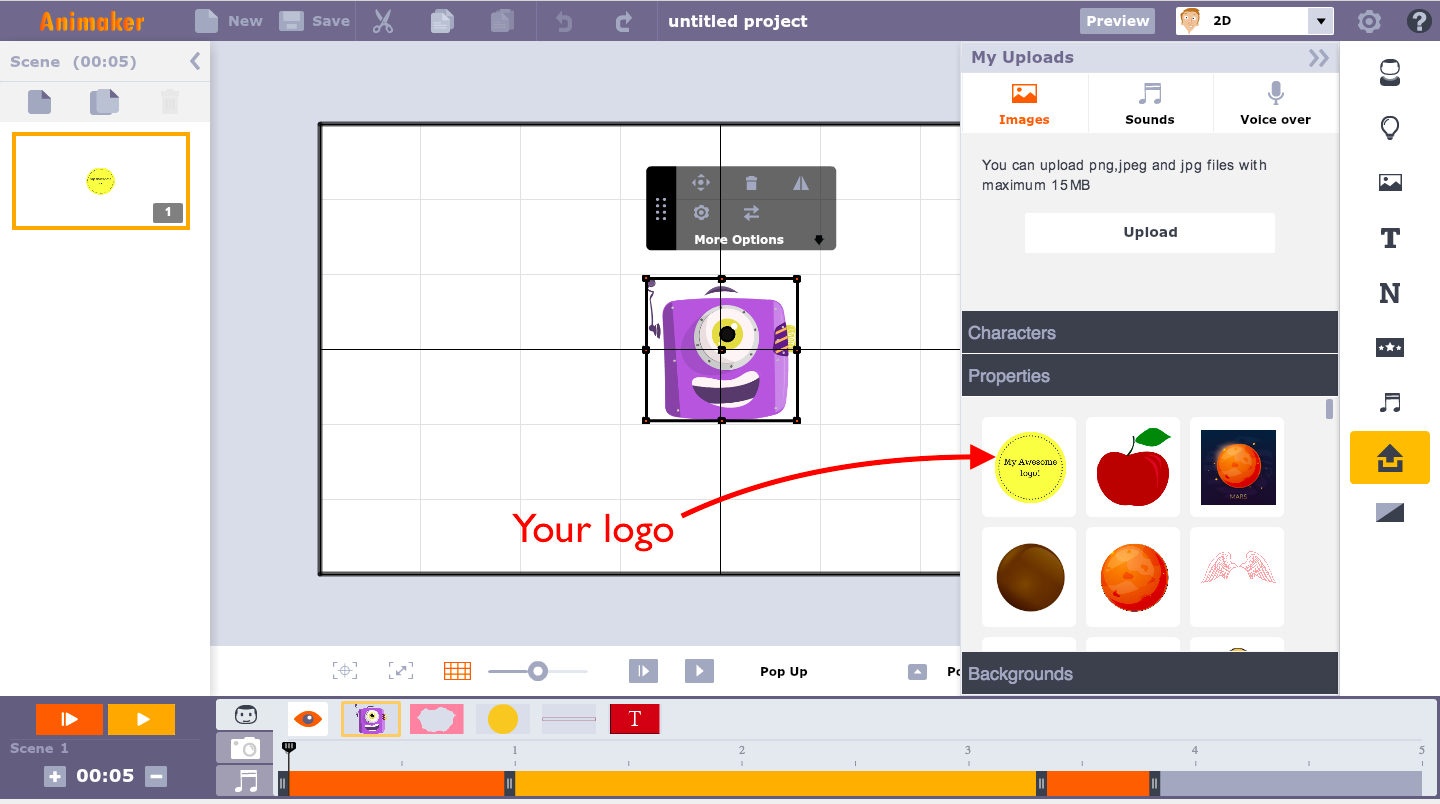 4: Align your logo using the Grid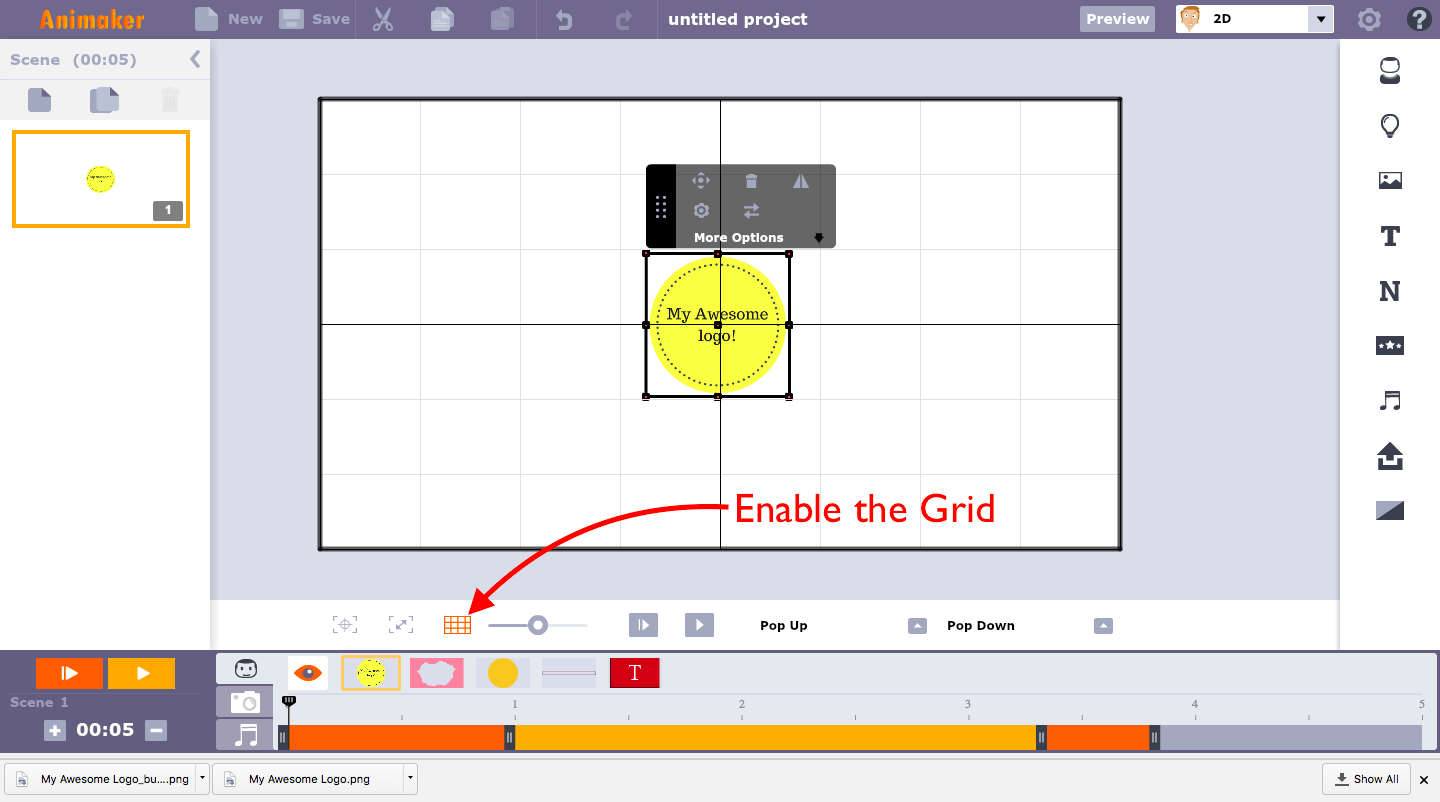 You can easily center the logo with the help of grid!
STEP 2: Choose your brand colors (Using our color picker)
Each template is a combination of Special Effects, Properties and Text.
You will find them all on the timeline.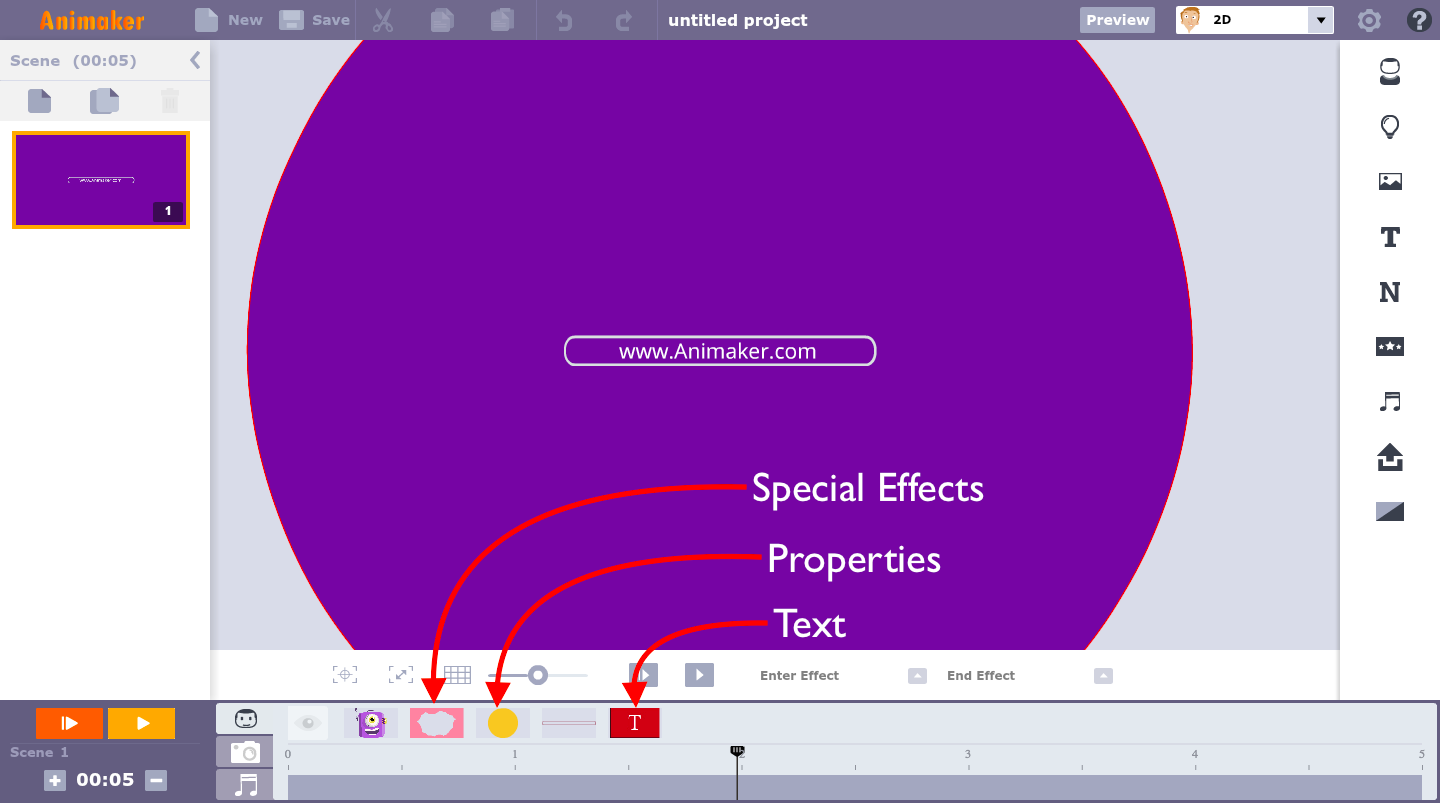 You can change the color of them all by:
Clicking on the respective icon on the timeline
Enabling Properties window from the Item Menu that pops up
Changing color
The flow is the same for all animation elements:
Properties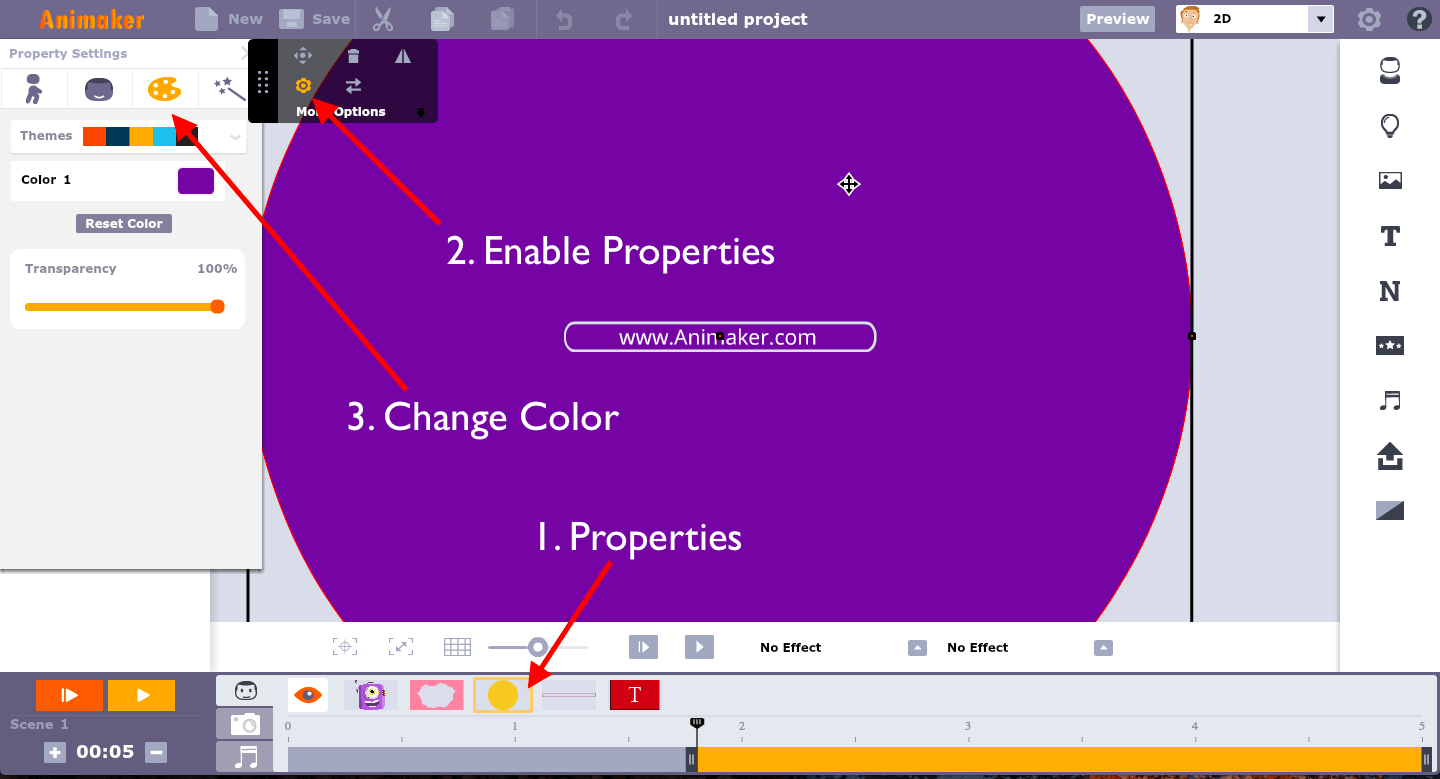 1. Click on the Property you want to edit
2. Enable Properties
3. Select the third tab (Palette icon) and choose the color you want.
Special Effects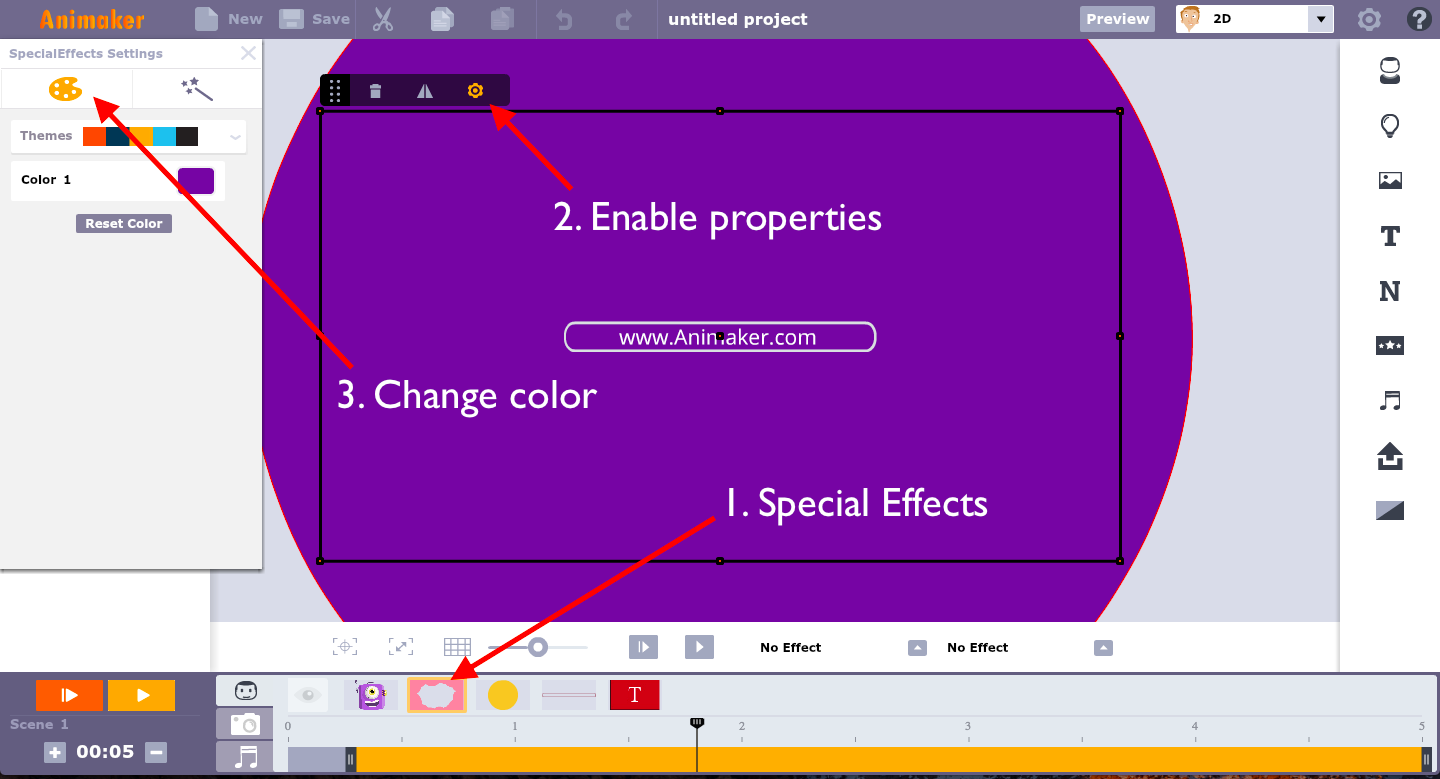 1. Choose the Special Effect you want to edit
2. Enable its properties
3. Select the first tab (Palette icon) and choose the color you want
Text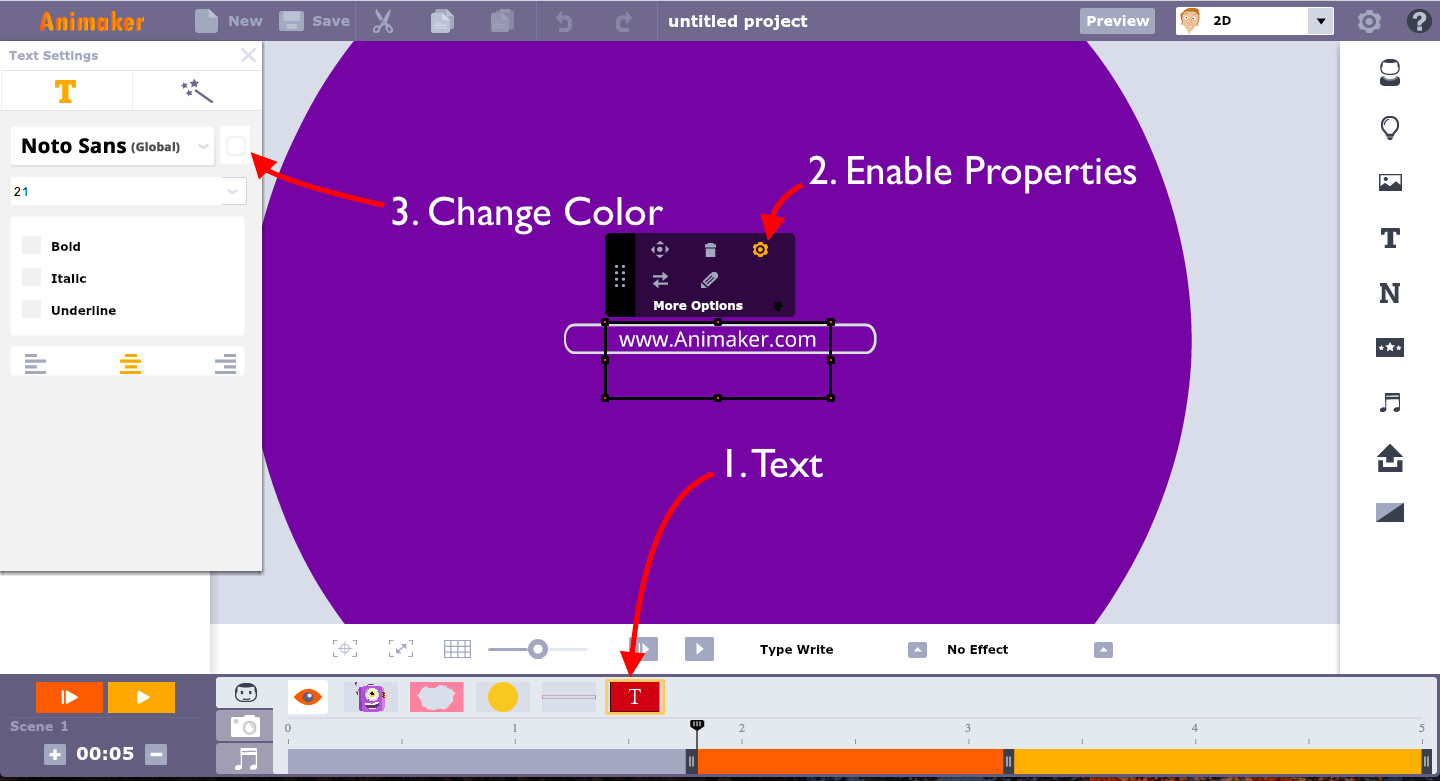 1. Select the Text Icon. It's a red rectangle with 'T' written inside
2. Enable Properties
3. Select the first tab ('T' icon) and change color by clicking the small color pixel
In some templates, you might even have to change the background color. This can be done in the library.
Click on the third icon and choose the Color tab:
For using custom colors, make use of our color picker: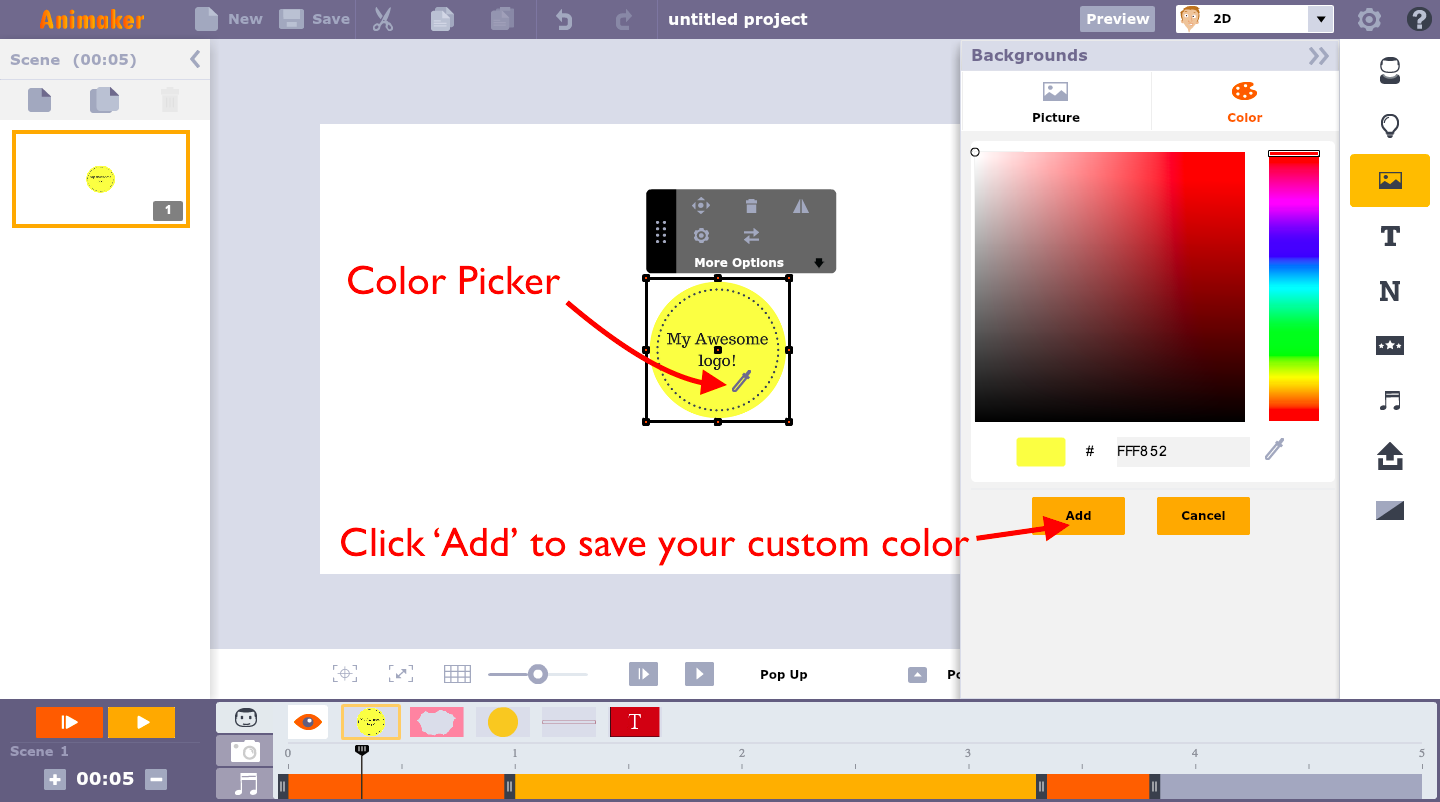 STEP 3: Choose the font you want or even upload a new one!
As a brand, you might have a specific set of fonts that you use universally. You can choose the font you want (upload font option is available for the startup and business users)
Here's how you can do that: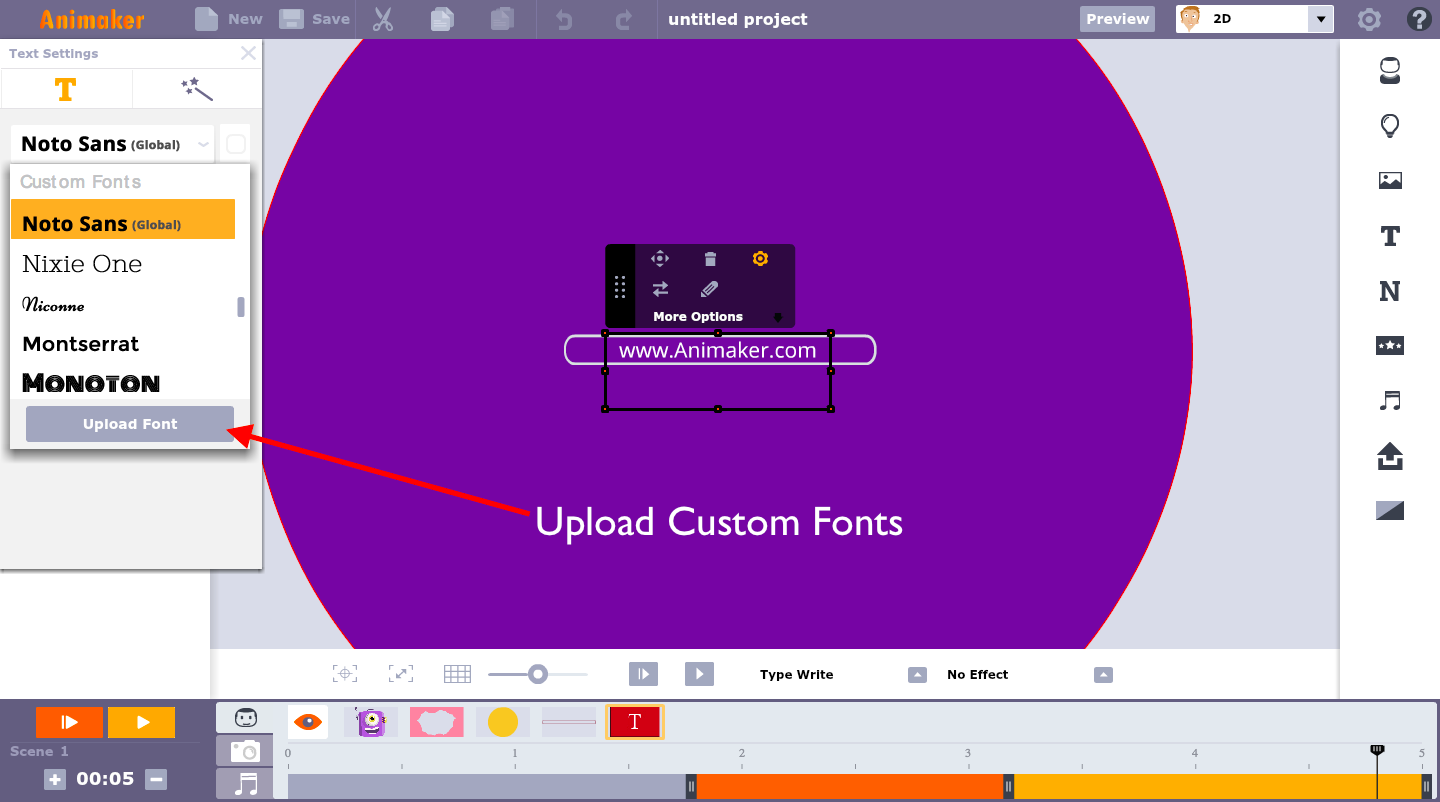 STEP 4: Export Your Intro Video
Once you are done, it is advised to see a preview of what you've made: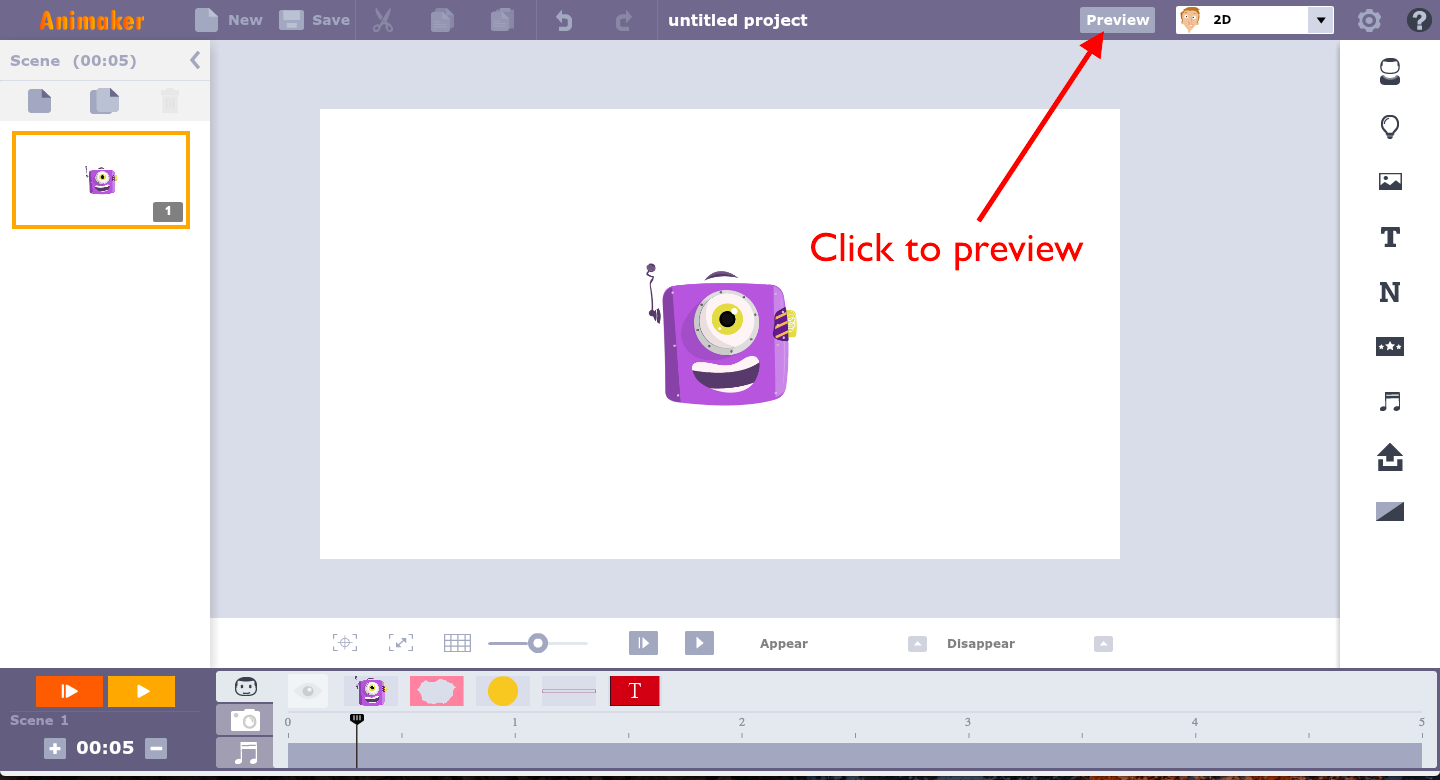 If everything is fine, you can export your intro video with the click of a button: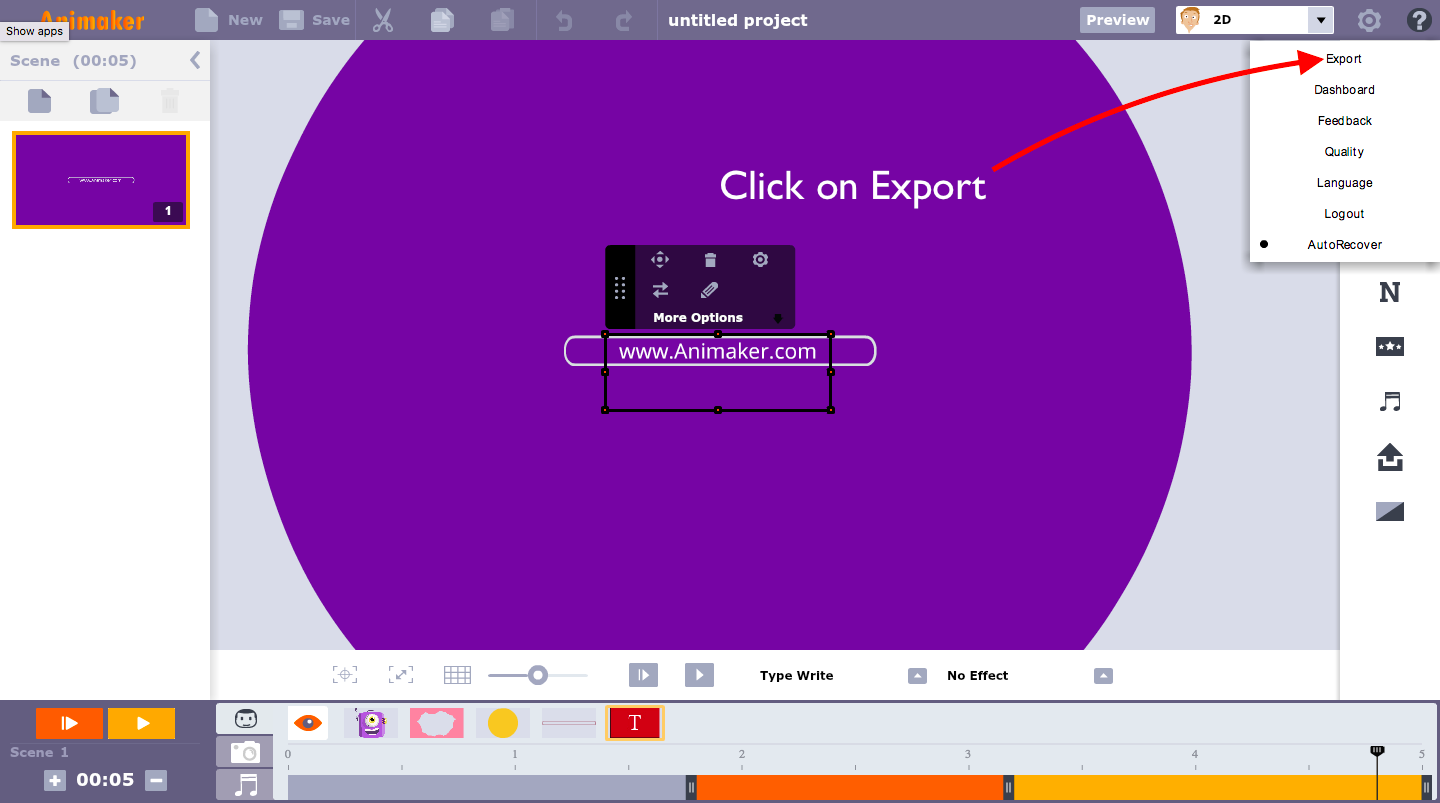 Starting from scratch:
In case you are starting from scratch, you need to know a little bit more than just replacing logo, color and text.
You can choose a blank animo from the template section: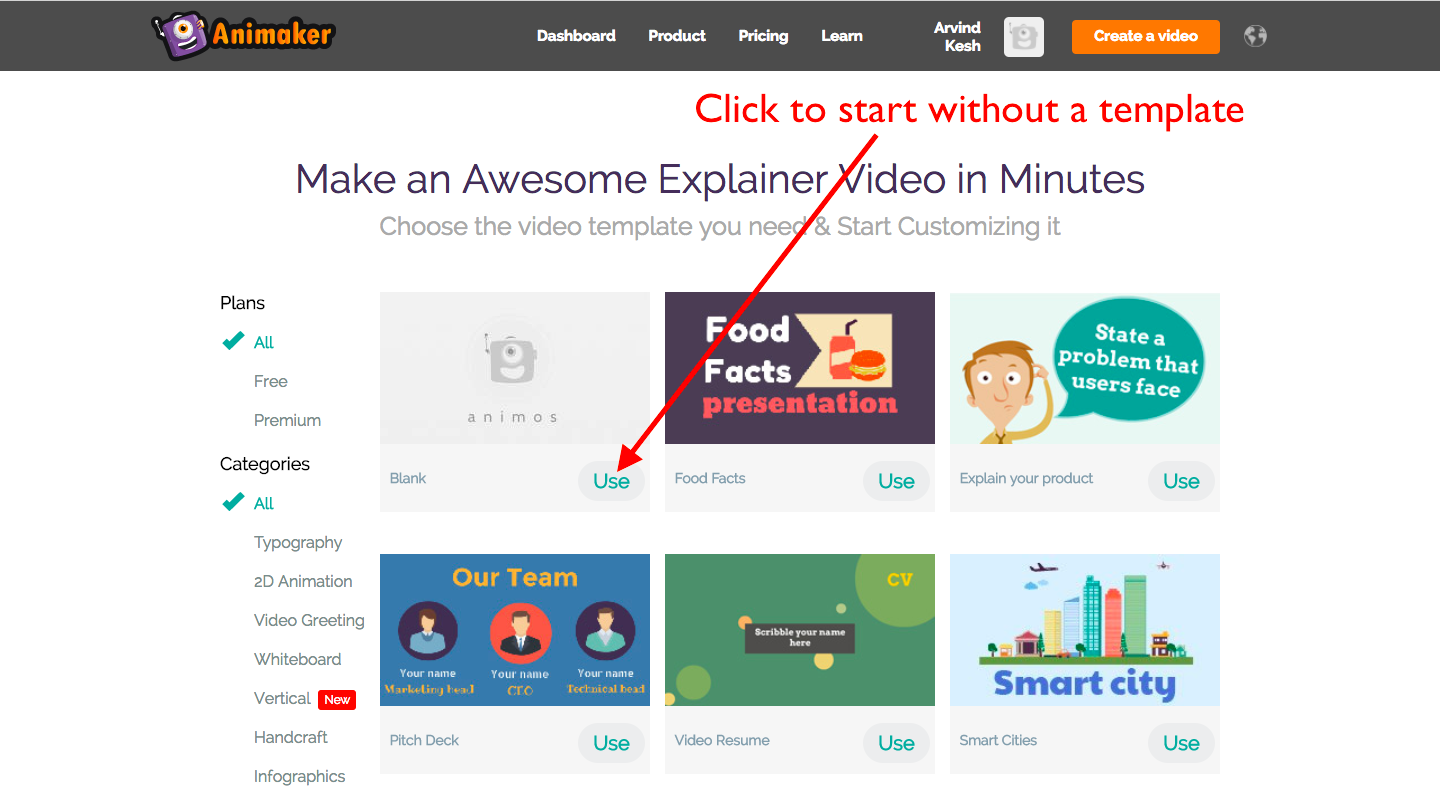 Once you get inside the app, you can use the world's largest animation library to create amazing intro video. Mix and match animation effects and props to create something truly unique.
Animation Effects
We have different types of animation effects that work together to create kickass visuals.
1. Special Effects
These are effects which add premium animation to a video. You will find them in the Library. Just click on the 6th icon from top (3-star icon)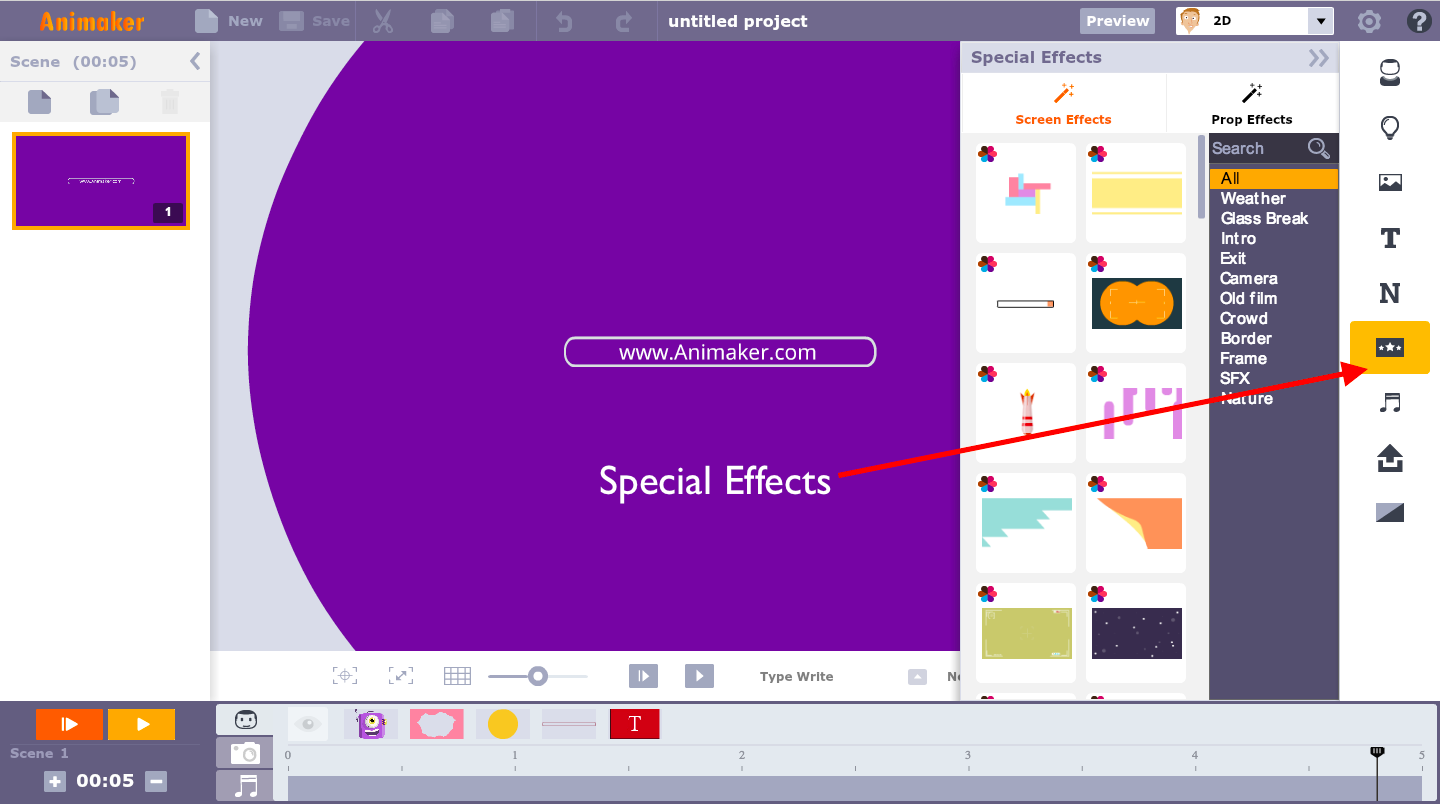 There are 2 types of special effects:
Screen Effects: Screen effects fill the whole screen. There are 2 types of screen effects. Abstract screen effects which are very useful when it comes to intro and outro videos. Then there are 2D animations like fire, tornado, etc.
Prop Effects: These are special effects which can be moved within the workspace. It can be increased or decreased in size.
Special effects are color customizable. They can be given any color you want!
2. Transition Effects
These are effects that transition one scene to the next. We have over 40+ transition effects for you to play with. But these come to use only if your intro video has more than 1 scene.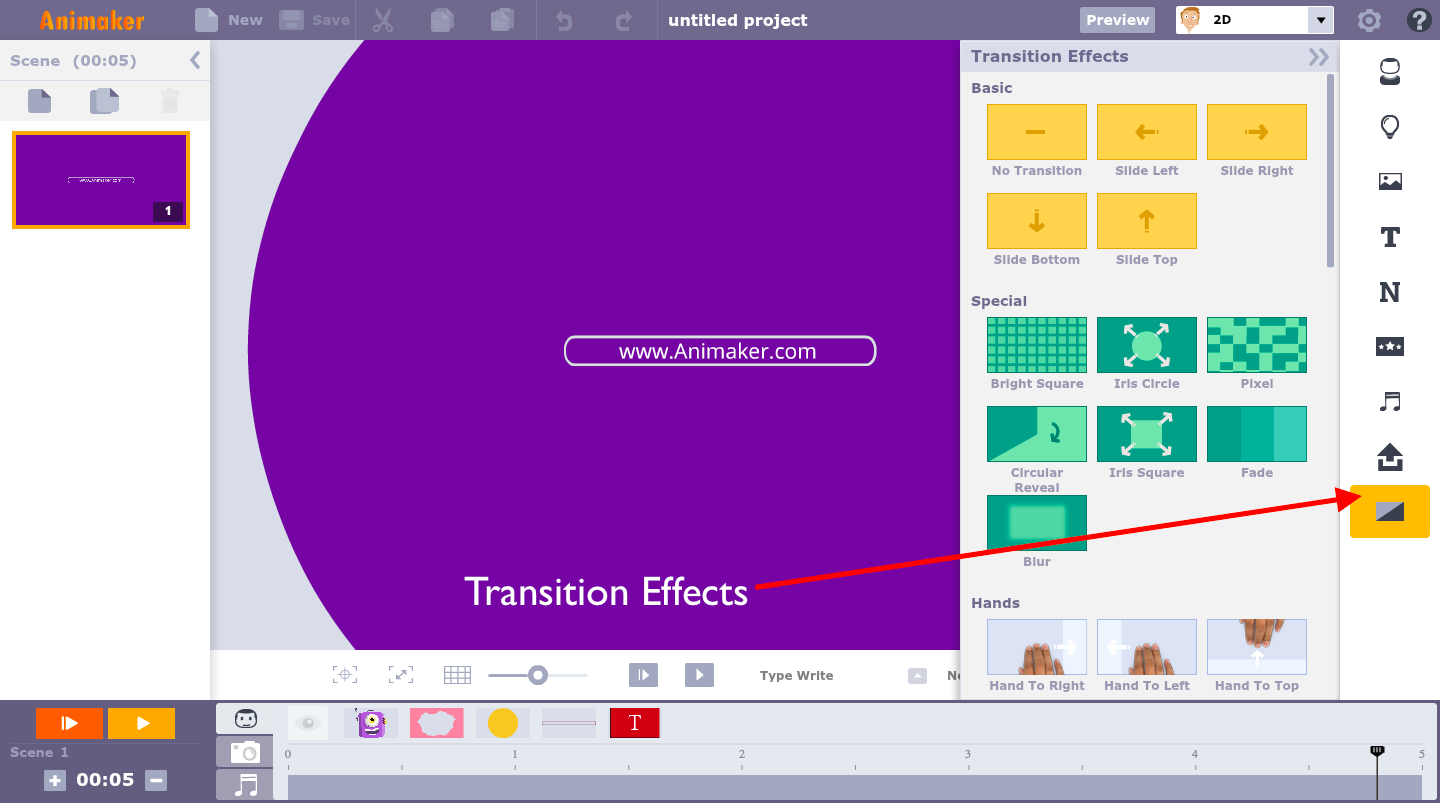 3. Motion Effects
These are effects which help you to move objects within a scene. There are 2 types of object effects.
Multimove: It helps in moving an object from one position to the other in streamlined motion.
Curve Tool: It helps in moving objects from one position to the other in a curved path.
4. Object Effects
These effects decide how an object enters the scene and how it exits the scene. There are over 60+ enter and exit effects.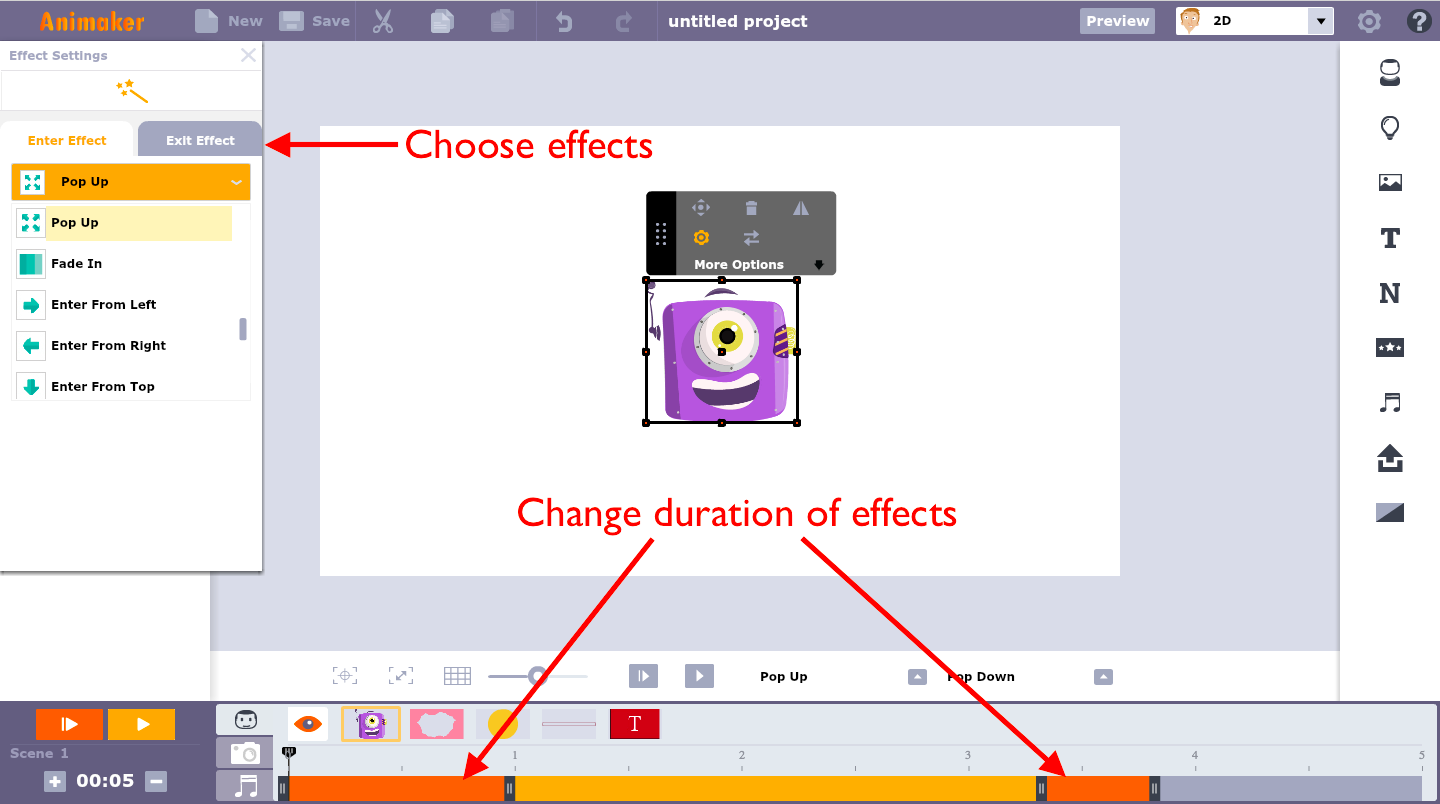 You can control the timing of these effects in the timeline. The orange part denotes the duration of these effects.
Bonus: World's largest Animation Library
People use Animaker not just for Intro Videos. You can create anything from Explainer Videos to Social Videos or even Whiteboard videos! For these purposes, you can make use of our huge Animation Library:
Props
We have 5000+ properties that can be used to spice up your intro video. Some of these props are also color customizable!
Characters
We have 70+ characters with combined 1700+ character animations. Though these are rarely used in intro videos, you can always experiment and come up with something unique!
Maps and Charts
How about getting access 3000+ maps and 100+ charts in different styles? These are part of our Video Infographics tool which comes gratis with the main Animaker app.
To get a complete idea of all the powerful features inside Animaker you can check out this detailed guide.
Conclusion
The importance of having a cool intro video cannot be emphasized enough.
As you might've noticed, we are giving you an in-house studio to get the job done. If you can imagine it, you can make it!