DevLearn 2023: Unleashing the Future of Learning and Development with Animaker
As we bid farewell to an incredible year of achievements soon, we at Animaker are poised to kickstart the following year with a fresh perspective and exciting, user-essential features implemented on our products.
You (the readers and especially, our Animaker users) are the driving force behind every decision that we take - to help your video-making & visual communication journey be a better one!

Having the industry leaders in mind, we decided to embark on our presence at one of the largest learning technology events - DevLearn 2023.
Why DevLearn 2023 Holds the Key to Tomorrow's Learning
DevLearn Conference & Expo is an exclusive global gathering designed for professionals in the L&D industry. This annual event spans three action-packed days, offering attendees a chance to connect with leading figures in the industry and explore innovative solutions to the challenges faced by the L&D sector.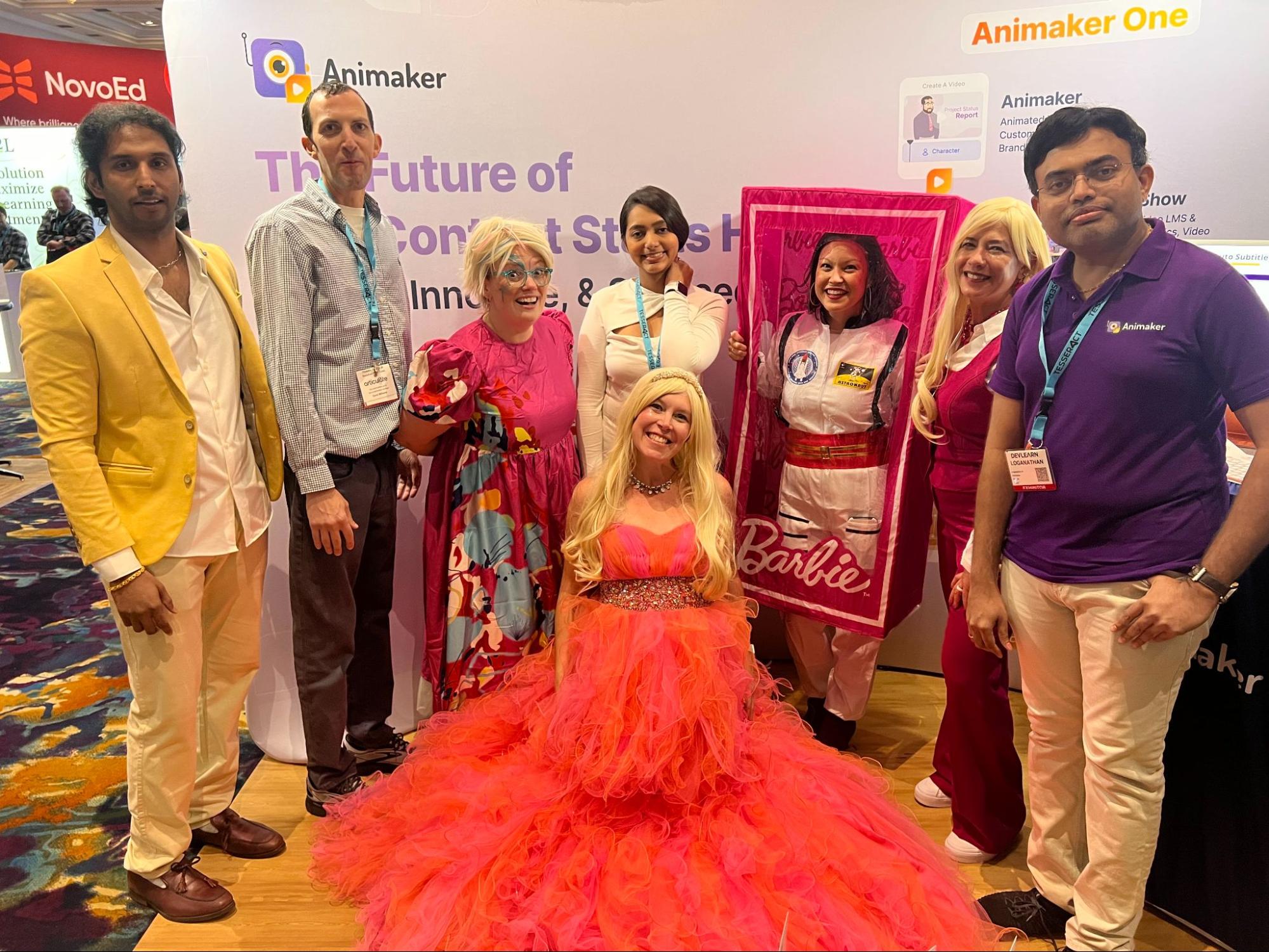 The 2023 edition of DevLearn witnessed an unprecedented turnout, with over 5000+ registered participants. 150+ hand-selected sessions held in ten different tracks. Along with the booth setup, there were 1-day workshops and certificate programs in the pre-conference activities.
Animaker was all geared up for a 3-day grand showcase of our suite of products.
The Countdown: From Planning to Execution
#AnimakerAtDevLearn2023
Understanding the magnitude of DevLearn and the impressive lineup of 150+ exhibitors, we realized the importance of making a solid impact to attract the attention of L&D professionals.
Given the limited time learning leaders had to explore the numerous booths, we knew we had to stand out.
What's the best that we can give our audiences?!
More than showcasing our Animaker One, it was the EXPERIENCE of using AI products that we offered to our industry leaders & L&D professionals. 
The Perfect Booth  
The time had come for the grand showdown, and we were all set at our booth to greet visitors.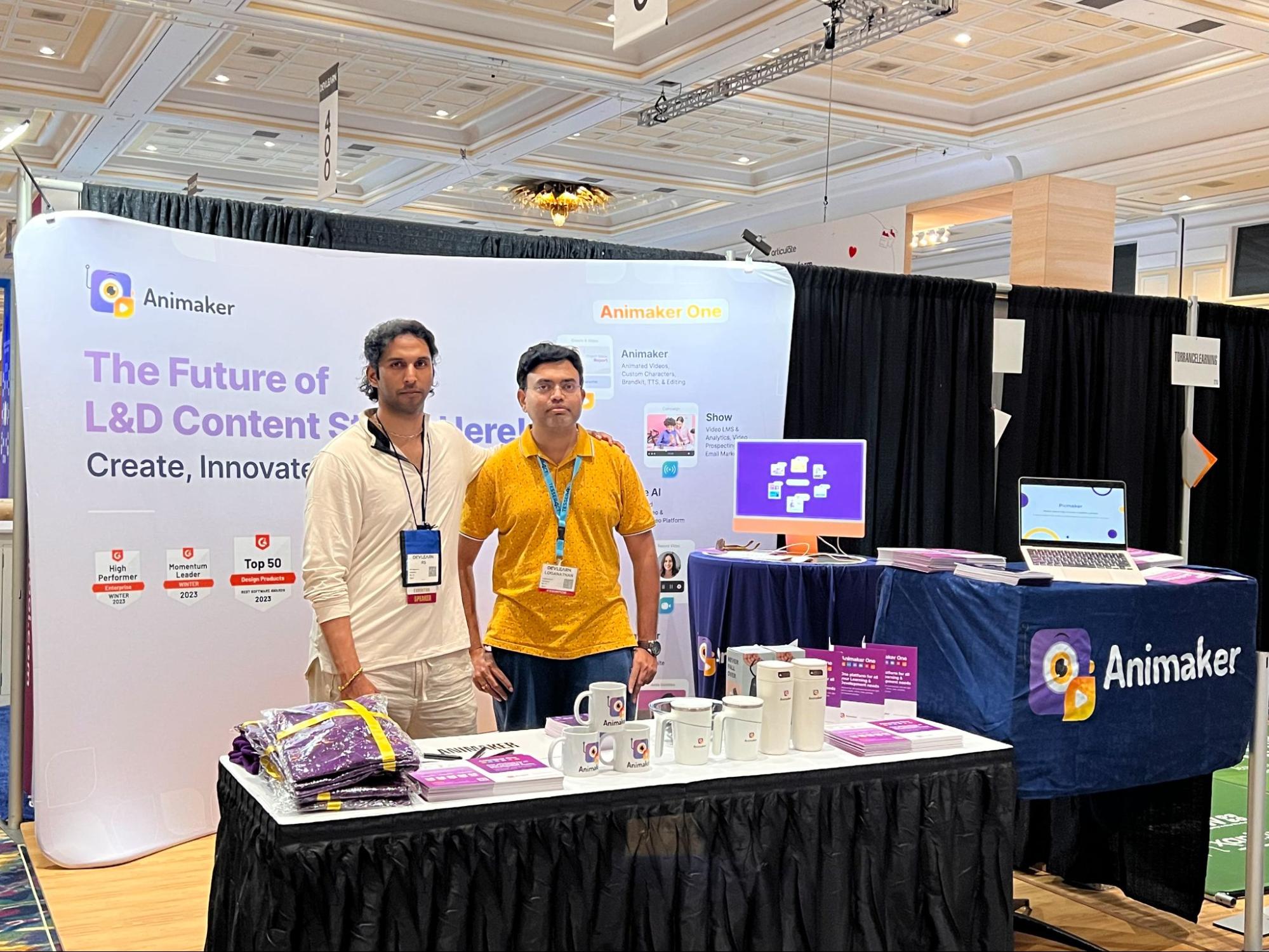 With creativity as our guiding principle, we sought to make a remarkable first impression. Our team of design experts worked diligently to craft a bespoke booth that was exclusive to the event.
Our booth at DevLearn was a hub of activity, drawing curious minds and passionate professionals. It was a place where conversations sparked ideas, and the possibilities of Learning were brought to life.
Our CEO,
Raghav
, COO,
Loganathan
,
Tona
, and David Williams were present at our booth, ready to assist attendees from the moment they arrived. They helped industry pioneers understand how Animaker's AI features could address the pressing challenges in the L&D industry.
Animaker's Stage Session on 'Future of L&D Content…'
Our CEO, Raghav, shared an electrifying session along with Tona, on 'Future of L&D Content: Leveraging AI to Build Engaging Learning Programs'. 
With the rise of platforms like Netflix and TikTok, video content is now a vital part of learning.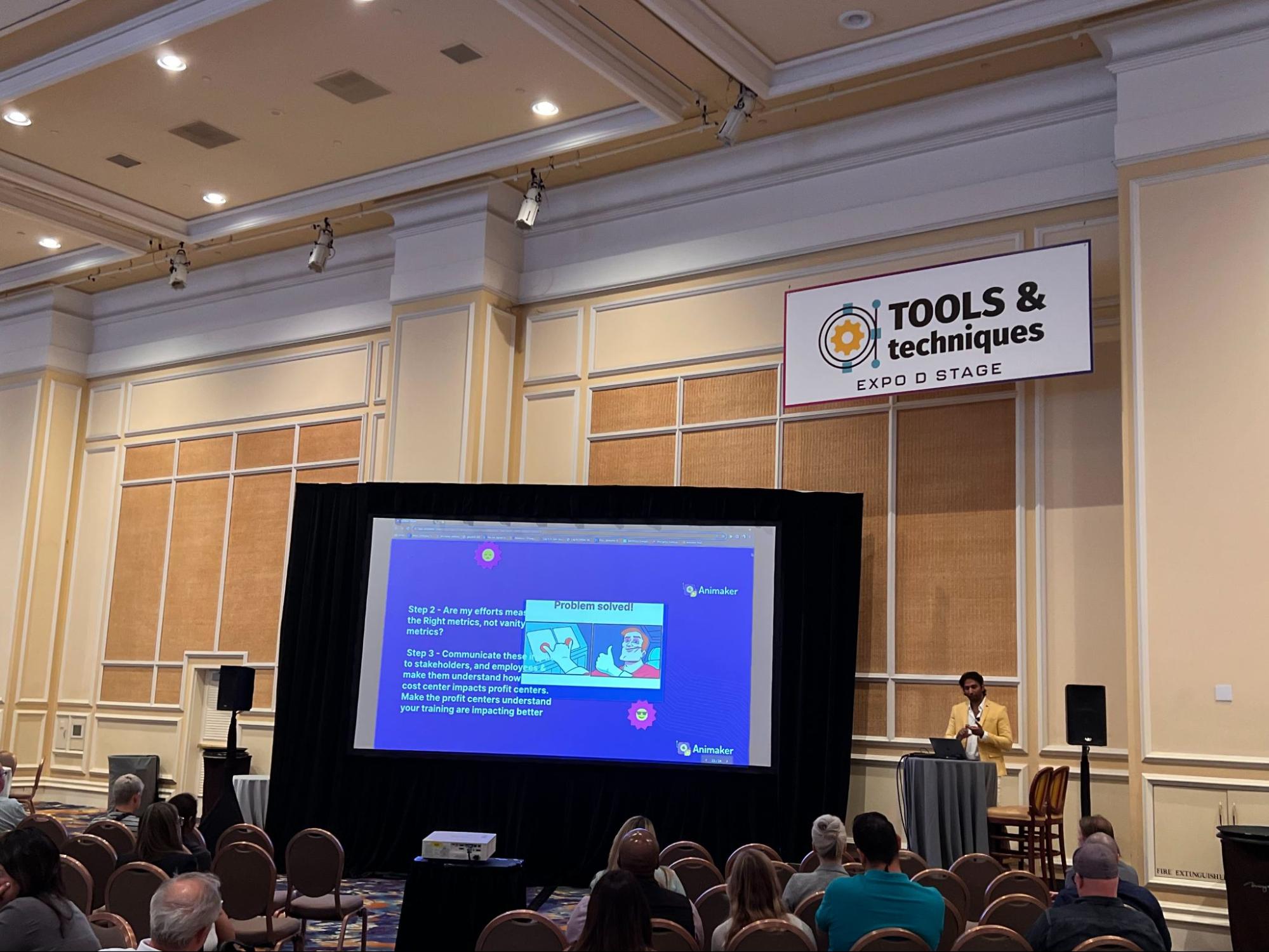 We also covered about how
Bite-sized lessons are shaping modern learning.
AI is reshaping the world of learning, promising a dynamic and adaptive future.
The latest tools and techniques are making waves in L&D, ensuring they stay on the cutting edge
Preparation of a blueprint for L&D programs that harness the power of AI.
Live AI Tool Session: Attendees had hands-on experience with AI tools, learning how to integrate them into their L&D teams for maximum impact.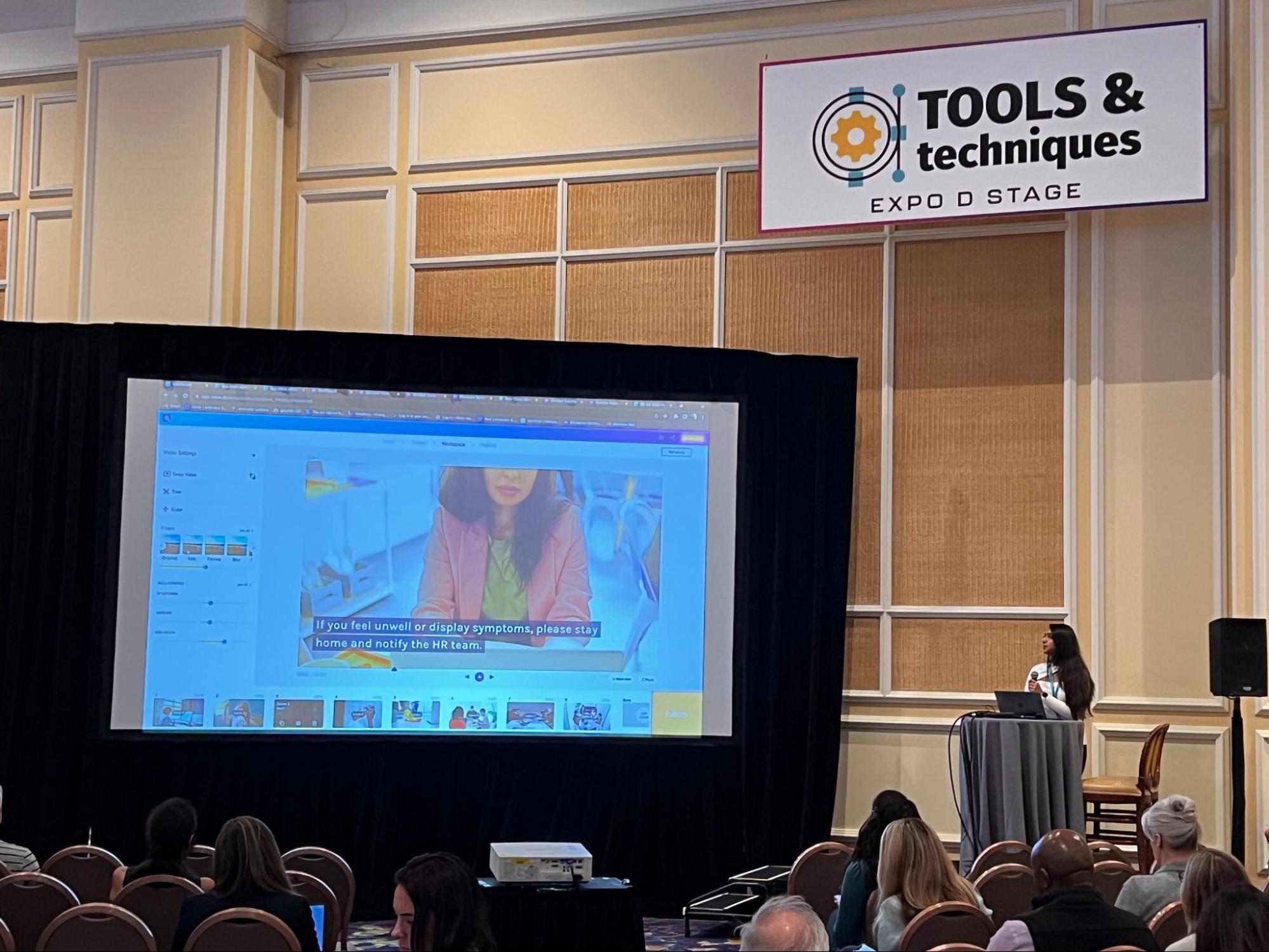 DevLearn 2023 was a game-changer, and Raghav's session exemplified the event's forward-thinking spirit. As we move forward, the future of L&D is brighter and more innovative than ever.
Goodies for our booth visitors: Tokens of Appreciation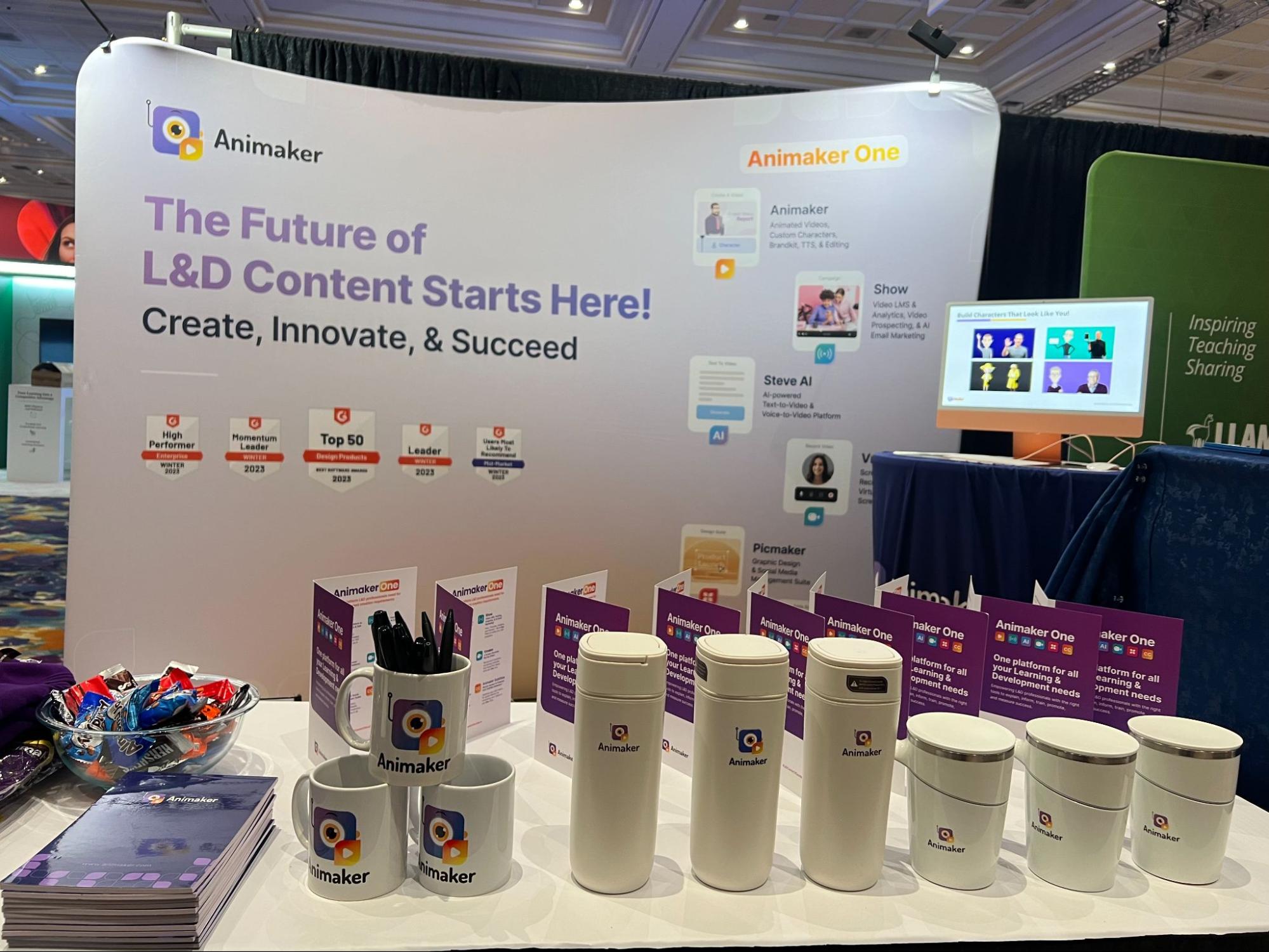 To drive engagement, we decided to appreciate our booth visitors by offering them goodies based on the activities that we had planned. To express our gratitude for their interest, we distributed exclusive Animaker merchandise, including t-shirts, mugs, badges, brochures, and more.
Our Conversations: Fostering Connections
DevLearn 2023 was all about conversations and connections. Animaker team actively engaged with L&D professionals and thought leaders. We discussed the potential of Animaker One, and explored how our AI-driven tools are transforming the learning and development landscape.
Animaker One for the Future of Learning 
Animaker One, our suite of visual communication & content creation products powered by AI, was on full display, ready to demonstrate the future of Learning.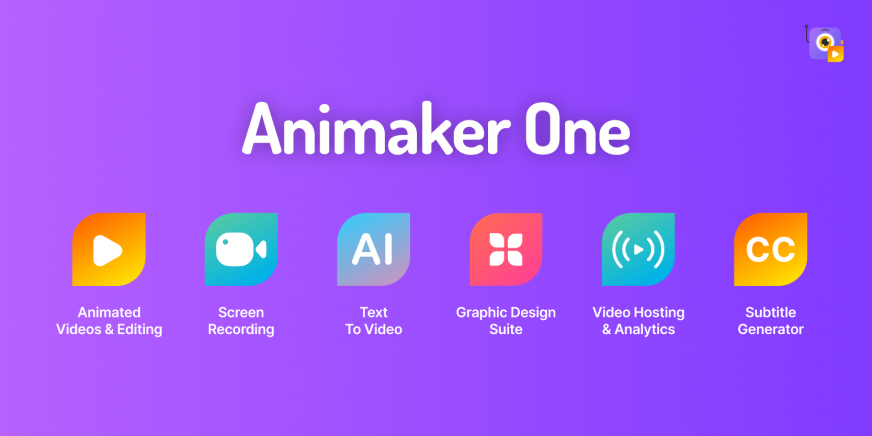 Animaker One
brings this vision to life by seamlessly integrating powerful capabilities like AI-powered Text-to-Video, Screen Recording, Animations, Video Editing, Patented AI-Powered
Video Creation Platform, AI-powered subtitle generation, Image creation, Social Media Management Suite, Email Automation, Video LMS, Video Hosting, and Analytics into a unified platform.
We showcased how Animaker could empower L&D professionals to enhance engagement and create compelling content. The audience's reaction to Animaker's AI features fueled our enthusiasm and kept our booth bustling with activity.
For Animaker, a leading player in the Learning industry, DevLearn 2023 was not just important but transformative. It provided a platform to showcase the future of learning and development, and the journey began at our booth.
A 3-Day Wholesome Conference
The three days at DevLearn were a whirlwind of knowledge, inspiration, and collaboration. It was a wholesome conference where we didn't just discuss Learning; we experienced it.
DevLearn 2023 was more than just a conference; it was an opportunity to connect, learn, and grow. Year after year, we're getting bigger, better, and stronger by providing the best to our users.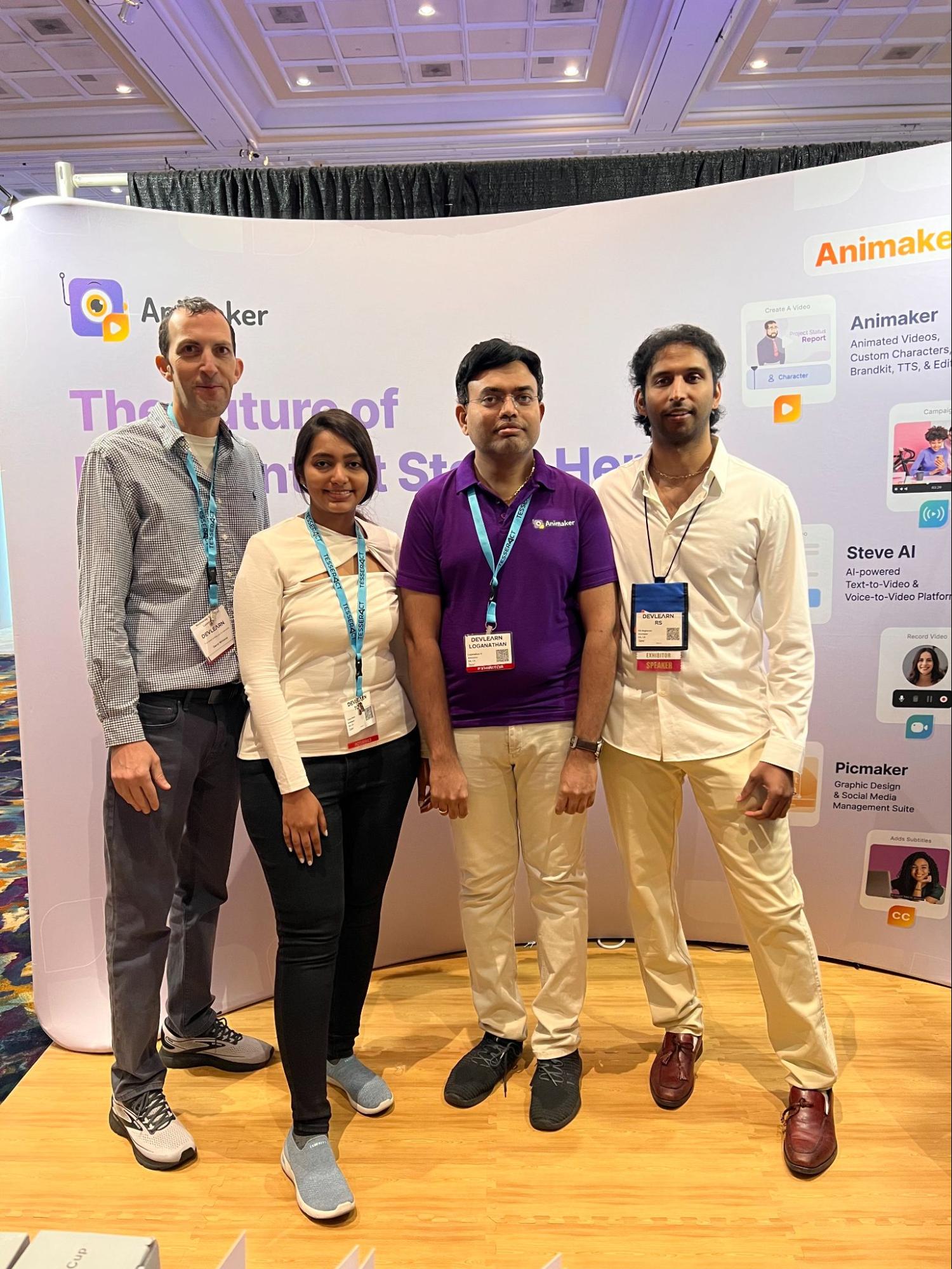 Throughout the event, we enjoyed engaging with professionals across diverse industries, including corporate giants like Amazon and Hershey's. We introduced our suite of Enterprise AI Visual Communication tools explicitly designed for the L&D sector.
We're super glad and overwhelmed about the responses that we received and connected with over 1000 learning professionals from the DevLearn community. We're eagerly looking forward to continuing these conversations and growing together!
If you're interested in discovering how Animaker's AI features can help you achieve your L&D objectives, we're excited to show you.
Book a demo
with us now and be a part of the Learning revolution!