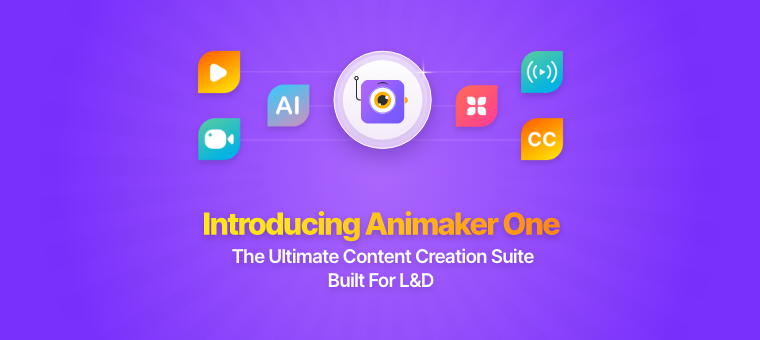 Animaker One – The Ultimate Content Creation Suite built for L&D

3

min read
Greetings, L&D superheroes!
Are you ready to elevate your training programs by transforming them into captivating learning experiences infused with excitement, engagement, and interactivity?
If you're wondering how, let us introduce you to the game-changer – Animaker One.
Animaker One is the most comprehensive content creation suite designed to meet the evolving needs of L&D professionals and enterprises.
In today's rapidly changing digital landscape, capturing attention, delivering impactful learning experiences, and driving results are paramount to success. With the emergence of artificial intelligence (AI) and visual communication, L&D professionals now have a powerful ally in their pursuit of creating impactful learning experiences. Animaker One, the most comprehensive content creation suite, empowers L&D professionals with the right tools to explain, inform, train, promote, and measure success.
Animaker One for L&D Professionals: Your All-in-One Solution
We understand that creating engaging learning content has been consuming your valuable time and effort, leading to less than satisfactory outcomes.
Allow us to address two important points:
We apologize for the time, effort, and money you have invested in suboptimal tools so far.

We have you covered from now on. It's the perfect time to discover the right tool that solves all your content creation challenges.
Imagine a world where creating all types of training content and scaling it up per your requirements is no longer an overwhelming task.
Animaker One brings this vision to life by seamlessly integrating powerful capabilities like AI-powered Text-to-Video, Screen Recording, Animations, Video Editing, AI-powered subtitle generation, Image creation, Video Hosting, and Analytics into a unified platform.
Simply put, Animaker One combines the power of AI and visual communication, creating a suite of tools that revolutionize content creation not only for L&D but also for other departments, including Human Resources, Marketing, Sales, IT, Support, Finance, and Operations.
From simplifying complex concepts to training and promoting products, Animaker One fulfills all your content creation needs with exceptional ease and precision.
Let's take a closer look at our suite of products:
Steve.AI 


Patented AI-Powered Text-to-Video Platform!
Instantly transform your text scripts into dynamic training videos with our powerful AI platform.
Vmaker

A Screen Recorder like No Other!
Effortlessly record and convert your training manuals, PowerPoints, and PDFs into impactful videos.
Animaker


Create Animations and Edit Videos!
Enhance your L&D content with custom animated mascots, Text-to-Speech functionality for voiceovers, brand kit, and tons of creative elements.
Show

Interactive L&D Video Hosting and Analytics!
Host, analyze, and promote your L&D programs. Incorporate surveys and Q&As for interactive video training.
Animaker Subtitles


One of the Fastest Subtitle Generators in the World!
Optimize your L&D videos for global delivery and users with our AI-powered subtitle generation.
Picmaker


World's fastest way to create a graphics design!
Quickly create engaging, on-brand graphics to captivate both internal and external customers.
Empower Your L&D Initiatives with Animaker One
From revolutionizing employee onboarding to enhancing sales training, Animaker One empowers L&D professionals like you to unlock the true potential of your workforce.
Take the Next Step: Schedule a Free Consultation
Discover how Animaker One can revolutionize your training content. Contact Us today to learn more. Unleash the power of visual storytelling and engage in learning like never before!