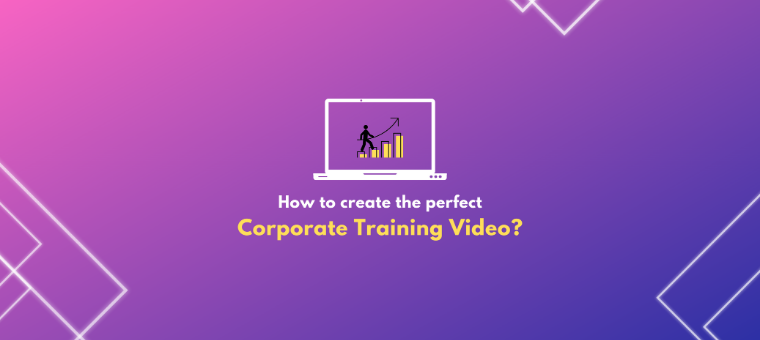 The Art of Creating the Ultimate Corporate Training Video [In 2023]

10

min read
Almost 74% of trainers said that they use video learning as part of their training delivery. 
Videos have transformed the way information is delivered and consumed. They have become the most powerful and widely used learning format for everyone from students to corporate employees.
In the post-pandemic world, employees are facing new challenges every day. Workplace training has now become more important than ever before. Through the right training videos, the right information will reach the employees at the right time. 
What is a Corporate Training Video?
Corporate training videos are video training material designed to educate employees in an engaging and interesting way. They combine audio and visual elements to create the ultimate learning experience for employees. They are used to train employees on a variety of topics from company policies to the latest technology updates.
Why should you create Corporate Training Videos?
Employees forget 90% of information within a week from the day of training (source)
The biggest challenge in corporate training is knowledge retention. In 1885, German scientist Hermann Ebbinghaus discovered the Forgetting Curve – a visual representation of the way that learned information fades over time.
This curve has proven to be valid to date. Even in the digital era, the biggest challenge for Learning and development professionals is to ensure that employees remember the information provided during the training program.
One of the easiest and the most effective ways to overcome this problem is through videos. The audio-visual nature of videos helps the audience consume and retain the information more effectively. 🤗
Corporate training videos increase memory retention among employees by over 90% when compared to any text-based training methodologies. 
Want to create an effective Corporate Training Video for your company? Here're a few ready-made templates for you. 
Types of Corporate Training Videos:
Corporate training videos come in many types. Let's discuss a few of the important ones:
ANIMATED VIDEOS:
Animated videos are videos with characters and properties created by hand-drawn or computer-generated animations. Animated videos are super useful in explaining complex concepts in a simple and engaging manner.
Corporate companies from across the globe are preferring to use animated videos instead of Live-action videos especially in situations where featuring real people become difficult. 
It was quite a tedious task to create animated videos before. With the advent of powerful tools like Animaker, it has become easy, affordable, and scalable.
Here is a great example of an animated video:
WHITEBOARD EXPLAINER VIDEOS:
A whiteboard explainer video is a visual animated storytelling format that includes 2D graphics and illustrations. Whiteboard animation videos are incredibly effective for communicating complex ideas. Using whiteboard animation can boost the attention and retention of your audience.
Employees love to watch whiteboard explainer videos because it creates the nostalgic effect of taking us back to school. Perhaps the most distinguishing feature about whiteboard explainers is that the whole story is drawn on the screen. Scene after scene, customers watch how the story develops. This kindles a small curiosity within the viewer keeping them engaged throughout the video.
Here is a great example of a whiteboard explainer video:
LIVE-ACTION VIDEOS
Live-action videos feature real humans and live backgrounds to bring your concepts to life. Live-action videos might be expensive if you are using real-life actors and a production crew.
The action and the script in the video will look realistic. The visuals and the voice-overs seamlessly work together. 
To be noted: During pandemic times, it is challenging to shoot live-action videos due to health and safety regulations. In addition, the gathering crowd and the production service might be unavailable.
TALKING HEAD VIDEOS
A talking head video is an interview-style video with a subject matter expert talking or explaining a subject, story, or describing the product, service, or event. 
They speak as if they are talking directly to the audience/listeners. These videos are especially effective when the person speaking in the video is either a subject matter expert or an influencer.
Talking head explainer videos have a structure that leads the viewer from one point to another without feeling forced or frozen.
SCREENCAST VIDEOS
A screencast is a video recording of your computer/laptop screen. Screencast videos generally include audio narration. Unlike screenshots, screencasts have provided an in-depth step-by-step explanation of a process required to achieve a result.
This type of video is very effective for product demonstrations, how-to videos, and instructor-led training sessions.
TEXT-BASED VIDEO
Text-based videos use the power of text animation to communicate information. They are especially useful when the content of the video contains numbers, statistics, etc.
In business scenarios, they are very effective in representing insights of a campaign/event/sale, lists the benefits of a product, etc. 
Here is a great example of a text-based video that creates an engaging video experience with just statistics and numbers:
MICROLEARNING VIDEO
As the name suggests, microlearning videos are just a few seconds long. They are short, focused videos designed to provide an authentic learning experience. 
Each learning video is used to explain a very specific topic and a cluster of such videos is used to provide the entire information of the training. These small videos provide a binge-worthy learning experience for the viewer.
Almost 60% of audiences pointed out that the microlearning video's most effective when it is no longer than 2 mins. 
How to create effective and engaging corporate training videos
Create the script
The soul of any training video is the script. Even though you have kickass visuals, without a good script your video is bound to flop. It is wise to allocate half of your time to develop an interesting and engaging script before spending your time creating your video.
The script is like a roadmap that can guide you to create the perfect video. To make your video creation process even easier, you can convert the script into a simple storyboard. You don't have to be an artist to create a storyboard, just a rough sketch with some stickman figures will also do the trick.
2. Choose the right voice-over artist
Do you like boring presentations or videos without voices?  Nah! Nobody likes it!
Let's make it exciting and engaging. Using voiceovers can add a great connection with the audiences/employees. 
This can impact the employees by triggering emotions and providing clarity. Voice-overs are used to fill the gaps in interviews and documentaries. 
Creating a voice-over is not a daunting task anymore. You can find professional voice-over artists who are willing to create the voiceovers for your video at a relatively low cost on websites like Fiverr and Upwork.
Alternatively, you can also choose to create your own voiceovers. All you need is a mic and a low-noise environment. You can use any video editor like Animaker or even Apple's iMovie to add the voice-over to your video.
3. Create the video
Now that we have the basic elements in place, it's time to actually create the video.
For the purpose of this blog, we will show how to create an animated corporate training video easily. 
When you use animations and graphics in your video, your employees will be able to grasp the concept more easily. This is because animations add fun to learning and can easily be remembered. 
Once you have your own Animaker account,
Step 1: Log in
Step 2: It'll lead you to the Dashboard
If you're unsure about starting a project from scratch, don't worry, we've got your back. Let our Animaker pre-built templates do the job for you.
Step 3: You can either pick up a template from the 1000s of pre-built templates or create one from scratch. 
Step 4:  Let's try one of the templates which display safety in the workplace.
Just hover over the required template and click on the 'Use' button. You will see a new Animaker project with the selected template.
Before jumping into creating a training video, let us get you accustomed to the different sections of the Animaker application so that it'll be easy for you to understand the interface and create one of your own. 
There are 5 sections in Animaker:
Library 

Workspace 

Scenes 

Menu bar

Timeline
Library – The Library of the Animaker app is where you will find all the assets needed for your video, including characters, props, icons, stock assets, music files, and more.
Workspace – The whitespace at the center is called the workspace. This is where your job aid will come to life.
Scenes – The scenes section houses all the different scenes that are part of a video. They are similar to the slides section in presentation tools. 
Menu bar – You can change the title of the video, play the video from the beginning, share and publish the video.
Timeline – At the bottom of the screen is the timeline. There are three different timelines:
Animation timeline

: Lets you adjust the entry and exit timings of any kind of elements like characters, props, text, logos, images, etc., that are present in the video.

Video timeline

: Lets you trim and adjust the music and video files used to edit the video and the music track. 

Camera timeline

: Lets you add and adjust the timings of the camera effects.  
Let's get started!🤩
Step 5:
Now that you are accustomed to the different parts of the application, let's dive into video creation.
Although you have selected a pre-made template, every aspect of the template is now completely customizable. There are three main aspects of the template, we need to customize
Customize Text
To customize the text all you have to do is double click on the text you want to change and type in the new text.  Here is a sample:
When you click on any text, you'll notice a bunch of options appearing along with the text. 
This is called the item menu. The item menu allows you to modify the text. You can change the font style, font size, font color, etc. 
(Usually, in pre-built templates, the effects will be already designed – all you have to do is either use them or edit them to your convenience.)
Go through the slides and customize the text that you wish to change. 
Replace the images
To replace the images with your own, first, you need to upload the image. 
Click on the Upload section that is available on the bottom left of the library. Now upload the image.
Your photo will be uploaded to my files section.
Then click on the image that you want to replace.
Go to the upload section and select the image that you want in your video. Click on apply.
Add your logo.
The first step in adding your logo is to upload it. Uploading your logo is just like uploading an image.
Follow similar steps as above to upload your logo.
Click on the logo to add it to your workspace. Make sure to place it in the right position to provide proper branding to your video without interfering with the viewer experience.
Step 6: Review
Once your video is ready, click on the preview button to preview the video. The next step is to get your video reviewed by your team. A collaborative review process can really help in elevating the quality of your video. To share your video with your team, all you need to do is to click on the share button and enter their email. With Animaker, you can collaborate with your entire team and edit your videos together in real-time.
Now that your video is ready, you can download your video. To download your video, go to the Publish option at the right top of your window. Click the 'Download video' option and then download. And that's it! 👏 
You know how to create amazing animated training videos in a jiffy. 
Conclusion
Corporate training videos are very effective in communicating the required information to employees and ensuring that they remember it. Creating corporate training videos at scale for your enterprise has become very easy and effective now. What are you waiting for?
Start creating your corporate training videos now.