6 Brilliant ways to market yourself as Animaker Certified Video Creator!
Kudos to you!
You've attended the training sessions from Animaker and grabbed your certificates. Now what?
Well, let me tell you in a minute!
You will be amazed by the potential of your video making skills and the value these certificates adds to your profile!
Yes, I'm not kidding! We have seen people build entire Businesses with nothing but their ideas and their video making skills. Let me point out a couple of user stories!
The first one is about Damith Menaka! A freelancer from Srilanka started his own video production company once he learnt how to use Animaker.
What started as a part time thing for Damith when he was a student, turned into a full blown business where he ended up creating 1500+ videos for his clients.
The second story is about Leandra Slayton. A consultant who worked for Cardinal Health, a Fortune 50 company based in dublin.
Equipped with the video making skills she picked up on Animaker, Leandra decided to pitch her genius idea to the top brass of the company during an internal idea pitching contest.
And guess what! They were so impressed that they funded her idea with a $150,000 investment. Now that's one of the most impressive stories we have heard from a user.
People like Damith and Leandra started off with just their simple interest towards video making (just like you) and now they were able to move mountains and achieve something really great!
If they can do it, so can You!
And why not?! You definitely get a headstart on your video making journey with an official certificate from Animaker.
Let me explain.
When Damith and Leandra started their journey as video creators they had no way of getting recognized as a professional video creator except by creating numerous videos and hoping people recognize their talent.
But today! With this certification from Animaker, you get a headstart that wasn't possible just a couple of years ago. You also get instant recognition as someone who is capable of making studio quality videos.
Now the only thing left to do is let the world know about your certification.
So, in this article let me give you an overview on the benefits of the Animaker certificates – and tell you 6 simple ways you can make the most out of your accomplishment.
1. Add it to your LinkedIn profile:
Having a certification on your LinkedIn profile can be a beacon for opportunity and a powerful way to showcase expertise. On average, LinkedIn members with certifications receive 6x more views to their profile than the others.
So, it's more important than ever to make sure you stand out professionally in today's workforce, and adding certifications to your profile helps you attract opportunity.
If you have received a professional Certification, it is critical to add it to your 'Certifications section' of your Profile on LinkedIn.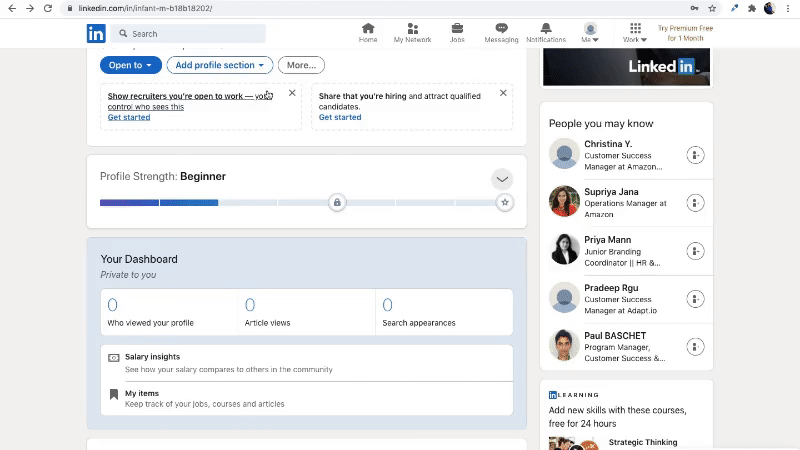 With the Animaker's video creator certificate, you will be showcasing your creativity to your LinkedIn network and also how you are improving yourself by taking initiative on your own to gain necessary skills.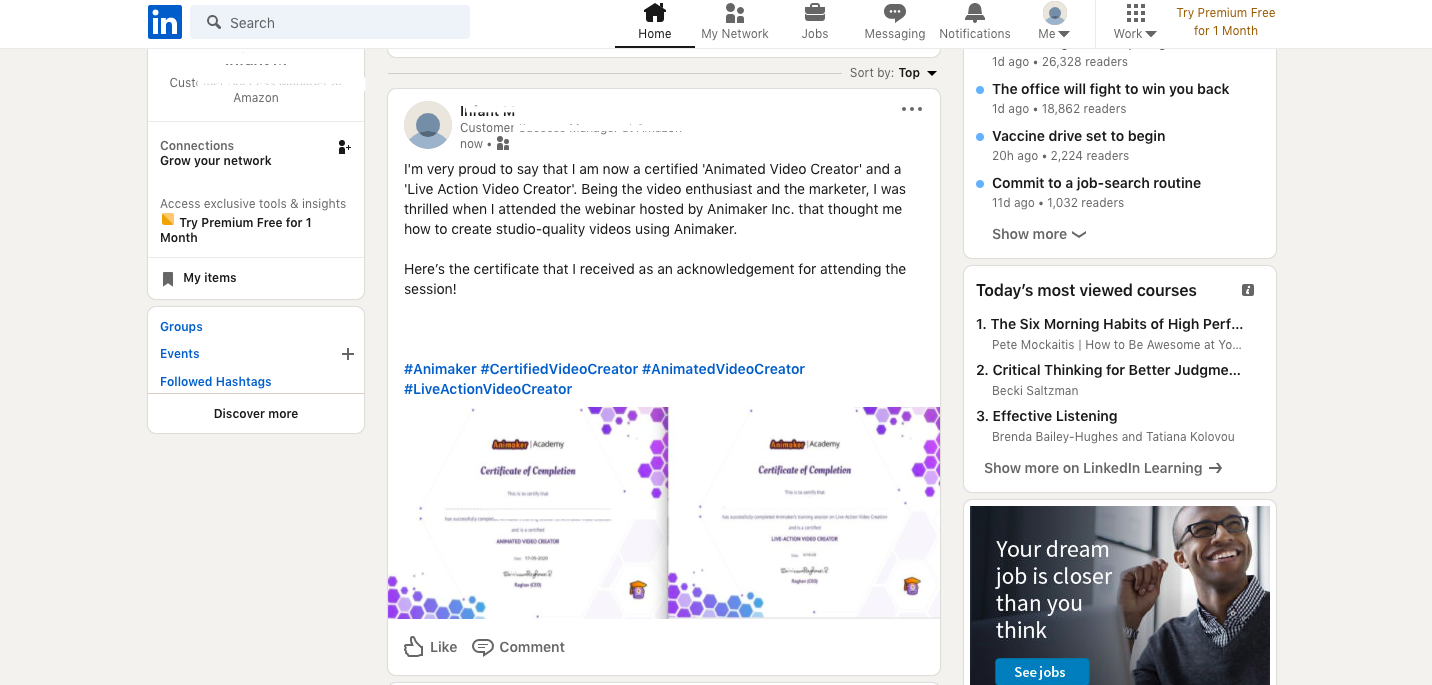 So what are you waiting for?
Your next career-shaping opportunity might be just around the corner!!!
Showcase your Animaker Certifications in your LinkedIn Profile and Get Ahead!!!!
2. Add it to other social profiles:
Are you someone who sees social media as something for personal rather than professional use?
If your answer is 'Yes', you're missing out on a fast, inexpensive, and effective way to reach a lot more people.
Yes! Trust me on this!
Your profiles on Facebook and Instagram are filled with people who have personal real-life relationships with you.
Does it make any sense to not showcase your new achievements to them and not take advantage of this circle?
The answer is a big NO!
You know what the best part about this is?
When the person in your friend's list comes across any need for video creation at their workplace. You are the first person they are going to think of!
Sky's the limit to what that can lead to? New Leads! New opportunities! And many more!
So if you haven't already shared your certificate to your social network this is the right time to do so.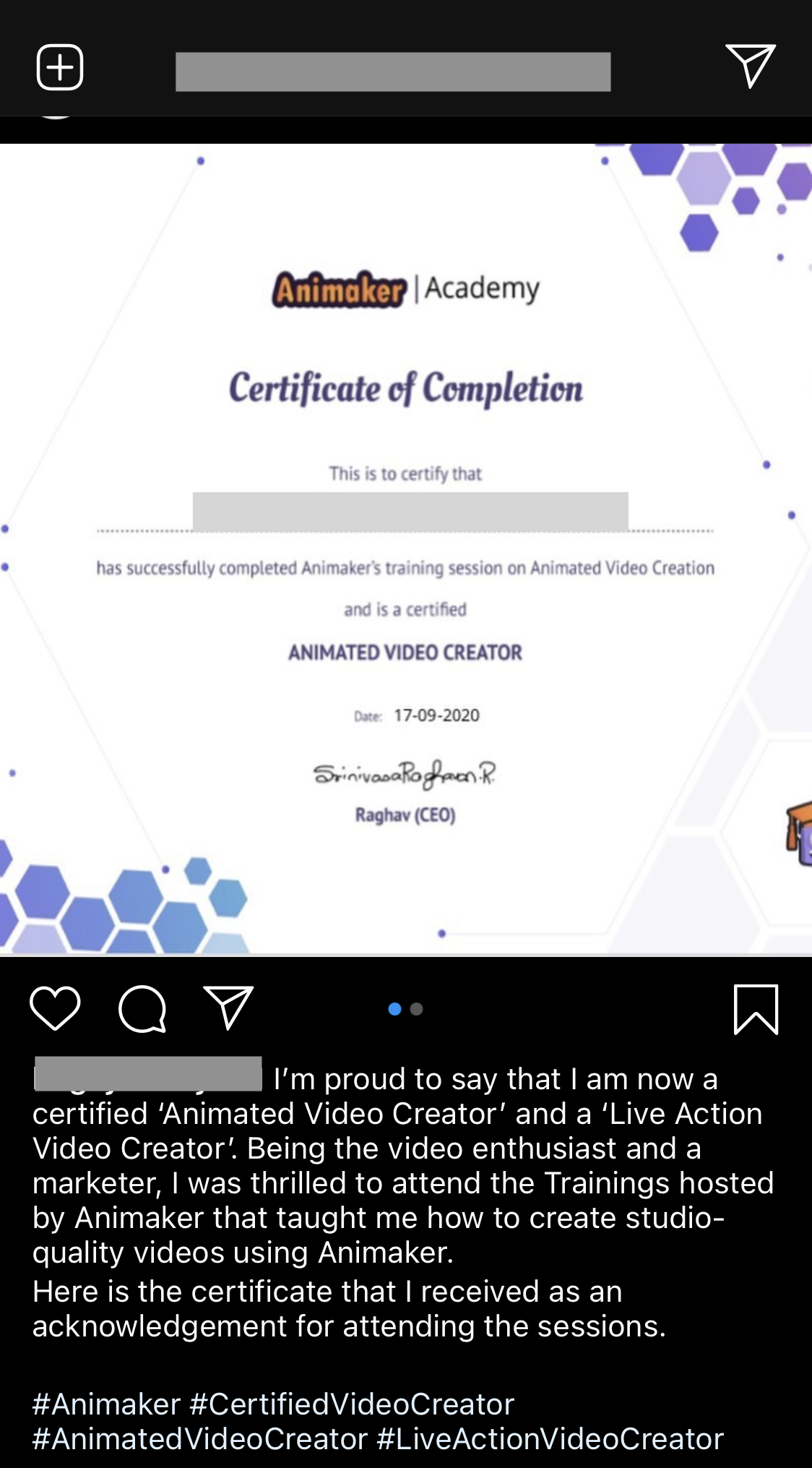 P.S. You can use the tags #Animaker and #CertifiedVideoCreator and mention @Animaker while sharing your certificates on your social profiles. This will help us like and comment on your social post for better reach. :)
3. Add it to your resume:
The Online courses are attended mostly voluntarily and this effort shows commitment on the part of the learner.
Because recruiters and companies like proactive employees and showing certificates from online courses on your Resume can support the job application.
Certificates from Animaker can play an important role in job applications – as proof of your video making skills as well as to show your personal commitment as a learner!
Showing potential employers that you're actively improving yourself by highlighting your Animaker certifications on your resume will make you a more appealing candidate.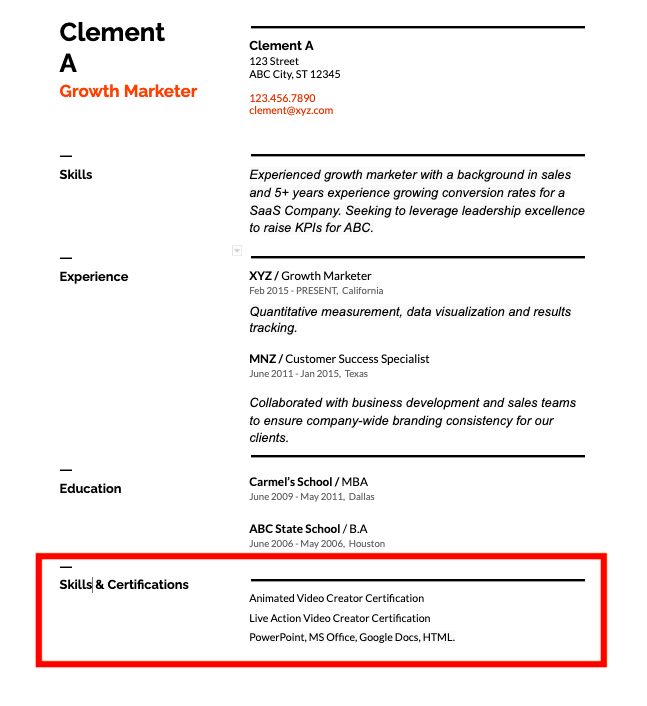 Quick Tip: Try adding it under an "Awards and Certifications" or a "Skills" section on your Resume.
4. Add it to your website/online portfolio:
The importance of having a professional online presence today is more important than ever, and an online portfolio or a website will certainly increase your visibility and presence.
Creating your portfolio website allows you to share and showcase your skills easily with everyone as it displays relevant, standout skill sets. Speaking confidently about a skillset that you've developed can help guide interviewers in the right direction.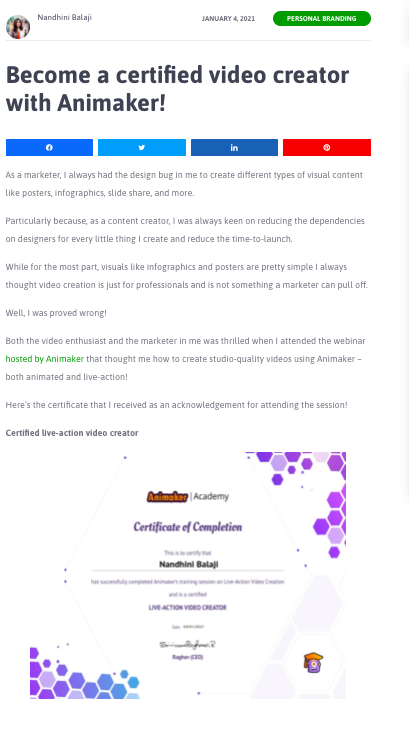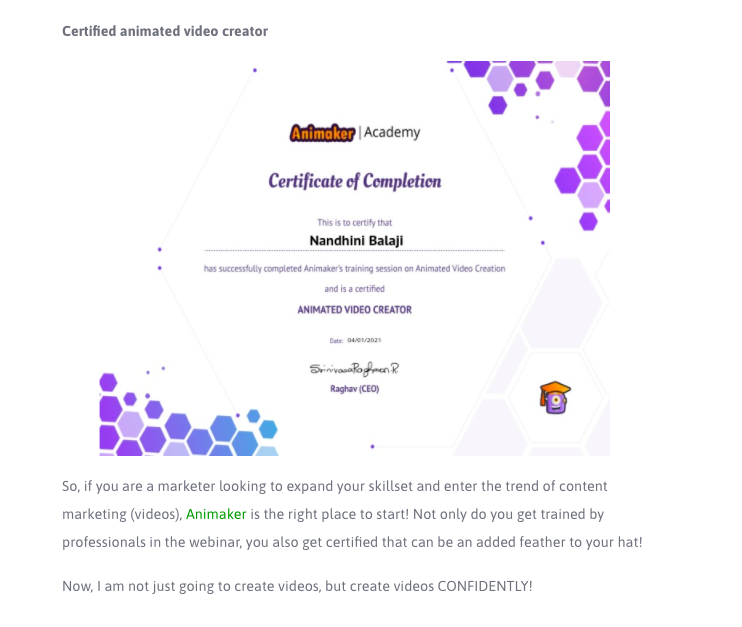 Adding the Animaker certificates to your website is a great way to demonstrate your knowledge on video making to anyone who may land on your website.
So, what are you waiting for?
Go add your Animaker certificates on your website now!
5. Add it to your cover letter:
Your cover letter gives you an excellent chance to share your skills and how you can transfer these skills to a prospective job.
It allows you to connect with a recruiter or hiring manager on a personal level and is a great place to discuss the professional skills that you've acquired and how they relate to the position.
Highlighting your video making skills and Animaker certificates in your cover letter provides the employer with the opportunity to find out more about who you are and what you can contribute to the Organisation.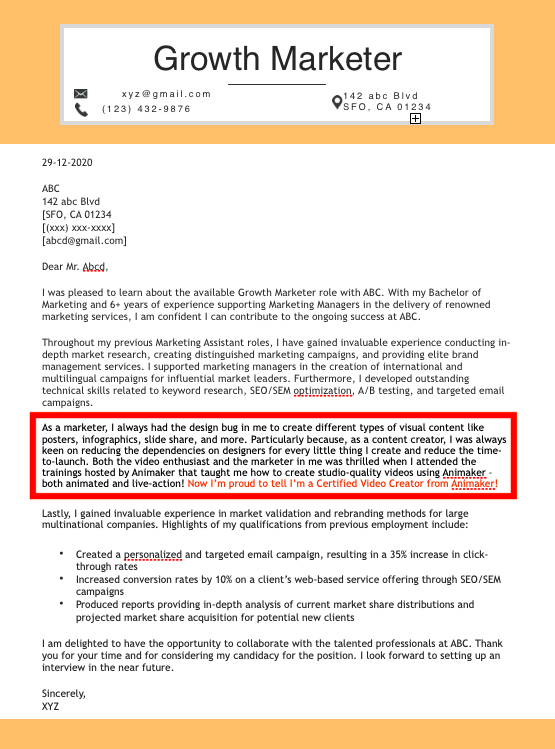 6. Add it to your Email signature:
The average office worker sends 40 emails per day. That's 40 opportunities to market yourself (and your skills) in those individual emails you send, every single day.
Email signatures are a chance for you to make it easy for people to reach you, and give people a place to find out more — about you, about your business, or even about your accomplishments and skill sets.

So, adding the Animaker certificates/badges to your email signature will highlight your key skills and showcases your knowledge on video making to all your email recipients.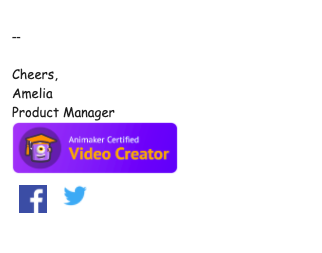 These are some of the best practices to market yourself as an Animaker certified Video Creator.
Certifications will get you noticed, but the person who knows how best to market yourself is YOU!
Start now to set yourself apart as a leader and generous citizen of your professional communities, and you can take yourself much further than you may have dreamed.
At the very least, with certificates, you can demonstrate that you were not laying around watching Netflix… And today, maybe isn't that enough to make a difference?