Hit it like Hollywood- 9 Secrets for your Explainer Video Production
A Voice of the Helpless Entrepreneur
"Hi, I am Jack, a startup entrepreneur. My search on how

to make

a viral explainer video has turned up to be a never ending research. I can hear you people voicing out to me 'Start the video with a problem-solving approach'. I always start like it

,

build a strong solution and end with a CTA. Yeah

!

Yeah! I've nailed the script with a story and crafted the start. And, what more are you going to add? Ok. You want me to fall at the feet of these right production

house

. I tell you that is the first thing I did. Now tell me how to make a killer video?"

The magical ingredient is to

add a pinch of

hollywood

secret to your video

. Hollywood- A world of fantasy and enchantment that can lure the imagination of the spectators irrespective of race and creed.

Hollywood has always been a cage...

a

cage to catch our dreams. - John Huston.

Yes,

indeed is

itself a dream which creates a world, sculpts,

colours

and fabricates the creatures in that world. Nowadays,

Creativity has become a sought asset in all fields.

And what better inspiration than the best of Hollywood to help people like Jack and you? Hollywood queues a long line of successful and creative people to get your mood from. Film directors, producers, screenwriters or actors, your pick. Now, Jack or you can draw motivation for your next explainer video production from the success stories of the high-engrossing Hollywood movies.

Why Hollywood?

Hollywood, is a dream factory that

mines

story either by a hit or miss. If a hit, the success secret tells us what to do? If a miss, the postmortem report of the reasons will guide us what not to do?

In 2014, many World Cup Advertisements like Nike and Castrol- Footkhana went massively viral with millions of views on YouTube and other social media. These videos gained their uniqueness by wisely

choosing animation and implicitly injecting some Hollywood success secrets

in it. If you are Jack, you can successfully achieve a similar effect by adopting our golden Hollywood lessons.
1. Raise the curtains the way Hollywood does
It's showtime now. It's the right time to be aware of an age old practice by the movie makers. There is a subtle way to get your brand name the needed attention. Instead of starting about your brand as soon as you start, raise the curtain by showing your brand's logo or tagline and letting the audience know where the message is from. A classic example for this would be the famous Tom and Jerry show, which opens with a roaring lion.

In case you already don't have an awesome logo, you can check out logo contest websites. This way you can get many options to choose from, that too at a reasonable rate!
For instance, if your video is promoting a mobile, then the tagline can be- Connect To The World. This embeds the company's slogan that conveys the brand identity with a tint of aspiration.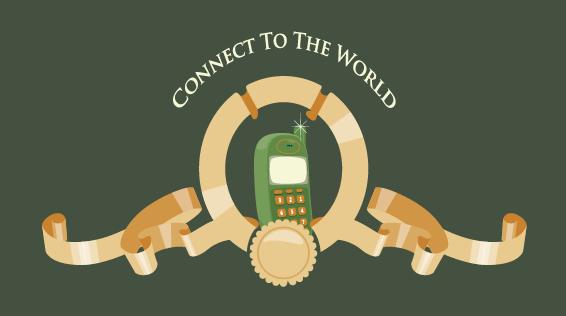 The reason behind this is smart yet simple. Once the audience sees this, they are all-set to watch a short film and be entertained, which keeps them amused and anxious to view more. They are relaxed that they are not going to fall victim to yet another sales pitch. Now, Jack has won half the battle and gripped their attention. Now, he has to effect a wow factor among the audience.
2. Evolve with your video
Yes, you got to emerge with your product. After all, the video is your baby so you got to groom it. It is you who can envision the project and possess the
mindframe
for it. So whenever exceptional ideas for the video pops in your mind, jot them down and take time to build your missile for the viral project. When you think it's time for you to propel the engine you can do so, then. Better not to outsource the processes to a third party who are unaware of the mission and the vision.
Avatar
is a masterpiece because its master James Cameron has picked up and assembled the pieces that he stored now and then for a long period of more than 10 years.
3. Script- Open loops and don't tie ends
Hollywood loots hearts with irresistible stories that can cast a spell of luck to your video. The first couple of 2 seconds is your chance to win a ticket for your viral video. If you don't lock audience attention within that then you've lost the game.
Open loops
- is
just simple psychological principle
used by all Hitchcock movies of not having closure on the end that produces anxiety in people and keeps them hooked to find out the end. Raise the viewer from the couch by that element of surprise and maintain that element to the very last second. A strong plot is an essential ingredient for compelling stories.
Hero's journey
Present the problem like the journey of a hero. Start the story like the hero leaving the world of comfort behind and steps into an alien world in search of a new mobile that allows human beings to shell out from their small boundaries and collaborate amongst a vast network.
Transformation
Strengthen your plot with various obstacles like in our case the different hurdles that he faces in his searching spree of that unbelievable mobile.
The Return
Finally, the hero returns with glorious victory with that unique mobile.
James Bond
movies are fine examples of a strong plot and surprise elements, whether it be pen gun, dagger shoe, Tape-recorder camera, cigarette gun all
guarantees
surprise. Jack can become a bond to hit his video.
4. Nail it right from Storyboarding
Right
at
the rise of storyboarding have a clear and
an
global picture of your video project. All Hollywood movies embrace effective storyboarding which can either be simple or detailed. This stage helps to scheme the sketches for each shot from beginning till the end focussing on the following,
Length of the shot
Description of the scene
Character Placement and their action path
Star War movies are built on the strong foundation of effective
storyboardings
.
Storyboardings
make it easier to get something right on the first try.
5. Bring dinosaurs alive
Why stick on to humans when animals make a good choice? If your application is cloud-based
,
don't state it explicitly in the video like it is a mighty big server with enormous capacity. Instead, smartly portray your application as a donkey so that even if the viewer is not a tech-savvy, the concept of Cloud is conveyed. This impact can be easily won by animation, achieving a unique branding at the same hour.
The world is still researching to gain insights on the psychological effects of animation. But certainly, Animation captivates our attention and imagination. If super-action sequences are done without animation, the mind is a bit suspicious with all these 'effects'.
Animation justifies and brings this fantasy world to reality.
The movies
Jurassic Park
and
Harry Potter
that hit the box-office does take this route and opened up the imagination to a world of possibilities. Spielberg smartly used animation to convey a spirit of whimsy, mystery and fancy, that both children and adults can relate to. If, Animation can make impossible to possible in Hollywood, Why not for Jack in his video venture?
6. Stun with an Awesome visual
Never commit mistakes in the visual be it a picture error or typos. Hollywood movies are looked upon for their perfection. Even if you have all the above lessons wrong, you can still win with a super-awesome visual. Hollywood shares the recipe for creating cool and warm
colour
grading techniques used in blockbuster movies like
Mission Impossible
and
Transformers
.
You can apply these techniques to your own explainer videos and splash that super cool effect. Trademarks of the Hollywood Blockbuster style, color grade include cool, blue and teal backgrounds.
Jack can always upgrade his explainer video to Hollywood quality by adapting these
colour
grading and correction techniques.
7. Brand it like Bond
In this dog eat dog day, every product, should reinvent itself. Movement and time is the hallmark of
James Bond
movies. The element that is tagged with Bond is a movement that is Ladies, danger and gadgets. The changing element is time. Everything is up to date or beyond that. Apply the same formula to your product video too. To portray futuristic events might be a challenge, but you can accomplish by at the least upgrading to the current trend.
Whether an ice-bucket challenge or selfie, match the day by appending it to your script to make it viral and then showcase your video.
8. Roll down curtains, smartly
Let's take a quick look at how the
environmental message
conveyed by the film allowed Avatar to become the biggest movie of all time. Since,
Go green!
has
become a popular trend, the environmental message in the movie pulled viewers who wished to show off their concern for the environment. This strategy is more powerful than our Jack's CTA method.
When you roll down the curtains,
do not obviously ask, 'buy my product'
. Smartly close with your caption that you posed in the production title that holds a
cause
.
Connect To The World-
implicitly calls the people to action. Inference being, if you aspire to connect to the world then buy our mobile. Don't you think this is an elegant CTA?
9. Teaser with The Tipping Point
The final factor that applies to any wild success story is social
behaviours
and popular culture. People want to be a wedge of a winning team, so once they start hearing about a hit, they naturally wish to bind in. It's the momentum that matters.
Build that momentum with an eye — catching teaser. Tease your audience with an attention grabbing campaign in all leading social networking platforms
like Facebook, Twitter, Google+ prior to your video launch. By doing so, create the required hype for your video. Keep your viewers under suspense by putting some blurred image of your logo or thumbnail image of your video with
"Coming Soon" signs
. Make them think what is this all about? With such an efficient marketing plan, Hollywood championed all the above lessons and conquered the world.
Click on the following link to gain insight on Startup Launch.
10. Killer Tips to Startup Launch
We are
assertive
that these golden lessons are worth a bookmark and reference before a pitch in. Now, over to Jack to take the pride of a viral explainer video and walk the ramp in style grabbing an award for his blockbuster. Of all the above mentioned secrets which ones inspire you the most? Share your thoughts and excitement with us in the comments below. Also, if you have any questions about these lessons — ask away below and we can respond to as many as we can.