How to use Instagram Stories for business: A Definitive Guide!
Why should you make Instagram Stories?
Right after the launch of Instagram stories, Snapchat engagement levels fell by 15-40%. Even influencers saw 3-5x better engagement levels in Instagram stories than Snapchat stories.
And it just gets better for businesses:
After releasing 'stories', Instagram has continually been adding new features. It has evolved into a business friendly platform with versatile ad features backed by analytics. Moreover, new features like full screen ads, mentions, swipe up CTA's, links, boomerang, targeting and retargeting options, Instagram TV etc further add to the business advantage.
Instagram stories is a trend here to stay!
After reading this Guide, you will be fully equipped to create Instagram Stories that'll make your brand Insta-famous!
Here's what's in store for you:
How to use Instagram stories?
1. Media:
Instagram stories have 5 different media options- Live, Normal, Boomerang, Hands-free and Rewind. While Live and Normal were already there, the other three are relatively new!
(i) Hands-free recording:
With hands free recording, you can create neat stories without holding the phone in your hand. It works like the regular camera mode in phones. Instead of holding the button all along, you can just tap once to start recording and tap again to end it.
This helps if you are trying to create a story where you'll need to use both hands - a crazy dance move maybe?
(ii) Boomerang:
Most of us mistake Boomerang to be a form of Gif. But, it's not so! Boomerang lets you create short videos in which a video is played back and forth quickly in a loop making it look like a flipbook. It's a cool and unique feature loved by many!
Here is how few brands are using this feature creatively. See how Refinery got creative with the boomerang effect:
(iii) Rewind:
Another hip media format is Rewind. This video says it all.
How can brands use it?
'Media' is one place where Instagram stories has outperformed Snapchat stories. With tools like Boomerang and Reverse, you can add a new perspective to your story.
For example, you can do a unique reveal of your product using boomerang effect and ask them to check more about it in their blog. It is an excellent way to generate excitement around an update!
Red Bull took things one step further to show off a split second action sequence. They used it to build curiosity and send people back to their website!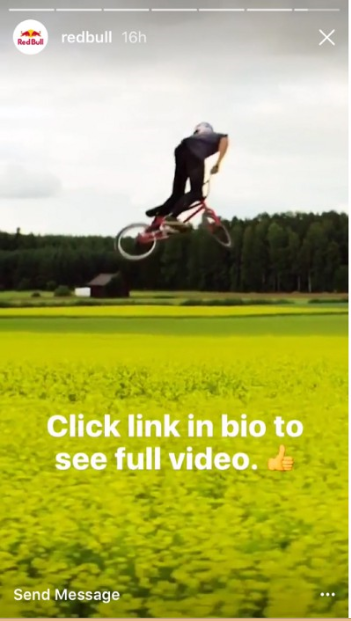 The magic of the Boomerang effect is in it's ability to make a moment look magical! With a little bit of creativity, you can really capture the attention of your audience!
The Reverse tool is yet another unique tool.It can be used to show a process from end to the beginning. It can be used to build curiosity on how something was achieved. For example, cosmetic brands can use it to show how the reverse process of how people look before and after using their product!
Or, you can just pick up a fun work moment, use the reverse tool to make it cool and show off your company culture!
2. Stickers:
When emoticons came up, it took the world by storm and enriched communicating. It was able to bring in that dimension of emotion which made things a lot more fun. Similarly stickers bring in that element of fun in Stories that can makes it 10x more engaging!
Instagram has gone a level ahead with stickers by releasing it in 4 different types. The best part is, you can shrink or expand the sticker anyway to fit in the story.
(i) Geotags and Time:
With Geotag stickers, you can tell location based stories easily. They are customizable by style and text.
When users tap the sticker button in Stories, they will notice location-specific options at the top of the menu. These new geo stickers will take viewers to the map of that spot so they can see photos and videos from other users.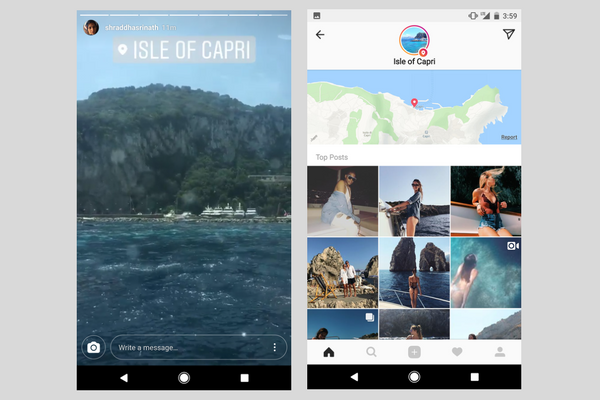 (ii) Selfie stickers:
Instagram lets you convert your selfie into stickers. To create a selfie sticker, Tap on 'Stickers.
You will find a camera icon in the right corner of the stickers screen. Tap at it, Take a selfie and drag it where you want it to be.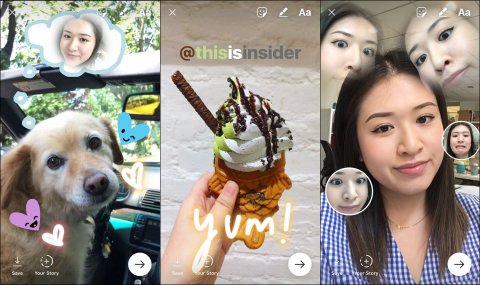 (iii) Hashtag stickers:
Thanks to Instagram stories' Hashtag feature, your story can now be part of someone else's explore page.
To use Hashtag stickers, tap the stickers icon and choose the hashtag sticker. Tap it, rename it and post your hashtag on your story. Once they're posted, people can simply tap and visit the hashtag page to explore related posts.
A Hashtag sticker plays the same role of a hashtag. You can use this feature to increase discoverability. It gives you scope to be a part of a trending subject.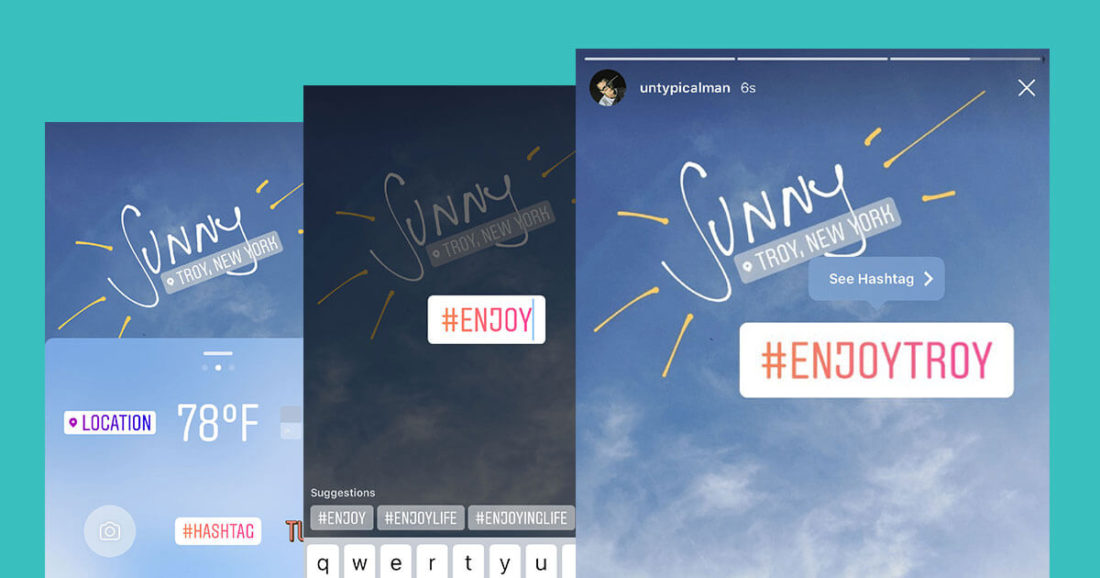 How can brands use it?
Sky's the limit! You can tell almost anything with stickers. Play around with stickers to tell amazing stories.
3. Text box
This feature lets you add textual content to your story. Instagram stories have added an interesting extension to text box. It's called Mentions.
Mentions:
'Mentions' transforms texts to links. To add a mention, add text to your story, type "@" followed by the username of the profile you'd like to mention. It will appear underlined in your story. When someone taps on it while watching your story, a pop-up will appear that takes them to the Instagram profile you mentioned.
How can brands use it?
Nat Geo have used Mentions cleverly. They have created a series of most visited park's images into a story and added a mention of the park's Instagram handle so that National Geographic's followers could check out more on each one. This way, they are extending the scope for people to discover more content with the instagram handle.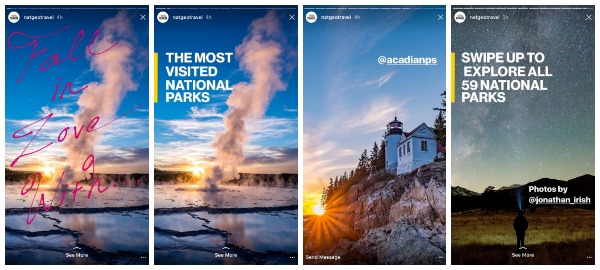 4.Doodles
Once you take a photo, you'll see three icons in the corner: A text box, a brush and a marker. If you tap the text box, you can add text, and if you tap the marker, you can draw.
You'll have a choice of three drawing tools: A pen, A brush and a highlighter. There are three brushes: regular, highlighter and glow.
At the bottom of the screen you can adjust brush size and choose from an assortment of colors.
With Doodles, you can do almost anything- Draw borders, fake scenery, masks etc.
Let's see how to place a canvas over your screen. To create a canvas with the doodle tool, tap the highlighter and hold it down for 3 seconds.
If you want an opaque canvas over your screen, tap the marker or the pen tool and repeat the process. The trick is to then use the eraser brush to reveal parts of your story!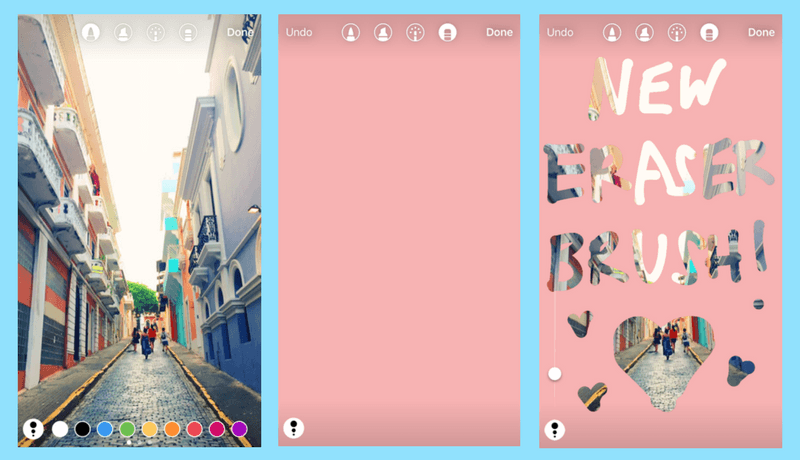 Glow pen is an option from the doodle tool. It makes your doodles glow like neon lights. This is an exclusive feature which makes it better than Snapchat! Here is a simple example.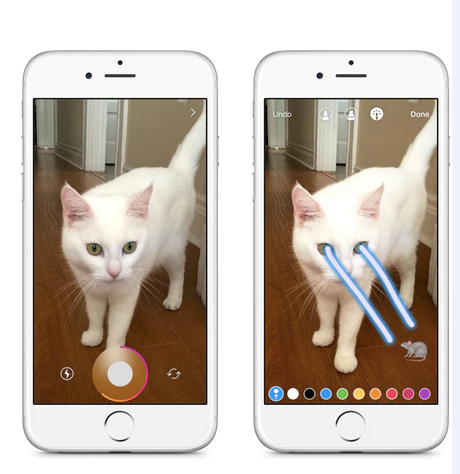 How brands can use it?
Doodles can do a lot of magic. It brings in a human element as each doodle will be unique!
See how Etsy has used a combination of text and doodle to create an interesting how-to tutorial.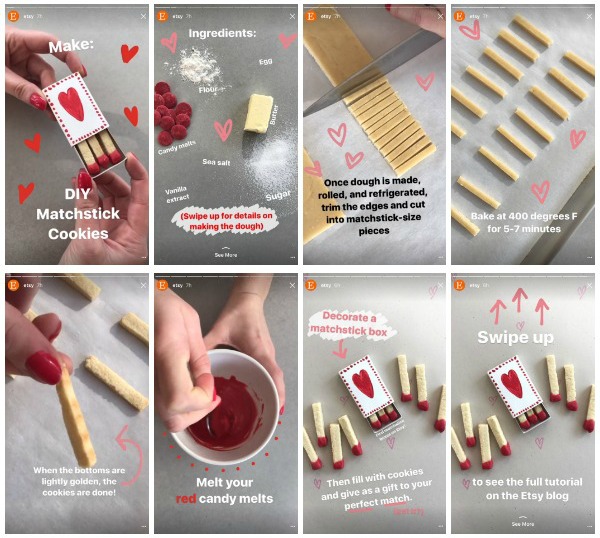 5. Face filters and screen filters:
Both Snapchat and Instagram have been taking augmented reality a step ahead using face filters. At present, Instagram stories has rolled out 8 face filters.
You can use the face filters using the front camera as well as the rear camera. You will find them in the right corner of the instagram stories screen.
Just like Snapchat, you can swipe left for a series of filters that can be applied to your image or video.
6.Swipe Up CTA's:
You can add a 'swipe up CTA' to your story and give your link under it. Instagram has launched this feature only for a few businesses. However, it is going to be released all over soon.
Instagram stories have tested on this feature with a few brands. It was seen that these brands have a 15–25% increase in swipe-through rates with a reasonable ROI.
Here's an example.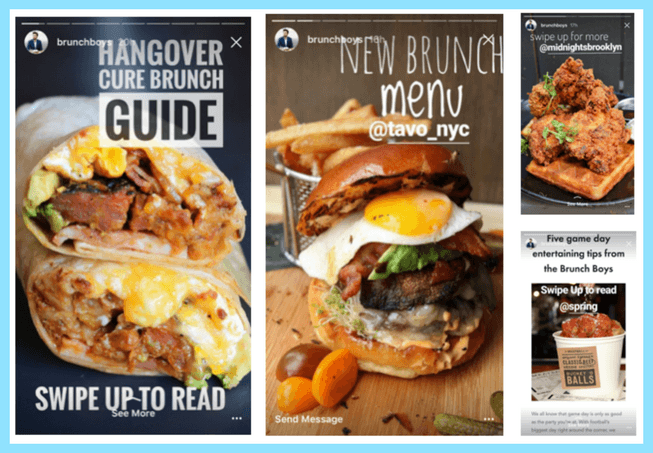 How brands can use it?
Since Swipe up CTA's are customizable, you can add anything according to the target you want to achieve. For example, You can add a 'learn more' swipe up CTA to drive more traffic to a blog article or a "Shop now"/"Explore" to drive traffic to your ecommerce site.
7. Pinning:
This is a new feature in Instagram stories. With this feature, you can pin a sticker to a moving object in a video.
Here is how you can use the pinning tool.
Shoot a video in 'Normal' mode.
After you shoot the video, swipe up to access a collection of stickers.
Tap on the sticker and hold it for sometime to pin it.
You will notice a slider at the end of the screen. This slider is used to select a particular moment of your story.
Place the sticker wherever you want.
Tap next and it's done!
Many don't know that Instagram stories lets you zoom in and out while creating a story. If done well, it can make your story more interesting!
To zoom in, hold and pinch the screen outward as you do for regular zoom. Similarly, you can zoom out by pinching the screen inward.
5 Creative ways to use Instagram stories for business
You should aim to post at least one post story per day. But running out of ideas? Nothing to worry, there is always a way:
(1) Repurpose blog posts:
For marketers struggling to drive traffic to your blog, this can be a quick way to get some traction.
Summarize the blog article into a short Story and mention the link of your blog article just like what Red Bull did. Moreover, the link back feature is in testing phase and it will be released soon.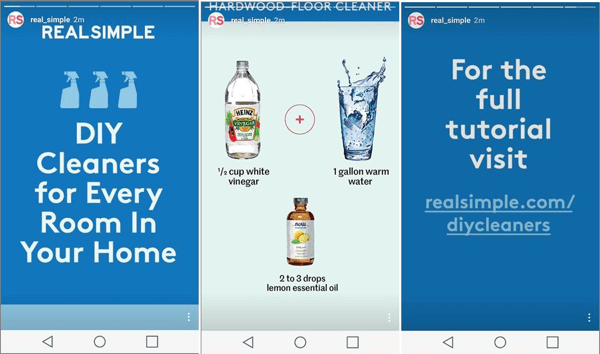 (2) Create suspense:
Use an Instagram Story to create suspense about your product. By doing this, you increase the buzz around your product. It indirectly drives traffic to your site and even drives sales!
For example, if you have a product launch or a product update, you can create a suspense around it by revealing a small hint. You can then start a countdown and post a story around the update every day.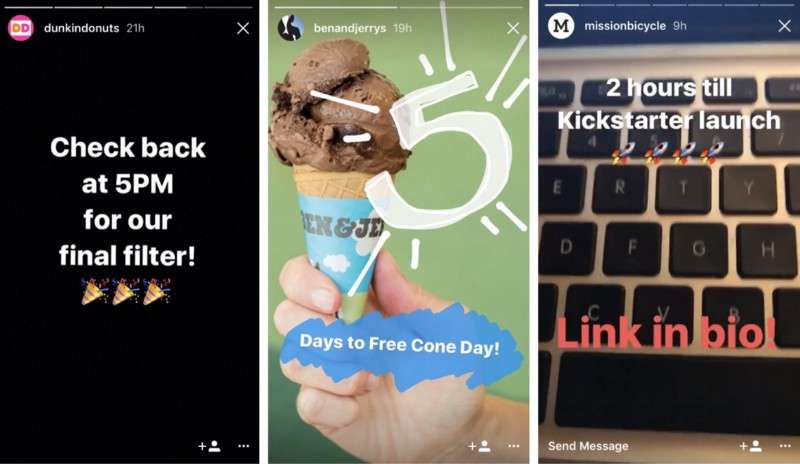 (3) Use Animated Stories:
Now, Imagine you are checking out your Instagram Stories feed. You swipe right the boring ones and suddenly an animated story pops up!
The best way to garner the attention of your customers is to do exactly this. Surprise them! Do something which no one is doing! Animated stories is an unexplored hack very few people are using. Moreover, who doesn't love animations!
So what type of animated stories will engage your customers? We've devoted a whole blog regarding the type of animated stories that can make your customers go wow!
In a couple of years, or even months - animated stories will be a norm. By doing it before everyone else, you will be riding on a trend instead of following one!
(4) Teasers of your Facebook live event:
Instagram story teasers about your live show can build up excitement! Try to tell some interesting details about your live event and how it will help viewers.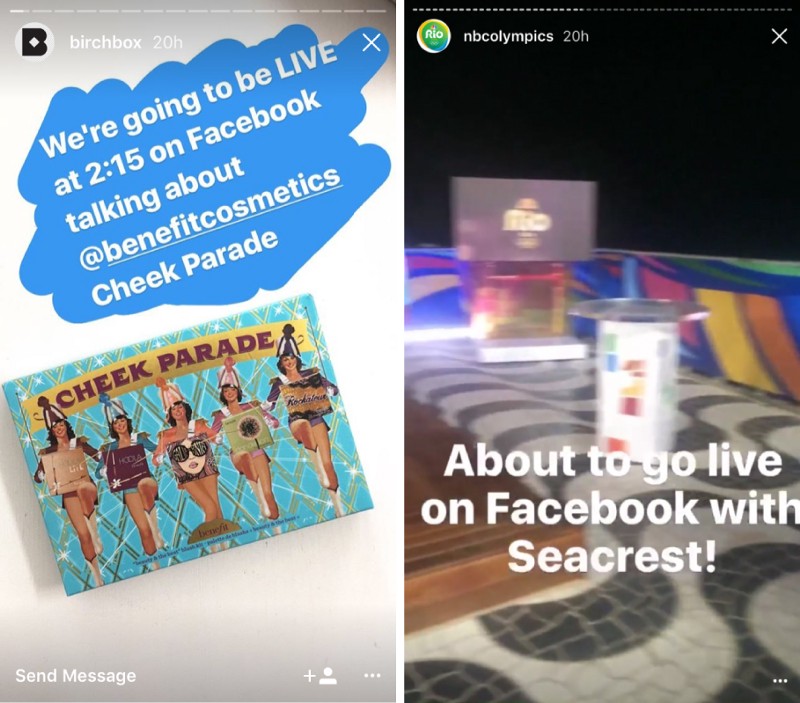 (5)Coupons:
You can Post a "coupon" as an Instagram story and announce that the offer expires at the end of the 24-hour story period.
The coupon can direct users to the link in your Instagram bio, which will take them to a landing page where they can learn how to grab your special offer.
Flipkart uses a similar approach.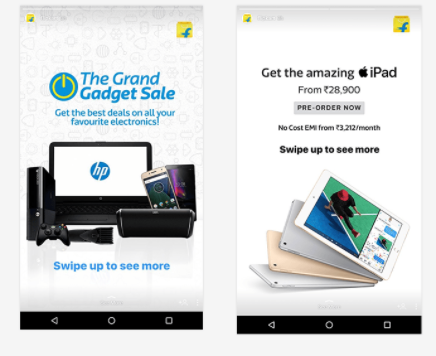 Bonus Tips 1. Use full screen ads for a better user experience:
Instagram recently did a global roll out of its full screen story ads. You can now watch the ads full screen with the sound automatically on. And, If you want to skip a part of the story, you can simply swipe.
Image based stories appear for five seconds while video based stories can be as long as 15 seconds. Instagram stories have tested full screen ads with select brands like Airbnb. With this feature, Airbnb claimed to have seen a double point increase from their campaign with a decent ROI.
How to create ads on Instagram stories:
Step 1: Connect Instagram stories with Facebook: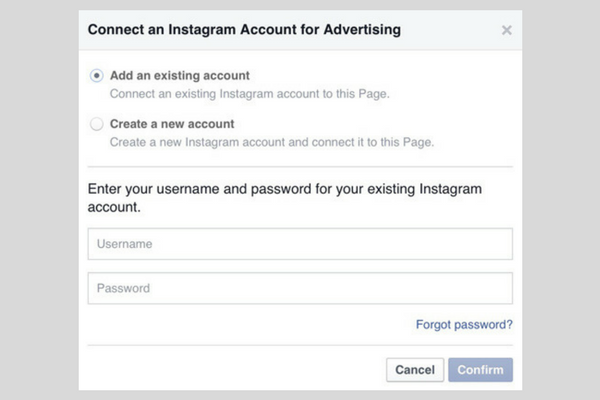 Step 2: If you have an existing account, add to it or create a new account.
Step 3: After you connect Instagram stories with Facebook, you have to choose an objective for your campaign. Presently, reach is the only objective available on Instagram stories.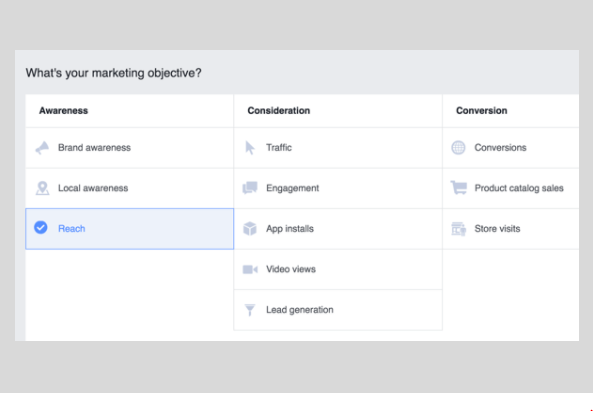 Step 4: Next name your campaign and click Continue.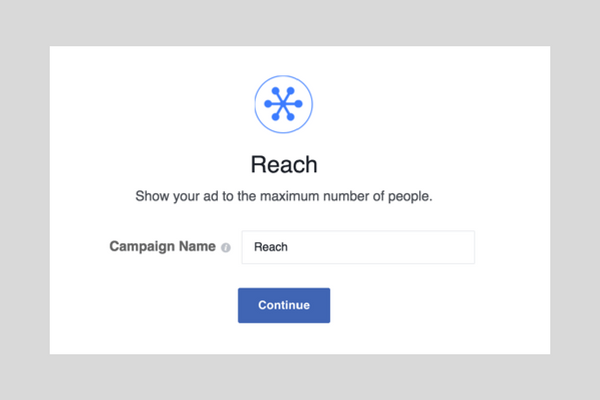 Step 5: After you define the audience for your campaign, go to Placements and select the Edit Placements option. Then under Instagram, select Stories. Note that after you choose Stories, the other placements will be unchecked because you can't run an Instagram Stories ad for other placements.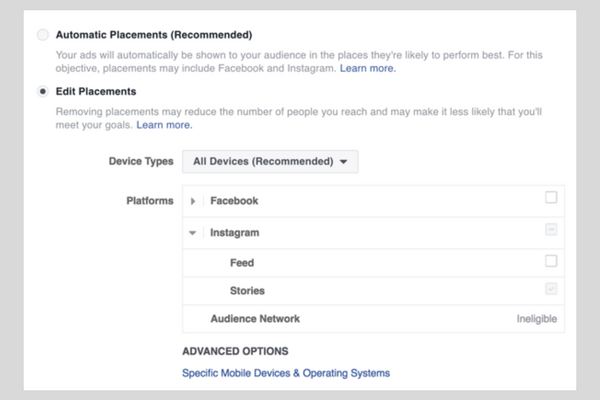 Step 6: Next you need to set up the budget and schedule. Choose the ad format and click next.
Step 7: After you choose your style, upload image or video file.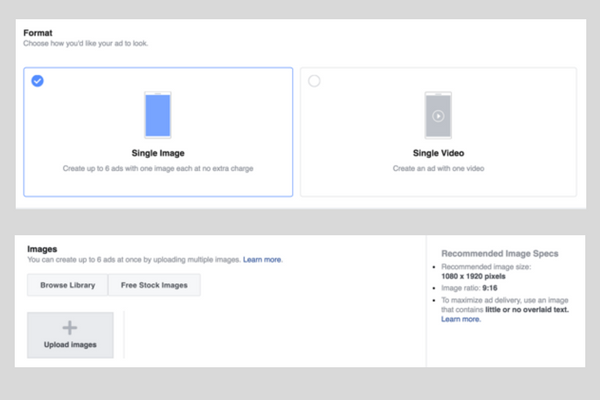 Step 8: If you are uploading a video, you will get the option to choose a preview image for it when upload is complete.
Facebook recommendations:
Size: 1080 x 1920 with aspect ratio of 16:9
Format: If video, .MOV, .MP4, .GIF
File size: 2.3 GB with 720p resolution
Step 8: Recheck all your campaign essentials. You can launch your ad now!
2. Measure performance with brand analytics:
Instagram has launched 'Instagram insights' for Business accounts. You can see an in depth analysis of how your story is performing. You can see metrics like impressions, reach, replies and exits.
Impressions- Determines the overall view count of your story.
Reach: Determines the number of unique users who saw your story.
Replies: Shows the number of times people send messages through your story.
Exits: Determines the number of times someone returned to the feed or swiped to someone else's story.
Wondering how to view insights of your stories? Click here to find out.
Conclusion:
At present, Instagram stories has the clear advantage over Snapchat stories. This is because it's connected to a larger Facebook ecosystem which contributes to greater public discoverability.
Moreover, the instagram algorithm and ads targeting options of Instagram stories puts them on greater priority than Snapchat.
If you have not made Instagram stories a part of your marketing strategy yet, it's time that you include it as a priority.
Have you used Instagram stories before? Do you have any other innovative ways of using Instagram stories to add here? If you do, let us know in the comments section.