7 creative strategies to techify your classroom
"If we teach today's students as we taught yesterday's, we rob them of tomorrow."-John Dewey
Education is at a turning point. Teachers are taking efforts to reform education by integrating technology into it. A 21st-century educator requires the students to engage, recognize their interests and create a self-learner attitude in their students.
While most of the countries like US, China, UK, Singapore, Uruguay, Cuba etc use integrated technology extensively, few other countries do not have even an access to the internet.
To weigh what technology actually does to the education system, a survey of more than 2,600 U.S. college students was taken. The result of the survey was concluded to have shown a positive impact on the students.
67% of students say study technology makes them feel better prepared for class.
57% report that it helps improve study efficiency.
46% report that it helps improve confidence.
45% report that it helps reduce stress.
While a few teachers feel that technology cannot pace up with the voluminous curriculum, few teachers look out for the brighter side.They believe that students must pace up with the stable modernizing society where education must be deep-rooted in the core values and in-depth knowledge.
We give you few creative classroom technologies that you can implement in your school to tap out the sparks of ingenuity in your students.
The Advanced and trending methods.
1.

Electronic whiteboards

The first ever whiteboard was out as early as 1991. According to the Newsweek magazine, in September 2008,

"More than 70% of primary and secondary schools in the U.K. have interactive whiteboards compared to only 16% in the U.S. The usage of whiteboard has shown an increased student engagement, school attendance, and higher test scores. Judging from recent news reports, it is likely that a portion of the new federal education stimulus funding will be invested in interactive whiteboards."

It may look like a projector, but whiteboards are more than what it seems. Whiteboard is typically an interactive smart board. You can operate it with the touch of your finger or use a digital pen as you operate your desktop. With a whiteboard, you can add links, show a video, select an image, highlight a point, add comments and even draw images for an explanation.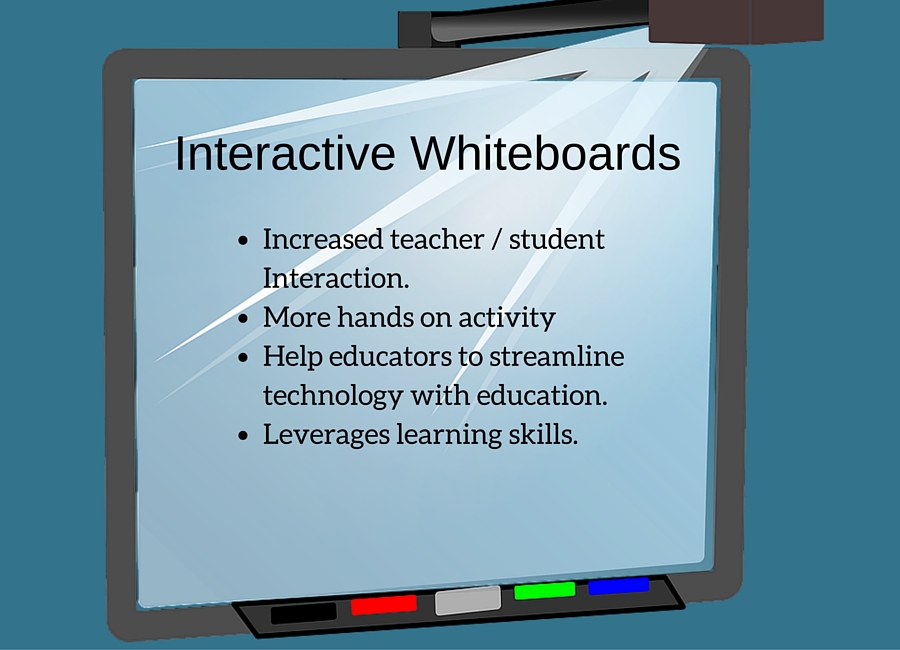 Interactive boards can be used very creatively in the classroom. While teaching on a subject, you can validate the point by showing them a video of it .( IWB are multimedia Feasible). If your geography lessons are boring, you can take your students on a virtual tour using Google maps. Or show them some interesting videos of the past. The advantage that lies with interactive whiteboards is that you can hook your students easily while you operate the whiteboard, making learning more productive and fun.
To make the educator's work easier, many websites are provided for making use of this quality resource.
For more resources (http://www.emergingedtech.com/2012/11/6-free-online-collaborative-interactive-white-boards-2012-update/)
2.

GIS (Geographic Information System)

A geographic information system (GIS) is a tool for visualizing, questioning, analyzing and interpreting data to understand relationships, patterns, and trends of the earth pattern. Education World has an interesting news captured in its article regarding the same.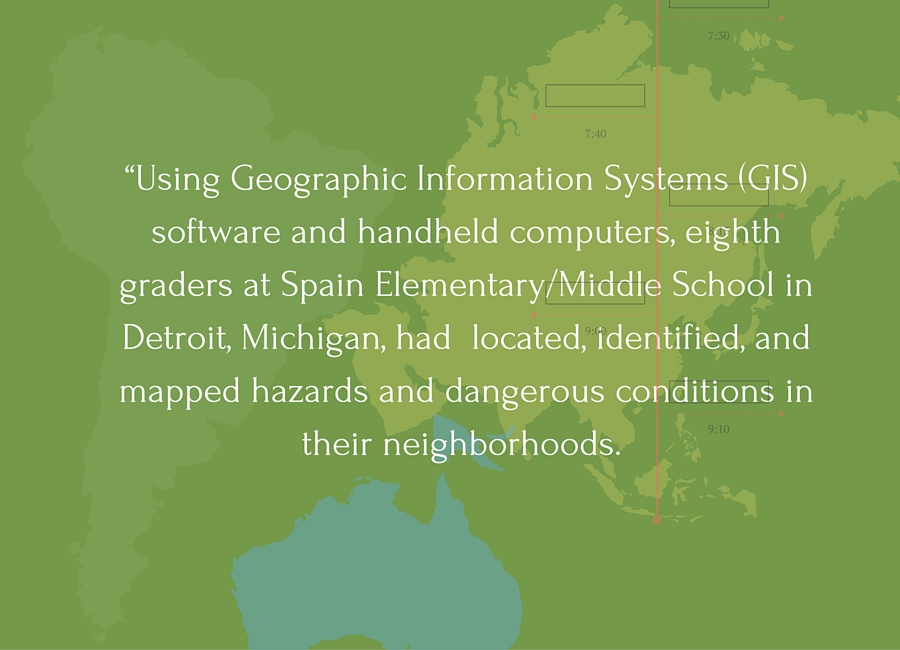 This was when the students participated in "Mapping Out A Safer Community", conducted by the Urban Safety Program of the former Wayne State University College of Urban, Labor and Metropolitan Affairs, Center for Urban Studies, in Detroit. The program was aimed to make the students think out of the box. The students have shown sparks of ingenuity by integrating technology with knowledge. Therefore, Technology not only fosters learning but induces critical thinking in the students. This is a real time example of it.
Teaching with GIS is increasingly used to teach concepts and skills in earth science, geography, chemistry, biological science, history, and mathematics courses. Many major universities and community colleges in the United States offer some type of GIS education. GIS is also used as a fundamental research tool in institutes of higher education for geography, demography, geology, and other disciplines.
3.

Gaming Education

Parents and teachers used to lament when they struggled to keep their kids' eyes off the noneducational screens. Digital video games were kids favorite pass time. But now, it is a part of the curriculum. The first stance of gaming education was seen in 2008.

Video games are playing an increasing role in school curriculum as a classroom technology.Teachers are now seeking new ways to deliver core lessons such as math, reading, computer programming etc in a format that holds their students' interests.

Here are a few examples of Gaming education.

Minecraft: Everyone is familiar with Minecraft, a digital game of players building blocks and structure of cubes out of strategy and imagination. A similar game called Minecraftedu was used by teachers to teach mathematics concepts of area, perimeter, probabilities and even foreign languages.

Geology Explorer: This game for high school and college students is designed to teach geology in a fun, interactive way. Players perform a number of exploratory tasks on the planet Oit, identify findings, create a map and overcome hardship.

Reach Out Central: This game teaches emotional and social skills by allowing the player to redo scenes from their lives which they wish had turned out better. It shows how beliefs and actions affect one's mood and leave the player with experience trying out different responses to various situations. Provides practice for emotional well-being.

Pandora Project: The Pandora Project was a role-playing game in which students developed islands of expertise in the science and ethics of xenotransplantation by engaging in the practices of professional mediators. It is similar to a WebQuest where you can ask your students to play a role. For example, the student serves as curators of a museum on a particular topic. They must search the Internet to determine what artifacts belong in their museum and explain their choices.

Examples of webquests:

Tools to create them: Zunal, Teacherweb.

Gamestar Mechanic: Listed under the top ten education games , gamestar mechanic is a game focussed on computer programming. Players get a chance to win enough power to design and create their own video games by solving a set of puzzles. One question asks users to determine how two players arrive at a given point at the same time using physics concepts.

SimCityEDU: A version of the popular city-building game, is likewise a learning and assessment tool for middle school students that covers the English, math and other lessons. Schools like Quest to learn (2009 ) have been encouraging educational gamification as they feel that it improves their critical, analytical, cognitive as well as social skills tremendously.
The old but effective methods
4.

Create a class webpage or a blog.

The idea behind creating a classroom blog is to let the student express their views, their talent, humor or even an innovation. After all, a school is a place where a student learns all the skills to face this competent world. The blog could help to bring out the genius in the student, as well as foster the social behavior among their classmates. This classroom technology hones not only social skills, but also induces a higher thinking pattern in the students. You can also use your blog as a valuable study resource of useful links, videos and podcasts.

Many teachers who have implemented this technique saw a huge difference in the learning skills. They saw an increased positivity towards education and even transformed the way they think.

There is a quote "Technology gives even the quietest student a voice in the classroom". This is true mainly with classroom blogging.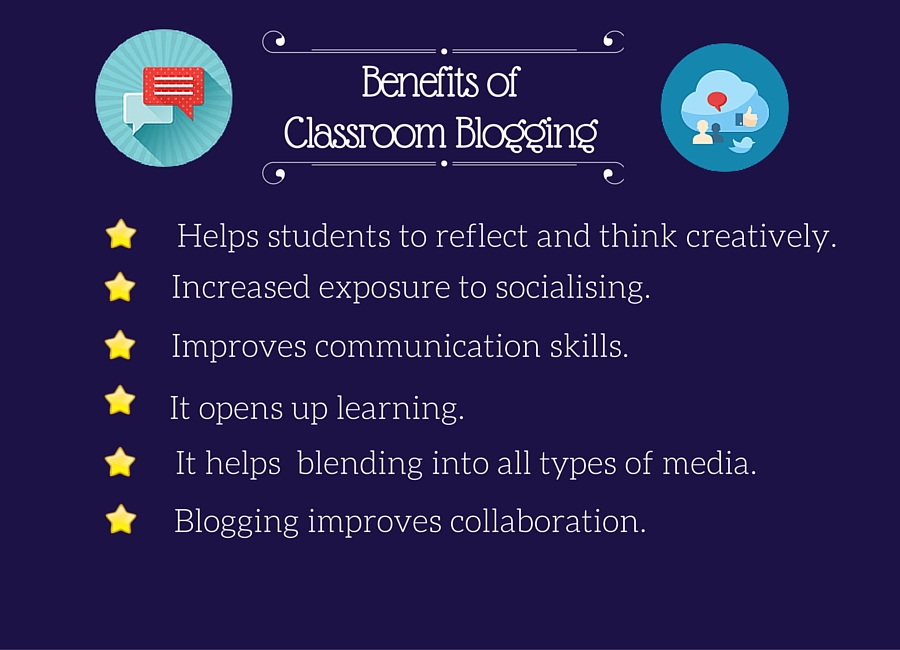 Here are some real time examples of using a blog in the classroom.
5.

Integrate your curicullum with Creativity

Creatify your class room! One of the best ways to make your children fall in love with the curriculum is by integrating it with their natural creative instincts. Every child is born creative. Creativity is something they lose over time. But if you can somehow incite their natural creative potential, you'll become their superhero. This is why they love video games!

So how to do it? Give creative assignments! Like, ask them to make posters on what they learned yesterday. Ask them to submit their homework as an animated video! The opportunities are endless. You can use tools like Edify to make it work. Edify is basically an array of Do-It-Yourself (DIY) digital tools that help in creating Infographics, Animated videos, Posters, GIFs and animated presentations!

Check out this Creative Science Project video by 9th grader Maria Isabelle:

Edify was developed after talking to 200,000 education users of Animaker. It is also a kickass classroom management tool that helps teachers keep track of creative assignments and also send provide feedback.
6.

Create a virtual class using social media.

Chris Cox had a small team of Facebook engineers working together with a group of local educators on an exciting project — to create a classroom experience that's centered around students' ambitions that take advantage of all the technology and information accessible to a kid growing up today.

The Facebook team has taken this initiative because it believes in the power of technology and a social platform in the education system.

Education can be far more enjoyable, interactive and purposeful. If you can master the settings of Fb, you can make a thoroughly enjoyable learning environment.

You can make them do interactive grammar tests, or educate them with a video or amuse them with an image. With such an advanced social sharing, Facebook can do a lot of good even in education.

As a teacher, these tips should be kept in mind while using Facebook as a virtual classroom( It is inevitable to respect student's privacy on a social sharing network).

Keep a separate "teacher" account other than the usual account.
Don't ever 'friend' students yourself - not even as your "teacher" presence.
Don't FB chat.

Here are few Facebook tips for teachers given by Facebook Chief Security Officer Joe Sullivan. (

Click here

).
7.

Podcasts

In fall 2009, the university's Center for Innovative Teaching and Learning studied a history class of 262 students to find out whether a podcast really helps. He created 10-minute podcasts with graphics and audio, as well as a text transcript of the podcasts with visuals to supplement his lecture class. In the first research run, half of the class used the podcasts, and the other half used the text. In the second run, they switched.

The results obtained were that the students did not show a statistical improvement in their tests, but it somehow managed to hook them and get the content grasped in them quickly. On a clear note, Podcasts could be an enhanced learning pedagogy that improves concentration and understanding power in the students.

Here are a few examples of podcasts for your reference.

Today's students have tremendous opportunities to learn and to connect by using technology. Do you know any other ways of using technology in classrooms? Please share your ideas with us.