Introducing Animaker 2.0 - The Future of Video Making starts here!
Today! We are happy to announce the launch of Animaker 2.0
Building Animaker 2.0 has been our biggest undertaking since the launch of the first version of Animaker back in September 2014.
Throughout our journey, we have worked hard to stay true to our goal of equipping every creative individual and business with their own in-house Video Making Studio that is both functional and affordable.
While we have succeeded phenomenally by helping more than 4 million users create kickass videos, we believe that we have only helped a small fraction of the market. So we decided to take our goal to the next level by building Animaker 2.0
So, what is Animaker 2.0?
It is the easiest yet most powerful DIY video-making tool ever built on the HTML 5 platform. It is an application like no other. It serves all kinds of needs depending on the time you have in your hands. If you have 5 mins, Animaker 2.0 can help you quickly help whip up social media GIFs and short videos. If you have 1 hour or more, it can even help you edit Full-length videos.
The all-new Animaker 2.0 was created to be the swiss army knife of creativity for all video creators around the world. Animaker 2.0 provides cutting-edge features to help anyone create anything from Animated explainer videos to 4K YouTube intros.
What does Animaker 2.0 have?
Animaker 2.0 was built to help non-professional video makers like you and me create professional-quality videos. The new platform comes with three new smart products that help anyone create amazing videos for every need.
Let me walk you through the different applications by starting with an application that is completely new to Animaker.
1. Video Editor
With 2.0, we have now spread our wings from the animation world to help creators to even work on Live videos. Yes, you now have everything you need to create and edit Live Videos at their highest quality.
There is so much untapped creative potential in the world and it shouldn't be restricted by the creative limits of any platform. With Animaker 2.0, we want to unleash that creativity by expanding the horizons of what is possible with an online DIY application.
Innovation and new features
Edit 4K Videos
It's one of the first online video editing applications that helps its users create or edit 4K quality videos.
100s of Moments
There are times when you only have a few hours to turn your idea into a completed video. To help you slide smoothly through these times, we have created 100s of Moments which are ready to go video templates that can be edited in a few simple steps. All you have to do it pick a moment, edit text & assets to match your case and simply click export.

100 Million Stock Assets
Animaker 2.0 also comes with 100 Million stock images and videos. The stock library is so big that it allows any person to create videos on any subject instantly.
Here's a sample video we created using our new Video Editor
Now let's have a look at the second new application on Animaker 2.0.
2. Animaker Lite
Animaker 2.0 comes with a sleek and light video creation product called Animaker Lite. It is designed to be the world's easiest GIF maker and short video maker. If you just have 5 mins to whip up a social media GIF, you now have an uber-cool application that can help you do that.
Innovation and new features
Giphy Integration
Animaker 2.0 comes ready with GIPHY integration. That means that any creator can now access the entire GIPHY library to make their videos a lot more fun.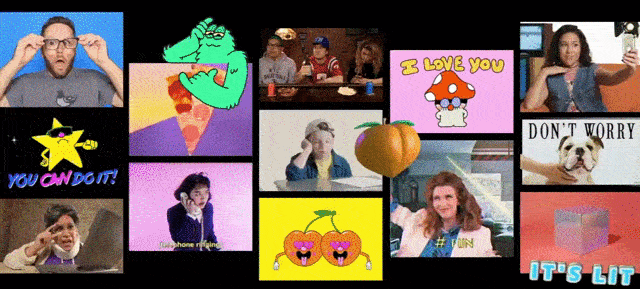 GIF exports
Once you are done, you can export your short videos into a huge number of formats including the GIF format. Yes! GIF exports now come as a standard across all plans.
The third smart product of Animaker 2.0 is the Animation Maker.
3. Animation Maker
Over the past 4 years, our flagship Animation making platform built on Flash has helped users create millions of videos for both professional and personal use. It grew to become a favourite among the DIY community because of the quality of its Animated characters and assets. Today with Animaker 2.0, we are taking that to the next level with path-breaking innovation.
Innovation and new features
Character Builder[Bitmoji for Businesses?]
In a world that is dominated by Bitmoji and Animoji, Animaker's character builder will fill the customization needs of all business videos.
Why is this character builder revolutionary? Because it has 15 different facial parts! Everything ranging from the face structure, eyes, nose and more can be modified to build the exact face you want. With the new builder, you also have more than 10 different accessories to make your character feel really unique. Together, you can mix and match to literally create billions of unique characters.
Auto Lip-Sync
Once you have a really impressive character, you might want really impressive lip sync too. We have done just that with Animaker's new Auto Lip-Sync feature.
20+ Facial Expressions
The new characters are loaded with new facial expressions. The new list of more than 20 expressions can truly help bring your videos to life.
Gradient Background
Today, we are changing backgrounds forever. For a long time, we have been stuck with solid colors as backgrounds for scenes we build from scratch. Not any more! Now you can mix and match multiple colors to create your own cool gradient backgrounds.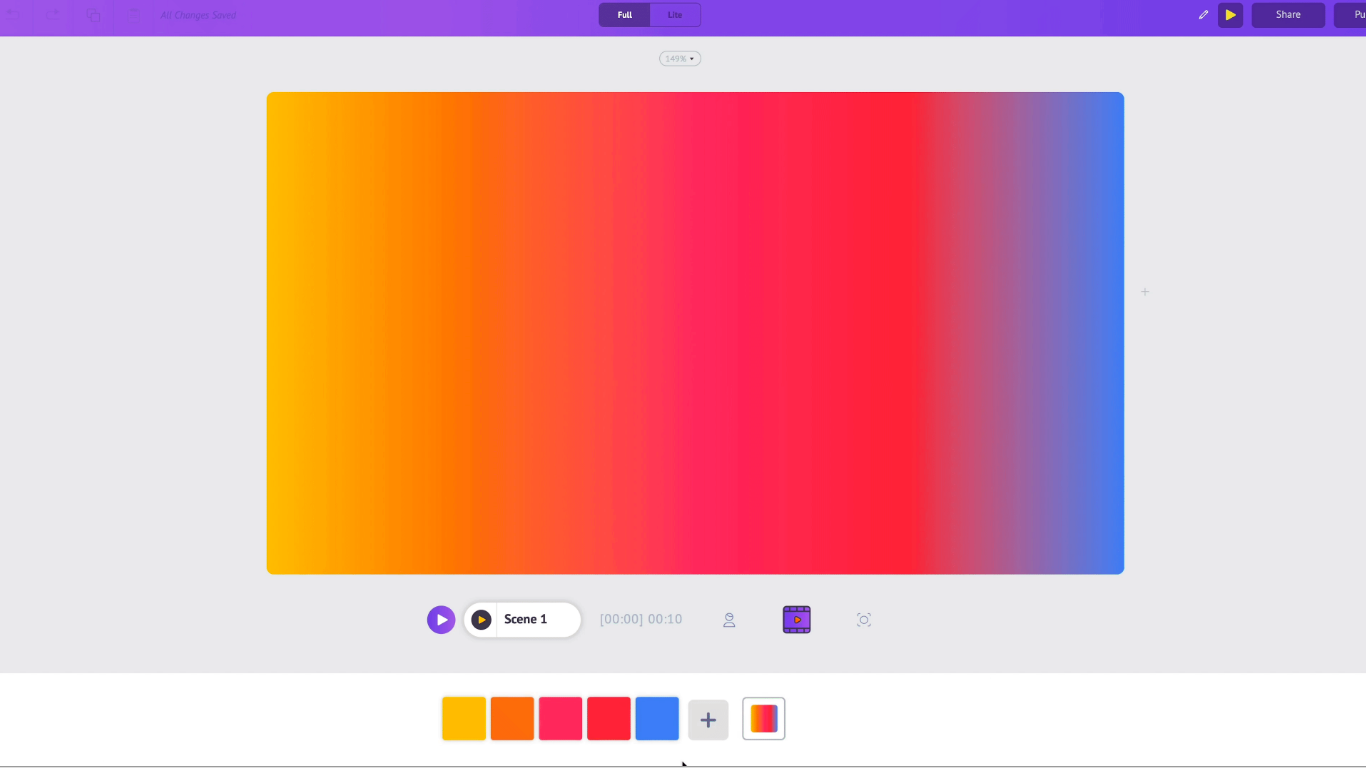 Smart Move
Animators spend 80% of their time animating and moving objects in a video. If that is how much time a professional Animator takes, it will be a lot tougher for a normal person. So we created "Smart Move". You can now quickly and smartly animate your assets with just a click of a button.
Other Highlights
Multi-User Collaboration
Time is very precious and we understand how easy it is to mismanage time when you are collaborating as a team. Animaker 2.0 comes with seamless real-time collaboration that completely removes the time leakage that happens during iterating and reviewing a project.
Repurposing is now easier than ever. Simply click on the re-sizing button and switch between different video types quickly.
State of the art Security
Every bit of your information is now secure at multiple levels. With security features such as 2 Factor authentication, Single Sign-on and SSL Encryption, Animaker 2.0 is truly ready for the online world.
The Best Part?
You can get your video exported in Premium quality at just $1. The next levels of premium Business plans are available at $59 and $99.
The $1 Plan for the premium video is smartly packed to help create videos for personal needs, student projects and small companies that are just starting to ride on the benefit of videos.
Plus, we don't think that creating a Premium video should cost more than a Big Mac. Creativity is all that matters and the cost of video creation should never come in the way of an aspiring creator.
How can you access Animaker 2.0 Beta?
Animaker 2.0 is now in closed-beta. If you are interested in taking this version for a test drive, please sign up with your email here. If you have already registered for the Beta version, we will reach out to you as soon as you reach the front of the waiting queue. If you have any queries, you can always write to jerry@animaker.com