Free Animation software for beginners!
Have you always wanted to tell extraordinary stories?
Well, who doesn't?
But you must be very careful while telling stories. Because the story would be a failure if
The idea isn't conveyed properly and concisely.

The audience loses interest while the story is being told.
So, storytelling is actually a skill and has to be done the right way.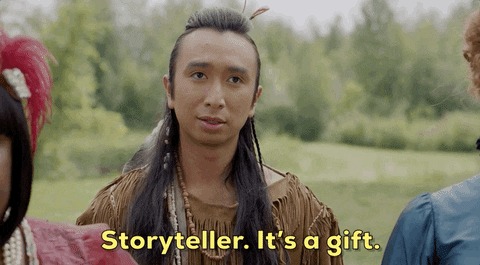 One of the best mediums to tell stories is videos, especially
animated videos
, hands-down! The inner child in everybody gets excited when they come across animated videos and cartoon characters narrating stories. So, using animated videos to tell your story is a great idea!
To create incredible, engaging animated videos, you need state-of-the-art software that doesn't burn canyons in your pocket! 
That's why we have picked for you the right tool trusted by over 16 million people worldwide to create the best animation videos.
To prove why Animaker is the Best Free Animation Software available in town, here are five reasons (among the hundred other reasons):
1. Custom Character Builder 
Animaker has its own custom Character Builder tool. With this tool, you can create more than a million unique characters. To create a new character, simply select a character type, choose the character template, and customize it per your needs. 
You can customize everything from face shape to footwear, hairstyle to headband, and more!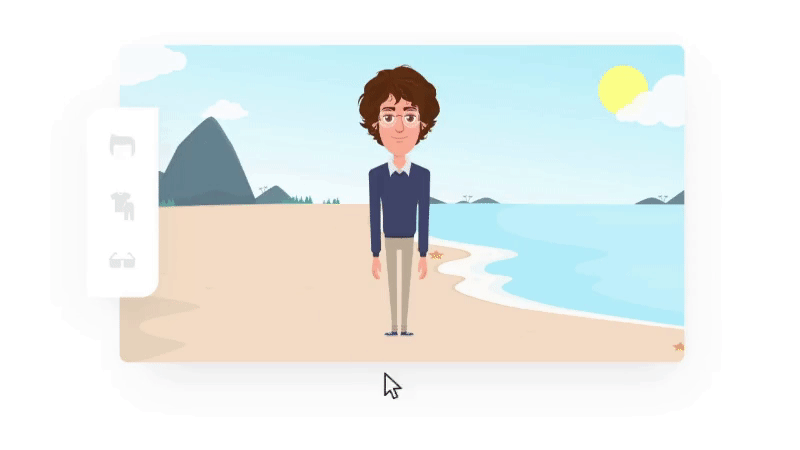 You can even
create a cartoon version of yourself
and feature it in your videos. Make your character narrate the story and have a personal touch on the audience.
Apart from creating custom characters, you can also choose one from the 100s of pre-built characters in the library. Adult, Kid, Animal - choose any from Animaker's vast character library. Apply interesting actions and feature them in a cool cartoon video to woo the viewers!
2. 1000+ Video Templates
You might be the best designer, but not write good content. Or, you might be the best scriptwriter in the world but lack the skills to design a perfect video. Or, you might not be good at both, but that doesn't mean you shouldn't use good videos, right?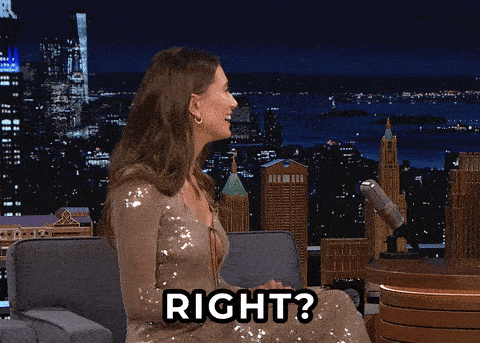 So whatever the reason, if you want to use spectacular videos sculpted scene by scene with the help of experts, check out Animaker's long list of easy-to-use, pre-made templates!
Do you want to create a product
explainer video
that shows how excellent your product is? For example, you might want to list your customer's pain points, how your product solves all those problems, and, most importantly, provide a CTA at the end of the video. 
Or, do you want to create an
anniversary video
that is a beautiful photo montage of your partner and you?
Whatever the topic, Animaker has the right template for you! Addressing different categories like Corporate videos, Video Ads, Social media videos, Wedding invitations, etc. Animaker's vast template library has videos for every occasion.
Search for any template, preview it to know how it looks, and click on it to launch it as a project! Then, edit the text and properties as you wish and change it into your own video.
If you are running out of time and need to make a video in just a few clicks, Animaker's template library is the best bet for you!
3. Animating without Drawing
In the traditional method of animation, if you want to animate a character, you have to follow three steps:
Trace the character

Manually draw every character frame, and

Play the frames in a loop to animate them.
Like this…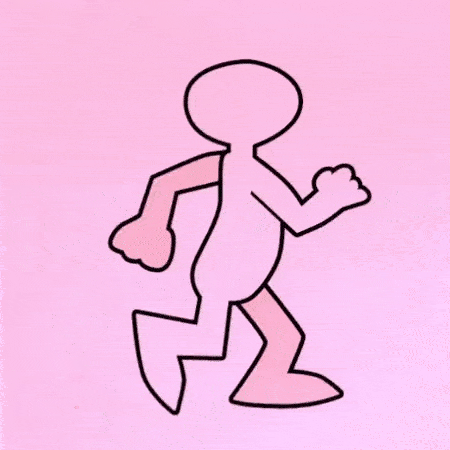 This is quite a laborious process. Imagine how long it would take if you were creating a long video or a movie!
To save you from the hassle of animating a character on a frame-by-frame basis, Animaker has an option called
Action+. 
To every character in the library or the custom characters you create, you can apply 500+ actions and 20+ expressions.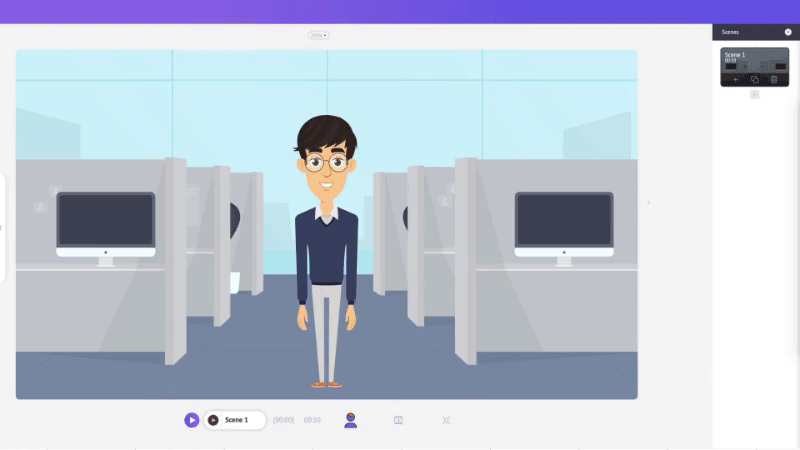 Using the Action+ option, you can apply multiple actions to the same character and animate it. In addition, you can use the "Apply smooth motion" checkbox to make the actions look natural.
Check out this tutorial to learn how to use the Action+ option:
Instead of drawing a character from scratch, all you have to do is make some clicks, and voila - your animated character is ready!
4. 100M+ Stock Assets
To create a video, one needs more than just Characters. You will need apt backgrounds, properties, text animations, special effects, scene transitions, images, videos, background music, etc. Any tool will only be considered a "good 2d animation software" when all this is present.
And Animaker is indeed one of the complete animation softwares!
With over 100 million customizable stock assets, Animaker's library is vast and has everything you need to create the best video! You don't have to scout the internet for exciting vectors, illustrations, or images to feature in your video. Instead, search for the asset you want and add it to your video in just one click.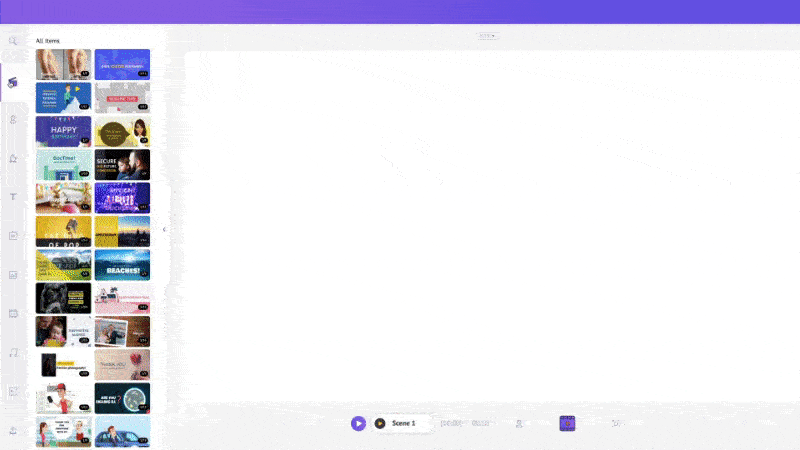 One of the highlighting facts about the library is its 30K+ copyright-free music tracks! Usually, creators struggle with the copyright rules of Youtube and many other video hosting sites. To help creators avoid such difficulties, Animaker allows them to use copyright-free music tracks in their videos with a single click!
5. Adding voiceovers
Voiceovers are an integral part of videos. Whether a conversation between two characters or a video with narration in the background, voiceovers are part and parcel of videos.
And with Animaker, you can add voiceovers to your video in not one, not two, but three different methods.
Recording a voiceover

Using Text-to-Speech option

Uploading a pre-recorded voiceover
Check out this video to learn how to add voiceovers using these three methods:
With advanced features like adding breath, pauses, and newscaster-like tones to enhance the audio,
adding voiceovers
have never been easier!
*******
Apart from these, Animaker houses a plethora of other features. So explore it yourself, and we are sure you will consider it the best animation software too!
Now that you have a good tool, aren't you excited to use it and create your own animated video?
Here's a guide on
how to make animated videos
. So go through it and make the perfect animation video!
Got any questions? Feel free to add them to the comments section below.