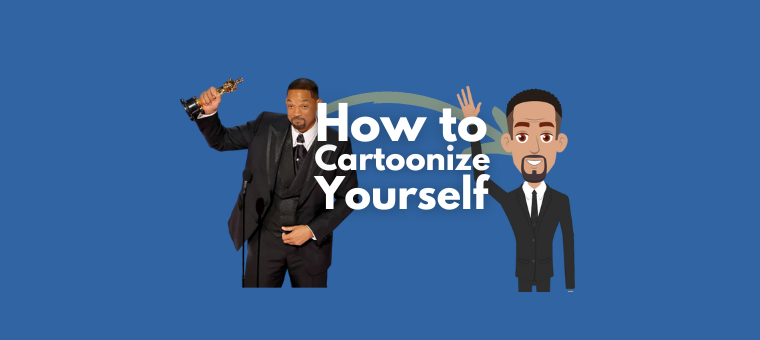 How to create cartoon version of yourself [Easiest way]

5

min read
No matter how old or young you are, cartoons are something everyone has watched at least once in their phase of life. 
For Instance, can you imagine your childhood without watching Tom and Jerry? 
Probably not, Am I right?
Cartoons have created a cultural impact to the point where it has influenced people to dress up like cartoon characters. This is well known as Cosplaying.
While people have a "thing" for cosplaying in the real world, they have a thing for cartooning themselves in the virtual world! Wondering what that is?
Well, this might give you an idea! We are sure you would have encountered a lot of videos like these on your IG feed…
View this post on Instagram
Like in this video, people are so interested in cartooning themselves.
The best part is that people use their cartoon versions in both a playful as well a professional manner.
While playful versions are mostly used on social media, the professional versions are used even in corporate or explainer videos. Since cartoon/animated videos are one of the most impactful ways to keep the audience engaged, many users resort to cartoon videos that feature themself as the main character. 
Are you curious about how you can turn yourself into a cartoon character?
If your answer is YES, then you have come to the right place!
In this article, we will guide you step by step on how to cartoon yourself online for free. 
Don't worry. You don't need prior experience for it!
For this tutorial, we will use Animaker, an easy-to-use online cartoon maker. This app has many features, one of which allows users to cartoon themself easily and effortlessly right from the convenience of their browser. 
Sounds interesting, right? So, let's get started!
Step 1: Getting started – Register or Login to Animaker

You'll need to log in or register with Animaker and create your free account.
Step 2: Create a new character

The next thing you have to do once you're in the dashboard is to create a new character. But before that, you must choose whom you are going to cartoon. 
So, for this particular tutorial, I choose…. WILL SMITH!
Let's start creating Will Smith's cartoon doppelganger now! To make a new character, click on create 
And then click on the 'create a character' option.
Step 3: Choose your character

The next step is simple and straightforward. You have a bunch of customizable options to create your character. To begin, you will get the option to choose the type of character.
The available options are boy, XL Male, Female, XL Female, and Girl. To recreate Will, I choose the "Male" Option.
Once you select the type of character, you'll be taken to a screen where you can select from a bunch of prebuilt character options. You can select a character from this list and start customizing it according to your preferences.
I am selecting the one with the yellow shirt as he looks similar to Will Smith.
Step 4: Character Customization
Now let's edit this character and customize it further to make it look like Will Smith. You can customize the Skintone, Hair, Face Shape, Facial hair, Eyes, Eyebrows, Nose, Lips, Ears, Earrings, Frown Lines, Wrinkles, Smile Lines, Freckles, Outfit, Top Wear, Bottom Wear, Foot Wear, Eye Wear, Hat, Headphones, NeckWear, Jewel, Wristwear, Mask, and Tattoo of the character.
Phew, isn't that a long list of options to customize your character?
To start off, I will customize the character's face shape to match our final look.
To make it more realistic, you can even add frown lines to your character. 
Next up, we can go to the Outfit section and get Will a tuxedo.
Once you select the right fit, the next thing to do is change the tuxedo's color. You can go to the Topwear section and customize the color to do that.
To go along with the black top, we can add black pants. This color change can be done in the Bottomwear section. 
Step 5: Save the character
Once you're done, you have to click the green SAVE button on the top right, and you're good to go. As simple as that! You can make your very own cartoon character and literally use it anywhere you want.
Once you save the character, it will get added to the My Characters section of the library.
Step 6: Make your character the star of a video!

And that's pretty much it. You have the stellar cartoon version of Will Smith! Now all you have to do is unleash the creativity by featuring the character in your own animated videos!
To do that, go to the Characters section and click on My Characters.
If you are editing a template from the Animaker platform and want to replace the existing character with the Will smith character you just built, here's how you do it.
First, click on your existing character. You will see that the click opens up a property window for the character. Under the character property window, select the replace option and choose your character from the character library (Under My Characters section)
Here's a quick GIF on how to replace an existing character with your newly created character!

Just like how we created Will Smith's cartoon version, you can easily create your cartoon version too. If you want to spice up your character further, you can explore many other options to make your character funkier and cooler. 
To make things easier, we have an in-depth tutorial on how you can create animated characters using Animaker. Watch it here –
Alternatively, you can also create short animated cartoons using your own character. 
Wondering how?
Read this guide on How to create a cool cartoon video and create your own cartoon movie effortlessly. 
Hope this article guided you on how to create your own cartoon character & how to cartoon yourself online. So, what are you waiting for? Try cartooning yourself now!
Got questions? Add them to the comments section below. We will be more than happy to help you out!