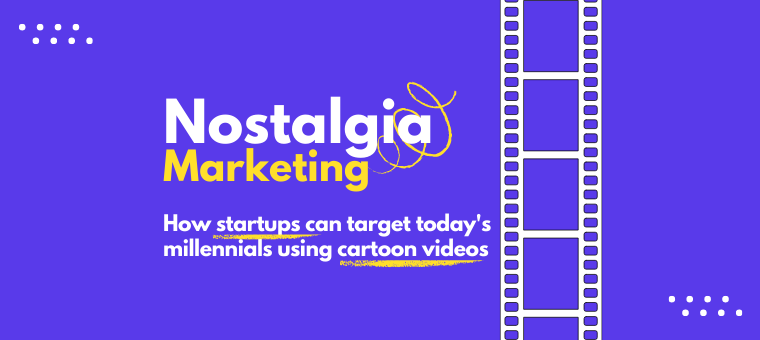 Nostalgia marketing: How can startups use cartoon videos to target today's millennials

8

min read
Being a marketer, I've always been fascinated by the nexus between human emotions and marketing communications. It is truly remarkable to see how the latter can tap into the former and can result in influential decision making.
Over the years, advertisers have managed to capitalize on a plethora of human emotions to get their product messages across. Out of the lot, one particular emotional marketing tactic really piqued my interest, perhaps because of the fact that I happen to fall in the target group that can relate to it the most. 
Looking at the theme of this article, I'm sure you would have guessed where I'm going with this. 
So before we dive in, get a load of this commercial first.
So, Yes, Nostalgia is what I'm talking about and yes, I'm a millennial. 
The agency behind Internet explorer's commercial has done a terrific job of putting together this video. It clearly captures the essence of the 90's and makes everyone resonate on such high levels. 
The fact that the Ad managed to garner 7 Million views in just five days of being rolled out and amassing a total of 50 Million+ views so far stands as a testament to its virality and the efficacy of the concept.
Here's what the agency had to say about the Ad:
"With Internet Explorer, we wanted to change how Gen Y felt about the browser. We wanted the video to be a walk down memory lane, to feel conversational and familiar. We wanted the audience to think, "Maybe Internet Explorer can relate to me better than I thought; the new browser could exceed my expectations."
We certainly wanted to drive viewers to the site to rediscover Internet Explorer. But even if they didn't, by sharing the video, they were sharing the story—a story inextricably connected to Internet Explorer, a story that might not lead everyone to switch browsers that day, but that would linger and grow in a generation's mind. That story has been told more than 27 millions times to date, and that's the impact we wanted more than anything: a reframing of IE's relationship with Gen Y."
Looking at the nostalgia marketing statistics of Internet Explorer's Ad, it's pretty evident that the concept of tapping into nostalgia works! Internet Explorer managed to identify and use the right emotional trigger to hook it's users, majorly millennials. 
Before we get into the specifics, it is paramount to understand the "WHY" behind a nostalgia marketing strategy.
Why Nostalgia and what is Nostalgia marketing?
Source: The Shelf
Marketing has always tapped into human emotions and has exploited their cognitive biases to drive their decision-making. Almost every other human emotion has been capitalized on over the years, and nostalgia is no exception. 
Nostalgia marketing essentially preys on people's affinity for their most relished memories from their past, taking them to a time where they lived their best lives without all the commotion that is present in today's chaotic world. 
Reminding people of their golden days will trigger a dopamine boost, and that is exactly what brands utilizing nostalgia marketing tactics intend to take advantage of.
In fact, according to a study published in the Journal of consumer research, it was observed that participants were willing to shell out more when they were consumed by nostalgia. 
No wonder why brands have incorporated nostalgia marketing into their strategy! It opens the doors straight to people's wallets.
Brands that have executed Nostalgia marketing to perfection
Over the years, Brands big and small have used nostalgia as a marketing tool to capture the interests of their target market. Regardless of the industry and vertical, the companies are in, brands that use nostalgia marketing have cut through the clutter of conventional marketing communications and stood out from the crowd.
The following are examples of nostalgia marketing campaigns of some of the prominent brands that have won over their audiences: 
Apple
Apple's attempt to bring in the renowned muppet, the cookie monster for their iPhone 6 commercial was a huge success. They even launched an array of bloopers featuring the muppet, after their Advertisement garnered a lot of attention.
Target
Target's Star Wars campaign promoting the movie's merchandise was a massive hit. The campaign struck a chord with the fans, both old and young, and received a lot of press. As part of the larger campaign, Target released a two-minute compilation, where fans dressed up in Star Wars attires and made impressions of their favorite characters.
Spotify
Spotify hit the nail right on its head with their 30-second Ad, bringing back the once loved duo, Falkor and Atreyu from the acclaimed movie "The Never Ending Story". The Ad received tremendous support, as it featured the beloved duo who once ruled the hearts of their target audience.
All of the aforementioned campaigns were runaway successes and were able to carve a  place for themselves in the minds of millennials.
Why do millennials resonate with Nostalgia marketing?
Today's millennials are burdened with a ton of responsibilities, shoulder the onus of their families, and are desperately gasping for breath in this hyper-competitive world.
The only time millennials caught a break was back in their childhood or during their adolescent years, where they were free of any form of responsibility. Watching their favorite TV shows, tuning in to their loved radio channels, and listening to their favorite tracks, hitting the theaters to watch movies, millennials lived every second of their lives back in those days. 
With their glory days behind them, millennials today can only think of those cherished moments with great fondness. It is those memories that offer them solace during this turbulent phase of their lives. Needless to say, rekindling those memories by flashing their cherished moments in front of them through visual media and messaging would tremendously benefit brands.
Tapping into those long-lost memories and using them as leverage in marketing communications would be a sure shot way for brands to get millennials on board with their offerings.
Where do cartoon videos fit in this equation? 
I know it's a no-brainer, but nevertheless, let me put it into perspective for you all. 
Cartoons, for the most part, were at the crux of every millennial's childhood. Right from when they were kids to when they turned into adults, millennials got to experience their fair share of cartoons. Heck, some millennials are obsessed with cartoons even today. Talk about Anime!
Source: Google trends
The upward trend in anime viewership in the last 5 years stands as a testament to the popularity of cartoons, even when "Netflix and chill" is still hot! 
With cartoons taking up a major piece of the nostalgic pie, it is only logical that brands leverage cartoons in some way or the other to target today's millennials. And what better way to do that than cartoon videos! 
Here are some examples of a brand putting cartoon videos to the test.
1. McDonald's Mobile app launch campaign
2. McDonald's Tom and Jerry TV commercial

McDonald's cartoon video campaigns were an instant hit with the millennials. 
Here's why:
They were able to seamlessly convey complex messages with ease

They stood out from the rest of the conventional video campaigns with their creative and engaging visuals.

They were able to hit the nostalgic nerve of the millennial generation by featuring their beloved cartoon characters.

They also induced a sense of virality among viewers, augmenting the brand's image.
How can startups leverage cartoon videos
One key difference between mainstream businesses and startups is that the former has an abundance of resources to bank on. Startups have limited financial resources and have to put them to use very judiciously. 
You may wonder how this adds to the overall context of this article. Well, to put it short, the copyrights of mainstream cartoon characters such as Tom and Jerry, Starwars etc used by brands in nostalgic marketing communications cost exorbitant sums of money, which as you may have guessed, can only be afforded by affluent businesses. 
Hence, startups have to come up with workarounds to use cartoon characters for their marketing communications. This is where online DIY cartoon makers come into play. Tools like Animaker's cartoon maker can help startups create stunning cartoon characters and videos at budget-friendly prices, helping them execute nostalgia marketing to perfection.
What has Animaker got in store for Startup Marketers
Animaker's cartoon maker is a startup marketer's best bet to deploy nostalgia marketing campaigns using cartoon animations. 
With Animaker's cartoon character builder, marketers can build a ton of lifelike cartoon characters with easy drag-n-drop manoeuvres.
With Animaker, you don't have to build a cartoon video from scratch. Using its cartoon video templates, you can create a cartoon videos in no time. All you have to do is to pick the template of your choice, customize it and roll out the video.
Also, Animaker's cartoon maker offers a myriad of animated assets such as stickers, emojis, etc using which you can customize and enhance your cartoon video, making it look as creative as possible.
Free DIY tools have become the lifelines of a lot of startups and Animaker is no exception. Cartoon videos are now that easy to create and affordable to roll out with Animaker. In a way, Animaker has helped democratize nostalgia marketing for startups of all sizes, and it is now up to them to effectively put Animaker to the test.
The bottom line
With cartoon videos becoming an integral part of contemporary business' marketing strategies, it is pretty clear that they are here to stay and are working wonders for brands across industries and verticals. 
If your brand still hasn't boarded the cartoon video bandwagon, it is high time that you did, as most of your competitors would have already taken the plunge and might have started gaining the innumerable benefits that cartoon videos and nostalgia marketing have to offer.
So, stop contemplating and start creating your own cartoon videos using Animaker.