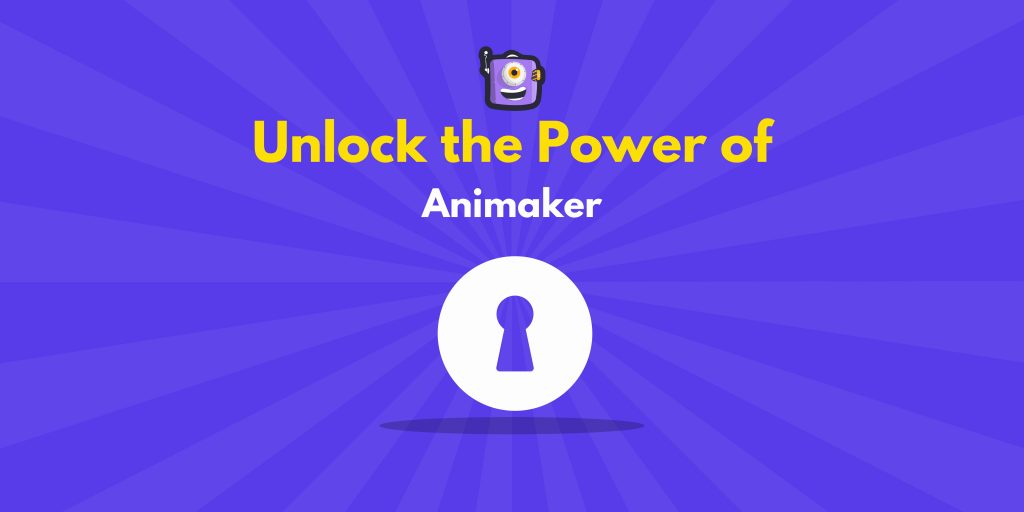 Complete User Manual for Animaker Users

10

min read
Welcome to the Animaker premium family. While over 14 million users are exploring Animaker, only a handful make it to the premium club. You are here! Congratulations. 
To kick start your journey with Animaker premium, we present you with the Ultimate user checklist. Think of it like a map that guides you to access the complete power of Animaker.
Table of Contents
The DIY trend has taken over the world. However, all of us prefer to have the satisfaction of completing a task with our own hands. At Animaker, we have created the ultimate video ecosystem to help you create professional-quality videos by yourself.
To make your video making journey even better, we have created a plethora of different premium resources just for you:
How to create your first Animaker Video?
Animaker is a simple yet powerful video creation software that allows you to create stunning animated and live videos online. I know you are super excited to start off your video creation journey. So without further ado, let's get started.
Animated Videos – Videos made of animated characters.
Animated videos are super useful for explaining complicated concepts in a simple and engaging manner. Creating animated videos used to be a challenging task. But not anymore!
Here is a complete video tutorial on how to create an animated video using Animaker:
Live Videos –
Videos made of Photos and videos
Live videos utilize the power of real actors and live footage to bring your script to life. Here is a complete video tutorial on how to create live-action videos using Animaker
We have created tonnes of tutorial videos to help you with every step of the video creation process as well. Check them out here: https://www.animaker.com/tutorials
7 Types of Video you can create with Animaker
Animaker videos are being utilized for a plethora of different purposes. Here are a few:
Explainer Videos
Explainer videos are used to explain complicated concepts in a simple and engaging manner. Animaker is one of the most preferred tools in the world for creating explainer videos. Animaker has 100s of predefined templates for creating professional-looking explainer videos. Here are a few templates:
Social Media Videos
Videos are the preferred content format for all major social media platforms today. Whether you are looking to build your company's Facebook page or you are a growing Instagram influencer, Animaker is the perfect video partner for you.
YouTube Videos
Subscribers crave unique and engaging content every time. So whether you aim to post one
video per week or once every day, the process gets a whole lot easier with Animaker. Get
an edge over other creators by bagging the best Youtube video editor ever!
Video Greetings
Every occasion can be made more memorable by replacing boring greeting cards with video greetings. From birthday wishes to Christmas greetings, everything can be made 100x more effective with a video greeting.
Marketing Videos
90% of marketers want to increase their efforts in video marketing in the upcoming years.
Videos are an amazing tool for marketers to boost engagement and drive more traffic to their digital properties. Every digital platform, from Facebook to WhatsApp, is looking to encourage more video creation. Wondering what kind of videos you can create for marketing? Check out our templates.
Corporate Videos
In 2020, 90% of consumers said they want to see more videos from brands.
Today companies want to create video content for a plethora of different use cases. From company culture videos to product launch videos, Animaker is the perfect partner for companies to create their videos easily.
Learning and Development Videos
75% of employees prefer seeing a video compared to text, email, and PDFs.
Corporate L&D has evolved today. L&D teams from large corporate companies are utilizing Animaker to create engaging learning videos by themselves. Animaker has helped companies save millions of dollars in agency fees. Wondering how you can use Animaker for L&D at your company? Book a meeting with our L&D video expert now.
HR
Human resource is the backbone of every enterprise. Human Resource managers from across the globe are utilizing Animaker to boose the employee experience with the power of videos. Animaker has pre-built templates for almost all Human Resource functions from onboarding to employee learning. Here are a few examples:
eCommerce
78% of buyers want to watch a video about the product before buying
Videos can be used to influence the purchase decision of buyers. In addition, video builds trust and increases engagement levels. But what kinds of videos does your eCommerce business need in order to see a revenue uplift? Here are some example templates from Animaker.
What other types of videos can you create with Animaker? Get inspired from our Dashboard!
Advanced Features – Must try features of Animaker
*Note: Some of the app's features are accessible based on your plan
Now that we have got a basic understanding of what you can do with Animaker let's take the game to the next level. Let's explore the more advanced features of Animaker. 
Animaker has tonnes of advanced features built to help you create professional-looking videos easily. Here are some of them:
Character Builder
One of the coolest features that Animaker owns is the completely customizable character builder, which has around 300+ character costumes, 20+ features, and 100s of animation actions.
Extensive Facial Expressions
Our stupefying facial expressions help bring life to your character. Our library has 20+ facial expressions, among which you can click anyone based on your concept.
Auto Lip-Sync
With our AI-based enhanced automation tool, you can easily record voice-overs which will automatically sync with your character. How cool? Wanna give it a try? Check it right now.
Smart Move- Complex Animations with the click of a button!
Animaker's Smart Move enables you to animate an object or a character instantly. We have already made your work very easy. With our DIY process, you can enforce any complex animations and save your time & effort.
Check out the complete features of Animaker here: https://www.animaker.com/features
Sharing and Collaboration
Video creation is a creative endeavor, and we can always do it better with our team. Animaker helps you work together with your entire team in real-time! Pretty cool, right? Check out how to do it right here: 
Creating a team
The first step to collaboration is to create a team. You don't always need to work individually – have your super-duper team nearly. It's pretty simple! Check out how to do it here:
https://support.animaker.com/en/articles/3410882-how-do-i-create-different-teams-in-animaker-how-can-i-switch-between-different-teams
Sharing
Sharing the video with your team is super easy with Animaker. Just click on the share button and enter the email address of the people with whom you want to share it. Click here to find out how to do it here: 
https://support.animaker.com/en/articles/3595020-how-do-i-share-my-video-project-in-animaker
We are adding more features every day:
Team Animaker is launching new features every day to create a better video creation experience. Check out this link to keep yourself updated with all the latest Animaker updates: https://new.animaker.com/
Become a Video Expert with Animaker
When you have the world's simplest video creation tool with you, becoming a video expert is pretty simple too. Just check out the amazing resources we put together for you:
Webinar – Video creation certification course for beginners
New to the world of video making? Don't worry; just join the Animaker webinar to become a certified video creator in just a couple of hours. Join the webinar here: https://app.animaker.com/webinar
Hub – Complete knowledge hub to boost your video knowledge
The Animaker hub is a single-point repository to find out all the latest updates from the world of videos. You can find all the resources you need to become a video expert, from video creation to video hosting. Check out the Animaker blog here: https://www.animaker.com/hub/
Animaker Youtube Channel – Tips, strategies, and How-to videos to make you an Animaker pro
The Animaker Youtube channel is a complete collection of strategies, techniques, and how-to videos to help you become a video expert. You can find in-depth tutorials for everything from creating a simple video to complex animations. Here are a few examples:
How to make a cartoon of yourself: 
How to make an educational video: 
User stories playlist: 
Complex animation, walk cycle:
Genius Talk – Inspiration Talk from Industry veterans
Want a chance to learn from the best? Check out our podcast, where we bring genius minds from the world of videos to share their knowledge with you: https://www.animaker.com/hub/video-library/
Blog – All the latest news from the world of Animaker and Videos
Animaker Inc was created with a mission to democratize the world of videos. Stay updated on the latest milestones we achieved by following our blog: https://www.animaker.com/blog/
Animaker Ecosystem – Complete Video Creation Suite
We have created a host of other products to make your videos even cooler. Want to check them out?
Vmaker
– Screen Recording and Webcasting tool
Record screen, webcam, or both with audio and create engaging video content for training and explainer videos
Show
– Complete video hosting and analytics solution
Video hosting and analytics platform to host, stream and analyze your training videos
Steve.ai
– AI-based text to video converter
Create HR and training videos from text within seconds using our patented AI platform.
Picmaker
– World's simplest graphic design tool
Create very unique designs in minutes with our online graphic design software
Voice
– AI-based Text to speech converter
Convert any text content into ultra-realistic human-like voice-overs using a neural TTS engine
Deck
– World's first avatar-based presentation maker
Break presentation stereotypes with our new Avatar-powered presentation maker!
Enterprise
– World's most complete video creation suite
The complete video creation suite to meet every visual need of your enterprise
We are there with you all the way
At Animaker, we take pride in helping our customers every step of the way. This is only possible because of our dedicated 24*7 support. Have any queries about Animaker, just drop your questions here, and we will be happy to help: https://app.animaker.com/support
Our Customers really love us.
Just like you, a lot of Animaker customers really love and adore us. Want to see what they think about us? Check out: https://www.animaker.com/blog/tags/case-study/
Want to talk to us?
We are always happy to talk to you. Just drop us a line!
Additional Resources
Reel tutorials: https://www.instagram.com/reel/CZCIKiQl3hF/?utm_source=ig_web_copy_link
https://www.instagram.com/reel/CZJ9xKYl1lB/?utm_source=ig_web_copy_link
https://www.instagram.com/reel/CY6Z3TcFdlr/?utm_source=ig_web_copy_link
Tutorial: https://www.instagram.com/p/CaFEudMpdGu/?utm_source=ig_web_copy_link