Announcement Alert: Animaker wins No.4 Best Design product of the year!
When we started this year we had only one mission in mind - To give the best possible customer experience to our users.
That's when the G2 gave us a pleasant surprise by announcing that Animaker had won not one, not two but 12 badges in their winter reports.
Confused about what we are talking about?
Let us explain!
G2 is the world's largest Software marketplace where users can find and evaluate software products. In their quarterly reports, the G2 research groups give out badges based on aggregated user reviews.
And in their winter reports, Animaker was awarded 12 badges under three categories:
Animation

Display Ad Design

Video Editing
Later, in February, G2 chose Animaker as the No.4 Best Design Product of the year!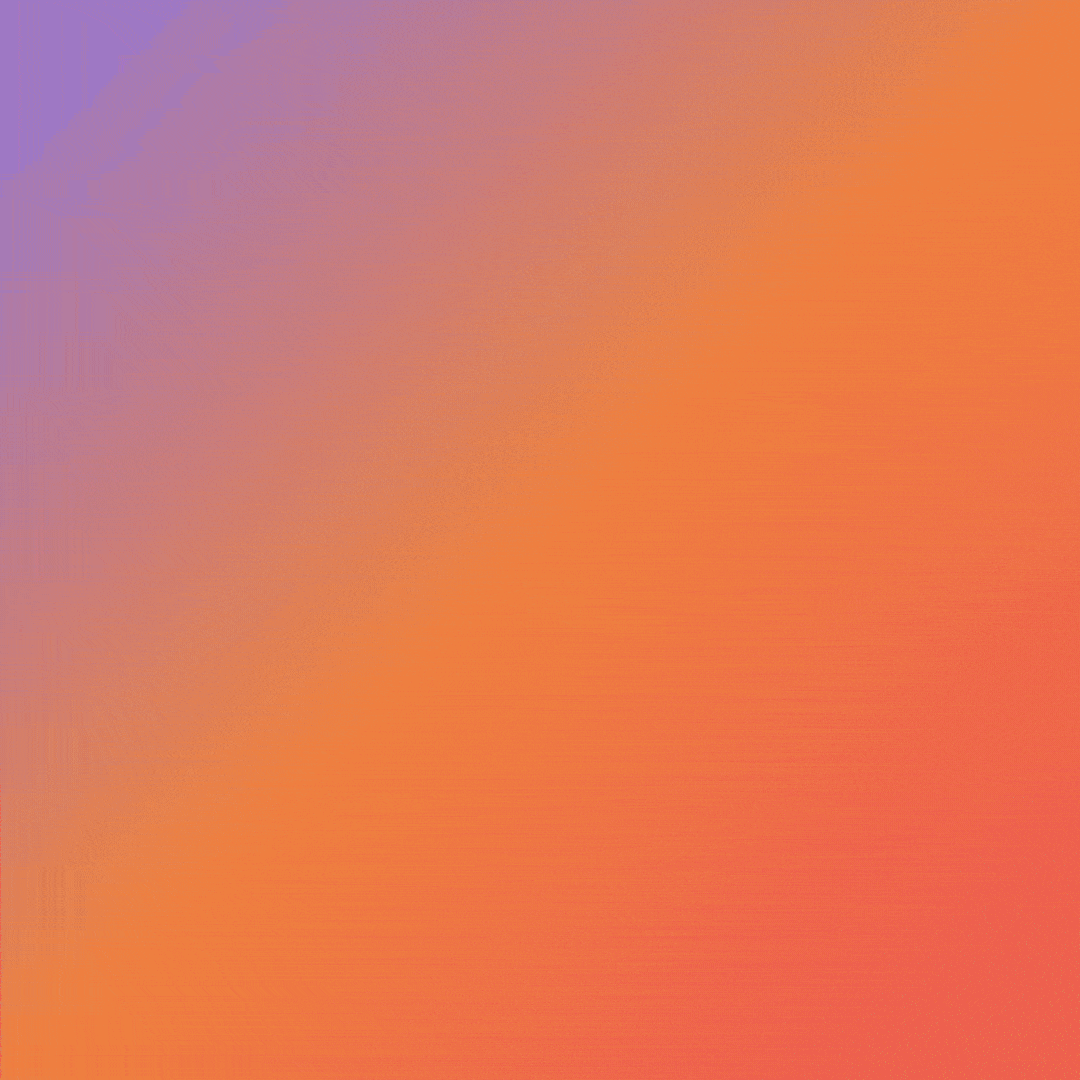 Ain't that a heck of a start to the year?
As much as we were excited, we were also humbled by these prestigious accolades!
This mattered a lot to us because
G2 recognizes companies primarily based on user reviews and ratings.
These awards were a huge pat on the back. 
Animaker has always worked on keeping its users happy. Because a happy customer = a happy company!
To know that customers were happy with our product, considered it one among the best, and were also ready to recommend it to others
is an award by itself
!
Behold the Appreciation Spree:
And right when the excitement had settled and we were done appreciating each other, G2 came back to add another feather for our hat!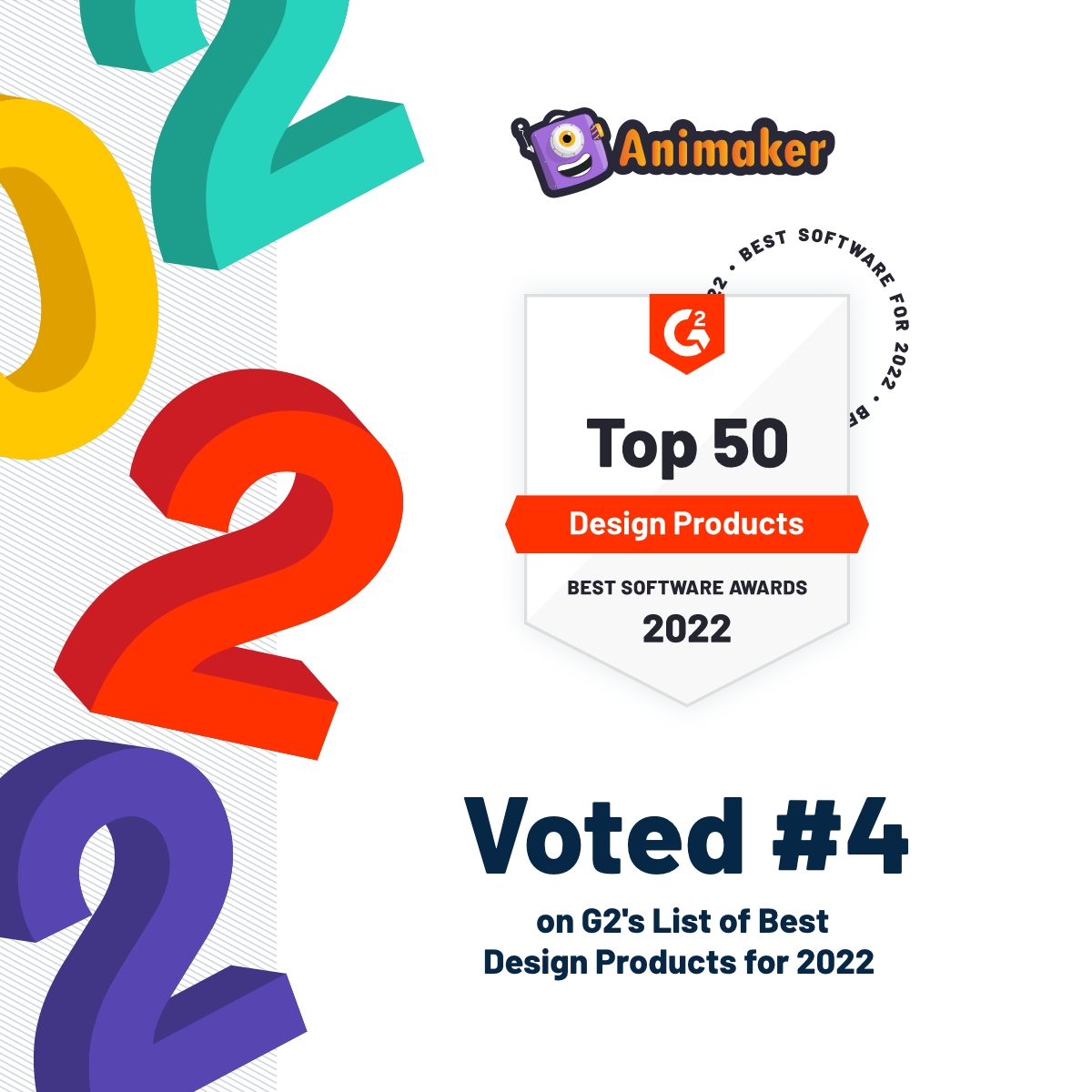 This is indeed a huge honor! 
To be voted No.4 Best Design Product of the year is a great privilege, especially when it is based on the reviews of more than 60 million software buyers of the G2 Marketplace!
Back in 2018, we were one among the "
The Highest rated American software tools by state
". But now, we have been recognized as
one of the Leaders in the Best Software Awards - Design Products
!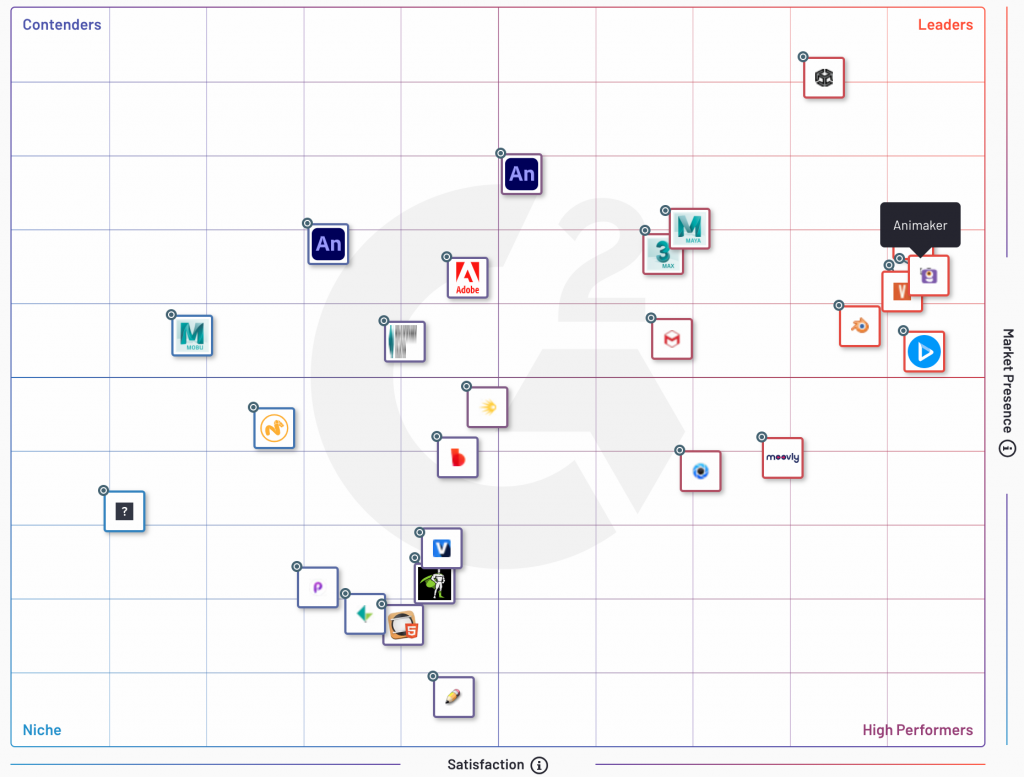 Our main aim has always been to deliver an easy-to-use platform that is a one-stop-shop for video-making!
And today, we are rated to be among the world's best Design Products!
Wondering what the users had to say about Animaker in the reviews?
Right from Company Directors to Freelancers, our precious customers have rated and recommended Animaker everywhere. Such
appreciations pave way for us to give our best service always!
Here are some golden reviews from our users via
G2
: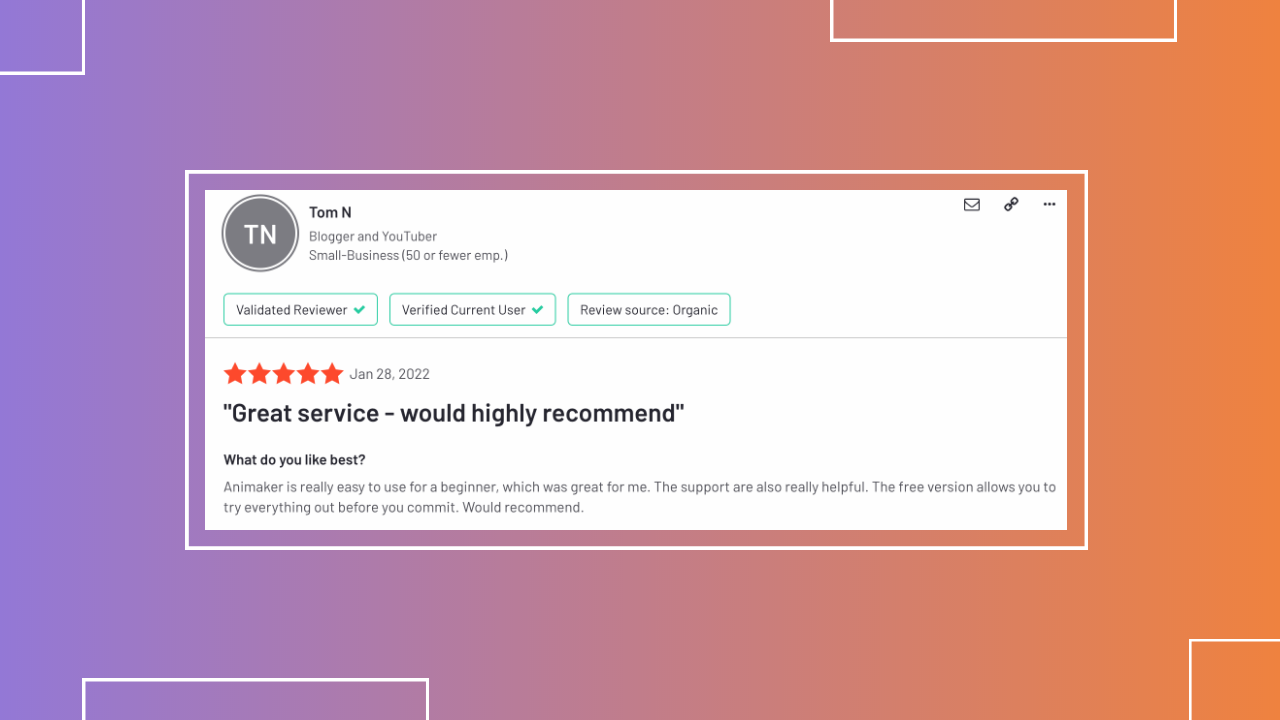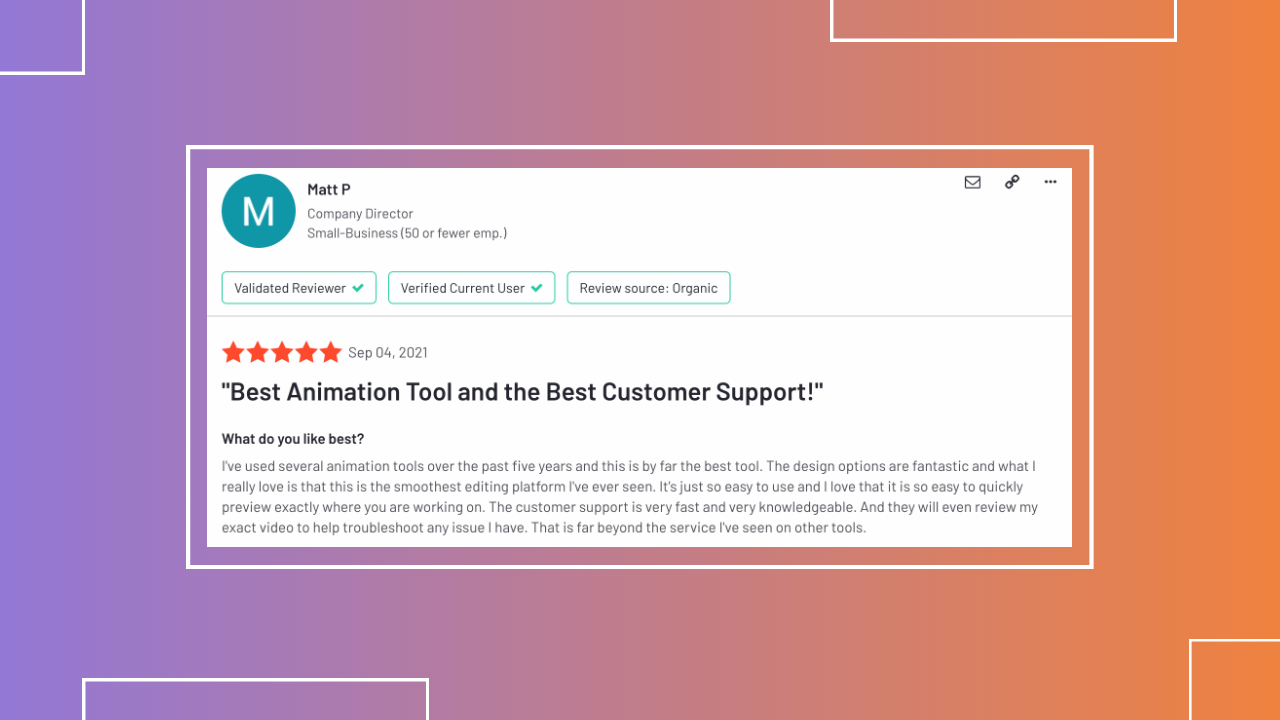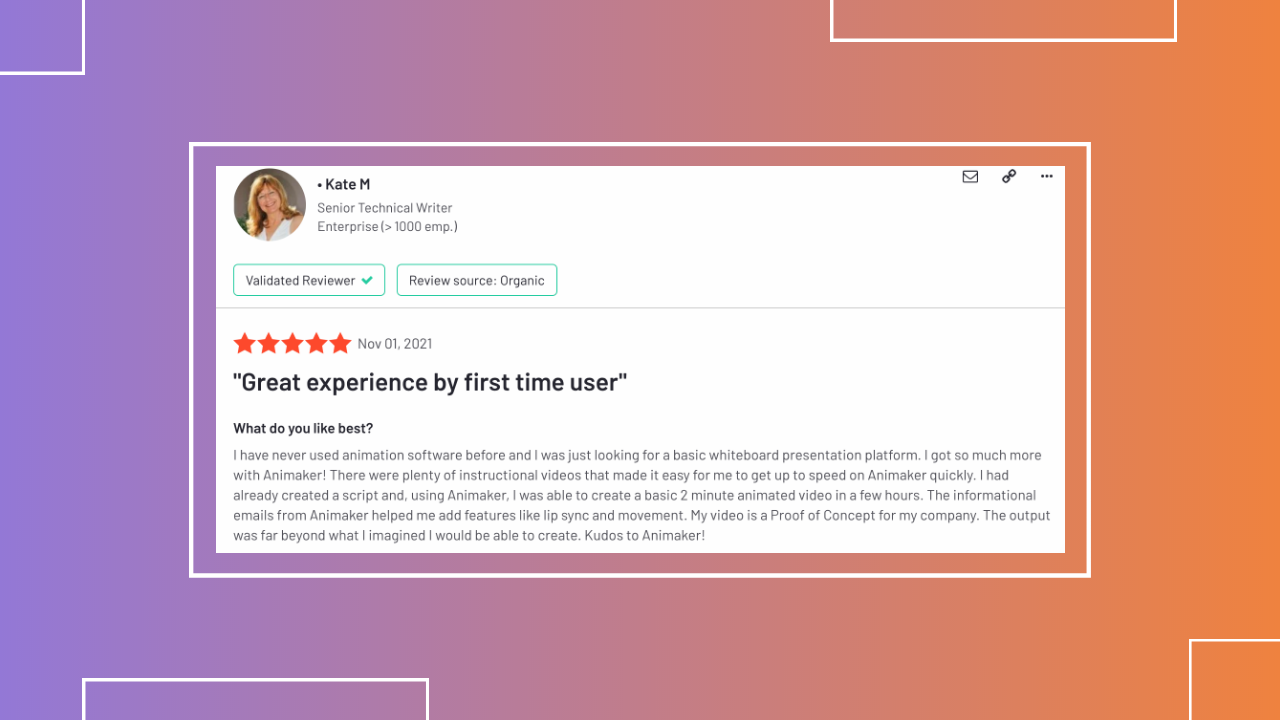 Thanks to kind words like these, we have been able to give our best.
A word from our CEO: 
Exactly 2 years before we started our efforts to become not just an animation company but wish to become a creative destination for everyone around the world who wish to create high-quality videos, animations, graphic design, screen recording, etc. This award from G2 is validation that we are one step closer to that big milestone.
This was a great way to start Q1 2022. I thank everyone who supported us all these years. Special thanks to our Animaker's ambitious team.
Raghav, CEO of Animaker
Onward and upward:
There is always room for improvement, even for a tool that is rated as the 4th best design product in the world and we promise that we will continue to improve our application for all of the years ahead. 
In fact, we already have
huge plans for this year
and the Animaker Inc machine is already on its way to achieving just that!
Is there anything particular you like about Animaker?
Is there anything you want us to improve on?
Please let us know in the comments below. At the end of the day, your feedback is what will lead Animaker Inc into the years that are ahead of us. :)