Introducing Animaker Brand-Kit for Enterprise!
What comes to your mind when you hear the following words??

Well, let me guess…
Apple - Their Iconic logo?
Google - The 4 different colors the Brand represents?
Coca-cola - Their logo along with their path-breaking ads?
Mc-Donalds - The clown and the Golden arches?
Intel - The short Intel Animation outro that is a part of every video they create?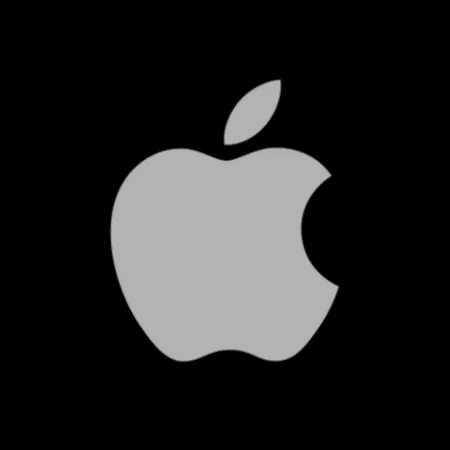 I guessed right, didn't I?
So, what makes these Brands memorable?
The best brands stick in our minds because their presence is defined by the design consistency they maintain throughout their marketing communication. The uniformity in logo placements, colors used, fonts used, Mascots, music and so on.. Whether you are a large or a small organization, it is essential to ensure that this consistency is maintained in all communications to build long-term brand recognition.
Here comes the Challenge!
How do you maintain consistency when you are a brand that serves people all around the world? Let's say you are a brand like Netflix that employs over 8500+ personnel at 19 different locations around the world to serve over 180 Million users!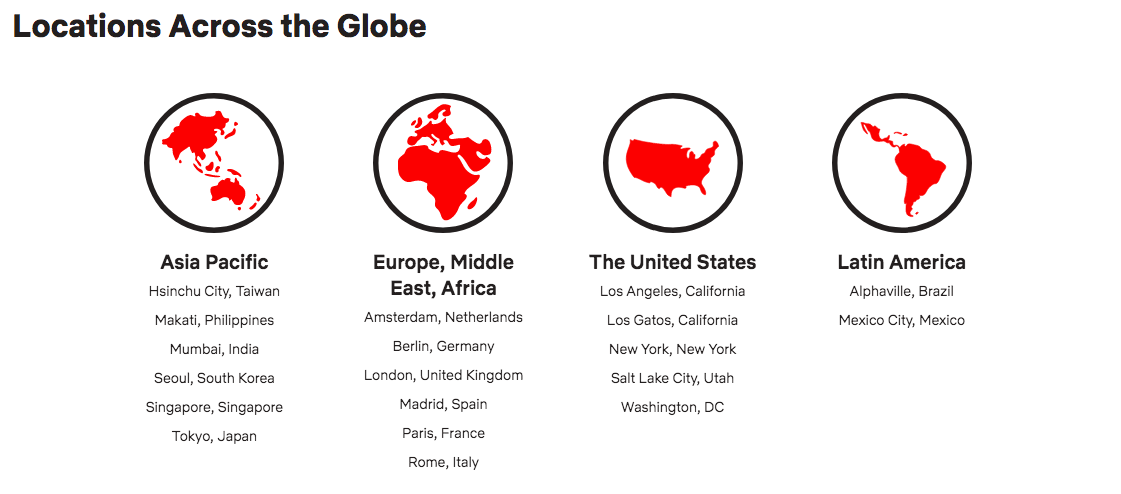 Won't it get a bit tough to incorporate your brand cues uniformly in every single one of your communications? Yes! And this is why every major brand in the world spends a lot of time setting up its brand guidelines once they start expanding at an astronomical pace. Netflix did it too and put it up on a common
brand site
so that their entire workforce and partners can access it whenever necessary. With so many office locations and content creation in 10+ Foreign languages, Netflix is still able to maintain the essence of its brand throughout, thanks to its brand guidelines. While it's comparatively easier for early-stage startups to maintain their Brand essence, It becomes challenging when you start growing and when you also start using so many tools to create your marketing assets. We understand that this is a challenge that exists for businesses while using Animaker as well.
But Cheer up, we have a solution!
Well, The purpose of Animaker is to provide a one-stop solution for all your video needs. So today we are thrilled to introduce Animaker's very own Brand-Kit feature.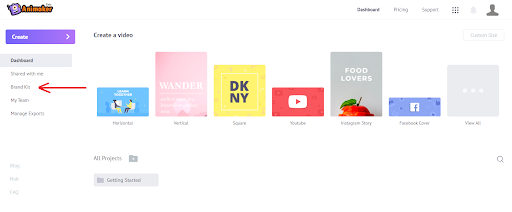 So, what does Animaker's Brand-Kit help with?
Animaker's Brand-Kit comes bundled with all required elements to help you improve your Brand Identity by maintaining consistency.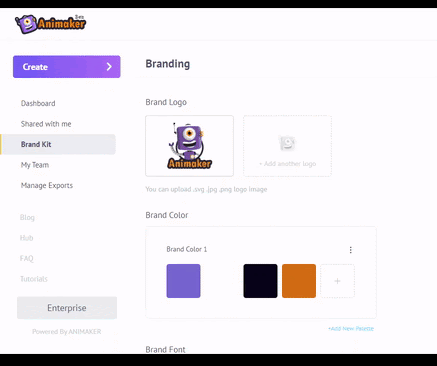 That's cool isn't it?
How does it make the video creation simpler?
Statistics
say about 70% of companies report that consistent branding is crucial when communicating with the existing customers. Once set, Animaker's Brand-Kit helps ensure that all critical brand elements like logos, colors, fonts, mascots, and outros are the same in every brand video created. This also ensures that all the elements of brand guidelines are followed to a Tee. With just a few clicks, the Brand-Kit helps you customise the video and fall in line with your brand's tone. Now let's dive into how Animaker helps you set up your Brand-Kit in just a few minutes.
How to build your own Brand-Kit
The Animaker Brand-Kit consists of six critical elements that will help you maintain your brand guidelines across all of Animaker videos. Once you click on the Brand-Kit menu, you will see 6 sections where all these six critical elements of the brand can be uploaded/selected and saved in the Brand-Kit. Let's have a look at each of them…
1. Brand Logo
A brand's logo is the most noticeable and a vital element of your brand communication. So how do we set that up on Animaker's Brand-Kit?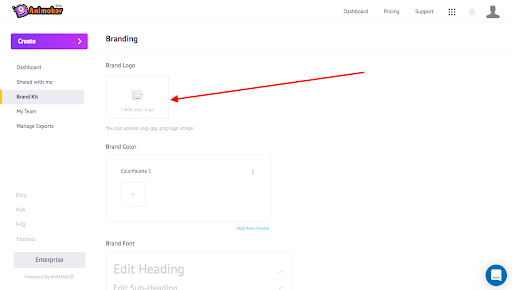 The first section at the top which is labeled as Brand Logo is the place where you upload your Brand logo. Please note that you can only upload your logo in png, svg or jpg formats. Once you click on the 'add your logo' section, you can select the logo from your PC's local storage and get it uploaded.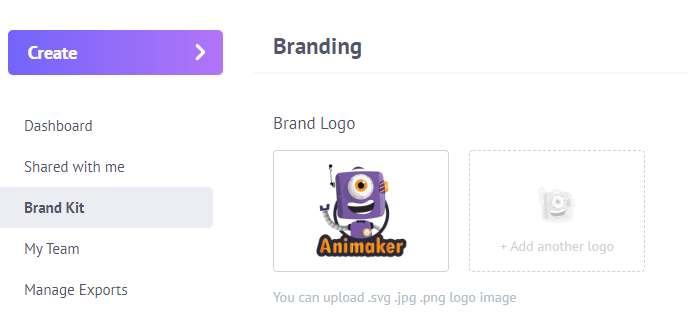 So now the question on your mind is "Okay! How does this help me apply it easily inside my video?" We'll answer that too. :) Now that you have uploaded your brand logo in the Brand-Kit, you can open one of the projects you are working on. You will find that your brand's logo is readily available for your use in the "Branding" folder of the 'My uploads' section.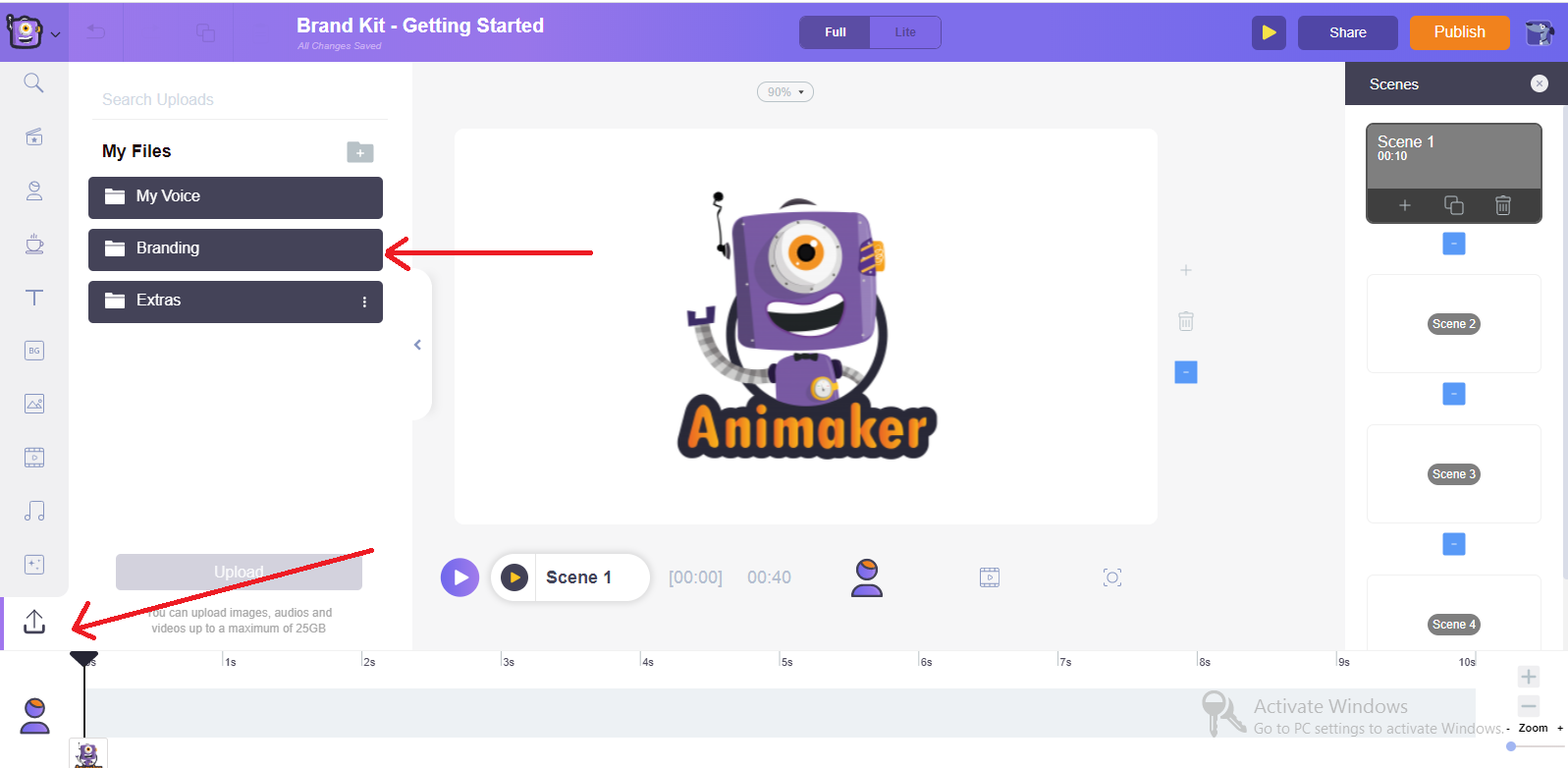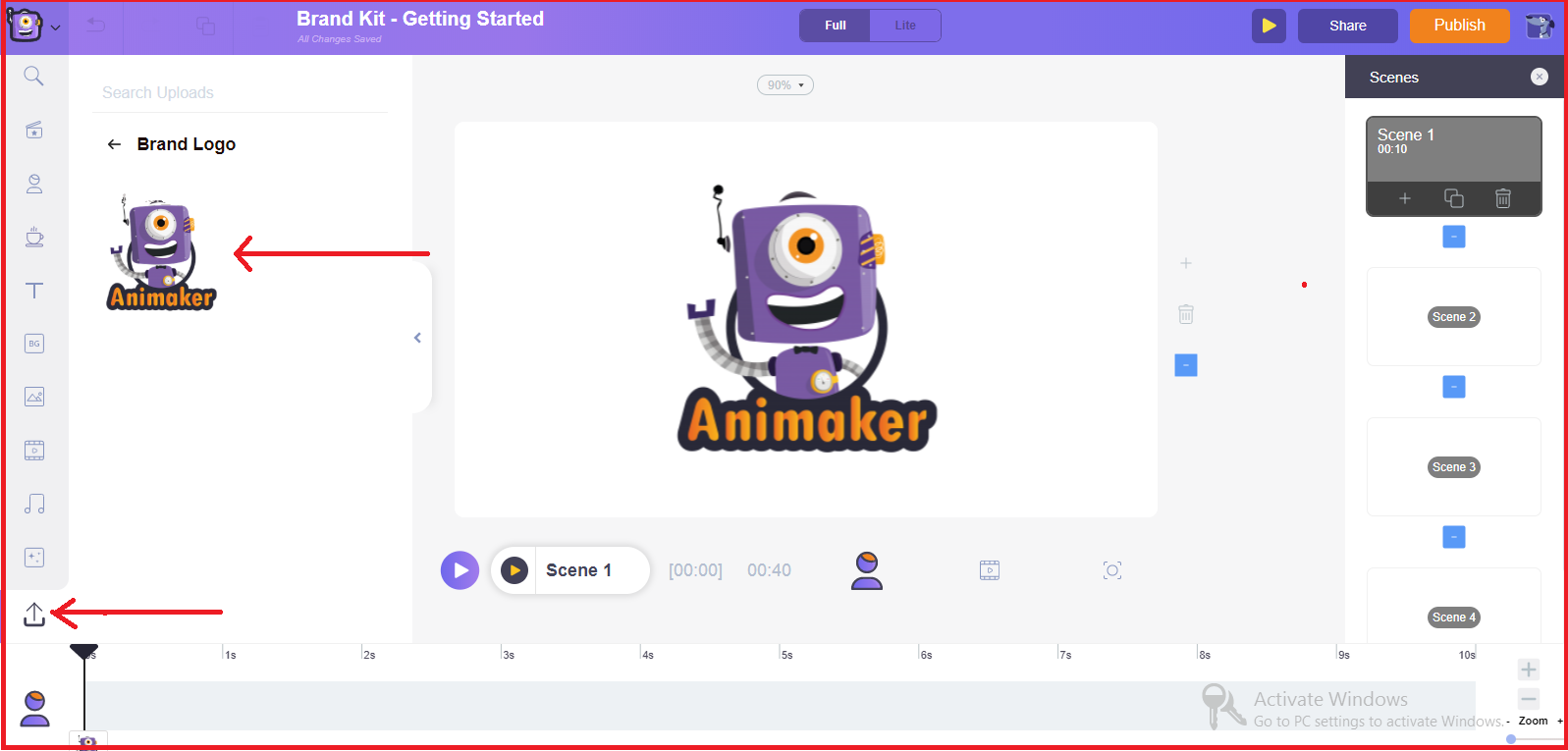 Convenient isn't it? ;) [Note: You can upload up to 5 different logo versions in the Brand-Kit] Now lets jump on to the next element of the Brand-Kit.
2. Brand Color
The colors that represent your Brand help set the visual tone and help people recognize your brand easily. Colors are also known to improve your Brand recognition by 80% So it's important to only use the colors that are part of your brand guidelines in all your marketing collateral. We at Animaker understand this and that is why the second section on the Brand-Kit menu is Brand colors.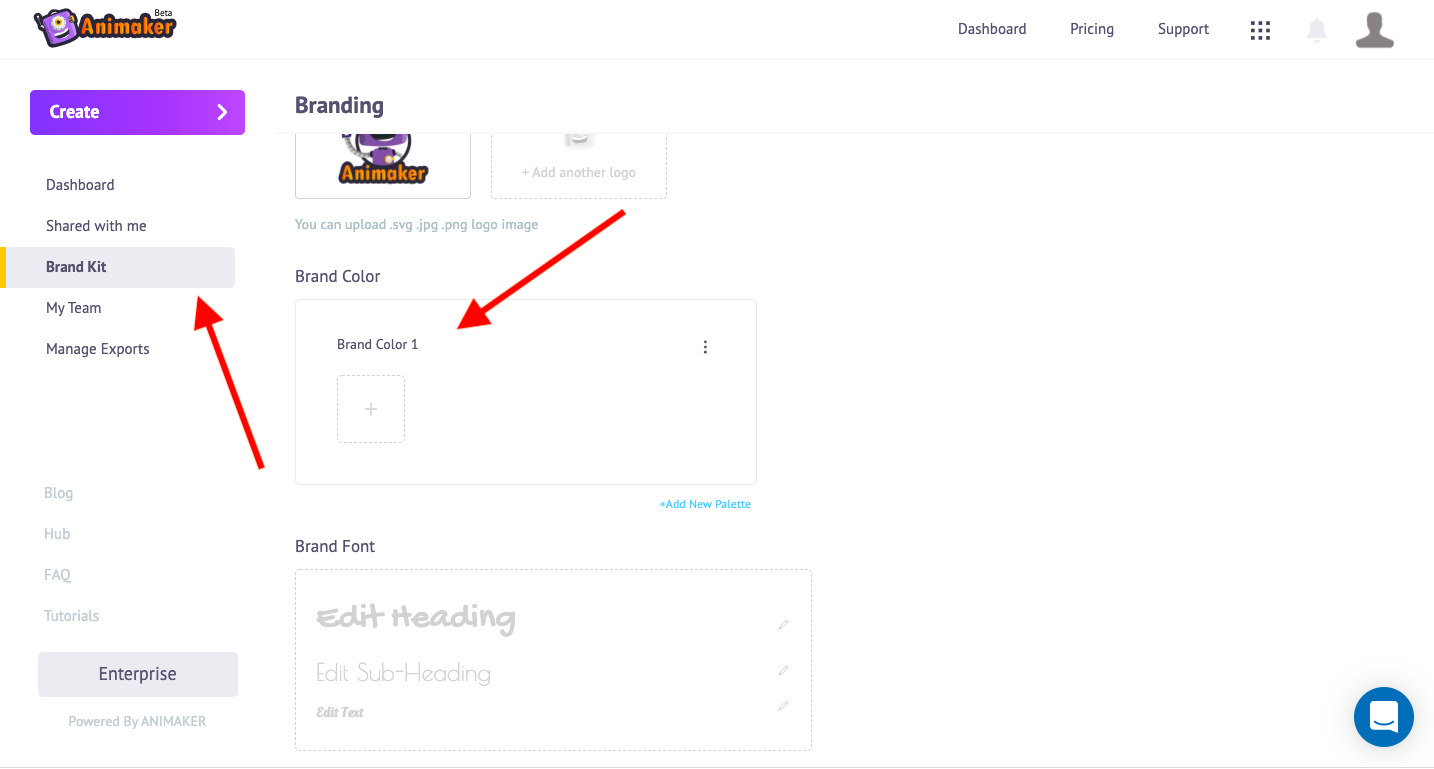 You can add up to 5 different colors on a single palette by either choosing it from the color picker or by entering the Hex color code in the provided textbox.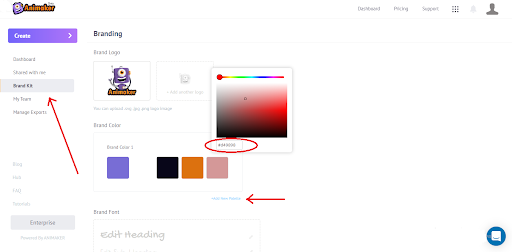 And you can also save 3 different color palettes with your Animaker Brand-Kit. That's a plethora of colors right? Now, you might wonder how I can use these colors in my video quickly. Do you want to add the brand colors to the Characters? To any of the properties? To the Background? To the Text? Everything is possible to do with the click of a button inside your Animaker workspace. Just like how you did with the logos, you can access these colors inside the application by clicking on the color palette icon in the item menu of any asset (Characters, Props, BGs, Text etc.) As simple as that!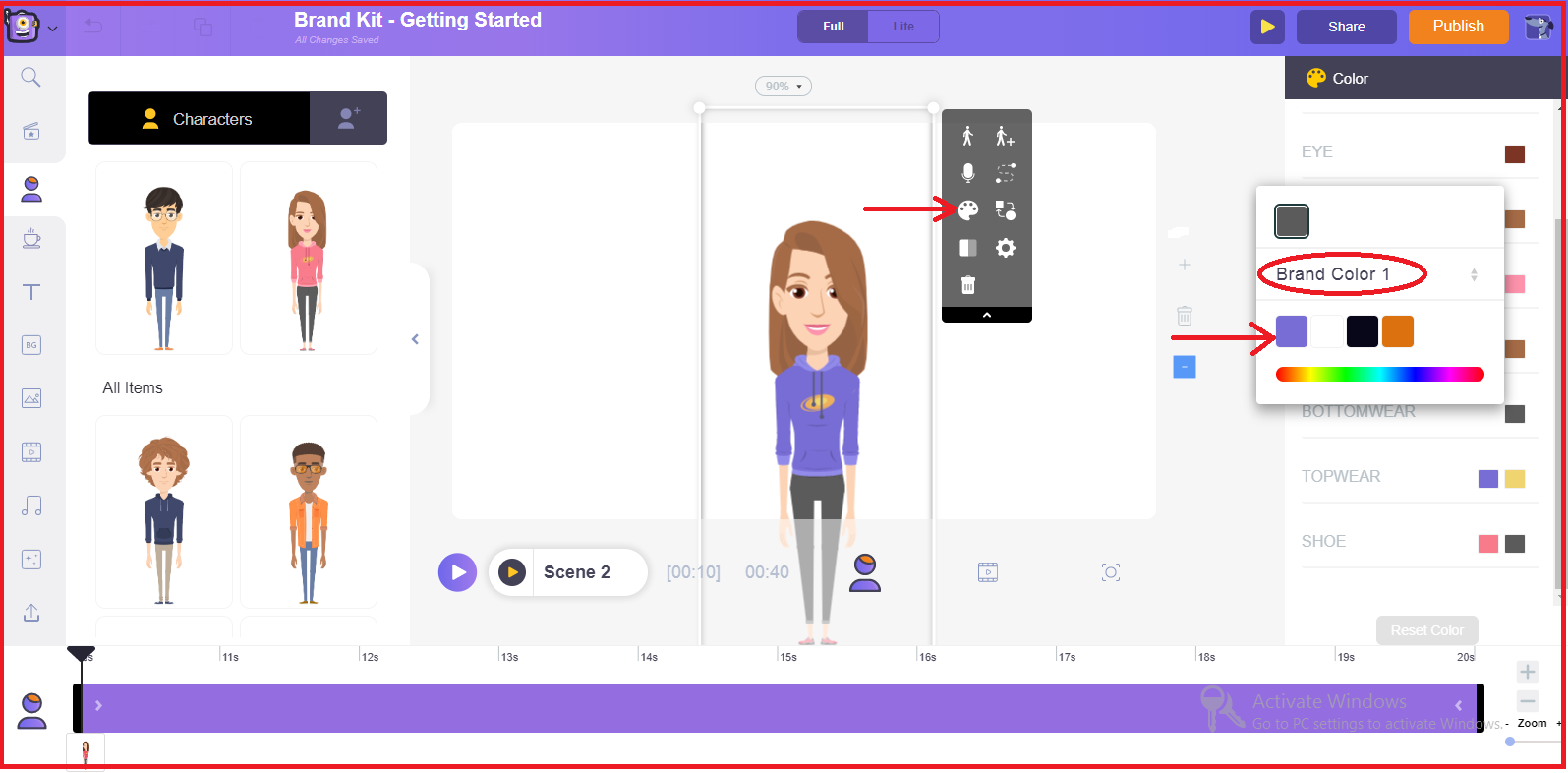 This ensures that you maintain consistency in the brand colors with absolute ease in all the videos you create using Animaker.
3. Brand Font
Just like logos and colors, every brand will have a set of signature fonts that is unique to itself. It's another visual element of your brand guideline. So, we made sure to add it as an essential element in the Animaker Brand-Kit. It has a variety of default fonts that you can select from, adjust it to the perfect size and style. More importantly, you can also upload your custom font that resonates with your brand by clicking on the 'Upload Font' option. You will be able to set up these fonts as heading, subheading and text sections. You can go ahead and add three different fonts for these sections as well.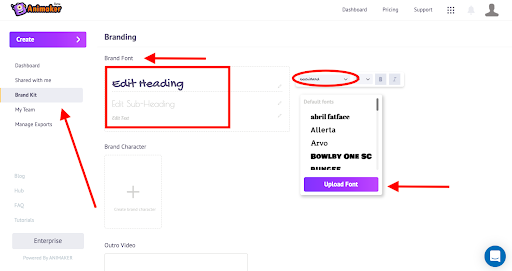 Now that you have uploaded your brand fonts in the Brand-Kit, you can easily add them to your videos. Click on the text section in the Animaker application. As you can see, you have three levels of hierarchy namely the heading, subheading and the text. When you click on any of them and drop them into the workspace, you will notice that the default font of the text box will be the one you saved on your Brand-Kit.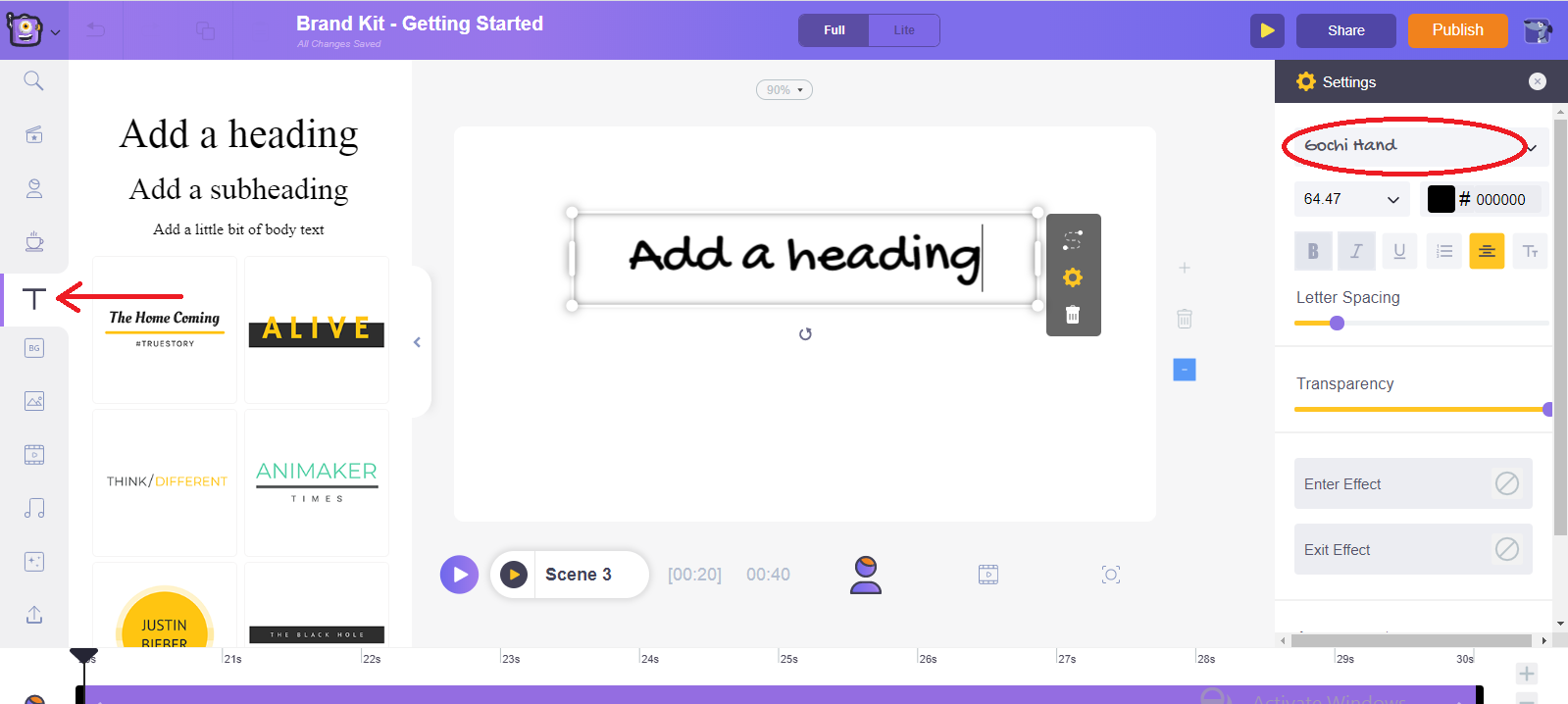 It's that simple. You don't even have to spend time searching for your Brand's font while dropping in a text box. That makes things super easy doesn't it?
4. Brand Character
Brand Character is something that is unique to Animaker users. While you have the logo section to upload images of your mascots and logos, the brand character section allows you to create a character using Animaker's extensive character builder and save it in your Brand-Kit. By saving your character in the Brand-Kit, you can ensure uniformity in videos. Every time you create a new video, you don't have to scramble around trying to find a character that is similar to the one that you used in your previous video. Once saved, your Brand character will be properly organized and be ready for use in the Animaker library. To create a brand character, click on the plus icon on the Brand character section. This will launch the character builder.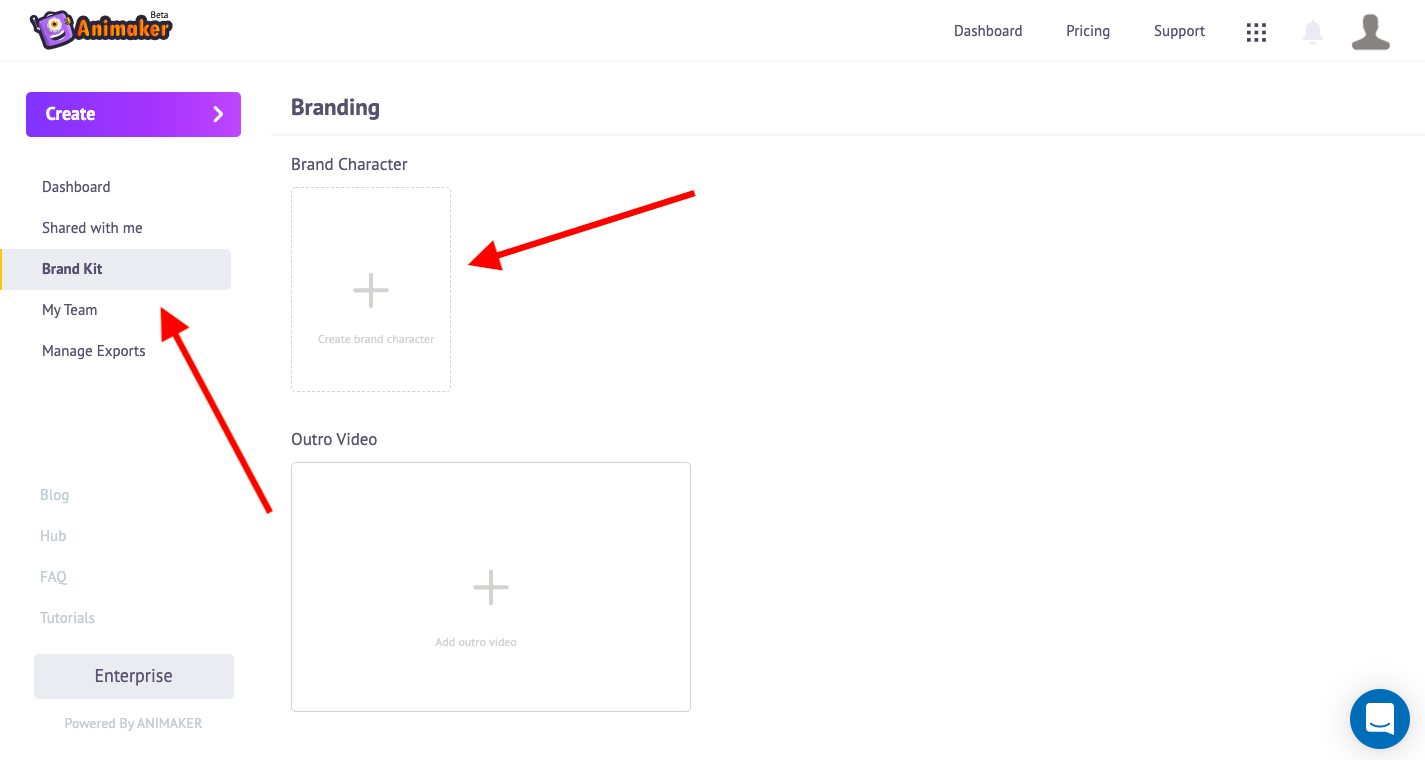 Here, you can build a character from scratch and save it as a brand character by clicking on the checkbox.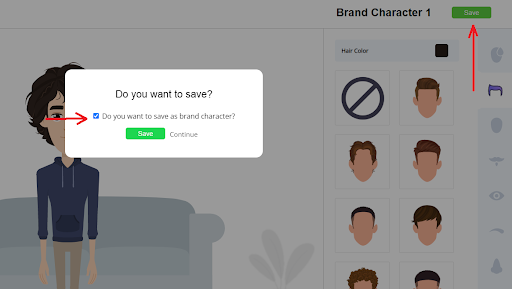 Your Brand character will be saved to your Animaker Brand-Kit.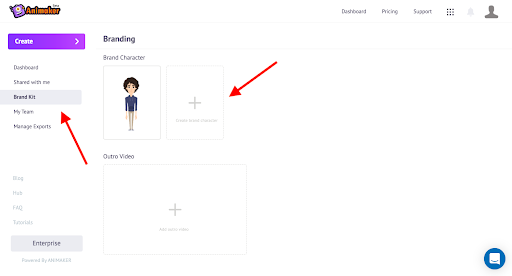 [Note: The Brand-Kit helps you to save upto 4 unique characters] Once you click on the character tab inside the Animaker application, You will find the brand character properly organized at the top, above all the other characters.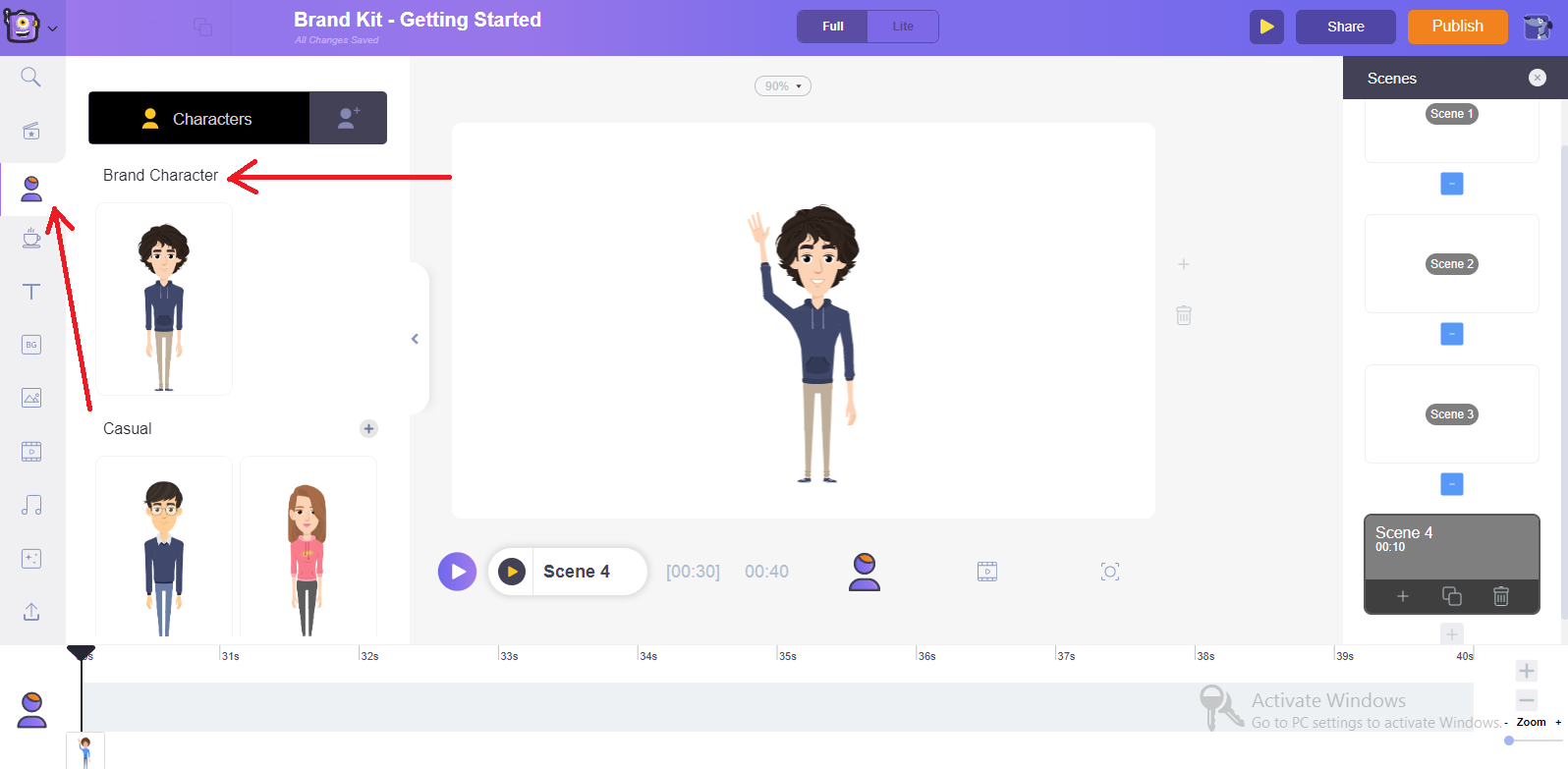 5. Brand Outro
We know that as brands, you want to have a sizzling end to all of your videos. You also want these sections to showcase your brand! This is why we have added the Outro section as the fifth section of the Brand-Kit.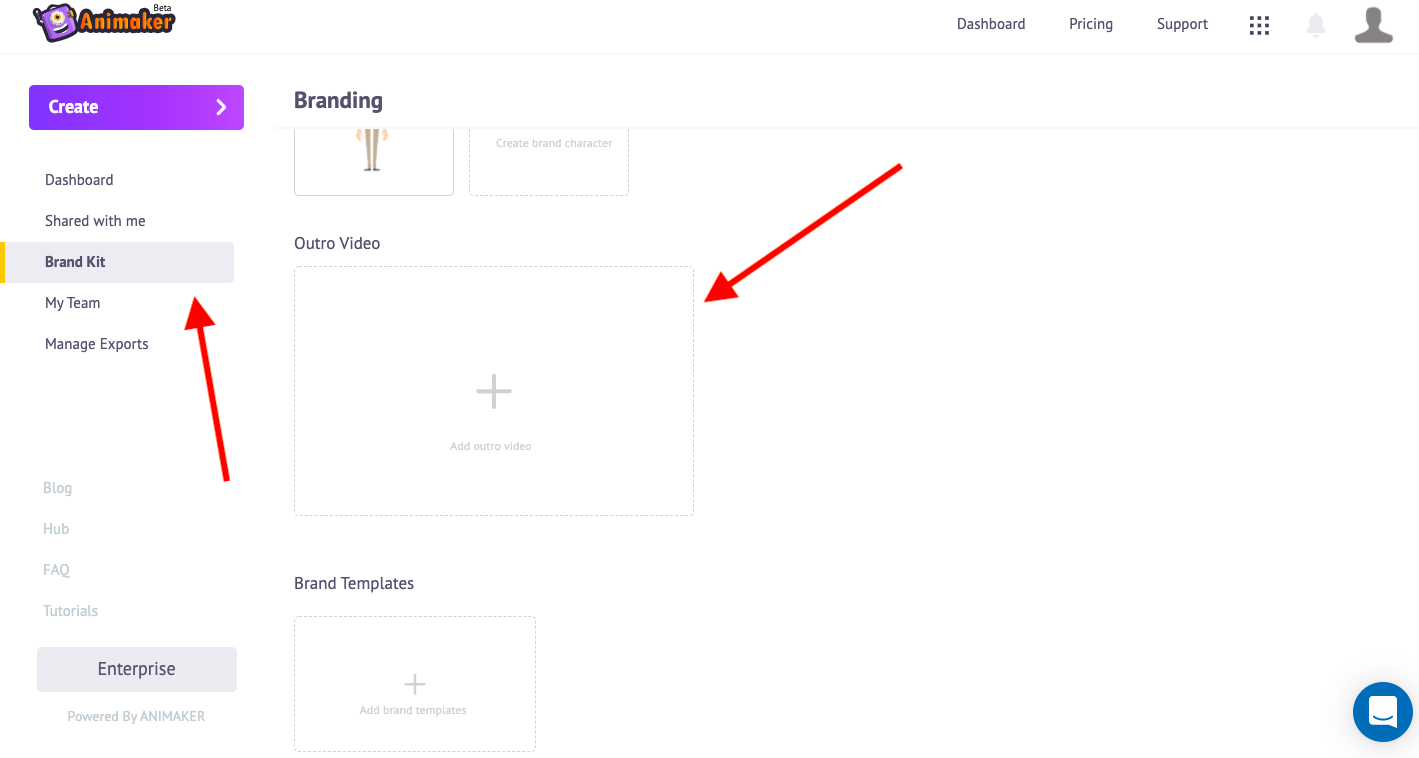 Just like how you uploaded your logo, you can upload your outro video from your computer's local storage here. Animaker allows you to upload your videos in a range of formats like mp4, mov, mpeg, avi, quicktime, 3gpp with the maximum file upload size of 5GB.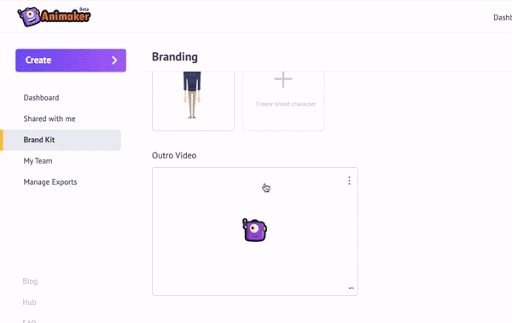 Your saved outro can be accessed later inside the "Brand Video" folder of the 'My Uploads' section.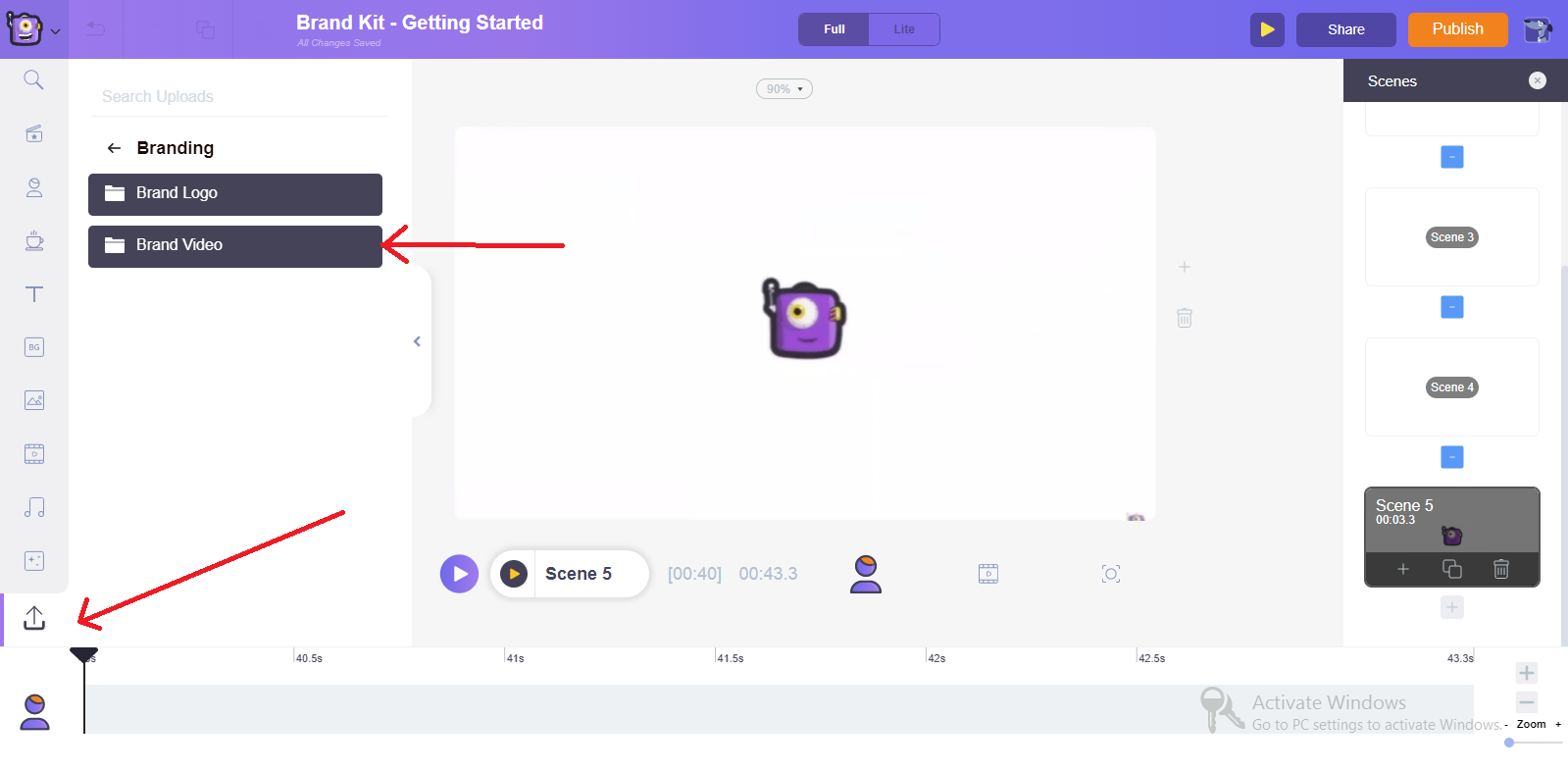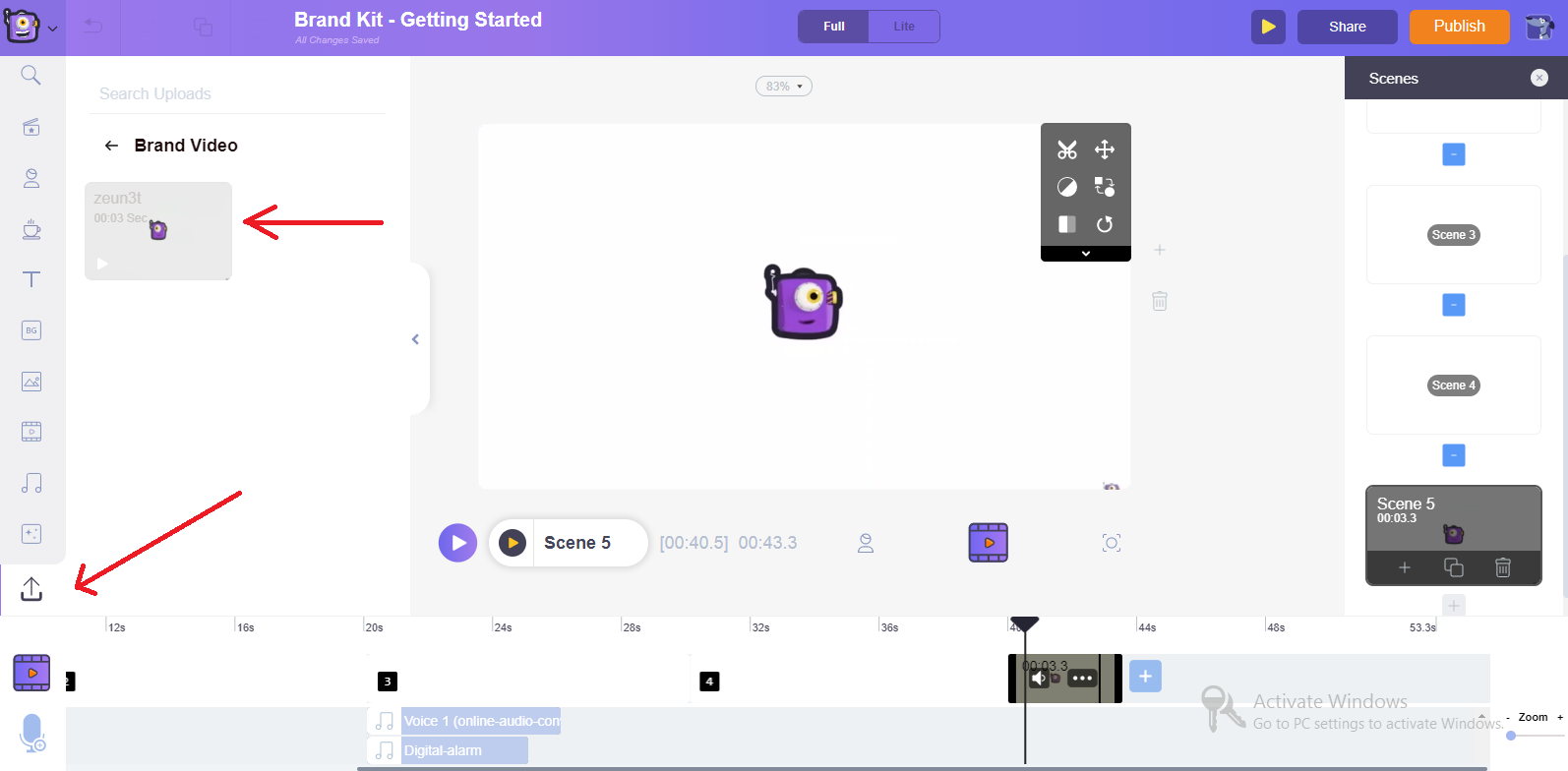 That's how quickly you can add your video outros to all your video projects on Animaker. Now, let's look at the last section of the Animaker Brand-Kit.
6. Brand Template
Research says that consistent Brand Presentations across all platforms will increase your Revenue. Creating and saving templates has two benefits.
1. You can ensure that it is easier for your team to maintain design consistency across all the videos they create. To stay consistent, every person in the team just has to start with the same template.
2. You save a ton of time. A base template ensures that you don't have to start your video from scratch every single time.
To save a video as a template, you will first have to open a completed project that you want to be turned into a template for yourself and your entire team. Now all you have to do is just click on the "Save as template" available in the drop down menu at the top left corner of the screen.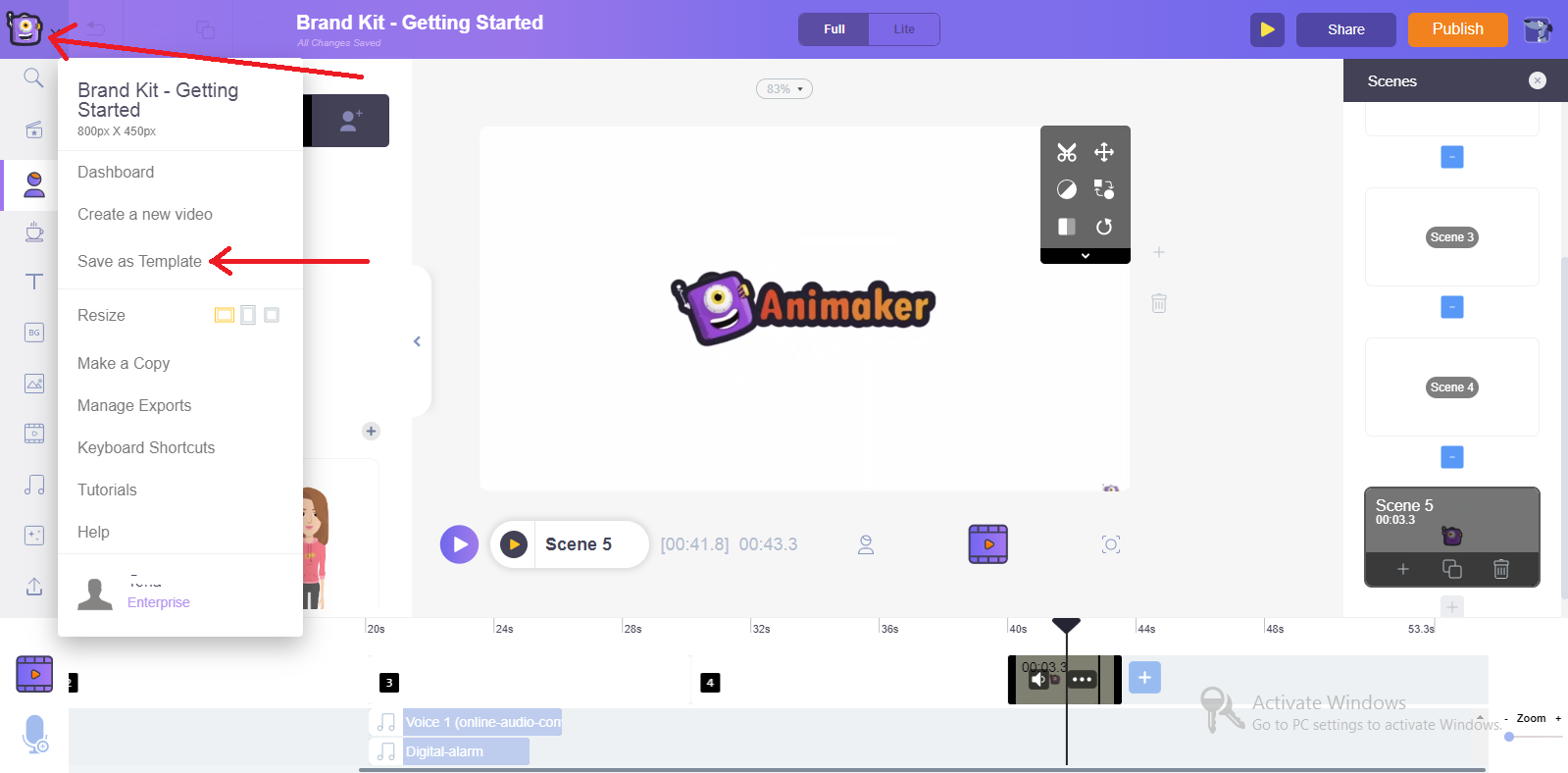 Once saved, your video will be added as a template in the Brand Templates section of your Brand-Kit.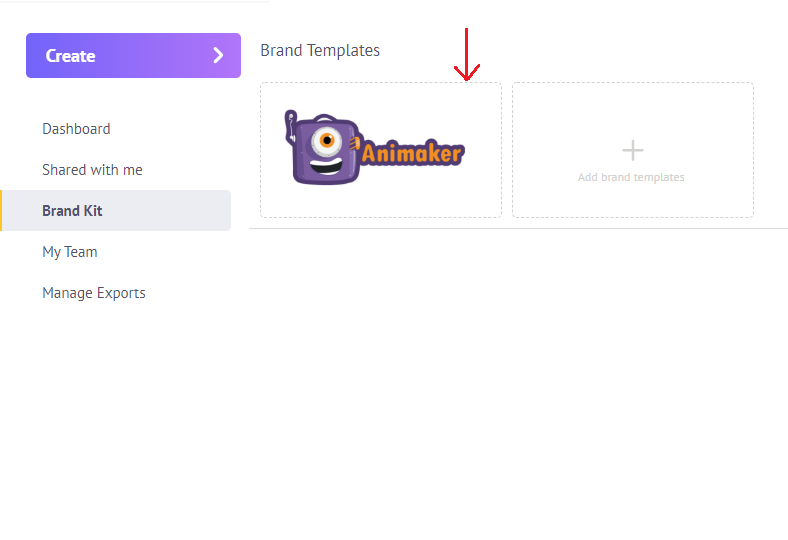 Note that you can save 4 different templates with the Brand-Kit. So, don't worry if you have different templates for each of your marketing campaigns. Now you can rest assured that the videos' style will remain consistent throughout the duration of the campaign.
Now, here's the best part!
Animaker Brand-Kit is designed to be your best friend when you want to give direction to your entire team. Let's consider that you are running a company with a very diverse team. You want your teammates to work on multiple video projects but you want the brand elements to remain consistent in all the projects. To execute this you have to be a team owner or an Admin. As an admin or team owner, all you have to do is save all the different brand elements in the Brand-Kit available on your dashboard. Once you are done, you can rest assured because the brand elements you just saved will appear in the Brand-Kits of your entire team. Isn't that just super efficient? In a nutshell, Animaker's Brand Kit ensures that you are effortlessly able to ensure brand consistency across your entire team's projects while also saving tons of precious time. Animaker Brand-Kit is available exclusively for our Enterprise users. Are you interested in getting access to the benefits of Animaker Brand-Kit?