Animaker now supports the languages of more than 3 billion people!
Animaker is now helping subscribers from 180+ countries around the world create kick-ass videos. We are also very happy to receive all the feedback from our growing user community. These constant feedbacks help our design team make the Animaker app even more creative and easy to use. Thank you, users! Please keep it coming.
Listening to one such feedback, we have provided the ability to add text in videos in multiple regional languages. We are very excited to announce that we have expanded our international font support to include more than 50 of the most spoken languages in the world today.
Why is this an important addition to Animaker?
English as a language is spoken by only 28% of the world's population. Which goes without saying that a video created using a tool that supports only English text reaches the hearts and minds of only a small percentage of the world's population. The rest find it challenging to follow the script (English) when viewing the video. It's even more alarming when you realize that you had to shell out a lot of money, just to get a simple explainer video designed and developed.
Let's say, for instance, you are an organization using videos to promote your product. You will deny potential customers in non-English speaking regions an opportunity to know more about your product if you fail to provide regional language references in your video.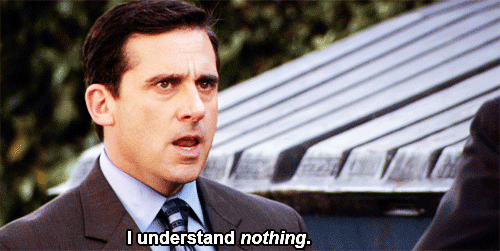 Now with 50+ languages support added to Animaker, we are giving you the ability to transcend boundaries and make that much needed emotional connection with the viewer.
"If you talk to a man in a language he understands, that goes to his head. If you talk to him in his own language, that goes to his heart"
- Nelson Mandela
So what does this mean for our users from all non-English speaking nations?
For Entrepreneurs & Marketers - Now the barrier of not being able to communicate product features in multiple regional languages has been removed.
For Teachers - Has there ever been an animation tool which could make your language class the most fun course for students? There is one now, and it's Animaker.
For Video Creators - Your search for a tool that could help reach out to potential customers all around the world is over. Using Animaker, you can create videos for businesses that help communicate to their target audience in almost all continents.
How to enable multiple language support for text use on Animaker?
Login to Animaker.
Access Animaker design interface.
Search for "Text" section within Animaker library.
Select any of the callouts.
Click on the "Enable Property" icon.
Navigate to the floating text settings window.
Choose the font "Noto Sans - Global"
You are all set to use text in the language of your choice.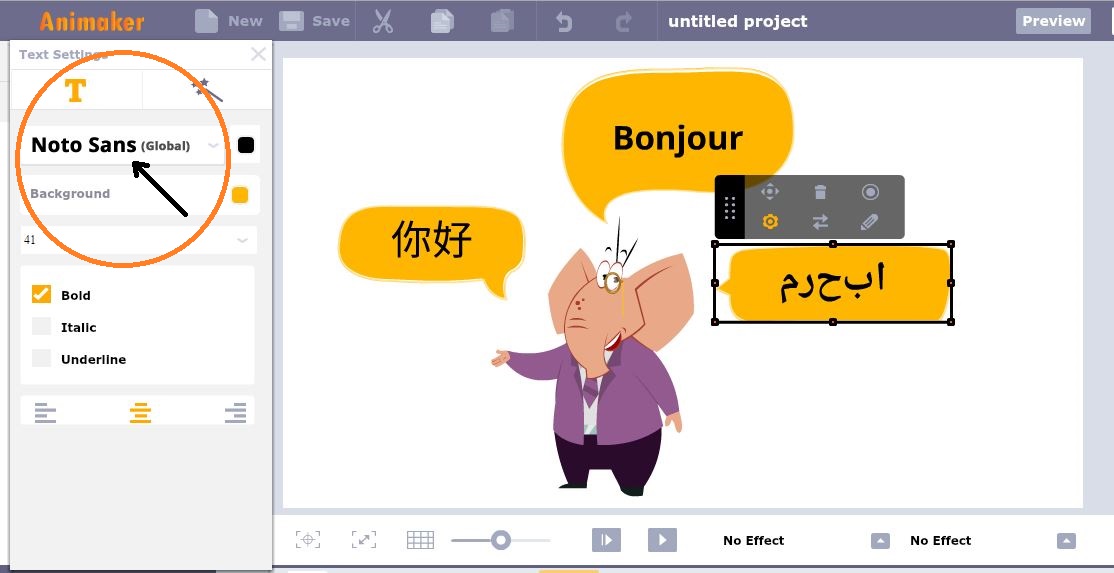 Here's the list of languages which are supported by Animaker
Spanish
Portuguese
French
Mandarin
Cantonese
Dutch
Arabic
Italian
German
Russian
Korean
Japanese
Hebrew
Javanese
Turkish
Vietnamese
Urdu
Polish
Ukranian
Persian
Romanian
Indonesian
Bulgarian
Catalan
Croatian
Czech
Danish
Estonian
Finnish
Greek
Hungarian
Latvian
Lithuanian
Norwegian bokmal
Serbian
Slovak
Slovenian
Swedish
Thai
Malay
Somalia
Upcoming Languages
Hindi
Bengali
Telugu
Marathi
Tamil
Gujarathi
Malayalam
Kanada
Oria
Punjabi
How to change your keyboard input language?
This section is only for those subscribers who are unable to change their keyboard input language from English to any other language. Subscribers who have already enabled their regional language of choice on their keyboards can skip the following instructions.
For Windows users
Step 1: Navigate to the Control Panel in your computer system
Step 2: Click "Change input methods" listed under "Clock, Language and Region" option
Step 3: Choose "Add a language option". Choose your desired language. Click "Add"
Step 4: The keyboard language icon should be visible on the taskbar to the left of "Date and time" display. Click on the icon. Choose your desired language.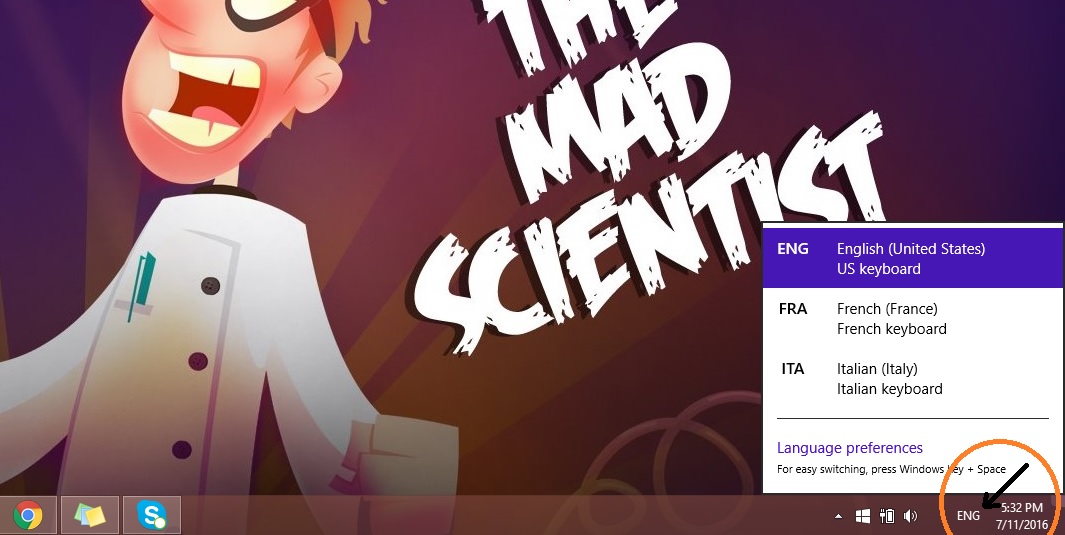 For iOS users
Step 1: Navigate to "System preferences"
Step 2: Click on "Keyboard" option
Step 3: Click "Input sources". Choose the desired language.
Step 4: Keyboard language option should be visible on the menu bar. You may now click and choose your desired language.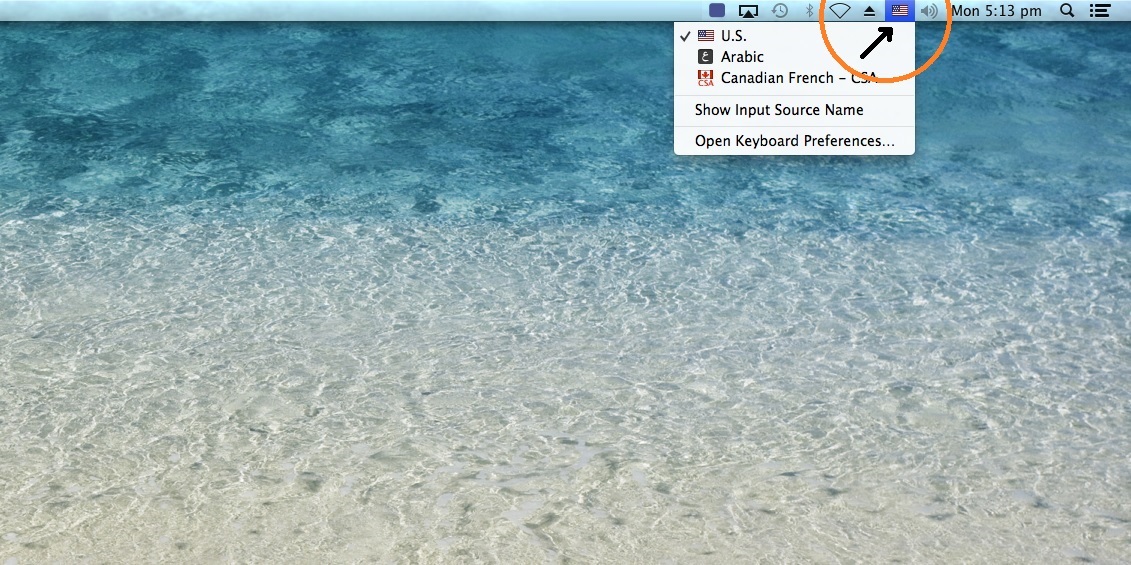 Other Instructions
Animaker subscribers who are trying to enter text in any of the Latin American languages. You may go ahead and select your keyboard language and start typing.
This is for Animaker subscribers who wish to use a language other than Latin American Languages. As the first step, select a text box on Animaker. Place your cursor inside the text box and click copy and paste. Now select your language from the taskbar (Windows OS) or menu bar (iOS). You are now good to go. Kindly start typing in your preferred language. (For better experience, when you type in a Non Latin American Language, we suggest you to literally copy and paste the text into the required text box in Animaker)
We are really excited to know how well this multiple languages feature for text entry helps unleash your creativity and attain your goal of making a lasting impression in the minds of your audience. Please do send us your feedback!
Start Animating now!