Animaker Inc.'s Steve.ai bags "Most Innovative AI Solution Award"
It's awards time for Animaker Inc.!
Yes!
Animaker Inc.'s AI-powered
Steve.ai
just won the Most Innovative AI Solution Award in 2022!! 
The best part is, Steve has been recognized with this award within just 6 months of its launch! That's awesome, isn't it?
Wait, we are not done yet!
In addition to that, our CEO, Mr.Srinivasa Raghavan, was honored with the Techpreneur of the Year award!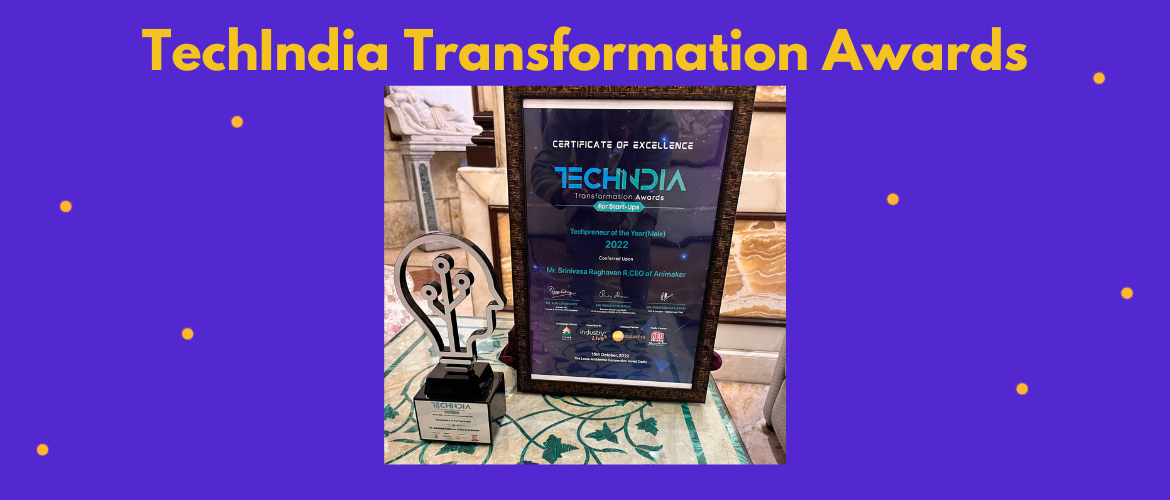 First, let's learn a bit more about what helped us get these awards!
What is Steve.AI?
Animaker Inc.'s Steve.ai is a patented, AI-Powered tool that can help you create videos in minutes!
All you need is a script in hand!
Feed that script to

Steve.ai

Do some swishes and clicks, and 

There's no step 3 cuz your video is ready!
Video-making in minutes? Unbelievable, but true!
And that's why Steve.ai is a boon to people struggling worldwide trying to create videos on the go with no design knowledge!
As Steve Jobs rightly said, "Innovation is the only way to win." As an ode to that quote and to the one who came up with that quote, Steve.ai was born.
Yes, Steve.ai is a humble tribute by our CEO to the late Steve Jobs!
Asking how?
While Animaker helps you create videos by putting together different assets like properties, backgrounds, characters, voiceovers, music, etc., Steve.ai does all that for you and hands you the final video, provided you have a script! All within seconds.
In short, it is a State-of-the-Art AI Powered Text to Video Maker!
Now that we got to know about the product, let's understand more about the award!
The MSME Awards 2022
The MSME India Business Convention is a grand summit that is a combo of exhibitions, conferences, and awards. The motive of this event is to showcase the opportunities in the business world, and emphasize the importance and continuous growth of small businesses.
This convention usually faces plenty of applications piling in for the awards.
With a growing number of small businesses handled by gifted and skillful minds, it can be quite a task for both parties:
The Businesses applying for the awards

The Jury members selecting the winners
In fact, the Jury's task would be very taxing. 
Imagine choosing THE BEST from a huge collection of equally great products/services!
Swimming through all these barriers and competing against 2000 other deserving applications,
Steve.ai topped the list as The Most Innovative AI Solution.
Thanks to MSME India Business Convention for honoring Animaker Inc with this award. 
And a bigger thanks to the awesome people behind Steve AI!
The Icing on the cake:
When the art is appreciated, naturally, the artist is recognized and cherished!
And that's exactly what happened here!
As icing on the cake and as the perfect complement to the "Most Innovative AI Solution" award, our CEO was recognized as the "Techpreneur of the Year."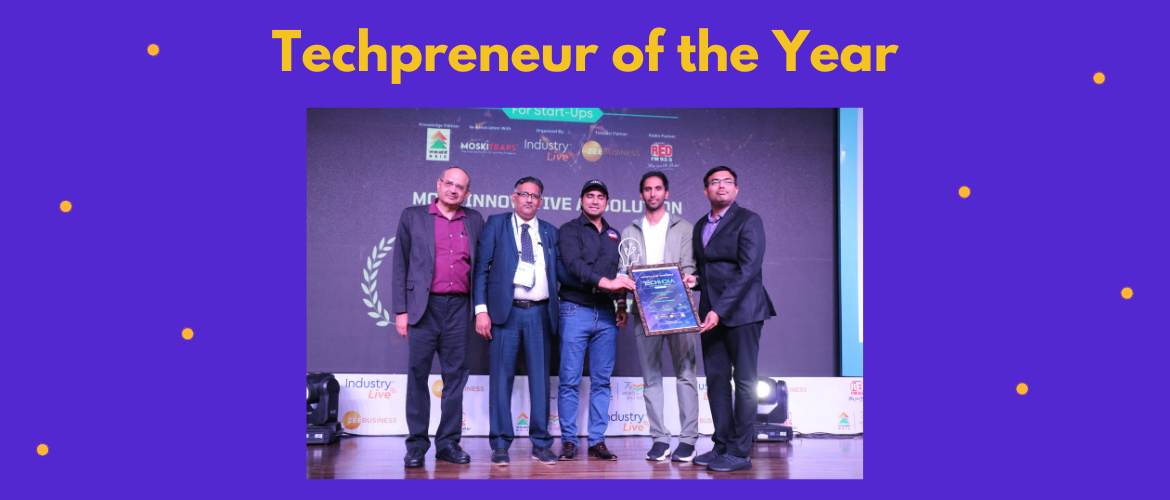 Cheers to Raghav for bagging this esteemed award and for being a continuous source of inspiration to us all!
Marching toward Glory:
Helping over 16 Million people create more than 20 Million videos wouldn't have been possible if not for our hardworking team and our ever-supportive Animaker user family. Cheers and thanks to them!
👏 ​​👏 👏 
With awards like these and constant support from users acting as a huge pat on the back, Animaker Inc. is ready to go onward and upward.
With its suite of products improving daily and new features springing regularly, Animaker Inc. is on its mission to be a one-stop solution for creators worldwide.
And on this mission, we would be glad to accept and work on feedback from valued users like you!
So, if you have any questions, feedback, or improvements you want us to work on, please feel free to drop in the comments below!