Vmaker, our fast-growing screen recording software, hits 100000 users!
Hey! We've got good news!
We're more than happy to inform you that Vmaker is now a community of 100k+ active users. Since our first launch in Dec 2021, we've been constantly working towards developing our product and enhancing our user experience in the best ways possible. Today, we're more than happy to see a lot of content creators, YouTubers, educators, salespeople, marketers and so many others use
Vmaker
in their day-to-day lives. It's been a great journey so far! And we'd like to thank all our users who've been supportive throughout this journey. After all, it's you who's been with us throughout this journey and helped us improve our product for the better.
What Led To The Birth of Vmaker?
By now, we all know Vmaker is a product of Animaker. But, are you aware of the story that led to the birth of Vmaker? No?
Read along!
It all started when our fellow workers at Animaker started looking for a robust
screen recording software
that allowed them to record, edit, host, share and track video metrics at the same place. They wanted a product that helped them get all their job done in one go as they weren't happy juggling between multiple software. And, that's how Vmaker was born. It was created to serve as a one-stop solution to help people record, edit, play and share videos easily without investing in multiple tools. Now, as we move forward, we'd like to throw some light on how all this started and give you a complete walk-through about the journey so far.
Our Journey So Far!
It definitely wasn't an easy ride. We worked really hard and experimented on a lot of things. As videos became a prime source of communication post the pandemic, people started to look for reliable video communication tools online. Investing in the right video communication tool helped them adopt asynchronous communication methods and strengthen internal communication amongst teams. Vmaker seemed to fit in as their go-to video communication tool that fulfilled all their basic needs for video creation. As it served as a recorder, editor and communication tool, it helped them communicate asynchronously. And, it didn't stop there. People started using Vmaker for a variety of reasons. They used it to create webinars, screencasts, tutorials, instructional manuals, video presentations and youtube vlogs too! Now, without further ado, let's take a look at its journey.
The First Launch
Since our only goal was to develop a product that made video creation and video communication simpler, we decided we needed a strong team that shared the same vision and goal. So, we put together a solid workforce and worked towards our first launch. Within Dec 2020, we were able to launch Vmaker's mac application. Everyone from the marketing, development, support and design team came together and launched our first mac application on Product Hunt. We received a good reception and our journey officially started ):-
We Decided to Branch Out (Launched our Chrome Extension)
Although we were getting a stream of signups consistently and were doing well, we didn't want to stop with just that. We wanted to expand our reach and help other users as well. That's when we started working on our next big launch. Since we were getting a lot of requests to release a chrome extension, we decided to launch Vmaker as a chrome extension next. With our continued efforts, we were able to launch Vmaker's chrome extension in March 2021. This helped our customers directly download the software as an extension from the 'Chrome Web Store'. This worked in increasing our popularity dramatically and just within a few days, we had more than 10,000 signups. And guess what?? These early customers became our strongest support system. Their feedback helped us improve our product for the better. We carefully listened to their suggestions and brought in features they'd requested. One popular feature that was released purely based on customer feedback was the
custom branding feature.
It's things like these that helped us stand out from our competitors!
Take a look at what our G2 and Capterra customers have to say.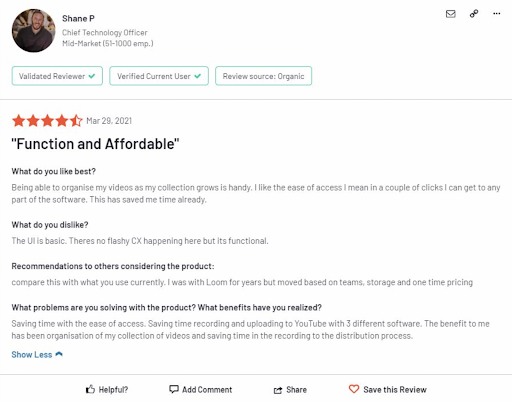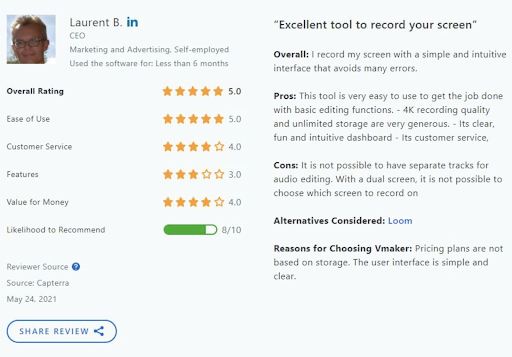 We Established a Strong Bond With Our Customers
Throughout this journey, we also made sure we connected with our customers deeply. We paid close attention to their feedback and tried to address every small issue they faced. We gave them a personalised onboarding experience by getting on calls and spoke to each and every customer whenever they faced an issue.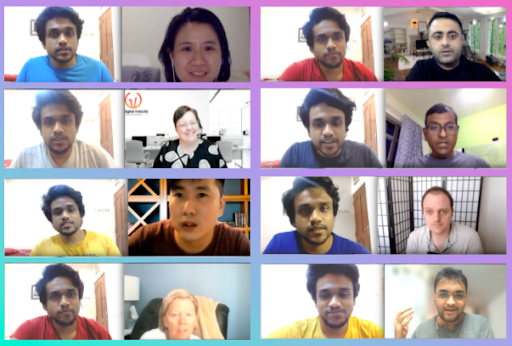 This helped us gain our customers' trust and laid the foundation for establishing a strong customer relationship.
In Just 6 months, We Started Receiving Great Reception
As we kept pushing ourselves and moved forward, our Vmaker community grew bigger. And, just within 6 months from our initial launch, we were able to receive various accolades and badges from well known peer-to-peer review platforms like
G2
and
Crozdesk
. Here's a list of the badges and accolades Vmaker has won so far.
G2
High Performer Summer 2021
High Performer Asia Pacific 2022
High Performer Small Business 2022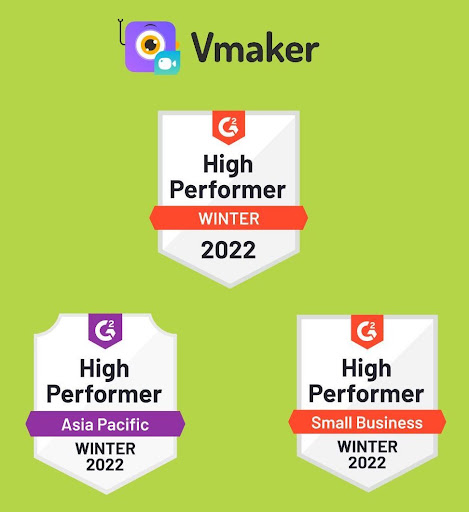 Crozdesk
High User Satisfaction 2022
High Market Presence 2022
Top Ranked Solution 2022

The Moment We Felt Vmaker is Here to Stay
Over the course of time, we were able to cater to a wider audience organically. This helped us widen our reach and helped us establish ourselves as a strong player amongst our competitors. With more inbound traffic flowing in, we got a better understanding of what our customers truly needed. And,
we made sure we tweaked our product road map based on the needs of our customers.
A Sneak Peek at Our Most Loved Features
Recently, we conducted a poll asking people to choose their favourite Vmaker features and integrations. Here's a list of the top 3 features they chose.
Screen annotation & mouse emphasis
Virtual Background
Privacy & Security settings
Integrations with Jira, GitHub, GitLab, Gmail and Hubspot
The integrations had various use cases and played an active part in strengthening internal communication amongst teams. While developers benefitted from the Jira, GitHub, GitLab integration, marketers and salespeople benefitted from the Hubspot integration. The Gmail integration, on the other hand, made it easier for marketers and salespeople to add videos to their sales campaigns.
Vmaker Learners Hub
We recently launched
Vmaker's Learners Hub
on 21st Dec 2021. It's interesting to point out that more than half the percentage of our customers are lifetime learners who look forward to learning new things. So, our team at Vmaker came up with a revolutionary idea to make their lives easier. We curated a learning hub of the best tutorials for the most searched topics.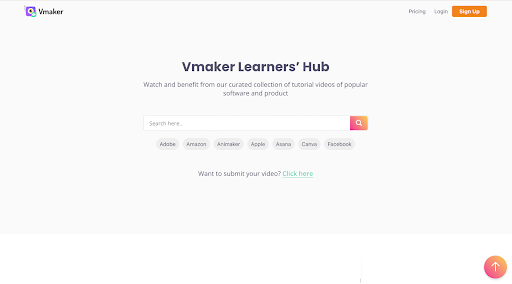 It's a community where both the creators and learners benefit from each other. It's useful for learners as it helps them streamline the process of learning and reduce the effort of scouting for resources one after the other. It's useful for creators too as it helps them upload their tutorials directly on the hub.
What's in Store For The Future?
It's been a wonderful journey so far. This one year was a great learning experience for us. We got to experiment on a lot of fun stuff and learnt a lot of new things. Going forward, we will keep striving to deliver our best to all customers! In addition to the list of existing Vmaker features, we'd also be adding features that make video creation and communication seamless. Here's a sneak peek of what we have in store for the next six months.
Editor 2.0
We're about to launch our
Video editor (2.0)
. This will be one of the most powerful video-based web editors in the market and will have more advanced features that will make your editing process way simpler. Here's a list of things you'd be able to do with it.
Add music to your videos
Upload and merge videos
Upload thumbnails
Add subtitles
Export videos up to 4K
Adjust the speed of your video, etc.
iOS & Windows application
Vmaker will also be available for download as an iOS application and Windows application very soon. While the iOS app is currently in its closed beta version, the windows application is expected to be out within the next six months. We also have a list of other exciting product updates to follow. Make sure you follow us to keep yourself updated with more product updates. Meanwhile, if you have any suggestions that would help improve our product, you can get in touch with us at
hola@vmaker.com