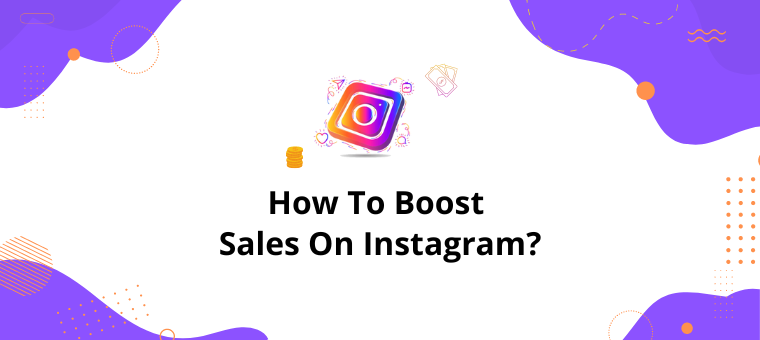 8 Ways To Boost Sales on Instagram As A Small Business!

9

min read
Instagram is a goldmine when it comes to social selling. And, of course, no sales-minded business will ignore a platform with over 2 billion active users. 
About 44% of users shop on Instagram weekly. 
This points to one thing – the amount of sales happening on Instagram is crazy.
But even after all that, many businesses and brands complain of low sales, which makes them think selling on Instagram isn't for them.
Are you one of them?
Then keep reading because I will show you 8 practical ways to boost sales on Instagram. 
Why Sell On Instagram?
Instagram is a visual platform where photos and videos resonate with users. Many of these users aren't there just to entertain themselves with videos from their favorite influencers. 
They also want to discover products and services that will solve their problems. And packaging what you offer in the form of photos, infographics, and videos is the best way to attract them. 
Apart from that, there are other benefits of selling on Instagram:
Helps you tell a story about your products and services

Makes it easy for customers to shop through a built-in checkout without leaving IG

Drives product discovery through reels and stories

You can dominate a niche with your product line

Creates more awareness for your brand 

Build a community of loyal customers who can become brand ambassadors
Let's dive into the 8 ways to boost your sales on Instagram.
1. Build Your Audience & Warm Them Up With Quality Content
2. Leverage User-Generated Content
3. Use Chatbots To Automate Conversation
4. Post Customer Reviews
5. Tell Story On IG Stories
6. Host Giveaways to attract customers
7. Offer Discounts for your products
8. Work With Influencers for better reach
1. Build Your Audience & Warm Them Up With Quality Content
Building your audience on Instagram is key to making more sales. Your customers are mostly your followers, and you need to work on them to move them down the sales funnel.
For a business with few or no followers, this is a challenge. 
But there's a workaround – you can leverage ethically built Instagram accounts with huge followers from services like Socialtradia to get started.
The first step is to understand your audience. 
Identifying the right target audience and creating high-quality content is the recipe to warm up this audience. Otherwise, you lose them to your competitors.
You need to convince them that you understand their problem and are ready to help them out, rather than just selling to them.
Use images, videos, and other visual content to demonstrate that your solutions are far better than your competitors. 
And this should be consistently pushing out all the features and benefits of your products. The aim is to flood their feed with valuable content that can prompt them to take action. 
And that brings us to Instagram caption. Every post you make on IG has a caption that can make or mar that post. Your captions should be compelling and entice users to take action that can lead to sales.
You don't have to break a sweat writing captions that will move the needle. If you aren't an expert, use AI copywriting software that have Instagram caption templates. As simple as that!
2. Leverage User-Generated Content 
Have you seen posts on Instagram where a customer shows off a product they bought from a particular page? You can see the excitement with which the post has been made!
That's user-generated content!
It could be a picture of them wearing an outfit or a testimonial praising the products. 
The brand may or may not have asked for the post. And the interesting thing is that these posts can be leveraged to boost sales.
How?
Search and collect all these UGC (it's easy since the creators will tag and mention you). You can also turn your notification to monitor this. 
Package them into videos and share them using different formats like reels, IG stories, and highlight albums.
Credit the users who posted by tagging them. This also helps in proving that the posts are by genuine, credible buyers.
Still not convinced how this can boost your sales?
Well, a target audience who knows about your products and is skeptical about making a purchase can be moved to try them, looking at such posts. When they see genuine users purchase your products and see good results from them, they wouldn't want to be left out. Since it clears their doubts about your product, they would eventually be convinced to buy it.
Below is an example of how Gymshark leverages UGC to woo potential customers to take action:
3. Use Chatbots To Automate Conversation
When potential customers slide into your DM with questions about your products, it shows they're interested in them. They will engage you in a chat to get all the necessary information before taking action. 
That's more like a lead waiting to be converted into a sale! You wouldn't want to miss them!
Regrettably, you can't be available 24/7 to keep such a conversation going. And that can mean losing a potential sale. 
That's where using a chatbot to automate conversation comes in. There are a variety of platforms like Manychat or SendPulse that can help you integrate an Instagram chatbot. 
You can program it to engage a lead in a conversation on all possible questions about your product. The aim here is to ensure that any conversational marketing that will generate sales isn't missed.
4. Post Customer Reviews
Reviews, especially positive ones, move the needle when it comes to boosting sales on Instagram. A potential customer who reads a positive review about your business or product is tempted to try it. After all, they want a product that can solve their problem. 
A survey by FinanceOnline has it that 68% of customers will deal with business because of positive reviews.
But how do you collect and post reviews on Instagram when there isn't a feature for this?
Reach out to loyal customers and ask for their sincere opinion about the product. If possible, let them make a post and tag you on a particular problem your product solved.
If you have an Etsy shop connected to IG, screenshot the reviews of customers and share them on Instagram.
Another way is to check your notification to see where your brand is mentioned and pick posts where a customer said good things about your products. 
After collecting all this, make an Instagram story with them, add to your album highlights, and rename it "customer reviews." That way, your potential customers can easily see them under your profile. 
Check out this profile where customer Reviews have been added as highlights:
You can also arrange them as a photo or use them to create reels and post them on your page.
5. Tell Story On IG Stories
People connect easily with stories, and that's why Instagram launched IG stories. Merchants are now using it to sell more of their products. 58% of IG users say that they are more interested in a brand after seeing them in a story. 
So, if you are not leveraging IG stories, you will deny your business the opportunities for potential customers to discover it.
Here's an example of a brand sharing their website on IG story.
Creating an IG story isn't hard. You can package your product's values and how it does better than your competitors into a story using the Instagram story maker from Animaker.
This targets potential customers who just discovered your product and are waiting for you to give them reasons to spend their hard-earned money on.
6. Host Giveaways to attract customers
Hosting giveaways is like asking potential customers to try your products without committing. It boosts sales because someone who has reservations about your products will have a first-hand experience and then decide to buy. 
The ripple effect is that lucky winners can share their experiences with their friends on Instagram. That creates more awareness and attracts more qualified leads.
Many small businesses and brands leverage it on Instagram. 
Below is how Dermae hosts giveaways on IG to boost the sale of its skin care products:
You, too, can replicate it by following these steps:
Share the products you want to give out, and in the caption, state how your audience can participate and win. 
Here is an example:
10 followers stand a chance of winning our newly launched product.
Want to be one of them? The rules are:
Engage this post by commenting and sharing it
Tag 3 or more of your friends in the comments

Share the post on your story and send us a screenshot
We will announce the 10 winners in 72 hours.
That was easy, wasn't it?
7. Offer Discounts for your products
Discounts are promotional baits that boost sales on IG. It can be coupons, free shipping, and any other incentive that encourages a potential customer to make a purchase. 
According to a survey, 88% of US shoppers used coupons for purchases in 2020. 
This tells you that offering discounts of any form can skyrocket your sales on IG.
Here is Crystalwellness offering a 25% discount on all its products for purchases above $1000:
8. Work With Influencers for better reach
What's your reaction when your favorite celebrity endorses a product you like? You are tempted to use it, right? 
Same works on Instagram, where a lot of users have influencers that shape their purchasing decisions. The idea here is to identify an influencer in your niche and partner with them to promote your products. This boosts sales directly or indirectly.
What will happen when an influencer in the travel niche makes an IG story about one of your latest travel packs?
Their audience will rush to your page to check out the product and probably buy. Others will follow you to keep up with your content and look for more products that will fascinate them.
Below is Thelostkanya, an IG influencer promoting mint ice tea from Teastoy:
Conclusion
Instagram is a cash cow for selling products and services online. But you must have the right strategies to up your game from making little sales per month to making multiple sales per day.
These 8 points mentioned above, if implemented, won't only boost your sales but also earn you loyal customers who will return to make more purchases.