14 Trends that will shape Video Marketing in 2017 (Updated)
We have a very exciting year coming up!
All content marketing efforts are going to be directed to video
. While video marketing spiked up in 2016, 2017 is going to be the year where a lot of brands go in for the kill. Keeping this in mind,
social media giants are battling it out heavily
. Facebook has already invested millions of dollars in promoting their new live feature. Instagram and Snapchat have crossed swords in video stories. Meanwhile, a new player has silently entered the social media battlefield. Amid all the chaos, you better make a solid plan.
The video marketing trends discussed in this article has all the intel you'll ever need
. Jot down every point. You can't afford to miss even one.
1. Instagram will be a hot market to target older users
Instagram marketing
was only for brands targeting teenagers. This is not true anymore.
The number of older users in Instagram is increasing at a rapid rate
. In 2017, the number of adults using Instagram will become too huge to ignore.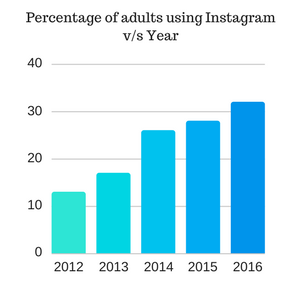 As you can see, the number of older Instagram users are growing at an alarming rate. In 2012, only 12% of adults were on Instagram while
in 2016 it has spiked to an impressive 32%
. By the end of 2017, it will be close to 40%. These stats are more significant as the total number of Instagram users are also rising exponentially.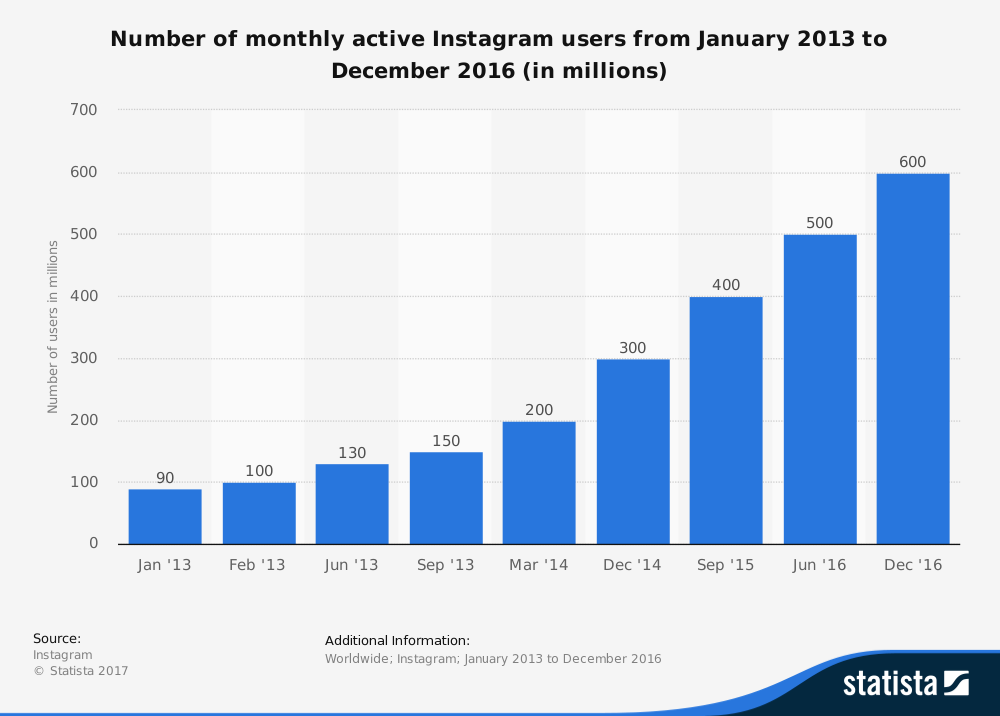 As shown in the above chart by
Statista
, it has increased to a whopping 600 million from 90 million in a matter of just three years.
Gary Vaynerchuk
calls this trend of spike in older users as the "youthification" of our society.
TAKEAWAY
: If you are targeting the older segment, act now! By the time your competitors realize it, you will be scores ahead.
When it comes to content marketing, speed is everything.The first to execute always eats 90% of the pie.
Make at least 4-5 pieces of video content on Instagram every day. It can be little 20s videos that are relevant to your audience.
2. The rise of Musical.ly
Musical.ly is the new Instagram
. It is a very popular app with over
80 million total users and 10 million daily users
. For brands targeting teenagers and millennials, this is the place to be! Musical.ly allows users to upload 15s live streaming videos related to music. Many
new age influencers
have risen to popularity thanks to their unique style and choreography. You can either tie up with these influencers or start building your own audience.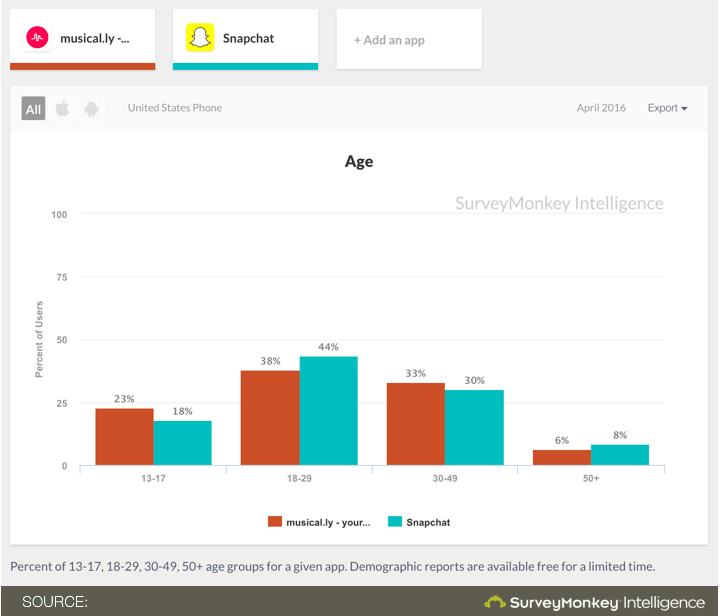 It's clear that
when it comes to teenagers, Musical.ly has already taken down Snapchat
. Moreover, 70% of the users in Musical.ly are women according to
Channel Pages
. So if you belong to the music industry or have anything to do with young women, Musical.ly is a gold mine!
TAKEAWAY
: Musical.ly is experiencing tremendous growth right now. The upward spike has just begun.
Make use of this upsurge now and within a couple of years, you will have a huge following
. Even though its more popular among teens now, the others will soon follow suit. It happened to Facebook, it's happening to Instagram and it will happen to Musical.ly.
3. Snapchat : the king of social media video engagement