12 VideoMarketing Trends to turn 'ON' your A-Game in 2019!
Another year is done and dusted! And we are back here again drafting our marketing plans for the new year. But! This year is different! This is the year videos can make or break your business!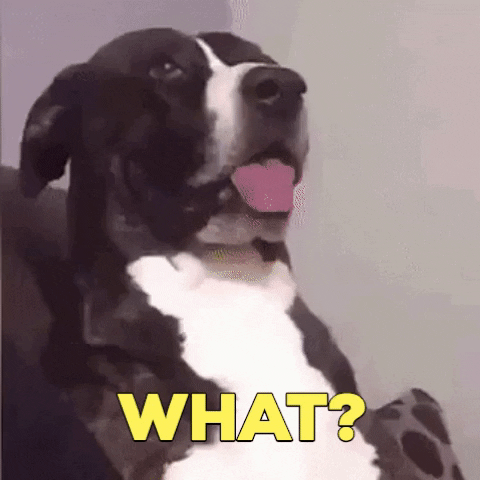 via GIPHY
Yes! That's right! With every major social platform like Facebook, Instagram, and Quora doubling down on videos, it is important for you to stay ahead of the video marketing game. In case you haven't noticed, 2017 was the year when
digital ad spending finally beat TV
to take the lead. The gap between the both increased further in 2018 and 2019 is gonna be the year when every major brand will invest a majority of their ad dollars on the digital arena! So what does this mean for small and medium scale businesses? For one thing, promoted ads are gonna get a lot costlier due to the spike in demand. The other is that their decision on where they spend their video marketing dollars will have a major impact on their revenue. As people working with thousands of video creators day in and day out, it has also been our duty to closely monitor what's been working well in the digital space. So, following our widely popular posts on the video marketing trends of
2017
and
2018
, here are 11 Video marketing trends you should look out for in 2019!
1. Watch out for the "Facebook watch"
Last year this time, Facebook started testing what was then hyped to be the YouTube killer. Recently in Aug 2018, Facebook rolled this out to all of its mainstream users around the world.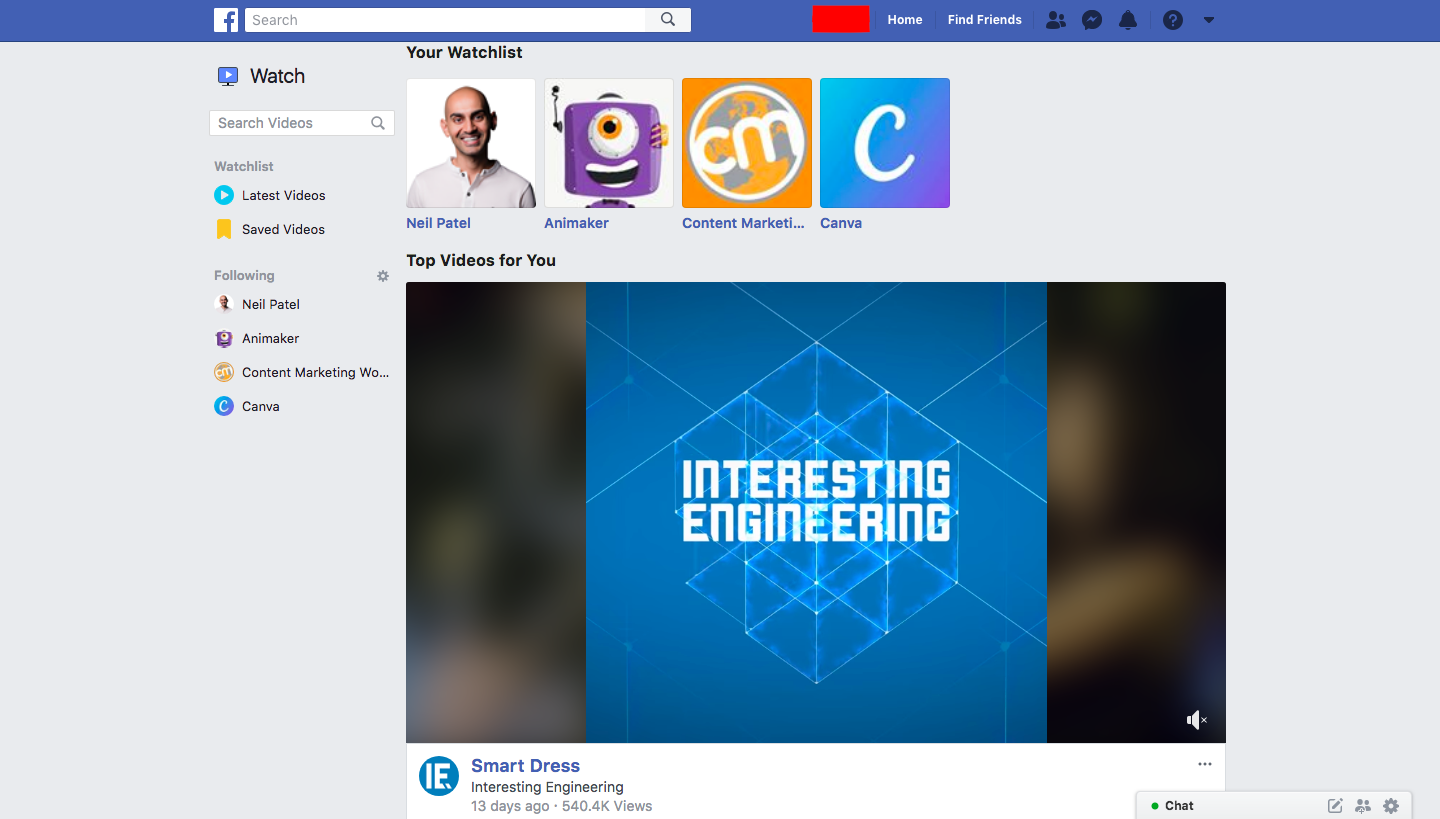 So what does this mean for businesses? Similar to every major update that has been thrown at us before, like the Facebook Live feature or the Facebook stories the organic reach for those who jump aboard the Facebook watch ship will skyrocket.
According to Facebook
, more than 400 million people monthly and 75 million people daily see videos on Facebook watch for at least a minute. So, creating video content for Facebook watch might benefit you tremendously. To give you some perspective, it's like joining YouTube as a creator during its first year. There is no better time than now to climb the bandwagon. Another way for businesses to take advantage of Facebook watch is to look out for collaboration and sponsorship opportunities. There is one important thing to note before you jump headfirst into content creation While facebook watch was originally created to serve users from all age groups. Facebook's own cousin, Instagram has started taking away all its younger audience! Hence
Facebook is now pivoting
its plan to target users who are post-college millennials with its investments in creating exclusive online shows and news programs. So make sure your content or the content you sponsor resonates with the 30+ year olds.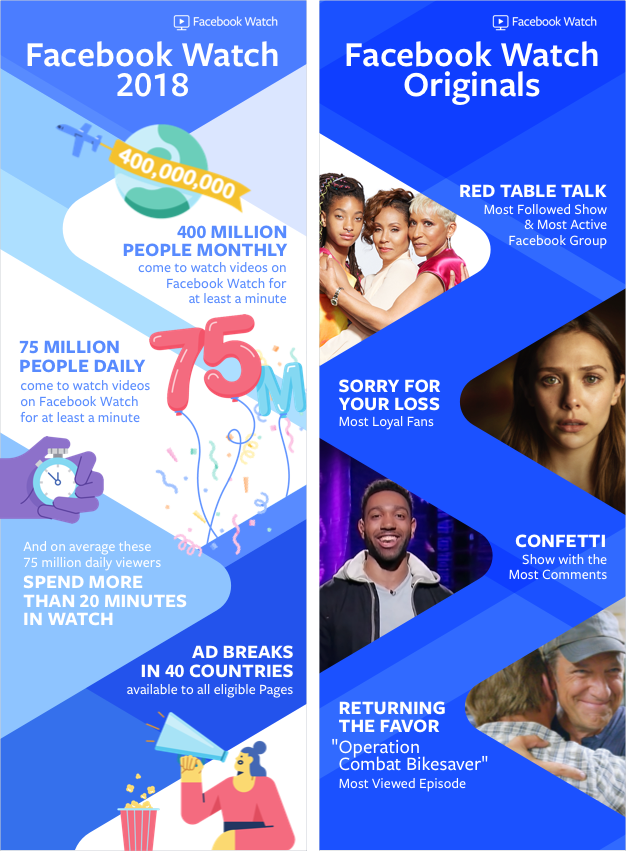 2. The "Facebook watch party" will add life back to Facebook
During the initial years of Facebook, it acted as a platform where people hung around and had loads of fun together. Over time that has changed. Today it's more of a place where people come to consume memes and snackable video content. Yes, Facebook did introduce features like Facebook Live and Stories in the last couple of years but none of them really brought back the feeling of community that existed during the initial days of the platform. Facebook's newest feature "Watch Party" is one of the promising original updates the platform has seen in a long time and is an absolute breath of fresh air!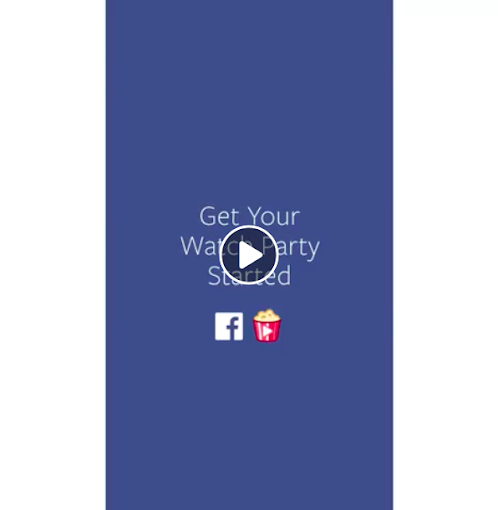 While Watch party was initially available to be used only inside groups, Facebook announced on Nov 27, 2018 that it is officially expanding it to all the profiles and pages on the platform. The Watch party feature seems to be already making a big impact as it saw 12 Million watch parties being hosted in its groups alone. Only time will tell what kind of sky-high numbers we'll see once its open to all profiles. If you are a company that cares a lot about community building and engagement, the Facebook watch party is something you should definitely take advantage of. Note: Remember the time when Facebook was pushing notification whenever someone went live? Its now doing it for watch parties as well. Host your own and enjoy the spike in user engagement.
3. Look beyond the horizontal (I mean the videos)
We have come a long way since the creation of the first electronic TV back in 1927. Information can now be accessed and consumed from the palm of our hands. While the adoption of the new devices has been fast, the adoption of mobile friendly video content needed a boost from the likes of Snapchat and Instagram who can be credited with the rise of Vertical videos and Square videos. While the effect of square content is well known through its usage on Instagram and Facebook, the Vertical video arena is still pretty much fresh and unexplored.
Go Vertical or Go Home!
People who argue against the vertical video claim that Horizontal videos are a natural fit as our eyes are aligned horizontally. But one thing they fail to recognize is that today, Smartphones are the no 1 place users go on to consume any form of content. Infact, Smartphone users hold their phones vertical
94% of the time
. And a horizontal video makes the users flip their phones to view it properly which is completely against a person's natural instinct!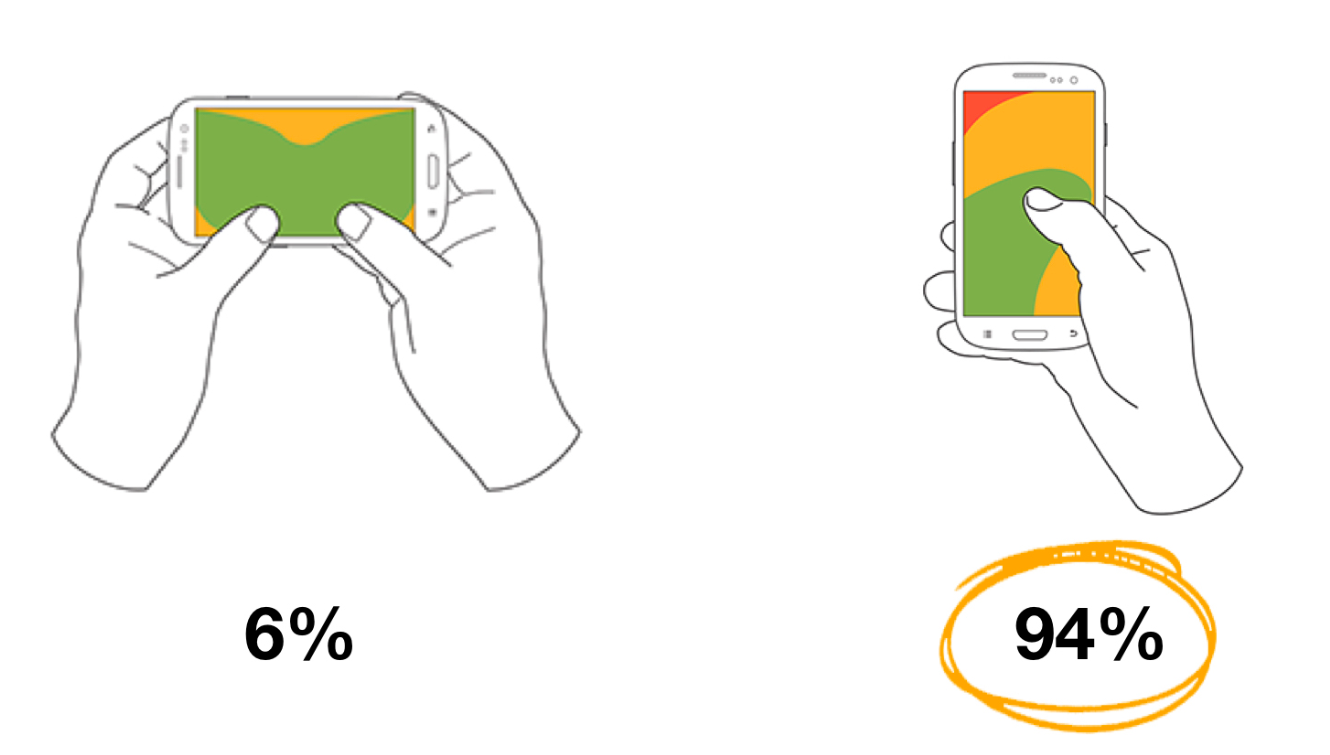 This is a major reason why platforms like Snapchat were able to quickly gain clout when it launched earlier this decade. People were blown away by the more immersive form of content they were able to see naturally from the palm of their hands. Infact, Snapchat even says that the vertical videos on their platform have 9x times more completion rate than horizontal videos! This is the major reason why Instagram launched IGTV. To give access to video content that is more immersive. Yes, it is yet to blow anyone's mind but it's only a matter of time before Facebook figures things out like they always do. People have started recognizing the impact that vertical videos can have. No, they are not gonna be taking on the horizontal videos head on as competition. But they are gonna cater to a separate segment of users who just love consuming content from their mobile phones. Plus Vertical videos totally trump Horizontal videos when it comes to ads on mobile-first platforms like Facebook, Snapchat and Instagram. In fact, when we
ran an experiment
from our Animaker Ad account, we found that the cost per click of horizontal videos was 150% more than a vertical video with the same content. Another important development that validates this opportunity once again is the launch of
Vertical video ads on YouTube
. So our advice for businesses would be to set aside a small budget for experimentation with Vertical videos. It will definitely be worth your time in 2019.
4. Stories are the new Newsfeed!
Remember the time when we eagerly logged on to Facebook to see what our friends were up to? Well those days are gone! Apart from the occasional profile pic update from our friends, the News Feed has now become a place you go to check out memes and get bombarded with ads! But there is good news. The personal connection the FB Newsfeed was able to offer is not completely dead! It has just moved to the stories section of most social media platforms. Be it on Facebook, Snapchat, Instagram or even YouTube, it is the go-to place if you want to form a personal connection with your audience. Recent data shows that over 70% of users on Instagram and Snapchat users watch stories on both platforms daily. This shows how the influence of stories has grown at an exponential pace.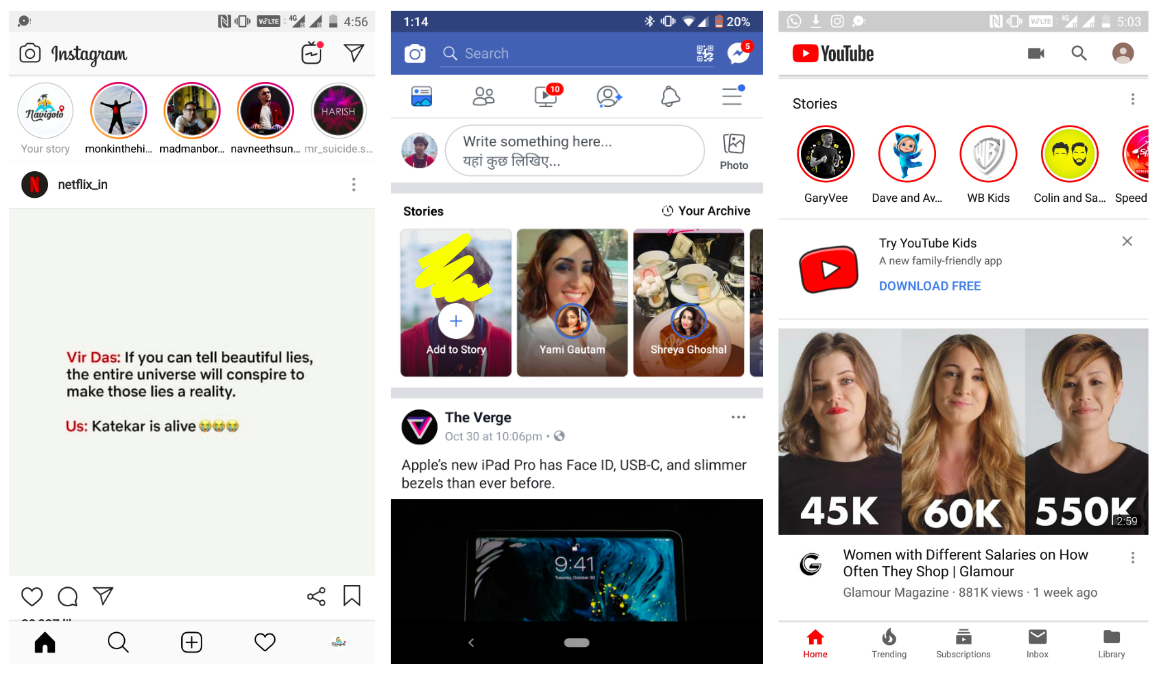 With unique features like Question Stickers, Location tags, Polls and Countdown, Instagram stories are turning out to be one of the most engaging forms of content that trigger action. This is a great way to organically create a loyal following! As a feature that instinctively triggers action, it is also a great place to host ads that has a specific CTA.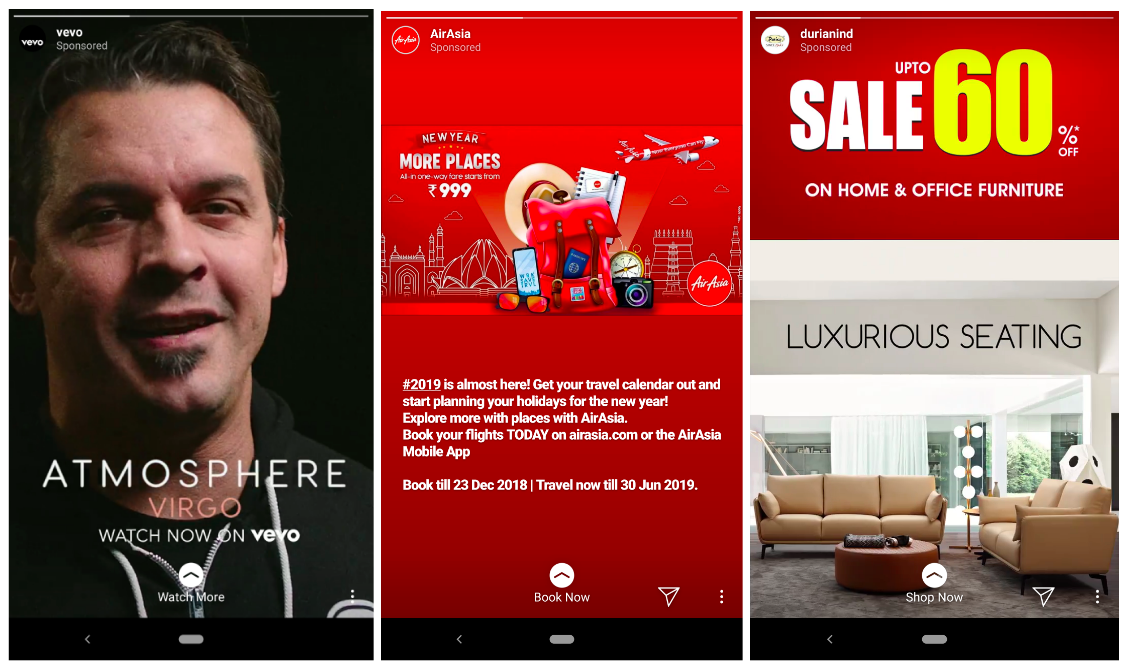 Another advantage with stories is that it is one of the most preferred forms of content among the young. So if you are a company that wants to target the younger crowd, you don't have to look beyond stories.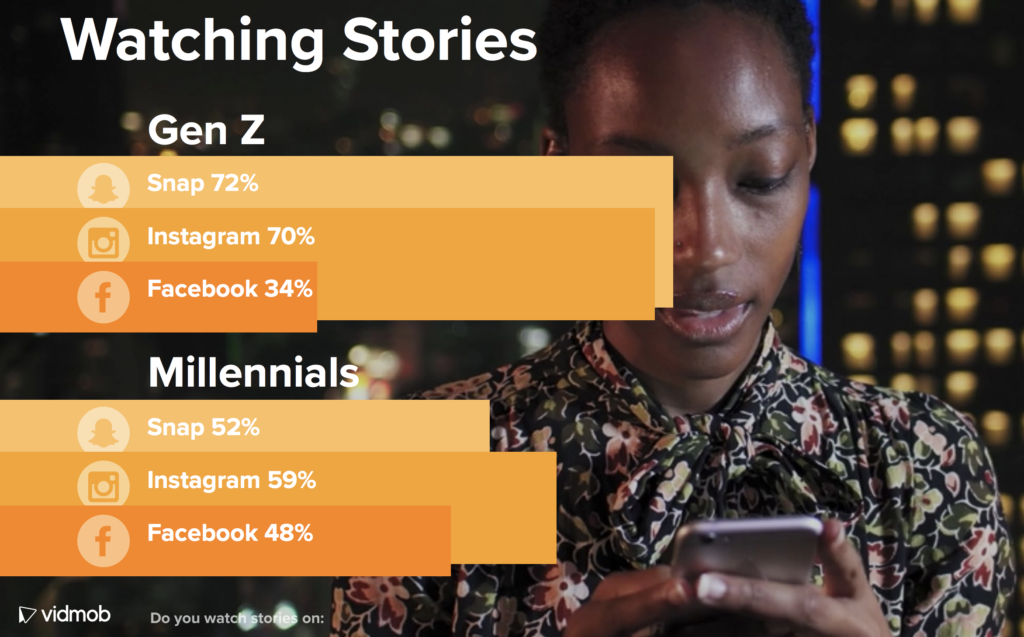 Having said that, the user intent on each of these platforms is very different, so our recommendation for you would be to experiment with story ads on all the different platforms and see which one gives you the best ROI.
5. Masthead Ad on YouTube will be a major competitor for TV Ads
While Facebook, Instagram, and even Snapchat are widely celebrated for their success over the years, YouTube's success has been tremendously underplayed. As of July 2018, over 1.9 billion users logged into YouTube each month and were watching over 180 million hours of video content from their TV screens every day. These numbers completely dwarf what has been done by every other platform. While Facebook has just begun to shake off its image as a snackable video hosting site with the launch of "Facebook watch", YouTube breezes through as users already see it as a long-form
video hosting platform
. With these numbers and the ability to specifically target a certain demographic of users in mind, it makes sense for big brands to take a closer look at YouTube ads for their advertising campaigns. And some brands seem to have already understood the advantages of moving their ad campaign to the online space. Here is something that I noticed while drafting this blog.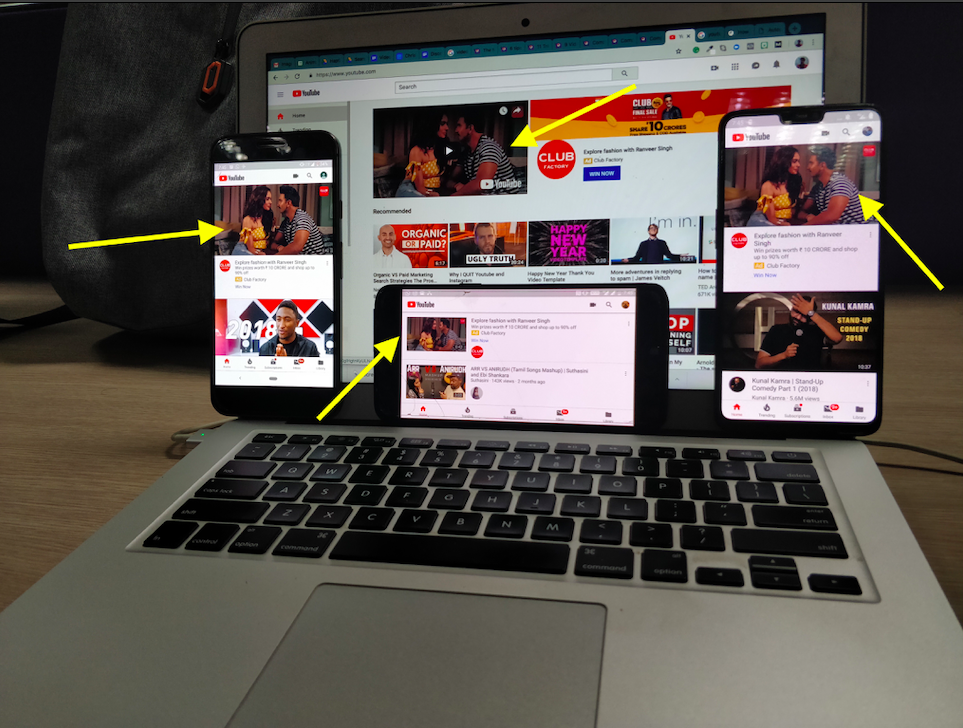 That's a photo containing my Mac, my Smartphone and the Smartphones of two other colleagues. What's common between each of those screens is the MastHead Ad by the online fashion retailer Club Factory. This Ad featuring Ranveer Singh was on almost all the devices that we had at Animaker. And why did that happen? Coz as a company that has 95% of its workforce in the under 30 bracket, it is an ideal place to target young tech-savvy millennials, we fell into Club factory's ideal customer demographic. With Masthead ads' ability to reach an audience as wide as any TV network and its ability to clearly help companies identify its ROI, it will play a major role this year as a competitor to traditional TV Ads. If you are a brand looking for mass attention, then Masthead ads are an alternative you should definitely consider.
6. The New YouTube Home feed can have a significant impact on your CTR
It is no secret that the last two years in YouTube's journey have been about making the platform more user friendly as well as advertiser friendly. While the latter move has received a lot of flack from the YouTube creators community, users have benefited a lot from the former (better In-App experience). From the Introduction of YouTube Reels to the hover to preview option, YouTube has taken several leaps forward in providing its users with an awesome user experience. While all of this is great experimentation, there are few being tested and a few that have been released that can have a significant impact on your video's CTR.
1. The auto thumbnail experiment
This one particularly
ticked off a lot of YouTubers
as thumbnails play a major part in deciding the CTR of any particular video. So instead of the thumbnails that you have set for your videos, YouTube's algorithm will pick a frame from the video which it feels conveys the essence of what's inside the video. Here's how the creator community reacted to the update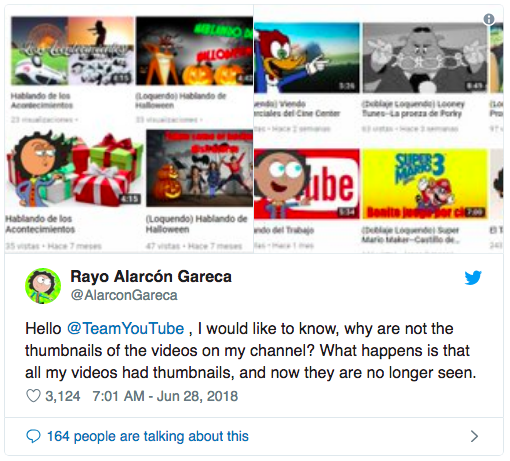 And in reply, here's what YouTube said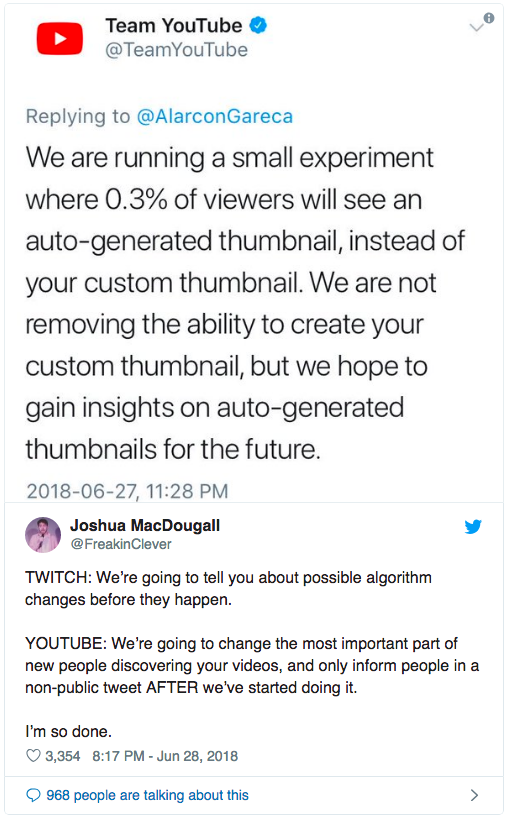 While the 0.3% mentioned in the tweet might sound small. Considering YouTube's massive 1.9 Billion user base, it adds up to 5.7 million logged in users seeing the auto-generated thumbnail.
2. The YouTube Homefeed update
In a more recent update, YouTube rolled out a feature called "Autoplay on Home" which it tested one year ago with the YouTube premium subscribers. Today it has been rolled out to the entirety of YouTube. So what does this mean for YouTube video creators? Gone are the days when just the video's Title and the Thumbnail decided whether a person will click on it or not. Today even the first few seconds of the video that gets auto-played when a person scrolls over it will make a huge impact on whether a user decides to click on a video. So our advice for companies would be to stay wary of all the updates YouTube rolls out this year. With platforms like Facebook doing it all to steal a piece of the pie that YouTube completely owns now, it is likely that YouTube will keep testing and rolling out new features. Some will benefit us and some won't. So try to stay ahead of the curve by closely looking for the changes.
7. Facebook is gonna get creative with its ad placements
In a recent Facebook newsroom update (Dec 2018), apart from all the talk about their investments in Watch exclusive content, they also stressed heavily on their push to create more opportunities for their partners. They want Facebook Watch to be a platform that incentivizes the creators for the work they put into making Facebook watch an essential part of their everyday life. The creator community is one place Facebook lags when compared to YouTube but they want to change that in 2019. Apart from rolling out
Ad breaks
to all eligible pages in 40 countries around the world, they are also experimenting with ad placements. While In-stream ads do deliver on the visibility it promises, it can get a little too intrusive sometimes and end up spoiling the video viewing experience of the user. So exploring newer ad placement options will be something that Facebook will be testing widely as it plans to create more monetization opportunities for its creators. Here's a new ad placement location that Facebook is testing right now!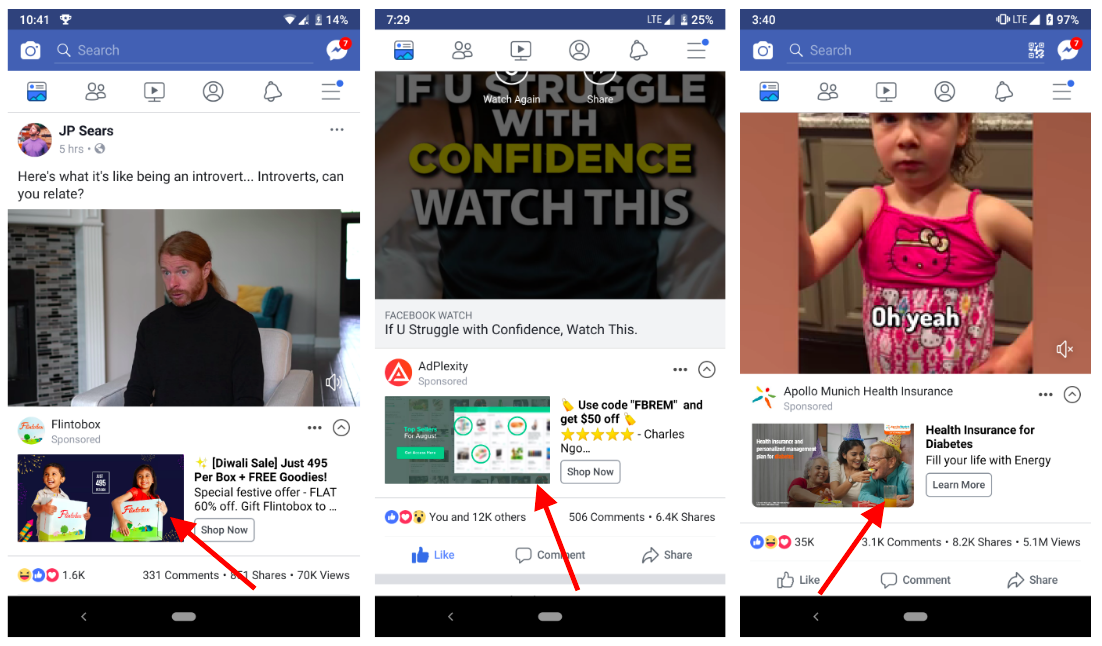 So watch out for new ways to promote your ad content on Facebook. We highly recommend each of the new options with a limited ad budget initially and make your decisions based on the results each option is able to deliver.
8. The growth in AR and VR will be user-driven
Remember the time when Apple did this in their Keynote in 2017?
via GIPHY
And Google did this during theirs in the same year? So what did they do in 2018? The answer is nothing! Yikes! But it's true. There was literally not even a mention of both these exciting updates from 2017. The reason? The success of any new technology doesn't necessarily lie in the hands of the company that creates it. In fact, it's the consumer that has the power to define how the future will look. While Apple and Google expected gaming to be a major growth driver behind their AR and VR initiatives. It went in a direction that they did not anticipate. People preferred exclusive VR headsets for VR gaming over the option of having a mobile phone tied to their heads. As for the AR games, it wasn't just there yet and the world wasn't ready for it. But VR and AR has found great use in the field of Education, Shopping and even on Social media with their innovative stickers and animojis. So watch out for the growth of these technologies in areas where adoption is faster and is also easily accessible.
9. Creation of Explainer videos will spike in India
The world has seen the true power of online videos. Companies like Dropbox and Groupon started to thrive purely because of their ability to create animated explainer videos that enabled clear communication. But what about the companies in India? With the ever-growing startup ecosystem and a budding internet scene, the Indian market is only starting to realize the true power of videos. To this day, only the companies with significant marketing budgets have been able to make an impact with video marketing in India. But things are about to change forever.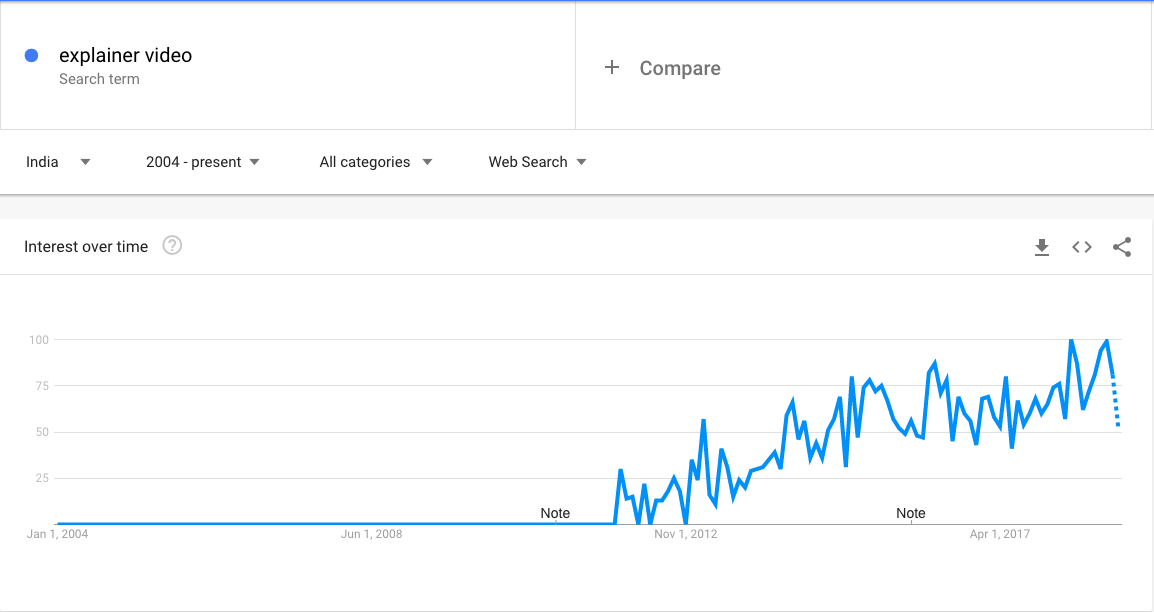 As seen on the Google trend graph above, startups have finally started to realize the power of online explainer videos. And explainer videos are a great place for companies to start their video marketing initiatives. Also, with the rise of affordable
DIY animated video creation
solutions, this new video marketing revolution is just around the corner. So if you are a startup that plans on making it count, now is the right time to jump on this growing trend with your own explainer video.
10. The world will discover the true power of micro video influencers!
Whenever a company thinks of collaborating with a social media influencer, who do they think of? On first thought, they probably think of huge sporting stars like Virat Kohli and Christiano Ronaldo who have millions of followers and also charge millions for a mention in their video posts. But these campaigns aren't generally great options for companies who are on a tight budget and can't run million dollar marketing tests at their will. This is where micro video influencers come in! Micro video influencers are individuals who are approachable, relatable and have a smaller but dedicated following on social media platforms. Here's some data on why Micro influencers matter.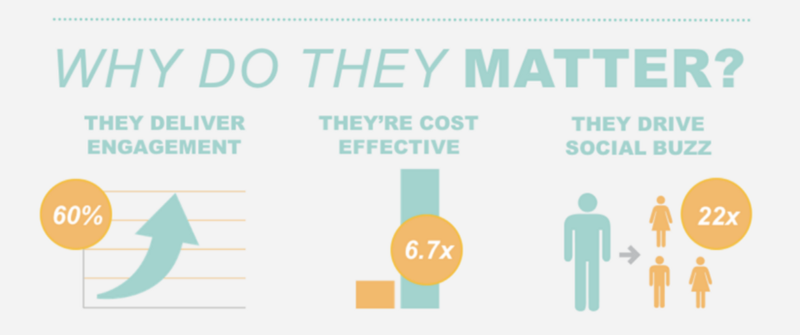 If you are a company looking for a bang with every penny you spend! Micro video influencers are the way to go.
11. Don't give up on IGTV yet!
Shocked? Well! Don't be! Yes! It's true that IGTV hasn't seen any significant improvement in usage from the time it launched back in June Instagram's 1 billion userbase watches 60% more videos than they used to a year ago and Instagram's stories feature has a userbase of more than 400 Million daily users. That's twice of what Snapchat has! These figures clearly show that the demand for vertical videos are there and is growing more than ever! But Instagram failed to get the user interface right and are facing the heat now. But Facebook doesn't seem to be giving up on IGTV yet and neither should you! They have been experimenting by placing IGTV tiles in the explore section of the Instagram app and the engagement on these videos have been pretty good. Every video that gets features there is able to garner millions of views in just a few hours!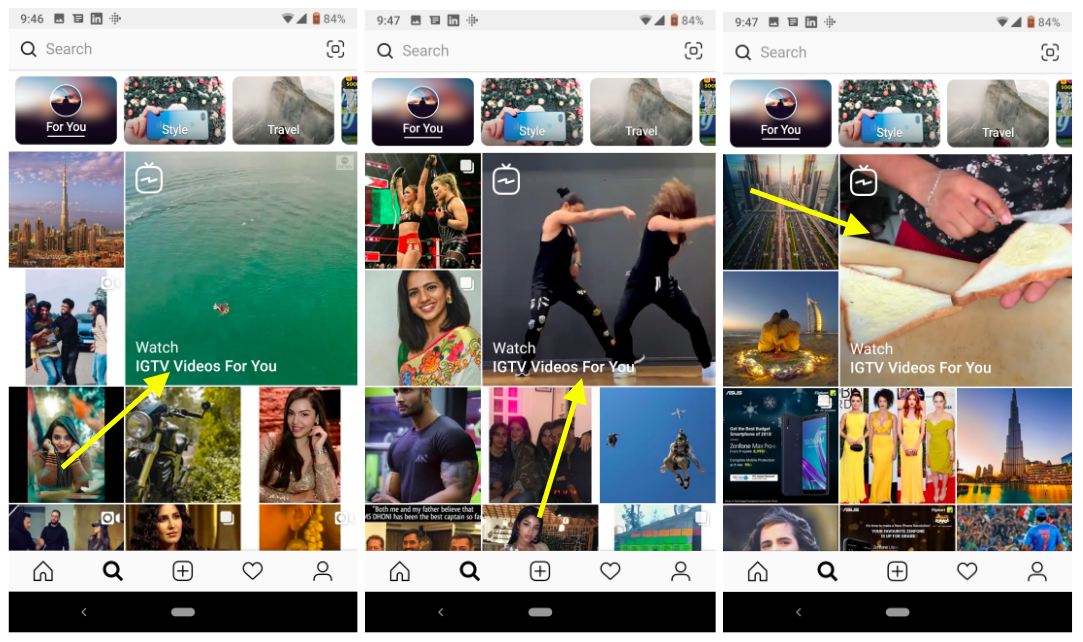 Its only a matter of time before Instagram gets it right and the adoption starts to spike!
Bonus Point
12. Inclusive marketing is the need of the hour!
Its 2018! And it's no longer enough for brands to simply focus on creating amazing products and market them to make a profit. If you want to build a brand that means something to the consumers, you have to stand for something! A cause to be more precise. That's exactly what Nike has been doing over the years. Their controversial ad campaign with Colin Kaepernick is another step in that direction. While Nike received some backlash initially, they ended up building a strong relationship with their fastest growing consumer segment. And it has reflected tremendously well in terms of revenue dollars as well. While Nike has been taking a stand on social causes for ages. More global brands including the ones in India have started to take a step in the right direction. The recent #FreeToLove campaign by CloseUp India is an example of a similar effort. If you are a brand that wants to build a strong relationship with its customers, this is something that you should definitely consider while drafting your video marketing plan for 2019! There you go! We hope these 12 video marketing trends truly helps you race ahead of all your competition. Do you think we missed out any trend that can add tons of value to the users? Feel free to let us know in the comments below.