9 ways animated videos can be used for business
Traditional marketing tactics are no longer serving its purpose. With a fast paced society and emerging trends, marketers have to look out for new ways to bring focus to their products and services. The classic marketing formula is also the safest one,
AIDA (Attention, Interest , Desire , Action)
and Animation videos have fit in this space perfectly.
Business which used animation to advertise their product have seen an astounding increase in their sales by 40%.
93% of marketers use video for online marketing, sales, and communication.
96% of B2B companies are planning to use video in their content marketing over the coming years.
81% of people feature their video on their brand website.
Animation videos has the dynamism to seize the attention of the customer
, and can be used ingeniously in any tone, be it professional, emotional, informative or funny, to create an everlasting impact on the customer. Here are some of the ways as to
how business can use animation to increase their marketing and sales.
1.

Explainer Animated videos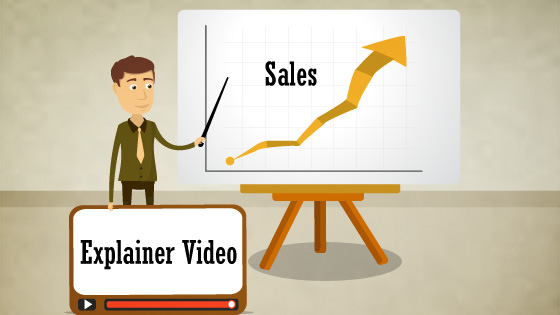 If your company brags of excellent products, but lacks skills to present it to the audience,
an explainer video
is the best way to do it. Explainer videos are an innovative part and parcel of visual communication that keeps your brand at the centre and educates them about your product in an interesting way.
How do they do it?
In a span of less than 2 minutes, explainer videos are capable of making an impeccable impression on the product by evoking emotion and humor to engage the customer. This way, there is an emotional response created within the viewer and this emotional connection makes you the 'chosen one' among your competitors. It is reported that explainer videos have to an
increase in their sales and lead by 52%.
You can also
create your own animation explainer video
. But you must have a direction, an idea, a strategy and the right emotion.
2.

Storytelling videos

Everyone loves stories. This is because stories portrays pictures in an exciting way with flashy and compelling characters who entertain us throughout. Before moving on, take a look at the video by Shawn Callahan in which he talks about the importance of story telling with an interesting example. Moreover, in business, storytelling has become an

influential strategy and the biggest corporate buzzword

. They make us think and feel and convey the mission in a way the bar graphs and statistics cannot. Employees use the story to connect to the brand and work on a specific goal. Top brands like Microsoft, Motorola etc. have used

storytelling as a leadership tool to inspire and make a change.

Storytelling videos can be used for

branding, as a case study , for advertising your product or as a professional Bios.

You have to choose as to what story of your business can impact your customer's mind. Here is how you can make your

storytelling video more impactful

.
Relate your product to the audience.
Spark the emotional side of your customer's mind.
Use Circumstance, Curiosity, Characters, Conversions and Conflict.
Get your readers engaged with senses.
Give the audience what matters to them. Don't go off track.
Rohan Iyer,
an influential marketer and a content writer had said
"Start selling stories, not products or solutions, and you will connect to your consumer to a deeper level"
3.

Video Infographics

The present generation has seen a shift from

reading

to perceiving and now to

visuals

. Infographics were used in business since long to present. The statistical data, facts, figures, and information in an interesting way helps the viewers

grasp analytics faster

. It has managed to make a good impact on the consumers and have generated a large number of social shares and also have seen a significant increase in SEO performance. It has proven itself as an effective branding tool.

"Video Infographics"

is a step ahead and definitely has a more advantageous side than Infographics. You can implement video infographics in your business to make an impact in the viewer's mind. For example, you can make

a video infographic report

instead of a powerpoint presentation or an average material. You can also use video infographics in your

quarterly and annual sales meet.

This way, the employees could get a quick hold of the statistical data and understand the organizational goals faster. The use of infographic videos in business is highly profitable. It is seen that social video campaigns which used infographic videos

generated 2.7 billion views in 2010,

up from 820 million in 2009 which did not implement the strategy. Still dubious about using video infographics, then please take a look at this sample video.
4.

Whiteboard animation

Whiteboard animation is also referred to as

video scribing

. With just a whiteboard and a few sketches, you can deliver your message in simple creative strokes that could do wonders. It may cost less, but it can be a very

powerful branding tool.

You can present the company's complex information in simple illustrations that can help the customer to dive deeper into the product details. This will help the viewer to engage and interpret the data faster . Instead of using powerpoint presentations, you can use whiteboard animation to present the idea and deliver the message effectively. As stated by an interviewed source in ReelSEO,

Pictures are worth a thousand words, but videos are worth a million… Videos, specifically whiteboard animation videos, add a personal touch that is not seen anywhere else in video.

Whiteboard animation can be used as a training library with interactive and interesting graphic visuals rather than dull and uninspiring materials. This will enable the employees to understand the product better. Furthermore, they can also be used as a sales tool as it could be an effective sales message delivery system. Here is a sample video of how whiteboard animation works magic in online marketing
5.

Tutorial videos

Animated videos can also be used for training and tutorial purposes. It can be used to demonstrate the process as well as the internal working of the product. Animation in these videos can be effective as it presents the unseen phenomenon of the product and helps in a deeper understanding.An animated tutorial video in business can be very interesting for your employee as a training material. You can use screenshots and screencasts or a combination of these types to create an effective tutorial video. A look at our own Animaker tutorial video.
6.

Product Demo videos Product Demo videos

and

explainer videos

may seem the same to you.

But , there is a difference.

The former explains you about the

product at the center

stage, but the latter shows you the

story of the product.

Product demo videos explains you from the necessity of the product till the invention and its after effects. It is basically for the customers who are convinced to use your product and are interested to know about the practical usage of your product. By using a product demonstration video, you can showcase your product , advertise it, and reach to a wider audience. You can add emotion or humour to advertise your product and make your product seem more connected to the viewer. Subconsciously , the viewer tend to prefer your product rather than your competitor's. Product demo videos are a very influential strategy of marketing and it had shown tremendous success in marketing and business. Companies like

padmapper

,

Dollar shave club

,

Biz4loans

etc have been implementing these videos and had seen tremendous impact on the viewers. Take a look at one among thousands of well made product demo videos.
7.

Health and Safety videos

OSHA (Occupational Safety and health administration) has released 12 educational animated videos regarding health and safety for construction workers so as to prepare them about the hazards in the sites and the way to avoid them. It talks about the near miss scenario, incident/accident scenario, equipment safety operating procedures, safety induction, engineering process, 3D walkthrough in the industry,e learning etc. You can use health and safety animated video to help your colleagues and employees on

how to survive an accident, a hazardous situation and different ways to handle them.

It could be funny, inspiring or affirmative in delivering the message . This can also be used as a part of intercommunication between the employees or colleagues of the organisation asking them to be careful.
8.

Landing pages

Big brands use hundreds of landing pages for better conversion. Using the same video in all pages doesn't look good in SEO terms.

Creating live videos or high budget animated videos

are also costly. To solve the problem, you can

use simple animated videos.

Your landing page can hold an inspiring or a humourous or an informative video about your product that can act as a star attraction for your web site . Animation videos can be used in landing pages as a home page explainer video that can explain about services. It can also be a

promotional

video that advertises your product and encourages social shares, or asks you to sign up. Informally, it can also be a

thank you

video so as to build a social engagement with your customer.

Animaker

helps you create

quality and creative DIY animated videos

for your landing page all by yourself.
9.

Internal communication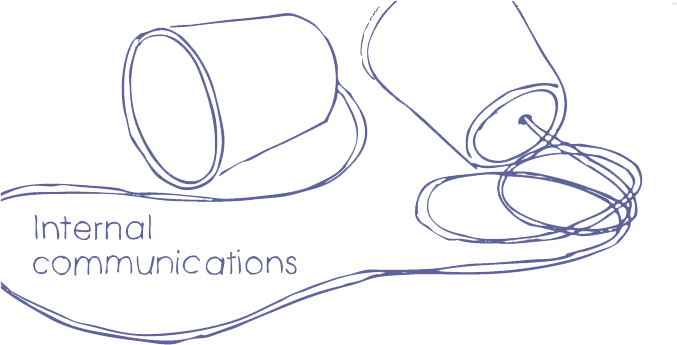 According to
Melcrum
website,
"Internal communications ensures that your people are committed in achieving the groundbreaking business results by helping improve collaboration , productivity and performance".
Intercommunication is thus, a very important aspect in building a healthy relation inside the organization. By using animation videos, you can connect with your employees or colleagues in a deeper level by creating an emotional connection with the help of attractive visuals. You could use an animated video to deliver a strong
motivational message
to your employee or use it as a
birthday greeting,
it's your choice. But animation video sure does succeed in delivering what you want to deliver effectively. Mill James has created this impactful
internal communication animated video
as a part of an introduction to new employees.
"Substance and style are the key ingredients of creativity".
Though animation has the power to
seize, capture, retain , buy and convert
in terms of business , you must have a substance that really sinks in and the style that impacts the viewer's mind. This article shows you the
substance and the situation
where you can implement the style of animation video in your business. This can create the right kind of impact on the viewer's mind in the right situation thus benefiting everyone. This, however, is not the only way to go about it. There are numerous other ways as to how and in what way you can adapt animation in business.
If you want to share your success formula, then please drop them on the comment section.