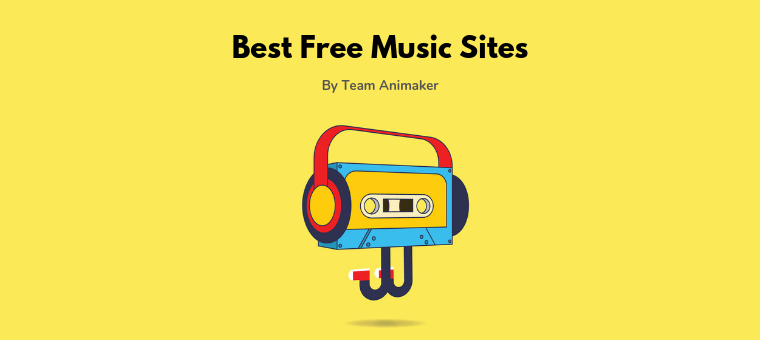 11 Best Royalty Free Music Sites for Your Amazing Videos!

5

min read
As a company that makes video marketing simpler for individuals and companies of all sizes, we know how important a role music can play in a video.
Coupled with the right soundtrack, your video can do wonders. Music videos evoke specific emotions in your audience and grip them from start to finish.
Ignore the music, and your audience will ignore your video.
That said, hiring a commercial music producer or having an in-house music production team to produce hit tracks for your videos can make things very costly.
Additionally, some of the music tracks you find online are not copyright free; the last thing you want is having your video taken down for using someone's music track without their permission!
To ensure you avoid all this, we have found a few websites out there that provide royalty free stock music, you can download your preferred music tracks for free or a one-time cost and use it in your videos for commercial purposes.
Royalty-free Music Sites for Videos
1. Artlist
Artlist is a Royalty free music platform that offers access to unlimited downloads of over 22K quality songs and 27K sound effects that are updated daily. Songs are categorized and curated by modes, genres, video themes, and instrumentals. You can choose any of these subscription plans from the social creator, creator pro, or teams that fit your creative needs.
Pros
Uncomplicated music licensing – one universal license for all the music tracks on Artlist. Use the music tracks anywhere, forever.
Advanced filtering options such as the ability to filter music tracks based on the type of instrument used.
Cons
No free downloads available, though, you get 2 months of unlimited music downloads for free if you've enrolled for their newsletter prior to acquiring the annual license.
Visit Artlist
2. Premium Beat
Good choice if you're looking for high-quality music tracks for your videos. Backed by Shutterstock, Premium beat offers a diverse collection of royalty-free music from a variety of artists and genres.
Pros
Wide range of music filtering options (by genre, mood, artist, etc)
All music tracks have the same price tag of $49
Cons
There are no free music tracks.
2. Audio Jungle
AudioJungle hosts a collection of close to a million music tracks and sound clips. They constantly update their collection every week so you never run out of choices.
Pros
Music tracks available for as low as $5
They even have a monthly pricing plan
Cons
There are no free music tracks
Some music tracks are overpriced
3. Bensound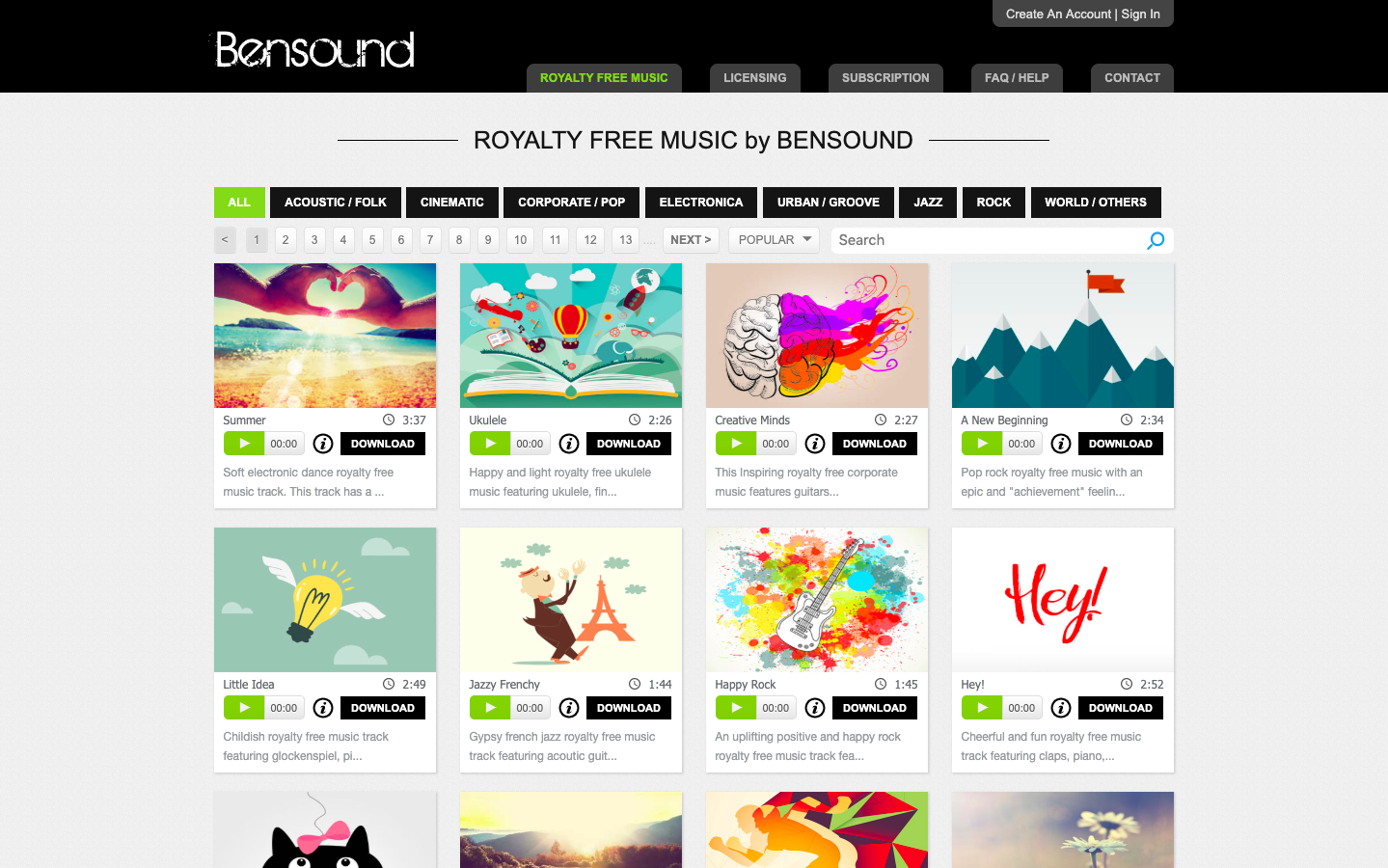 Bensound offers a diverse collection of both free and premium soundtracks. Their free licensing option even lets you use their soundtracks on online videos if you credit them in your description.
Pros
Free tracks are available.
They even have a subscription-based pricing plan.
Cons
The collection is less when compared to other sites.
4. Filmstro
Filmstro offers royalty free music in over 65 different categories. The cool thing about Filmstro is that it lets you create a customized soundtrack by changing its momentum, depth, and power.
Pros
Customization features
Affordable monthly subscription plans
Cons
Only 5 free tracks in the trial version
5. Purple Planet
Although not so famous, purple planet hosts a good collection of downloadable stock music. All their music tracks are free to be used for non-commercial purposes.
However, you can also pay a one-time fee if you're looking to use the music tracks for commercial and broadcast purposes.
Pros
Unlimited free downloads
Cons
Lacks options to filter music tracks
6. YouTube Music Library
Even Youtube has its own free repository of high-quality music tracks and sound effects.
Pros
Music tracks and sound effects can be searchable and filtered based on genre, instrument, mood, duration, and attribution.
Cons
Some tracks require attribution and hence you should credit the artist in your video description.
7. StoryBlocks Audio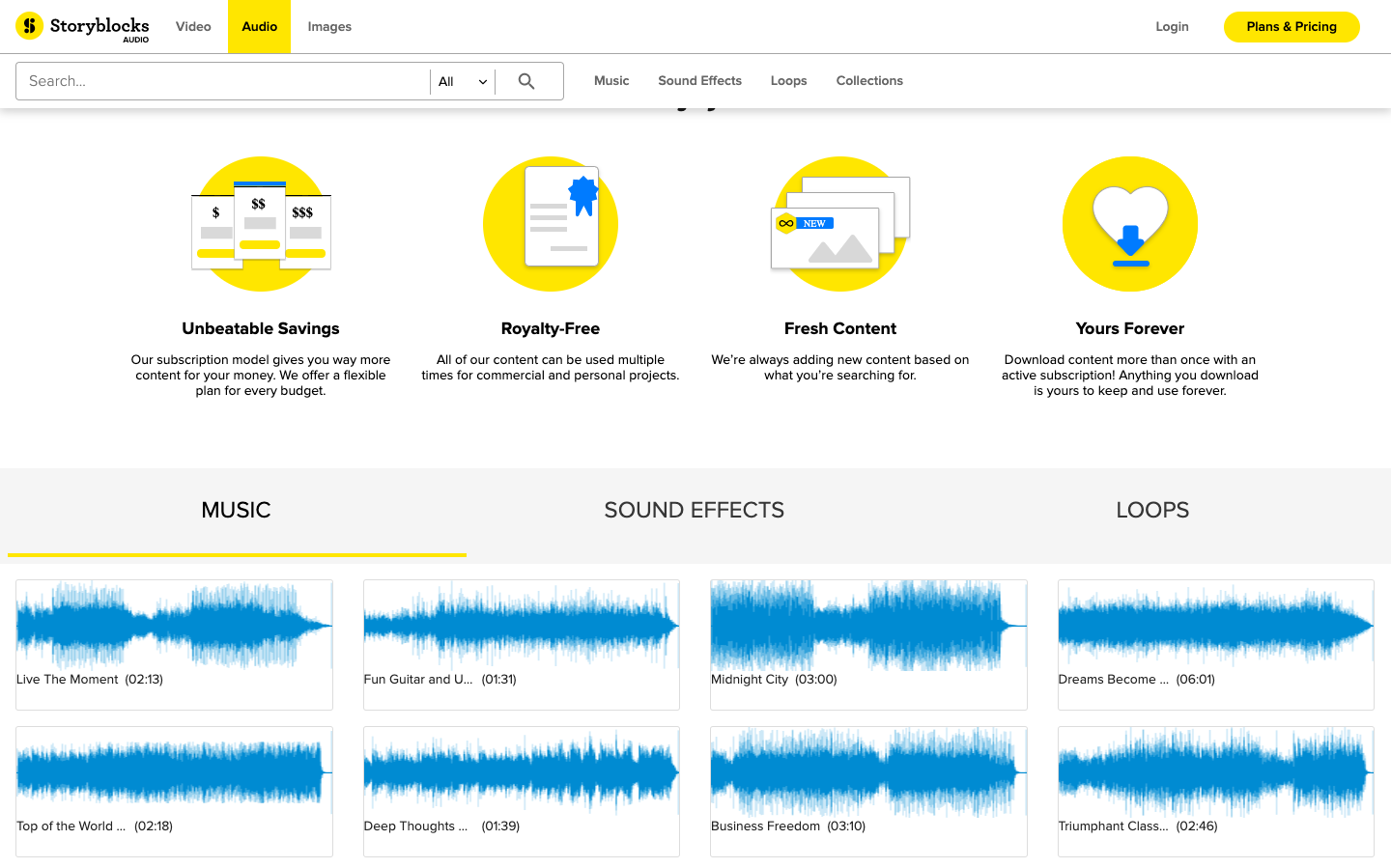 Storyblocks partners with some of the best artists to create original tracks, helping companies like National Geographic, Discovery Channel, and MTV make video soundtracks. It offers flexible pricing plans and constantly upgrades its library.
Pros
A large collection of music tracks and sound effects
Cons
The basic plan comes with only 5 downloads/month
No Free downloads available
8. Free Stock Music
Whether you're looking to spice up a home movie or polish a professional video, Free Stock Music has a music track for all your video creation needs.
Pros
Formats available in MP3, WAV, & AIFF.
Free sign up
Cons
Lacks options to filter music tracks
9. Epidemic Sound
Epidemic Sound has curated a large collection of royalty-free music, spanning from genres like "Action & Adventure" to "World", allowing users to download diverse and high-quality soundtracks.
Pros
30-days free trial
Custom Pricing Plan
Cons
Separate Pricing for licensing
10. Soundstripe
Soundstripe partners with many artists worldwide to produce songs that you can filter by mood, genre, pace, instruments, key, vocals, duration, and beats per minute.
With a Soundstripe account, you can download royalty-free music, follow artists you like, and even create your own playlists.
Pros
Robust Filtering and Curated Playlists
No separate pricing for licensing
Cons
There's no free plan
11. Josh Woodward
Josh has a humble collection of 200+ music tracks across a variety of genres. He has made his entire collection available for the public to use for free.
Pros
Completely free to use for both commercial and non-commercial purposes
Cons
A very limited collection of music tracks