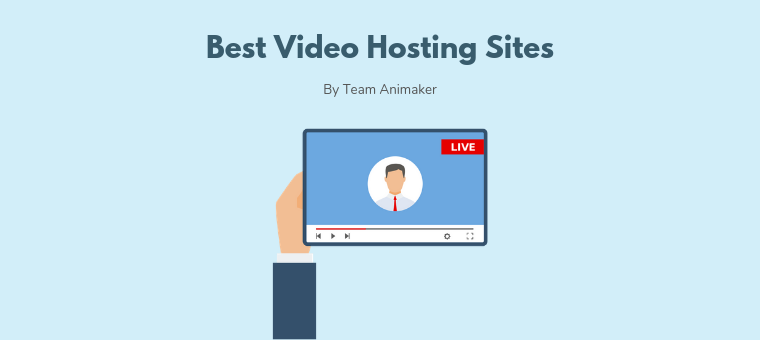 13 Best Video Hosting Sites (Pros and Cons)

6

min read
So you've finally decided to jump onto the video marketing bandwagon? While Youtube is great for starters, if you really want to up the game and generate leads for your business, it is good to consider other options as well.
If you are thinking of hosting your video on your own website, don't!.
That's a very bad idea for lotta reasons.
The best option is to find a good video hosting platform. And there are too many choices in the market today. It can be a herculean task to go to each website and compare them all.
But don't worry, we've done the hard stuff for you. In this post, we have put together a list of 10+ video hosting sites by comparing their pros and cons so that you can easily choose the ideal video hosting site for your business.
Basic Video Hosting Sites
1. YouTube
Youtube is the most popular and obvious choice for many. If you are just starting to experiment with video, Youtube is the perfect place to start your adventure.
Pros
Embed videos on your website for free!
Free of cost
Live streaming feature
Reach a larger audience organically
User-friendly Analytics
Earn money by monetizing your channel
Cons
Fewer customization options
Youtube Branding
Pre-roll ads
Suggested Videos
Pricing
Completely free of cost.
2. Vimeo
Vimeo is very similar to Youtube but comes with more advanced features if you are willing to spend some money. The main difference from Youtube is that in Vimeo the quality of uploads is much better. It's preferred by designers and artists alike.
Pros
Known for quality videos
Enhanced Privacy controls
Custom Video Player
Live Streaming Feature
Advanced Video Analytics
Collaboration
Priority Support
No in-video Ads
Cons
Less Audience
There's an upload limit of 500MB/week in the basic plan.
Pricing
Free. Premium versions are available
3. Dailymotion
Dailymotion is the second biggest video sharing platform after Youtube. The only thing that sets them apart from YouTube is the maturity of content being uploaded.
Pros
Fewer restrictions when it comes to uploading
Unlimited Storage and bandwidth
Cons
Video size can't exceed 2GB
Video duration can't be more than 60 mins
Analytics are limited, even for paid accounts.
Pricing
Free to host. You can also pay for increased exposure.
4. Facebook
Facebook is an ideal platform if you're looking to generate some initial traction for your videos. However, if you want to keep building on that traction, you should be willing to spend a few bucks, since organic reach on Facebook is very limited.
Pros
Mobile optimized
Live Streaming Feature
Analytics
Cons
In-stream Ads
Poor Organic Reach
Videos won't show up in Google search results
Pricing
Free to share your video. But you gotta pay to play with promoted posts.
Advanced Video Hosting sites for small businesses

5. Show by Animaker
Show is a video hosting platform that has the perfect set of growth tools to attract, engage and convert your viewers into paying customers. It is the world's first video tool with built-in CRM. Thanks to its no-code integration, anyone from your team can use the tool effectively without guidance
Pros
Customizable video player with 5 Themes
Automatic SEO optimization
Built in Video CRM
Advanced analytics
Growth tools
Video first Marketing tools
Cons
Not a good fit for personal use
Pricing
Free. Premium versions are also available.
6. Wistia
Wistia is undoubtedly the most popular video hosting site. But does their product live up to the hype? Of course, it does! Or they wouldn't be in business for so long!
Pros
Customizable video player
Automatic SEO optimization
Lead Generation tools
Advanced analytics
Unlimited users
Cons
Limited 3rd party integrations
If you exceed the bandwidth, things can get expensive.
Pricing
Free. Premium versions are also available.
7. Sprout Video
Sprout Video is a great competitor to Wistia and is an ideal video hosting site for businesses of all sizes. They are less popular as they don't have a free plan.

Pros
Advanced Security Features
Flexible pricing plans for teams of all sizes
Advanced analytics and engagement data
Geo Restriction feature
Cons
Pricing
Only premium plans are available. But they do provide a free 30 day trial period.
8. Brightcove
Brightcove is an ideal video hosting & publishing platform for Enterprises. It is an ideal solution to create internal training programmes for your enterprise.
Pros
Advanced video management features.
Create video portals for training and communication programs.
Monetization and Advertising capabilities.
Cons
Requires coding to set up.
There is no free plan.
Pricing
No free plan. But you can get a 30 day free trial on the premium version.
9. Vidyard
Vidyard is yet another great video hosting platform worth checking out. They provide more 3rd party integrations and are ideal for lead generation and customer engagement.
Pros
A/B testing feature for thumbnails
3rd party integration possibilities
Create Video Hubs to showcases all your videos in one place
Automatic SEO optimization
Cons
Pricing
They do not have any pricing plans mentioned on their site. You can only request for a custom quote.
10. Vzaar
Vzaar addresses the video hosting needs of e-learning companies, publishers, and enterprises. It's Advanced Encryption Standard (AES) protection enables secure video streaming and prevents unauthorized downloads.
Pros
Secure video streaming
Bulk uploading
Fully Customizable Video Player
Advanced Security
Cons
High cost
Not so user-friendly analytics
Pricing
There's no free plan. But you can get a 10 day free trial on each premium plans.
11. Viddler
Viddler video hosting suite allows you to create customized training programmes for your company. It comes with an interactive player so that you can keep your staff engaged by effortlessly adding questions to your videos.
Pros
API to build your own Customized Training Suite
Supports both Flash and HTML5
Analytics to gauge employee engagement in training programmes
Cons
No free trial
Not suited for marketing
Pricing
They do not have any pricing plans mentioned on their site. You can only request for a custom quote.
12. Viewbix
Viewbix is not essentially a video hosting service but it lets you add interactivity to your videos. Apt for monetization and advertising.
Pros
No coding required to setup
Supports all devices and screens
Cons
Relies on 3rd parties for video hosting
Pricing
Get a free demo or contact them to know their pricing
13. Video Press
Video press lets you easily upload videos and share it in your WordPress blog. So if you have a blog and a WordPress editor, this can come in handy.
Pros
Responsive video player
Easy to use
No additional charges for bandwidth usage
No caps on the number of video plays
Cons
Pricing
VideoPress is included in WordPress.com and Jetpack paid plans.
Have you come across any other platforms to host videos that are worth a mention here? Do let us know in the comments below, let's keep the list growing.