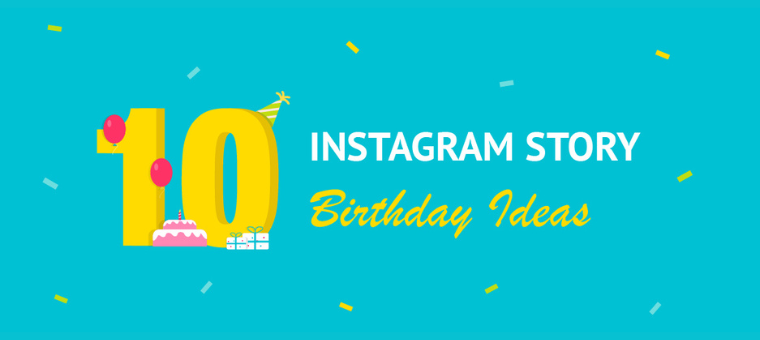 10 Super Creative Instagram Birthday Story Ideas!

7

min read
A Birthday is a very special day for any person! Be it a small kid or an elderly adult, it's that day where the person's phone gets filled with happy text messages & positivity. 
In today's world, it doesn't just stop with the text messages. The positivity and kind words do fill our social media feeds too. 
If you have a friend or a loved one who is an instagram user, it would really make their day if you wished them on Instagram!
But among the available ways to post on Instagram, the Instagram story is undoubtedly the best & the more personal way as it lets you tag your loved one in that exact story. This allows them to quickly repost your wishes video on their own story and showcase the love they have been receiving.
I know what you are thinking!
You are not a designer and you don't want to go through a long creative process just to wish your loved one on Instagram.

Well. Don't worry! We got you covered! 🙂
We know you don't have the time to come up with a new idea or learn a complicated design tool just to wish your loved one on their birthday. That is why we did all the heavy lifting for you.
In this article, we will be sharing with you 10 simple Instagram Story Birthday ideas that you can try. 
To help you out further we have also included an easy to edit the template with each Instagram story idea and additionally, we have also created a video on how to edit these Instagram Story templates – 
Get started by signing up on Animaker for a free account. To sign up, head over to the signup button on the top right corner of the
Birthday video maker
page and click on "
Sign Up
".
Once you are signed up, all you have to do is pick a Birthday story idea from the list below and click on the edit link of the template. Once you click on the edit link, the template you chose will open as a project and you can quickly make it your own by replacing text, images & effects.
 Idea 1: Quirky Instagram Birthday Story
Want to surprise your friend with a quirky birthday message and picture? Then this Quirky Instagram story template would be the right choice for you. In this template, you can customize & add your own text, photos & other assets.

 Idea 2: Film reel Birthday Story!
Is your friend a creative junkie who's constantly working on short movies, vlogs, etc?
If so, this film reel template will be ideal for you. This template lets you replace 5 photos and would definitely be a refreshing approach to the person you are surprising and everyone else who is looking at your story.

 Idea 3: Classy Typography Birthday Story
Want to surprise a friend who derives joy from posting classy photos of themselves on Instagram? Then, the Classy Typography Effect Birthday story is a template for you. While this template allows deep customization like every other template, you can simply replace the existing photo with a classy photo of your friend and be done with the creation process. We promise you that your story will look classy even if you just replace the default image with your friend's image.

 Idea 4: Cute Collage Birthday Story
Want to surprise the best friend with a super personalized Instagram Story? Then this is the right template for you. This template has an aesthetically pleasing color scheme and three customizable photo sections. 
Replace the existing 3 photos with photos that are special to you and your friend. We are sure you will make their day brighter with this one.
 Idea 5: Simple birthday story
If you are looking for something simple and non funky, then this idea would be the best choice for you. This is a super simple and a flat themed story idea to wish your best friend a happy birthday. If you are looking for a quick Birthday template to customize, this is the way to go. 
 Idea 6: Hanging letters birthday story
Hop on the trend and Get heads turning with this birthday idea. With the Hanging letters birthday story template, you can get creative and add multiple scenes with different text to make this template even personalized.
 Idea 7: Photo frame Birthday Story
If you are looking for a simple photo frame Birthday story idea, then this template is the right one for you. This template lets you add one photo along with your own text & other assets. You can make it even more personalized by adding even more photo frames, music, multiple scenes, and more.
 Idea 8: Multi photo birthday story
The multi-photo Instagram is a simple go-to Instagram story idea for Birthdays. This template takes a simplistic approach and lets you add two photos. You can add more scenes, different photos and make it the perfect birthday surprise for your friend. 
Idea 9: Creative Birthday Story
Are you looking for an idea that is modern and creative? Then the Creative Instagram Story birthday template is definitely a stand-out birthday story template among the list which lets you add 3 of your own photos and lets you customize the text elements to make it your own.

 Idea 10: Colorful Birthday Story
If you are looking out for something funky, then the colorful Birthday story template would be the right choice for you. This template has everything you need right from plenty of customizable text to adding your own elements.
We hope these Instagram Birthday Story Ideas help you add a smile on your friend's face.  
With a powerful application like Animaker on your side, there are a lot more ideas you can come up with on your own and get your hands dirty. If you want to dive deep into how you can create your own Birthday video, then you should check out our other blog on 'How to make a super unique birthday video in under 15 minutes' using Animaker.
Do you have any other cool birthday story ideas that can be made on Animaker? Please let us know in the comments below