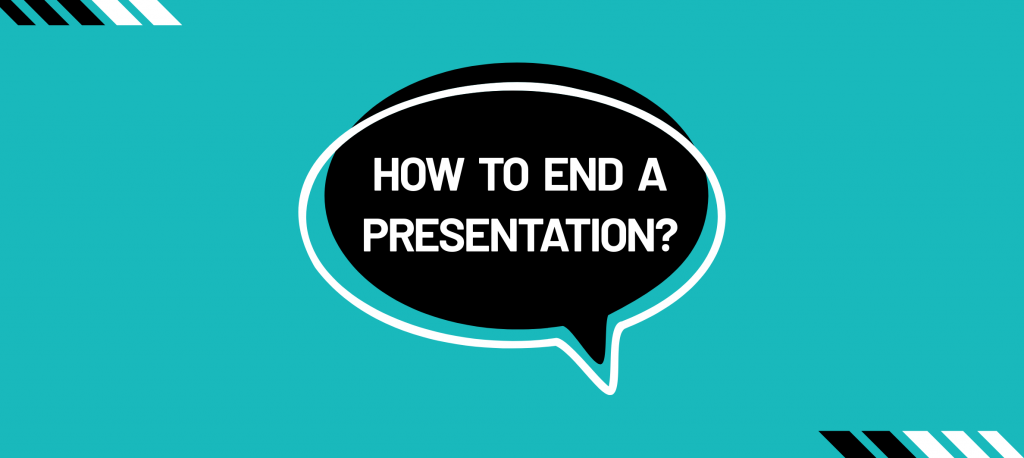 How to End a Presentation? [Top 8 Strategies with Examples]

9

min read
How you end a presentation is just as crucial as its opening. It can make or break the impression that you leave on your audience.
A strong conclusion can reinforce your key message and ensure that your audience remembers it even after the presentation is over.
A well-concluded presentation can leave your audience impressed, energized, and motivated to take action.
So now, are you wondering what's the best way to conclude your presentation? Don't worry! You have come to the right place!
To help you make a powerful ending to your presentation, we have compiled a list of 8 different strategies in this blog post.
Each of these strategies is designed to help you create a memorable and impactful conclusion to your presentation.
By choosing the most appropriate one for your presentation, you can ensure that your audience remembers your key message and feels motivated to take action.
Let's jump right in,
1. Emphasize the core message
2. Mirror your opening statement
3. Pose an open-ended question
4. End with a Call to action
5. Thank the audience
6. End with a powerful quote
7. Acknowledge your contributors
8. Ask for feedback
1. Emphasize the core message:
One of the most important aspects of any presentation is ensuring your audience understands your core message.
Reiterating your main points and summarizing your message at the end of your presentation can reinforce this and leave a lasting impression.
It helps to ensure that your audience understands the purpose of your presentation and has a clear takeaway from the information you have provided.
In this video, the speaker restates her topic to conclude her speech firmly and gives a pause, resulting in tremendous applause from the audience.
Similarly, by restating your core message, you can also create a sense of cohesion and give your presentation a firm closure.
This can be particularly important if you want to motivate your audience to take action or influence their behavior in some way.
However, it's important not to repeat EVERYTHING you have said. Instead, focus on the most crucial elements and highlight them in a concise and clear manner.
2. Mirror your opening statement:
A great way to end your presentation is by mirroring your opening statement in your conclusion.
Highlighting your presentation's key message at the end and emphasizing the central idea you aimed to communicate will help your audience to retain it in their memory.
During the conclusion of the presentation, the speaker effectively utilized the technique of mirroring the opening example she had presented – ordering a pizza on the phone by herself.
The speaker demonstrated the remarkable transformation she had undergone in terms of personal growth and confidence, which strongly reinforced her message to the audience.
By mirroring her opening example, she created a sense of familiarity and connection with her audience while simultaneously driving home the key message of her presentation.
This technique allowed the audience to understand better and relate to the speaker's personal journey and the message she was conveying.
Similarly, you can also use this strategy to conclude your presentation. This can be particularly effective if you are trying to reinforce a specific theme or idea throughout your presentation.
3. Pose an open-ended question:
One of the best ways to conclude your presentation is to elicit a response from your audience using an open-ended question that can effectively engage them and make your presentation more memorable.
Look at how the speaker concludes her speech with an open-ended question in this video.
In a way, she helps the audience to think more deeply about the topic and gauge their level of understanding.
Similarly, you can also raise open-ended questions to help your audience look from a different perspective and encourage them to investigate more thoroughly on the information presented.
Most importantly, ensuring that your question is relevant to your presentation and doesn't detract from your overall message is essential when eliciting a response.
So make sure that you kindle your audiences' thoughts and ideas with the open-ended question at the end. This helps create a good long-lasting impression of your presentation.
4. End with a Call to action:
One of the best ways to end your presentation is by concluding with a call to action slide.
Incorporating a call to action into your presentation can be a powerful way to encourage your audience to take the next step.
Whether it's signing up for a program, making a purchase, or supporting a cause, a clear call to action is essential to achieving your desired outcome.
In this video, the speaker ends his presentation by including a call to action for his audience, asking them to check out the video on his channel. This nudges the audience to continue watching the videos, and that's a win for the presenter.
Similarly, according to your type of presentation, you can include a relevant call to action.
For example, this might involve providing specific instructions or offering an incentive for taking action, such as a discount or free trial.
It's essential that you understand their pain points and make your call to action compelling. Ensure that your core message and the needs of your audience are aligned so that they are motivated enough to act.
5. Thank the audience:
At the end of your presentation, it's essential to recognize that your audience has taken time out of their busy schedules to attend and listen to your message.
Thanking your audience for their time and attention can create a positive impression and make them feel appreciated.
It's essential to make your gratitude genuine and sincere rather than a superficial gesture. For example, consider expressing your gratitude with a personal anecdote or acknowledging specific individuals in the audience.
Take a look at this video, you can conclude your speech with a heartfelt thanks, which can help to build goodwill and rapport with the audience.
This simple act of gratitude can also create a sense of personal connection and signal to your audience that the presentation has reached its conclusion, paving the way for future interactions with them.
6. End with a powerful quote:
One effective strategy to end your presentation on a high note is by leaving the audience with a powerful quote.
However, it's crucial to choose a quote that is not only impactful but also unique and relevant to your topic.
Using a commonly known quote may come across as unoriginal and irrelevant, losing the attention and interest of your audience in most cases.
In this presentation, Steve Jobs concludes his speech with an inspiring and powerful message, "Stay Hungry! Stay Foolish". Thereby emphasizing that you should never stop learning, pursue more goals, and never stop being satisfied.
Similarly, in your conclusion, consider using a relevant quote to make an impact.
7. Acknowledge your contributors:
Another best way to conclude your presentation is by showing gratitude to your contributors.
For example, if you deliver a business presentation on behalf of a team or a department, it's essential to recognize the collective effort that went into creating the presentation.
The concluding moments of your speech are the perfect opportunity to acknowledge your team members' hard work and dedication.
You can express gratitude to your team as a whole, thanking them for their contribution to the presentation.
However, if you want to ensure that the individual efforts of team members are recognized, highlighting specific contributions may be a better approach.
Some examples include:
"Join me in giving a round of applause to my incredible team, who played a significant role in arranging this pitch deck."
"Finally, I would like to mention that my tech team experts provided me with insight into the technical nuances, and without their contribution, this presentation would not have been as informative as it is now."
"As I conclude, I want to express my gratitude to Mark and Serene from the Marketing team, whose assistance in gathering the data and designing the slides was invaluable."
By acknowledging individual team members, you are demonstrating your appreciation for their work and giving them the recognition they deserve.
This will not only make them feel valued but also motivate them to continue contributing to the success of future presentations.
So be sure to end your presentation with the required acknowledgment for all the contributions.
8. Ask for feedback:
You can conclude your presentation seamlessly by thanking the audience and asking for feedback from them.
Encouraging feedback from your audience can greatly benefit your future presentations. It allows you to understand how your message was received and how you can improve for the next time.
So, how can you gather feedback effectively?
Firstly, ask attendees to share their thoughts on your presentation after you finish speaking. This can be done by initiating a Q&A session or by approaching individuals directly.
Another option is to set up a QR code near the exit and ask people to scan and jot down their thoughts on the online form as they leave. This allows attendees to provide their feedback in a confidential and hassle-free manner.
Also, consider having a suggestion box for handwritten feedback notes or creating an anonymous online survey that links to your presentation slides. This method is beneficial if you want to gather feedback from a large audience or if you prefer to have quantitative data.
By actively seeking feedback, you show your audience that you value their input and are committed to improving your presentation skills.
However, this strategy does not apply to all the general presentations. So use this way of concluding your presentation where it makes more sense to you and the audience.
In summary, an impactful conclusion is vital to wrap up your presentation successfully.
Each of these strategies serves a unique purpose, and by combining them, you can create a conclusion that is both engaging and impactful.
By incorporating the 8 critical strategies mentioned in this guide, you can leave a lasting impression on your audience, ensuring that your message stays with them even after the presentation has ended.
Now that you have learned the pro strategies of how to end a presentation, take a look at this guide on "How to start a presentation" as well and nail your presentation from start to end!
If you are still uncertain about how to make a presentation from the ground up, we suggest checking out Animaker Deck – the world's first avatar-driven presentation software.
With over 40 distinct and creatively designed templates at your disposal, we are confident you will find it worth trying!
We hope this article was helpful. Do let us know your thoughts on which strategy worked best for you, and also suggest your own ways of ending a presentation.