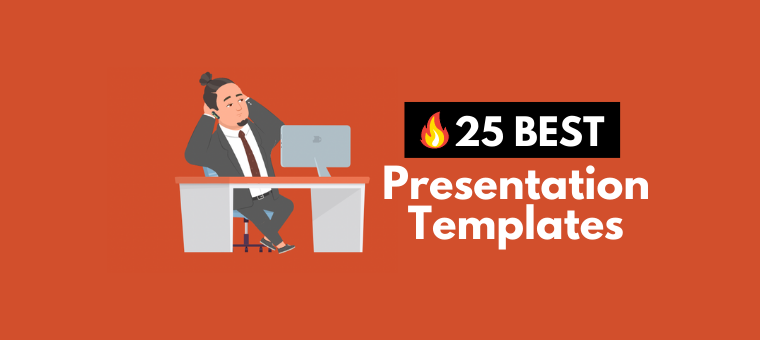 25 Best Presentation Templates for the Perfect Pitch [For 2023]

18

min read
Presentations are essential for marketing and business growth. A good presentation is a real differentiator in any situation, whether presenting at a conference, making a new business pitch, meeting with a customer, or holding a webinar.
Despite their importance, presentations are typically given second thoughts. On the one hand, the word "Presentation" scares some people. But, on the other hand, many overlook presentations mostly because they are boring and make the audience snooze.
The truth is that most presentations can always be improved. All you need is an objective, a theme, and a unique approach to delivering the content.
Many find it challenging to figure out this "unique approach" to delivering the content. So if you are one among those scratching your head, don't worry, mate; you have come to the right place.
Use a free online presentation maker like, Animaker Deck, to break all the presentation stereotypes and make a captivating slideshow that will spellbind your audience.
Animaker Deck has the perfect presentation templates for every need. Among the numerous others, we've compiled a list of 25 insightful and compelling presentation templates for various subjects in this article.
Before we dive into the creation part, let's look at these 25 awesome slide deck templates.

1. Employee Referral Presentation Template
Some employees might not be aware of their company's referral program. Unfortunately, this is common, and we can't blame the employees for this. So, if you are an HR professional who wants to break this and spread the word about your company's Employee Referral, check out this presentation template with 12 slides.
This template highlights the shared goals between the company and employees, how the company trusts the existing employees, and explicitly lets the employees know how great it would be if they could refer to someone like them.
You can edit this template to suit your company's brand colors and theme by experimenting with professional fonts, vibrant backgrounds, in-app characters, and transition effects. Then, make changes to the script per your needs.
Try it out now for free and wow your employees effortlessly!
Edit this template
2. Performance Appraisal Presentation Template
There's no better way to showcase the top performing employees in your company than using this Performance Appraisal presentation template with six slides. All these six slides are purely customizable.
Proudly showcase the talents who have set the benchmark for this quarter to everyone at the company.
You can upload those employees' pictures and insert them into the slides. Then, use the properties section to add icons, play around with the text animations, try different background colors, and change other assets to suit your preferences.
Try it out now for free! Make your employees feel good about their achievements!
Edit this template
3. Employee Onboarding Presentation Template
This slide presentation template is an excellent idea for onboarding and training newly hired recruits. Use this to convey the company's objectives, principles, rules, and code of behavior.
The default pictures are replaceable, and you can upload your own images. The blue backdrop, bright white font, and high-quality images immediately draw in viewers. In addition, you may customize the icons and symbols to make your slide deck stand out.
Welcome your new employees in style with this awesome template!
Edit this template
4. Employee Perks Presentation Template
Looking for a dazzling way to awestruck your employees with the company benefits? Use the unique Employee Perks presentation template to convey all the perks in each slide.
Use the in-app characters to create your customer avatars, play around with the character animations and expressions, and change every element in the slide according to your style.
Try it out now for free and impress your employees at once!
Edit this template
5. Workplace safety and risk policy presentation template
Promoting workplace safety and ensuring all employees adhere to the company's stated risk policies is crucial.
There's no better way to convey the workplace hazards, responsibilities of every staff member, and critical contact information than using this Workplace Safety and Risk Policies Presentation template.
You can entirely reorder the slides, upload the policy details, include hyperlinks to the text, and customize every little detail in the slide to match your requirements.
Try it out now for free. Ensure your employees are well informed about the workplace's risk policies and safety measures!
Edit this template
6. Team Members Introduction Presentation Templates
Wondering how to make an excellent, memorable team intro presentation? Well, Animaker Deck's Team Member Intro Presentation Template is the best way to get it done.
This slide deck is perfectly designed in black and yellow color combination in the backdrop and bold white fonts. However, you can still customize everything to match your team's personality and style.
Also, sharing your presentation with others is simple; people with access can easily view, comment on, or edit it further.
Try it out now for free, and make a killer team intro!
Edit this template
7. Customer Testimonials Presentation Template
Customer testimonials are essential for building trust and credibility of the products and services offerings. In addition, they act as social proof for the business.
This Customer Testimonials template is a priceless tool for any company, whether a new or a well-established company. Showcase the unmatched commitment given to customer success through simple yet effective slide designs.
This blue and yellow color combo gives a pleasant feel to the audience. You can also tweak the colors, alter the font style, include animations, add custom characters, and much more.  
Try it out for free, and build long-lasting credibility for your business!
Edit this template
8. Sales Pitch Deck Templates
Are you looking to pitch your business and build an understanding of your USP to potential customers? Well, this Sales Pitch presentation template will just do justice.
Hook your audience with this colorful and pleasant slide deck design. Create your own customer animated characters, add eye-catching properties like charts, icons, and shapes, include slide transition effects, and deliver a strong sales pitch with a creative presentation.
Try it out now for free, and sweep your potential customers off their feet!
Edit this template
9. Sexual Harassment Policy Templates
It is imperative to ensure all the employees are aware of the sexual harassment policies and that they maintain decorum at all times in the workplace. A dull presentation by HR on any topic would not entice the employees' attention.
To tackle this and ensure the employees are aware of and adhere to the said policies, use this straightforward yet creative Sexual Harassment Policy presentation template.
You can customize every slide, match the slide deck design to the company colors, bring out the consequences of violation of the policies through bright and bold texts, effectively communicate the complaint statement procedures through animated characters, and much more.
Try it out now for free, and effectively administer the policy in the company!
Edit this template
10. Monthly SEO Report Templates
Are you a Marketer or an SEO expert looking to create an impressive monthly report on the website's traffic, top performing blogs, most asked queries, most visited landing pages, and organic session rate?
The animated and interactive capabilities of Animaker Deck will help you make your presentation come to life. This SEO Report template includes a variety of editable graphs, line charts, icons, and other elements found in the properties section.
Try it out now for free, and make a stellar presentation on the monthly SEO report!
Edit this template
11. Photography Portfolio Templates
Are you a budding photographer looking to create an impressive portfolio? Then, pitching your skills in the form of pictures than in words would be the best option.
We have just the perfect presentation template in store for you. The Photographer Portfolio Template will help boost your profile as a professional photographer.
You can mention the feedback from your previous clients, add your brand logo and hyperlinks to your gallery, and give prospective clients a visual treat of your best captures through every slide.
Try it out for free, and give your audience a strong impression of your skills!
Edit this template
12. Small Business Explainer Template
Are you a Small Business owner looking for ways to promote your business in your locality?
Then, a perfectly crafted Business Explainer presentation template would be the best way to highlight your services and membership plans and effectively differentiate your business from the competition.
With this vibrant and colorful slide deck, you may up the ante of your presentation to customers.
Everything is customizable, like the slides' fonts, backgrounds, icons, and transitions. So you don't need to worry about your services matching the existing script and style.
You do not need any technical expertise to edit the templates. The interface is very user-friendly, and anyone can pick it up anytime.
Try it out now for free, and entice potential customers to your business!
Edit this template
13. Gym Membership Presentation Templates
Are you a Gym owner struggling to fill up the membership plans? Or, are you unable to showcase the facilities and the superior training provided to the customers?
Use this Gym owner presentation template to highlight the benefits of joining your gym, showcase the quality of the trainers, equipment, and other activities included in the membership plan.
Try it out now for free, and convincingly persuade your potential clients!
Edit this template
14. Awareness Presentation Template
Are you someone looking to create Environmental Awareness for the general public and instill a change in society for the greater good? Then Animaker Deck would be happily contributing to your social cause with the right set of templates.
Have a glance at the Awareness presentation template focused on Plastics Ban. You can provide all the information on the consequences of single-use plastics, remedies to control the pollution and create awareness through these slides.
The slide decks are eye-catching and easily understandable. Moreover, you can effortlessly promote CSR initiatives and community projects to the general public.
Try it out now for free, and spread the cause!
Edit this template
15. Online Business Pitch Presentation Template
Are you running an online business and looking to expand your customer base? Animaker Deck hosts the perfect presentation templates to help you with the same.
Check out the Marketing Consulting Explainer presentation template. Customize your fees and payment terms, and adjust the timeline of your service offerings.
Edit the icons and add stock elements from our library to emphasize your awards and achievements since the inception of your business. There's a plethora of editing options to highlight and boost all your products and services through our presentation templates.
Customize the slides to match your way of presenting style and share it online for free.
Edit this template
16. Company Profile Presentation Templates
Animaker Deck also features presentation templates showcasing Company Profiles, Outlook, and Future Endeavors. For example, use this easy-to-edit Company Profile presentation template to highlight the company's growth, turnovers, and other critical information related to the company.
You can also change the background color, try business fonts, add company logos as a watermark, and even use the characters section to create your brand ambassadors and hook the audience to the presentation.
Use the sleek slide deck design to exude a sense of class and make your company stand out!
Edit this template
17. Product launch or Demo Presentation Templates
Are you planning on launching a new product and looking for the best way to showcase a product demo? There's no better way than using this Product Launch Presentation template.
Use this slide deck template to create a practical learning and assessment path for the audience. It has excellent graphics, vibrant colors, and a presenting structure that highlights important details of the product.
Use the upload feature to add the product's images and design blueprint images and flowcharts, taking the audience step-by-step through the Demo.
Try it out now for free, and win hearts with your new product!
Edit this template
18. Website Opener Presentation Templates
Suppose you are running a startup or a self-owned business and looking to promote your new website. In that case, Animaker Deck can save you time with this excellently designed Website Opener presentation template.
Every slide element is customisable, and you can alter the presentation to your liking within minutes. Add top-notch images, fonts, and design components from our library to enhance your design.
Try it out now for free, and increase your page traffic!
Edit this template
19. Agency Pitch Presentation Templates
Animaker Deck has a flawlessly designed Agency pitch presentation template for all creative companies and agencies. In each slide, emphasize the agency's competitive advantage, explain the business model, promote the user testimonials, and showcase the existing clientele.
The picture and backdrop are grayish black and orange, which might immediately draw in customers. You may customize the chart, icons, add transitions between the frames, and include characters to make your slide deck stand out
This slide deck's eye-catching style will make a lasting impact on your audience. Use it for advertising in local events, fashion, entertainment, and business conferences.
Try it out now and win every pitch by large!
Edit this template
20. Business Proposal Presentation Templates
If you are a business owner and wish to promote the business plan, then make use of the Business Proposal presentation template solely crafted for winning the clients' hearts.
It is effortless to customize every slide, highlight the business overview, market share, and key team members, and showcase the challenges and goals.
You can customize this slide deck to your needs, and it is outstanding for its lovely color schemes, text formatting, shapes, and illustrations. Even if you want to add other templates' slides between the chosen ones, that's also possible with Animaker Deck.  
Try it out now and create the best possible business proposal!
Edit this template
21. Personal Branding Presentation Templates
Perfectly tailored Personal Branding presentation templates for freelancers or small business owners to pitch their services are available in Animaker Deck.
You can edit the slides to your themes, upload snapshots of tabular data, add hyperlinks to those images, etc; everything is possible with Animaker Deck. Highlight the brand's story, revenue, growth rate, customer retention rate, exclusive partnerships acquired, and much more.
Get your hands on board and try these easy-to-use templates now!
Edit this template
22. Case Study Presentation Templates
Are you stuck in a scenario where you need to prepare a presentation on showcasing the increase in sales or the unexpected decline in the market share of your business? Animaker Deck offers a tailored solution for such scenarios with the Case Study presentation template.
You can easily include different charts, graphs, tabular columns – anything related to visually showcasing the data to the stakeholders from the Properties section. Highlight the entire journey – the problems faced, turning points, and realized solutions using these sleek slide decks.
Try out this now and showcase the challenges and solutions effectively!
Edit this template
23. VC Pitch Presentation Templates
Have you just started your life-long dream venture and are looking to raise VC funding? Well, be it a shark tank showcase or the VC funding – a perfectly tailored pitch deck comprising all your business ideas, plans, growth strategies, customer engagement initiatives, etc, will come in handy. Animaker Deck offers such dedicated free business presentation templates.
Use this VC pitch presentation template and emphasize the opportunity in the market, possible solutions, market validation, business model, market adoption, existing competition, and more with these compelling slide deck designs.
And the best part is you can entirely customize each slide according to your business needs. You can customize everything from text and design elements to even the colors used in each of those elements to match your brand style.
Try it out now and rope in the dollar bills in no time!
Edit this template
24. Quarterly Report Presentation Templates
Bored of looking at the traditional reports, which don't instigate any motivation to up the game? Take a look at this Quarterly Report presentation template.
This slide deck has a sleek and contemporary design. You can also add various supporting elements, graphs, statistics, and figures. Use it to show your stakeholders and investors the quarterly performance of the teams and current progress towards the goals.
This presentation has a simple yet effective design and prioritizes your business concept and market analysis.
Try it out now and up the report generation game!
Edit this template
25. Performance Evaluation Policy Templates
If you are a seasoned recruiter who's short on time to prepare a deck in quick succession (or) a newly joined HR executive looking to make an impression with their seniors, well, Animaker Deck is here for your rescue. We have the right set of templates for you to customize according to your needs.
Whether it be a new policy announcement, appraisal information, new joiners orientation, workplace compliances, rewards and compensation, etc; we have sleek presentation templates for all the HR needs.
Take a look at this awesome presentation template on the Performance Evaluation policies. You can customize all the elements in the slides according to your preferences. You can also experiment with professional fonts, vibrant backgrounds, in-app characters, animations, and many more.
Try it out now and send across a strong message!
Edit this template
Apart from the templates shown above, with Animaker Deck, you can create your own custom presentations and themes from scratch and save them for the future too.
We hope this article has helped you pick the right presentation template for your needs. So, explore our templates section and weave your magic in the slides!
Start creating presentations now!
Got any questions? Drop them in the comments section. We will be more than happy to help you.