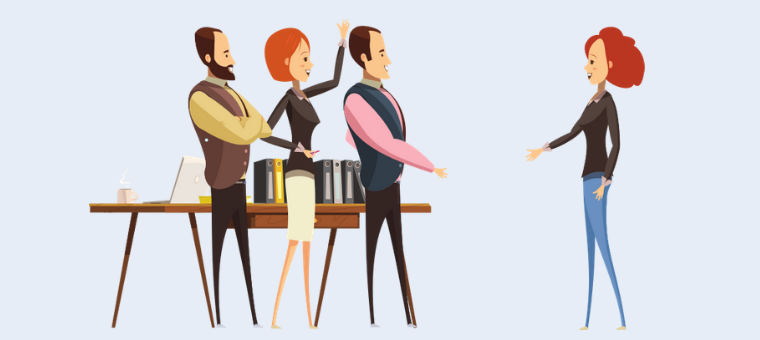 7 Employee Management Video Templates for HR Teams [One-Click Edit]

4

min read

As an HR professional, you know how critical it is to make new employees learn about your company's policies. It's the key to maintaining a positive workplace culture you've carefully built over the years. 
When employees don't clearly understand and abide by the expectations you've set for them, things start to fall apart.
While you understand how crucial it is to convey your policies and procedures, the same cannot be said for your new employees. And we don't blame them.
When you're super excited to join the company you've been meaning to work for and get to know your new team members, it goes without saying that the seemingly boring company policy documents will be taken lightly. Or far worse, completely ignored. 
This is why it's not uncommon at all for employees to not understand a company's policies clearly.
How do you not intimidate your new employees with a wall of text while also ensuring that they get your company's policies? What's the solution? Well, you need a type of interactive content that holds their attention and makes learning fun & easier. Specifically, you need videos.
With videos, you clearly convey all your policies and procedures by keeping things interactive and, well, obviously way less boring than plain text, duh. 
But here's the thing: the thought of creating a video seems daunting to you. We know the frustration – we've been there too. After having used numerous tools in the market, we can say that even the most tech-savvy person out there will find it hard to use these tools.
Since Animaker is a DIY tool exclusively built for non-designers and marketers with no video making experience, any member on your HR team can use it to create videos specific to your department. 
But your team doesn't have to start from scratch. We've already thought up the kind of videos you'd need to create and have built templates for almost every use case. All you have to do is pick a template, swap the text in the template with your own and hit Download, it's THAT simple.
Today, we're sharing 7 employee management video templates you can use to clearly communicate your company's policies and procedures with your employees and make sure it's understood. Every. Single. Time.
7 Templates to Help You Use Video to Make Your Policies and Procedures Crystal Clear to Your Employees
Click on the Edit this Template button to start editing a template. Simply customize the text, colors, and font to make the videos match your brand perfectly.
Code of Conduct and Leave Policies
Use this template to let them know about a wide range of leave options and workplace flexibilities your company offers, and about your workplace etiquette. 
Team Members Intro
Letting them in on some positive information about each team member would go a long way in helping them strike meaningful relationships with them. Use this template to tell them a little something interesting about members of the team they're about to join. 
Workplace Safety and Risk Policies
Use this template to share policies regarding how your employees can keep themselves safe in the workplace.
Awards and Recognition Policies
This template helps you convey how you give out awards and recognitions to the employees that truly deserve them.
Performance Evaluation Policies
Use this template to give them a peek into how their performance would be assessed, when and how often these performance reviews are conducted, and how the deserving people would be rewarded. 
Recreational Activities
Recreational activities improve your employees' creativity and performance. Period. Besides, all work and no play makes for a dull business.
Sexual Harassment Policies
It's imperative that you convey these policies clearly to your employees. This one has the potential to ruin your company culture and reputation, real quick.
We hope your team puts these templates to good use. 
Can't seem to find a template? Drop us a line at help@animaker.com and let us know what kind of HR-related video you're looking to create. Our design team is working hard on publishing templates related to HR so your team doesn't have to ever start from scratch if they want to create a video.  
Since this pandemic ain't over yet, we'd like to ask you a question: have you educated your staff and customers enough about how they can stay safe and keep themselves productive during these trying times? If not, you'd want to take a look at this article that lists 6 coronavirus templates your HR team will find useful.