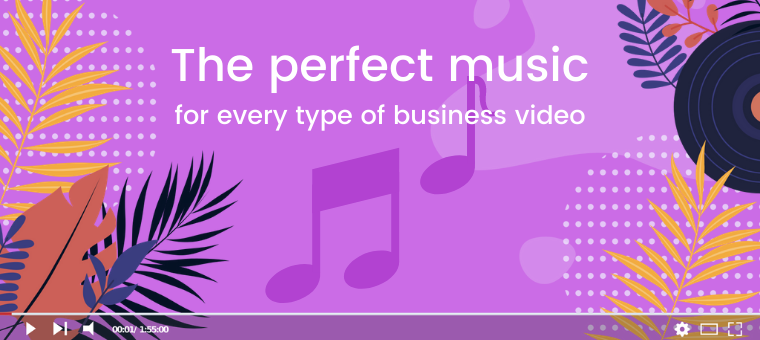 How to Pick Background Music For Every Type of Business Video

6

min read
Music has a unique power. It establishes a powerful emotional connection with listeners. It takes them on exciting narrative journeys.
It can do these things without using any words. Filmmakers, video marketers, and media creators use soundtracks to help viewers recognize the value of their content. The music starts working in seconds.
The synergy between music and video plays an important role in video marketing. Learning how to choose the right royalty-free background music can make a significant difference in your marketing plan.
It can boost brand awareness, help with lead generation, or improve customer support.
Learning how to pick the right music for a video is a skill. The more experience you have, the better your results will be. Find out how to pick great background music for B2B marketing videos with our help. 
Pick a Point of Reference for Your Content
Big-budget Hollywood filmmakers are the taste-makers for nearly every type of video content there is.

Pay attention to how the story you tell fits inside an established blockbuster-movie framework. The audio track that complements it best will be easy to find.
Your viewers are definitely familiar with the global film and television industry. This is true regardless of where your video's viewers are located. It's true no matter what language they speak. That industry's most iconic soundtracks are the ideal point of reference for yours.
When you create B2B video content, your brand becomes the film's director. Moviegoers know what to expect from a Quentin Tarantino action film. They don't expect the same thing from a Michael Bay action film – even if both films are grouped in the same genre. 
Your brand has to differentiate itself through its approach to video marketing.
In broad terms, the four video content "genres" you will be working with are explainers, promos, customer testimonials, and company culture videos. Each of these plays by its own rules and has its own points of reference when it comes to the accompanying soundtrack.
Let's take a look at each one in turn:
1. Explainer Videos
Explainer videos are the summer blockbusters of the B2B marketing world. Marketers place these videos prominently on the brand's home page. They give visitors a complete overview of the company and its value proposition in a couple of short minutes.
While other types of videos definitely have room for grand soundtracks that grab users' attention, explainers generally do not. Your video's main focus is the explanation it offers. Good explainer soundtracks offer a framework that helps viewers understand that explanation in context.
You can see this working in fun, dynamic startups like monday.com, which uses a funky/jazzy soundtrack to accentuate their core value proposition – that monday.com is much easier to use than its tedious, confusing competitors.
Pro Tip: When explaining over a busy soundtrack, use sidechain ducking to automatically lower the background music by a few decibels only when the narrator speaks. This prevents the sensation that the narrator and the soundtrack are competing for the viewer's attention.
The best background music for explainer videos sits in the back of the mix. Upbeat, spunky music can help drive home the idea that a product is easy to use. Dramatic, suspenseful music, on the other hand, can help viewers understand the seriousness of the problem the explainer video addresses.
2. Promo Videos
Today's promo videos will typically show up for users who have already interacted with a brand in some way. Users who have clicked on a company banner, visited its site, or searched for related content might find themselves targeted by video marketing algorithms that believe they are part of the marketing strategy's core audience.
Modern video marketing lets creators segment audiences and gather engagement data. This makes it easy to tell whether a promo video works or not. Good promos generate interest that manifests through measurable action.
Good promo videos use music to engage viewers on an emotional level. You often have only 20-30 seconds to grab their attention and associate a particular feeling with your brand – there is no time for a more in-depth approach.
The best background music for promo videos is bold and catchy. Webflow uses a futuristic electronic soundtrack to underline the point that it is more sophisticated and advanced than its competitors.
Entrust Datacard uses a hopeful, optimistic tone that seems to contradict its security-oriented feature set at first glance. This is because it isn't a product made for cybersecurity professionals or IT people. It is a product for people who want to protect their families from identity theft.
In both cases, the soundtrack tells a clear story about the brand the promo focuses on. It establishes an expectation that the video then delivers on through the story it tells.
3. Customer Testimonials
Customer testimonials can be powerful marketing tools. Having a trustworthy person recommend your product or service is always going to be more compelling than doing it yourself.
Customer testimonials thrive on authenticity. If viewers don't feel like they can trust your customer spokespeople, they will ignore your content. Music goes a long way towards establishing that feeling of trust.
This means that overly dramatic music can have the opposite of its intended effect. Instead, the best background music for customer testimonial videos are muted, down-to-earth tracks. These offer believable expectations for the video to deliver on.
Zendesk uses customer testimonials to show a fun and simple solution for customer support. It achieves this with a funky, light soundtrack. It tells viewers to expect a support solution that feels good to use. Without it, the content would lose a great deal of its impact.
4. Company Culture Videos
Company culture videos get to be exciting and enthusiastic about the things they portray. These are the videos that will ultimately sway the most talented candidates to choose your brand over others. You can bet they want to join a workplace that feels fresh, innovative, and appreciative.
Authenticity is important here, too. If you create a company culture video that doesn't really reflect what it's like to work in your office, you're setting up expectations that your company won't meet.
The best background music for company culture videos shows optimism, enthusiasm, and excitement. There are many ways to portray this kind of feeling, particularly among contemporary artists known for their upbeat, funky vibe. Think more along the lines of Pharrell, The Roots, or Bruno Mars, and less along the lines of Trent Reznor or Hans Zimmer. Dark and brooding simply won't work in this context.
You can see this approach implemented in Salesforce's Trailblazer Moment video. It shows a credible employee testimony. It establishes viewer trust with an upbeat musical theme. The overall feeling is optimistic without being cheesy. That's exactly the feeling that a successful company culture video needs to portray.
Final thoughts and takeaways 
In an extremely saturated environment, your videos need to do more than just inform in order to pop. Providing an engrossing, stimulating experience is critical. Finding the proper soundtrack to accompany your video will go a long way in doing just that.
Make sure to draw inspiration from the experts (i.e. Hollywood), and approach music selection according to the video's category (e.g. customer testimonials, promos, etc.).