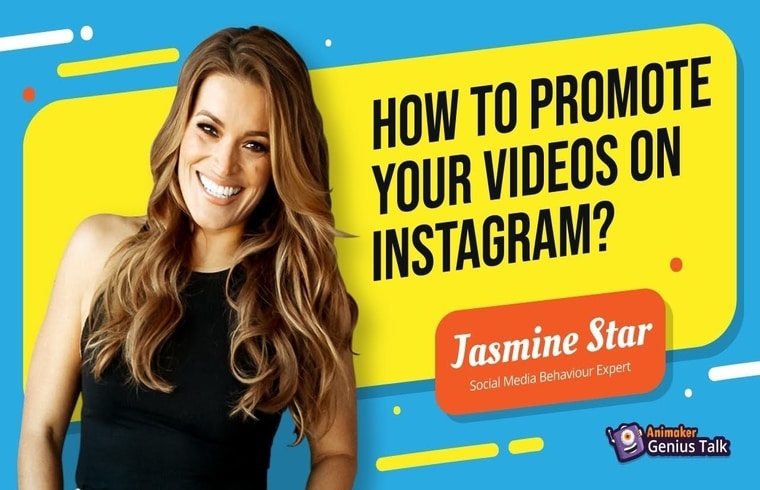 How to Promote Your Videos on Instagram? [Video]

2

min read
Promoting your videos on Instagram can really help get the traction that they deserve. Instagram is one of the most visual social media platforms available today!
But how can you leverage the power of Instagram to promote your content?
In the latest episode of Animaker Genius Talk, we interview social media behavior expert Jasmine Star to find out her secret tips to promoting video content on Instagram.
Jasmine Star is an Instagram expert who is helping Entrepreneurs and business owners build their business and influence using Instagram and other social platforms.
Quotes
Now, Instagram I feel is perfectly suited for promoting your video content in a way it wasn't before (6:16)
Videos in perpetuity will always do better on YouTube (14:13)
If nobody is knocking on your door you should go knock on other people's doors on Instagram (20:36)
slow growth is good growth and a sustaining growth (22:36)
Notes
Tell us Jasmine, how you went from a full scholarship law student into a professional photographer and then into a social media influencer? (1:15)
Tell us the idea and thought process behind social curator (3:24)
What is the thought process and the vision you have for your personal brand and what do you wish to achieve with this brand? (5:09)
How do we promote our video content on Instagram? (6:13)
3 biggest mistakes that business owners are doing on Instagram (10:34)
For your video content, which content platform would you prefer? IGTV vs YouTube! (11:58)
Instagram Stories: How can businesses use Instagram Stories to build their business? (14:33)
Inside the Genius Mind
If you are just starting out on Instagram today, How will you go about finding your niche and the right audience? (16:07)
3 simple hacks that YouTubers can use to promote their YouTube channel on Instagram? (17:52)
You seem to be emphasizing a lot on having the perfect bio in Instagram for the sake of our audience today, can you tell us why you think this is one of the most important features of Instagram? (18:50)
How do you think business owners can leverage direct messages on Instagram to build their business? (20:14)
What is one piece of advice that you would like to give to all aspiring content creators who are starting out now? (21:35)