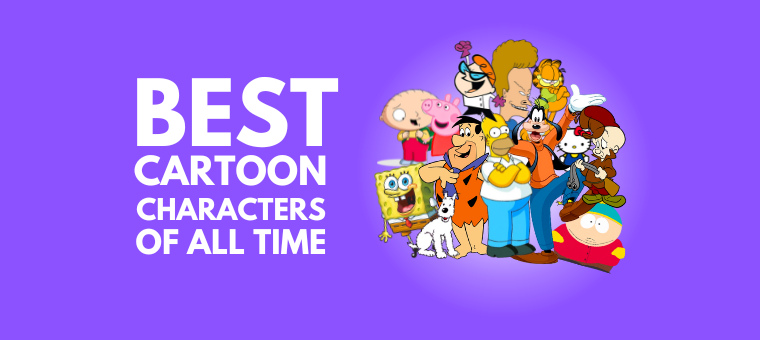 57 Iconic Cartoon Characters of all time! [The Ultimate List]

34

min read
Cartoons have been a significant part of our lives since childhood.
Cartoons have the ability to have a different impact on different people. For some, it helped shape their imagination and creativity as a child, and for some, it even influenced the way they perceived the world around them.
While they have brought a lot of laughter and joy into our lives, cartoons have also taught us many valuable life lessons about respect, friendship, courage, perseverance, and love.
It is undeniable that Cartoons have played an important part in shaping the minds of the younger generation.
While the cartoons have had a major upgrade in terms of visual quality, many old school cartoon characters have remained evergreen in the level of impact they can make on the younger generation.
In this article, we'll have a look at some of the top cartoon characters that have had a significant impact on our lives.
1. Mickey Mouse
First on the list is Mickey Mouse.
It's one of the most iconic characters of the 20th century, as Mickey represents everything that Walt Disney wanted to portray through his characters.

Happiness, charm, and his ability to have fun made him one of the most recognizable figures in the world of animation and capture a place in the hearts of millions of people worldwide.

When was Mickey Mouse created?

Mickey Mouse was created in the year 1928 by Walt Disney and Ub iwerks. This character first appeared in Steamboat Wille.

Who voiced Mickey Mouse?

Initially, Walt Disney himself provided the voice for Mickey Mouse. However, after his demise, other voice-over artists like Jimmy MacDonald, Wayne Allwine, Bret Iwan, and Chris Diamantopoulous have taken over the role.
2. Tom And Jerry
Tom and Jerry is a classic American series that has been entertaining audiences for generations together. If you didn't know about Tom and Jerry, it is a series about a cat named Tom and a mouse named Jerry. From 1940 to 1958, about 114 Tom and Jerry shorts were created for MGM (Metro-Goldwyn-Mayer).

When was Tom and Jerry First Created?

Tom and Jerry were first created in 1940 by William Hanna and Joseph Barbera.

Who did the voice of Tom and Jerry?

William Hanna and Mel Blanc provided the original voiceover for Tom and Jerry. Over the years, other artists like June Foray, John Winfield Stephenson, Don Brown, and others took over.
3. Bugs Bunny
Bugs bunny is a Classic and famous cartoon character that Warner Brothers created for the Looney Tunes, an animated short film series. Bugs bunny's quick wit and sarcastic humor has entertained audiences for over eight decades, and he remains one of the most beloved characters in animation.

When was Bugs Bunny created?

Bugs bunny was created in 1940 by Tex Avery, Ben Hardaway, Chuck Jones, and others at Warner Bros. Cartoons.

Who did the voiceover for Bugs Bunny?

Many voice actors voiced Bugs Bunny. Originally it was done by the legendary voice actor Mel Blanc. However, upon his demise, it was taken over by multiple other voice actors like Jeff Bergman, Greg Burson, Billy West, and others.
4. SpongeBob Square Pants
SpongeBob SquarePants is a lovable, quirky, and cute character that has become one of the most popular animated characters of all time. The character SpongeBob lives in a pineapple deep down the sea called the "Underwater city of the bikini bottom". The distinctive voice and silly behavior have made this character a beloved figure for both adults and children. 

When was SpongeBob created?

SpongeBob was created in 1999 by Stephen Hillenburg.

Who did the voiceover for SpongeBob?

Tom Kenny was the person behind SpongeBob SquarePants.
5. Homer J. Simpson

Homer Jay Simpson is a character from the American Animated television series "The Simpsons." He is a lovable character and often the source of humor in the show. His distinctive voice and catchphrases made Homer one of the favorite cartoon characters. His love for beer and donuts makes him very relatable.

When were the Simpsons created?

The Simpsons were created in 1989 by the cartoonist Matt Groening.

Who is the voice of Homer J Simpson?

The voice actor for Homer Jay Simpson is Dan Castellaneta.
6. Donald Duck

Donald Duck is a classic Disney character. He has yellow-orange bill, legs, and feet. He's well known for his distinctive voice, sailor outfit, and love for adventure. Irrespective of his flaws, Donald has entertained audiences for over 80 years and remains one of the most popular & lovable character of all time.

When was Donald Duck created?

Donald Duck was created in 1934 by Walt Disney and animator Dick Lundy.

Who did voice Donald Duck?

Clarence Nash did the voice actor for Donald Duck. After the demise of Clarance, Tony Anselmo became the voice for Donald Duck.
7. Scooby-Doo and Shaggy Rogers

If there's an ultimate combination of characters, it has to be Scooby Doo and Shaggy Rodgers. They are best friends and partners who solve mysteries in the famous series, Scooby Doo. Scooby Doo is a Great Dane, and Shaggy is a ravenous human. They both love food and battling spooky ghosts/monsters.

When was Scooby Doo created?

The original show "Scooby-Doo, where are you!" was created in 1969 by Joe Ruby & Ken Spears.

Who gave the voice to Scooby-Doo and Shaggy Rodgers?

Don Messick initially voiced Scooby Doo, and Casey Kasem voiced Shaggy Rodgers. After the demise of Don and Casey, other voice artists like Frank Welker, Matthew Lillard, and others gave their voices to Scooby Doo & Shaggy Rodgers.
8. Daffy Duck

Daffy Duck is yet another classical American cartoon character. He's a black duck with yellow duck bills and palmate feet. He is well known for being a mixed bag when it comes to personality. While Daffy duck has often portrayed the character of an anti hero, he has also showcased heroic personality in more than a few episodes of his show.
When was Daffy Duck created?

Daffy Duck was created back in 1937 by Tex Avery and Bob Clampett at Warner Bros Cartoons.

Who voiced Daffy Duck?

Daffy Duck was initially voiced by the legend Mel Blanc himself. After his death, actors played Daffy Duck's voice, including Jeff Bergman, Greg Burson, Joe Alaskey, and others.
9. Pikachu

Pikachu is a legendary character from the evergreen video game series Pokemon. He is a cute and lovable yellow electric mouse and is well known for his iconic sound, "Pika Pika." Without any doubt, Pikachu has captured millions of hearts all around the world.

When was Pikachu created?

Pikachu was created in 1996 by Satoshi Tajiri and Ken Sugimori, the creators of the Pokemon franchise creators.

Who is the voiceover artist for Pikachu?

In Japanese, Ikue Otani gave the voice of Pikachu, and Actress Sarah Natochenny voiced Pikachu in English. 
10. Road Runner


Roadrunner is a popular cartoon character known for his incredible speed and his distinctive voice line, "Beep Beep." In every episode, his famous duo, Wile E. Coyote, attempts to eat the Road Runner. But, Road Runner is always a step ahead by escaping every time. They have entertained audiences with their humorous and thrilling chases for over 60 years.

When was Road Runner created?

Road Runner was first created in 1948 in the Fast and Furry-ous series. Chuck Jones and Micheal Maltese created it.

Who voiced the Road Runner?

Road Runner is voiced by Paul Julian and was followed up by Mel Blanc, Joe Alaskey, and Eric Bauza after the passing of Paul Julian.
11. Fred Flintstone



Fred Flinstone is a popular & prehistoric character from the animated television series "The Flinstones." He is the head of the Flinstone household and is well known for his distinctive growl, love for bowling, and unique laugh.

When was Fred Flinstone created?

Fred Flinstone was created in 1960 by William Hanna and Joseph Barbera at the Hanna-Barbera Productions.

Who did the voice Fred Flinstone?

Alan Reed initially voiced Fred Flintstone. However, after his death, other voice actors like Henry Corden, Frank Welker, and others provided the voice for this character.
12. Betty Boop

Betty Boop is a classic animated character from the Talkartoon and Betty Boop film series. She's well known for her flirty personality and her unique voice.  Betty Boop was created as a human character, but later she was transformed into a French Poodle.

When was Betty Boop created?
Betty Boop was created in 1930 by Max Fleischer, an American Animator and Film producer.

Who voiced Betty Boop?

Actress and singer Margie Hines initially voiced Betty Boop. After her death, her voice was given by Little Ann Little, Harriet Lee, Melissa Fahn, and Sandy Fox.
13. Goofy

Goofy is a classic Disney character who is lovable and has a distinctive personality. He is also well known for his catchphrase "Ah-Hyuck." He is a tall and anthropomorphic dog with a clumsy character and is always prone to accidents. But overall, he is well-behaved and good-natured.

When was Goofy created?

Goofy was created in 1932 by the Disney Animators Art Babbitt and Pinto Colvig.

Who voiced Goofy?

Goofy was voiced by Pint Colvig, Dany Webb, Hal Smith, Tony Pope, Will Ryan, and Bill Farmer. 
14. Popeye, the sailor man

Popeye, the Sailor Man, is a famous cartoon character known for his muscular physical features, squinted eyes, and unique speaking style. He has been featured in numerous comics, television shows, and films.

When was Popeye created?

Popey was created in 1929 by cartoonist Elzie Crisler Segar.

Who did the voice Popeye?
William Costello voiced Popeye, and he was one of the early voiceover artists for Popeye. Over the years, other actors, including Jack Mercer, Harry Welch, and others, have provided the voice for Popeye.
15. Woody Woodpecker

Woody Woodpecker is a classic animated character known for his distinctive laugh and unique personality. He is a chaotic bird who likes to cause trouble and is always involved in some kind of trouble. However, despite his foolish and naughty behavior, Woody is a lovable character who has been entertaining for over 80 years.

When was Woody Woodpecker created?

Woody Woodpecker was created in 1940 by Walter Lantz.
Who gave the voiceover for Woody Woodpecker?

Mel Blanc initially gave Woody Woodpecker's voice; after his death, other voice actors, including Ben Hardaway, Grace Stafford, and Billy West, have provided the voice for the character.

16. Tweety Bird

Tweety Bird is a cute & popular cartoon character who is well known for its innocent appearance with long eyelashes and high pitched voice. Even though the looks might make you think its a feminine, Tweety is a male.

Tweety is a yellow canary bird who is the target of Sylvester, the cat. The cat's goal is to catch Tweety. But despite Sylvester's repeated & best efforts, Tweety manages to outwit him with his quick moves and thinking.

When was Tweety created?

Tweety made its first appearance in 1942 and was created by Bob Clampett, an American animator, and cartoonist.

Who voiced the Tweety bird?

In the initial stages, Tweety bird was voiced by Mel Blanc. Upon his passing, it was followed up by multiple voice actors like Jeff Bergman, Bob Bergen, Sam Vincent, Billy West, and many others.

17. The Powerpuff Girls

Blossom, Bubbles, and Buttercup are collectively known as The Powerpuff Girls. They are a group of crime-fighting superheroes who protect the city of Townsville from enemies and monsters.

Blossom is the group leader, known for her intelligence and analytical skills. Bubbles is a cute innocent & sweet member of the team who has a unique ability to talk to animals. And Buttercup is the tough & rough, aggressive member of the team, and she's also the team's main fighter.

When was Powerpuff Girls created?

The Powerpuff Girls were created in 1992 by animator Craig McCracken.

Who voiced the Powerpuff girls?

Cathy Cavadini voiced Blossom; Tara Strong voiced Bubbles; and E.G. Daily voiced Buttercup.
18. Eric Cartman (South Park)

Eric Cartman is from the animated television series "South Park." He is a mischievous and foul-mouthed kid often known for his offensive antics. Despite his acts, Cartman has become one of the most iconic and beloved characters in the series.

When was Eric Cartman Created?

Eric Cartman was created in 1997 by Trey Parker and Matt Stone.

Who gave the voiceover for Eric Cartman?

Eric Cartman is voiced by Trey Parker, who's also one of the Co-Creators of South Park.

19. Garfield

Garfield is a fat, lazy orange cat who loves eating and sleeping. He lives with his owner Jon Arbuckle and his pet dog Odie. The series portrays Garfield as cynical, sarcastic, and self-centered. He is well known for his humor and for making sarcastic remarks about his surroundings, including the people and animals around him.

When was Garfield created?

Garfield was created in 1978 by Jim Davis.

Who voiced the character for Garfield?

Many people provided voice for Garfield, Initially it was provided by Lorenzo Music but after his death, Frank Welker, Bill Murray and other voice actors took over.

20. Taz

​​
Taz, also known as the Tasmanian Devil, is a popular cartoon character known for his wild and aggressive nature. He is showcased as a ferocious creature who tends to spin like a tornado.

When was Taz created?

Taz first appeared on the screens in 1954 and was created by Robert McKimson, an animator at Warner Bros Animation Studio. 
Who voiced Taz?
Like many other characters on this list, Taz was also initially voiced by Mel Blanc. If we checked by count, Jim Cummings has voiced for the characters the most times.
21. Elmer Fudd


Elmer Fudd is a famous character from Warner Bros Looney Tunes, Merrie Melodies series, and the archenemy of Bugs Bunny. He is one of the many recurring characters in the Looney Tunes series and is often depicted as a hunter trying to hunt elusive prey and catch Bugs Bunny or Daffy Duck.

When was Elmer Fudd created?

Elmer Fudd first appeared in 1937 and was created by Tex Avery. It was developed and published by Warner Bros. animation studio.

Who gave the voice to Elmer Fudd?

For most of the period, Arthur Q. Bryan was the voice actor. After him, several voice actors have voiced Elmer Fudd over the ages.
22. Marvin the Martian


Marvin the Martian is a popular cartoon character who is an extraterrestrial character from Warner Bros, Looney Tunes, and Merrie Melodies. He is well known for his distinctive helmet and his green outfit.

When was Marvin the Martian created?

Marvin the Martian was created in 1948 by Chuck Jones, an animator, and director at Warner Bros Animation Studio.

Who is the voice for Marvin, the Martian Character?

Marvin the Martian is a very silent character known for his soft-spoken, nasally voice provided by Mel Blanc. 
23. The Pink Panther

The Pink Panther is a fictional animated character who is a suave and smooth-talking anthropomorphic panther known for his detective work and the iconic theme music.

When was Pink Panther created?

Pink Panther was created first 1963 and appeared in the "The Pink Panther" animated series. This character was created by Friz Freleng and Hawley Pratt, animators from DePatie-Freleng Enterprises.

Who voiced the Pink Panther?

Pink Panther doesn't speak but instead communicates through physical humor. His body language is often accompanied by smooth Jazz Theme Music.
24. Felix, the Cat

Felix, the cat, is a cartoon character from the silent film era. Felix is an anthropomorphic black cat with big white eyes. He is well known for his broad smile and the mischievous and playful behavior that often puts him in unusual situations.

When was Felix the cat created?

Felix, the Cat was created in 1919 by Pat Sullivan and Otto Messmer.

Who voiced Felix, the cat?

Over the years, there have been several voice-over artists for Felix the Cat. To name a few, Walter Tetley, Jack Mercer, and Don Oriolo have voiced this iconic cat. 
25. Johnny Bravo

Johnny Bravo is a humorous American television character known for his physique, hairstyle, and his ways of making romantic advances.

When was Johnny Bravo created?

Johnny bravo first appeared in the Cartoon Network's "Cartoon Cartoons" series in 1997. He was created by Van Partible, a Filipino – American animator.

Who voiced the Johnny Bravo character?

Johnny Bravo was voiced by the famous American voice actor Jeff Bennett who is known for his work on various animated television shows and movies. 
26. Casper the Friendly Ghost

Casper the Friendly Ghost is a beloved animated character known for his playful and gentle nature. He has a round head, a broad smile, and a transparent body.

When was Casper the friendly ghost created?

Casper was first seen as the main character in the series "Casper" in 1945. It was created by Joe Oriolo, an American Cartoonist and animator.

Who was the voice artist for Caspar the ghost?

Caspar is a silent character and did not have a voice actor in the original animated series. However, his expression and movements conveyed the message. Over the years, he has been voiced by multiple voice actors like Alan Shay, June Foray, Mae Questel, Norma MacMillan, Julie McWhirter, Joanna Ruiz, Christopher Miron, and so on.
27. Dexter

Dexter is a fictional character from the famous American Animated Television series Dexter's Laboratory. He is known for his genius-level knowledge of science and his secret laboratory that's hidden behind a bookshelf.

When was Dexter Created?

Dexter was created in 1995 by Genndy Tartakovsky.

Who voiced the Dexter character?

Christine Cavanaugh and Candi Milo voiced Dexter. 
28. Winnie the Pooh

Winnie the Pooh, also known as Pooh bear or Pooh, is a fictional anthropomorphic teddy bear who has been a beloved children's character since his creation. He is known for his simple outlook on life and his love for honey.

When was Winnie the Pooh Created?

Winnie the Pooh was created in 1926 by A.E.H. Shepard and illustrated a Milne, a British author.

Who gave the voice to Winnie the Pooh?

Voice actor Jim Cummings gave Winnie Pooh's famous voice. Other notable voice actors like Sterling Holloway, Hal Smith, and Bad Luckey have also provided the voice for Winnie the Pooh. 
29. Yogi Bear

Yogi Bear is a fictional character from the popular animated television series "The Yogi Bear Show." He is an anthropomorphic animal bear who lives in Jellystone Park and constantly involves in stealing the picnic baskets from the visitors.

When was Yogi Bear created?

Yogi Bear first appeared1958 and was created by William Hanna and Joseph Barbera, the founders of the Hanna-Barbera animation studio.
Who voiced the character for Yogi Bear?

Daws Butler was the origins voice actor of Yogi Bear. After he died in 1988, Greg Burson, Dan Aykroyd, and Jeff Bergman provided the voice for Yogi Bear. 
30. Sylvester The Cat

Sylvester, the cat, is a fictional character and an anthropomorphic tuxedo cat in the Looney Tunes and Merrie Melodies series of cartoons. He is well known for his trademark lisp and never-ending pursuit to catch Tweety Bird.

When was Sylvester the cat created?

Sylvester, the cat, made his first appearance in 1945, created by Friz Freleng, an animator, and director at Warner Bros Animation Studio.

Who voiced Sylvester, the cat?

Sylvester, the cat, was voiced by Mel Blanc, a famous voice actor who has voiced various Looney Toons characters.
31. Dora the Explorer

Dora is a young Latina girl who loves to explore and go on adventures. The character got famous in a popular children's television show called Dora the Explorer. She entertains her audience with her infectious enthusiasm, problem-solving skills, and love of learning. She's bilingual and speaks English and Spanish fluently, which made her a popular figure in Latino Households.

When was Dora created?

Dora was created in 2000 by Chris Gifford, Valeri Walsh, and Eric Weiner.

Who voiced Dora, the explorer character?

Kathleen Herles voiced Dora from 2000 to 2008. Later, the character was voiced by Caitlin Sanchez and Fatima Ptacek. 
32. Peppa Pig

Peppa Pig is a British Animated television series that follows the journey of a young pig called Peppa with her family and friends. This show is known for its educational content that teaches young children basic concepts like colors, numbers, the alphabet, social skills, and lots more.

When was Peppa Pig created?

Peppa Pig was created in 2004 by Neville Astley and Mark Baker.

Who is the voice artist of Peppa Pig?

The Voice artist for Peppa pig was Lily Snowden in season one. Cecily Bloom, Amelie Bea Smith, John Sparkles, Morwenna Banks, Richard Ridings, Oliver May, and Alice May provided the voices in the following seasons. 
33. Stewie Griffin

Stewie Griffin is a popular and famous fictional character from the American Television series "Family Guy." He is the youngest child of the Griffin family and is well known for his intelligent and sinister behavior.

When was Stewie Griffin created?

Stewie Griffin was created in 1999 by Seth MacFarlane, the creator of Family Guy.

Who gave the voice to Stewie Griffin?

Seth MacFarlane himself voiced Stewie Griffin.
34. Snowy

Snowy is a White Wire Fox Terrier Dog and the faithful companion to the comic character TinTin. Snowy accompanies TinTin on many adventures around the world. He is known for his sharp intelligence, resourcefulness, and bravery.

Snowy has a unique ability to communicate with TinTin through his facial expressions and body language. He uses this to signal danger and alert TinTin during their adventures.

When was Snowy created?

Snowy first appeared in the TinTin comic strip in 1929 and was created by Georges Remi, a Belgian Cartoonist.

Who voiced the Snowy Character?

Snowy doesn't have a voice and hence doesn't have a voice-over artist.
35. Space Ghost
Space Ghost is a fictional superhero character who is an intergalactic crime fighter from the ghost planet. He has unique abilities and superpowers that can make him invisible, fly and survive in space.

When was Space Ghost created?

Space Ghost was created in 1966 and appeared in "The Heat Thing." He was created by Alex Toth, William Hanna, and Joseph Barbera.

Who voiced the Space Ghost Character?

Gary Owens voiced the Space Ghost character in the original series. Later on, as the show progressed, George Lowe provided the character's voice.
36. Hello Kitty
Hello Kitty is a fictional character that has become an icon in Japanese and Global culture. She's a cute and friendly anthropomorphic cat with distinctive features, including a red bow on her head and no visible mouth.
When was Hello Kitty Created?
Hello Kitty's first appearance was in 1974, created by Sanrio, a Japanese company specializing in producing cute characters. She was originally featured in a vinyl coin purse. By 1990, she had become so popular, after which an animated series featuring her was released.
Who voiced the Hello Kitty character?
From 1990 till the present, Hello Kitty has been voiced by Megumi Hayashibara. Other versions of Hello Kitty in different series have been voiced by Sarah Williams, Julia Sales, Juliet Simmons, Tara Strong, Kyoko Hikami, Seth Green, and Candace Bailey.
37. He-Man:
He-Man is a fictional superhero and the main character in the Masters of the Universe Franchise. He possesses incredible strength and a magical sword that enables him to protect the world from the evil forces of Skeletor, He-Man's arch-enemy.
When was He-Man created?
He-Man was created in 1982 by the toy company Mattel.
Who voiced the He-Man character?
Actor John Erwin voiced He-Man. In the subsequent series, he was voiced by actor Cam Clarke.
38. Goku:
Goku is a fictional character and the main protagonist of the popular Japanese anime and manga series, Dragon Ball. Goku is one of the most iconic and recognizable characters in Japanese popular culture. Goku is a pure-hearted and powerful warrior from the fictional race of Saiyans. He possesses incredible strength, speed, and agility, as well as the ability to manipulate energy and fly. Goku is known for his unwavering determination, as well as his kind and compassionate nature.
When was Goku created?
Goku was created by Japanese manga artist Akira Toriyama in 1984.
Who voiced the Goku character?
In the original Japanese version of the anime, Goku is voiced by veteran voice actor Masako Nozawa. In the English dub of the anime, Goku has been voiced by a number of different actors over the years, such as Sean Schemmel, Peter Kelamis, Ian James Corlett, and Kirby Morrow.
39. Snake Eyes:
Snake Eyes is a vital member of the GI Joe family, a 12-member team that represented four of the branches of the U.S. Armed Forces. Snake Eyes is a very mysterious person who is a skillful swordsman, hand-to-hand combatant, and marksman. He is an expert at handling both traditional and modern weaponry.
When was Snake Eyes created?
Hasbro, Marvel Productions & Sunblow productions in 1983 created Snake Eyes and the whole G.I. Joe family.
Who voiced the Snake Eyes character?
This series featured a large team of multiple voiceover artists. Chris Latta as Cobra commander, Arthur Burghardt as Destro, Michael Bell as Duke, and lots more.
40. Lion-O:
Lion-o is the leader of the ThunderCats, a group of cat-like humanoid aliens who are stranded on the planet Third Earth after their home planet, Thundera, is destroyed. Lion-o possesses both physical strength and a powerful sense of morality, making him an ideal leader for the ThunderCats. One of the defining characteristics of Lion-o is his sense of honor and duty.
When was Lion-O created?
Thundercats was created in 1985 by Tobin "Ted" Wolf and Leonard Starr.
Who voiced the Lion-O character?
In the original "ThunderCats" series, Lion-o was voiced by Larry Kenney. In the 2011 reboot of the series, Lion-o was voiced by Will Friedle.
41. Naruto:
Naruto is a young ninja with a dream of becoming the Hokage, the leader of his village. Naruto is a young and energetic boy with a strong sense of determination and a never-give-up attitude. He is often seen as a bit of a troublemaker due to his impulsiveness and desire to prove himself to others. Despite this, Naruto is a loyal and caring friend who will go to great lengths to protect those he cares about.
When was Naruto created?
Naruto was created by Masashi Kishimoto in 1997.
Who voiced the Naruto character?
Naruto was voiced by Junko Takeuchi in the original Japanese version of the anime. In the English dubbed version, Naruto was voiced by Maile Flanagan.
42. Optimus Prime:
Optimus Prime is the leader of the Autobots, a group of Transformers (robots) that aim to protect humans and other species in the galaxy from evil. Optimus Prime was originally a humanoid named Orion Pax, who was chosen by the High Council and given the responsibility to lead the Autobots. The Transformers are famous for transforming from cars into robots.
When was Optimus Prime Created?
Optimus Prime and the other Transformers characters were originally created by Hasbro in 1983.
Who voiced the Optimus Prime Character?
In Japanese, Optimus Prime was voiced by Tesshō Genda, Satoshi Hashimoto, Toru Ohkawa, Katsuyuki Konishi, Taiten Kusunoki, Hiroki Takahashi, and Toshiyuki Morikawa. In English, Peter Cullen, Ron Hayden, Neil Kaplan, Garry Chalk, David Kaye, Jon Bailey, and Alan Tudyk voiced Optimus.
43. Angelica Pickles:
Angelica Pickles is a 3-year-old and one of the lead characters from the animated TV series "Rugrats." She is known for her villainous behavior, where she threatens other babies in all ways possible. Other than her materialistic and cunning qualities, she is also known for pigtails with purple bows.
When was Angelica Pickles created?
The animated series Rugrats premiered on Nickelodeon in 1991 and was created by Arlene Klasky, Gabor Csupo, and Paul Herman.
Who voiced the Angelica Pickles character?
Cheryl Chase voiced the kid version of Angelica. Sylvie Jacob voiced Angelica's teen version.
44. Cardcaptor Sakura:
Sakura Kinomoto is a 10-year-old girl who accidentally unleashes a set of magical cards known as Clow Cards. She is known for her kind-hearted personality, determination, and bravery. Sakura is a very caring and compassionate person, and she always tries to help others whenever she can. She is also very loyal to her friends and family, and is always willing to put herself in danger to protect them. Despite her young age, Sakura possesses a strong sense of responsibility and a strong moral compass, which helps guide her actions throughout the series.
When was Cardcaptor Sakura created?
Cardcaptor Sakura was created by the all-female artist group known as CLAMP in 1996.
Who voiced the Cardcaptor Sakura?
Sakura Kinomoto was voiced by Sakura Tange in the anime adaptation. In the English dub, Sakura Kinomoto was voiced by Carly McKillip.
45. Rick and Morty:
Rick and Morty are the two main & lead characters for the American animated science fiction sitcom "Rick and Morty." It shows the journey of Rick Sanchez, a cynical and alcoholic scientist, along with his good-hearted grandson Morty Smith. They travel through different dimensions and encounter strange creatures.
When were Rick and Morty created?
Rick and Morty's first episode was released in 2013 and was created by Justin Roilan and Dan Harmon.
Who voiced the Rick and Morty characters?
Justin Roiland voiced both Rick and Morty.
46. Pluto:
Pluto is a beloved cartoon character and the pet dog of Mickey Mouse in the Disney universe. He is known for his playful and loyal nature, as well as his distinctive barking and panting sounds. Pluto is a mixed-breed dog, with some characteristics of a bloodhound and a pointer, among other breeds. He is typically depicted as Mickey's faithful companion and often gets into playful hijinks and misadventures.
When was Pluto created?
Pluto was created by Walt Disney Productions in 1930, making his first appearance in the cartoon "The Chain Gang."
Who voiced the Pluto character?
The voice of Pluto was originally provided by Disney animator Pinto Colvig, who also provided the voice of Goofy. Later on, other voice actors took over the role, including Lee Millar and Bill Farmer, who has been the voice of Pluto since 1986.
47. Monkey D Luffy:
Monkey D. Luffy is a highly energetic, carefree, and optimistic young man who is always willing to help his friends and those in need. He has an unwavering determination to achieve his goals, which include becoming the Pirate King and finding the legendary treasure known as the One Piece. Luffy is the captain of the Straw Hat Pirates and possesses the power of the Gum-Gum Fruit, which gives him the ability to stretch his body like rubber.
When was Monkey D Luffy created?
Eiichiro Oda created Monkey D. Luffy and first introduced the character in the debut chapter of "One Piece" in 1997.
Who voiced the Monkey D Luffy character?
In the Japanese version of the "One Piece" anime series, Monkey D. Luffy is voiced by Mayumi Tanaka. In the English version of the anime, Luffy is voiced by Colleen Clinkenbeard.
48. Courage the cowardly dog:
Courage is a timid pink dog who lives with his elderly owners, Muriel and Eustace Bagge, in the middle of nowhere. Despite his fear, Courage constantly finds himself facing off against supernatural and often terrifying enemies to protect his owners.
When was Courage created?
Courage stars in the animated series "Courage the Cowardly Dog" which aired on Cartoon Network from 1999 to 2002. The show was created by John R. Dilworth.
Who voiced the Courage character?
Marty Grabstein voiced the character of Courage in the series.
49. Lola Bunny:
Lola Bunny is a fictional character in the Looney Tunes and Merrie Melodies cartoon series. She is the love interest of Bugs Bunny. Lola Bunny is a skilled basketball player with a tough and independent personality. She was born as an attempt to create a character that would appeal to both male and female audiences; someone who was strong, confident, and athletic while still being feminine and attractive.
When was Lola Bunny created?
Lola Bunny was created by Warner Bros, by the animator Bruce Timm. She was first introduced in the 1996 film Space Jam.
Who voiced the Lola Bunny character?
Lola Bunny has been voiced by Britt McKillip, Rachel Ramras, Carla Delaney, Chandni Parekh, and famous actors Kath Soucie, Kristen Wiig, and Zendaya.
50. Swat Kats:
Swat Kats are two anthropomorphic cats named Chance "T-Bone" Furlong and Jake "Razor" Clawson, who work as mechanics by day and vigilante crime fighters by night. They operate from a high-tech underground hangar known as the "Swat Kats Garage" and use a variety of advanced gadgets and vehicles to take on various villains and protect their home city of Megakat City.
When was Swat Kats created?
Swat Kats was created by Christian and Yvon Tremblay in 1993 and produced by Hanna-Barbera Productions.
Who voiced the Swat Kats characters?
Notable actors Barry Gordon and Charlie Adler voiced Razor Adler and T-Bone, respectively.
51. Wednesday Addams:
Wednesday Addams is a character from the Addams Family franchise. She is the daughter of Morticia and Gomez Addams and has a younger brother named Pugsley. Wednesday is known for her dark sense of humor, macabre interests, and stoic demeanor.
When was Wednesday Addams created?
The character was created by cartoonist Charles Addams. Wednesday made her first appearance in a 1954 cartoon.
Who voiced the Wednesday Addams character?
Cindy Henderson, Debi Derryberry, and Chloë Grace Moretz have voiced Wednesday Addams. Apart from them, actors who played the role of Wednesday, such as Lisa Loring, Christina Ricci, Nicole Fugere, Krysta Rodriguez, Rachel Potter, and Jenna Ortega, lent their voices to the character.
52. The Grinch:
The Grinch is a green, furry creature who lives in a cave on the top of a mountain, overlooking the fictional town of Whoville. The Grinch has a deep-seated hatred for Christmas and sets out to ruin the holiday for the Whos by stealing all of their presents, decorations, and food on Christmas Eve. Funnily, it is said that Grinch has a heart that is "two sizes too small."
When was Grinch created?
The Grinch was created by Dr. Seuss, also known as Theodor Geisel. He first appeared in the children's book "How the Grinch Stole Christmas!", which was published in 1957.
Who voiced the Grinch character?
Grinch was voiced by actor Boris Karloff in the television special. In the 2000 live-action film adaptation of "How the Grinch Stole Christmas!" the character was portrayed and voiced by actor Jim Carrey.
53. George Jetson:
George Jetson is a family man living in a futuristic world. He is married to Jane Jetson, and they have two children, Judy and Elroy. George works at Spacely Space Sprockets, a company that produces sprockets for space vehicles.
When was George Jetson created?
George Jetson is the main protagonist of the popular American animated television series called "The Jetsons." The show was created by Hanna-Barbera Productions and first aired in 1962.
Who voiced the George Jetson character?
George Jetson has been voiced by George O'Hanlon, Jeff Bergman, and Patric Zimmerman.
54. Captain Planet: 
Captain Planet is a powerful superhero who is summoned by the power of five magical rings that control natural elements, such as earth, fire, wind, water, and heart. These rings are owned by five young people from around the world who use these powers to fight environmental disasters and villains who threaten the planet's ecological balance.
When was Captain Planet created?
Captain Planet is the title character of the animated television series "Captain Planet and the Planeteers." The series was created by Ted Turner and Barbara Pyle in 1990.
Who voiced the Captain Planet character?
Captain Planet was voiced by actor David Coburn.
55. Centurions:
The Centurions are a team of three brave men, Max Ray, Jake Rockwell, and Ace McCloud, who are transformed into powerful cyborgs with the ability to merge with various types of weapons and vehicles to form incredible fighting machines. The Centurions are known for fighting against Doctor Terror's cyborgs.
When were the Centurions created?
The Centurions was produced by Ruby-Spears Enterprises and was created by Lawrence G. DiTillio and J. Michael Straczynski in 1986, with animation produced by Tokyo Movie Shinsha.
Who voiced the Centurions?
The voices of the Centurions were provided by veteran voice actors, including Pat Fraley as Max Ray, Neil Ross as Jake Rockwell, and Vince Edwards as Ace McCloud.
56. Jonny Quest:
Jonny is an intelligent, brave, and resourceful young man who possesses a great deal of courage and determination. He is also a skilled athlete, martial artist, and pilot, as well as being proficient in a variety of scientific fields. Despite his youth, Johnny is often called upon to assist his father in solving various mysteries and thwarting the plans of villains and criminals.
Who created Jonny Quest?
The series was created by cartoonist and animator Doug Wildey in 1964.
Who voiced the Jonny Quest?
Tim Matheson provided the voice for Jonny Quest in the original series. Matheson went on to have a successful career as an actor, appearing in films and television shows such as "Animal House," "The West Wing," and "Hart of Dixie."
57. Richie Rich:
Richie Rich is a young boy who is incredibly wealthy and leads an extravagant lifestyle. He is the only child of a wealthy family and has access to incredible resources, including his own personal helicopter, private zoo, and even his own roller coaster. Despite his immense wealth, Richie is a kind and generous person who is always willing to help others. He has a group of loyal friends who often join him on his adventures, including his girlfriend Gloria, his loyal butler Cadbury, and his loyal dog, Dollar.
When was Richie Rich created?
He was created by the American cartoonist Alfred Harvey and the artist Warren Kremer, and first appeared in Harvey Comics' "Little Dot" #1 in September 1953.
Who voiced the Richie Rich character?
The voice of Richie Rich was provided by Dick Beals.
**********
I am sure some of those characters took you down memory lane. It has been decades since the inception of these characters, yet their impact in our minds still remains the same. That's the impact cartoon characters can have on a person.
In case you are wondering if there was a way to create cartoon characters on your own. Yes, there is! Just sign up to Animaker's Avatar Maker! You can create 1 Billion+ unique characters. It's fun & it's free!
Here's a video on how you can create your cartoon characters using Animaker.
We hope this blog was useful for you and if you think we have missed an iconic character in our list, please let us know in the comments section below. We'll be more than happy to add it to our list.