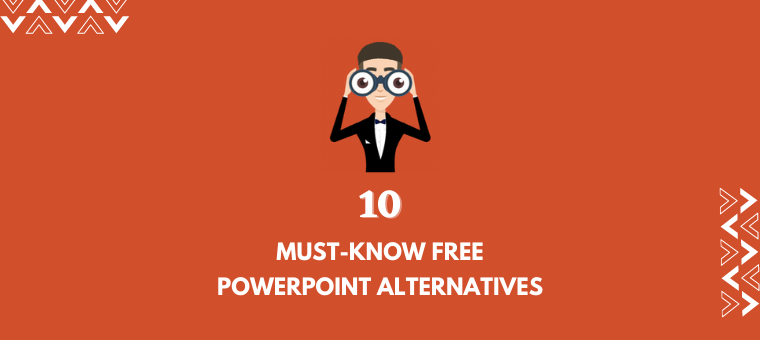 Top 10 Must-Know Free PowerPoint Alternatives [for 2023]

15

min read
When was the last time you were impressed by a PowerPoint Presentation?
Most of your answers would be, "Sorry, I don't remember."
You might be able to recall specific parts of the slide decks, but you can't say you learned anything from them.
Lemme ask you a question. Can you confidently say you gave full attention to the last presentation you sat through?
So if it's your turn to create a presentation, it's high time you don't give a boring powerpoint template presentation.
Lucky for you, there's an ocean of powerpoint alternatives out there! Anyone can create a professionally designed presentation from these latest online presentation softwares.
In this article, we have narrowed down the top 10 powerpoint alternatives available online with an in-depth overview of their unique features, pricing, and usability.
Let's dive in
1. Google Slides
Google Slides is the most well-liked PowerPoint alternative available that excels at teamwork. It is accessible to anybody with a Gmail account, but G Suite subscribers enjoy additional data security.
Google Slides is accessible both via Laptop/PC and via mobile. It offers real-time collaboration, a friendly UI, and seamless connectivity with all the Google Web Applications.
Pricing:
Google Slides is available in the following plans:
Personal – Available for free to all Google Account holders. Under this plan, users get up to 15 GB of storage size.
Business Starter at $6 USD per user per month with 30 GB storage capacity and standard support.
Business Standard – premium plan at $12 USD per user per month with a 2 TB storage size available under this plan.
Business Plus, at $18 USD per user per month, with a whopping 5 TB storage capacity per user and a paid upgrade to Enhanced support services.
There's also an Enterprise plan specially catering to corporates for custom and secure business email addresses providing as much storage as you need.        
Special Features:
Sharing
A Google Drive or a YouTube link can be used to upload videos into the presentation. Using assistive tools like 

Smart Compose

 and 

autocorrect

 will help you build slides faster and more accurately.
Collaboration
Collaboration

 is the key feature of Google Slides. Several persons can edit a presentation, and new slides can be added simultaneously. You can also quickly roll back your slideshow to a prior version since Google Slides keeps track of all the modifications users have made to a presentation.
Templates
Google Slide offers ample templates for users to choose from and edit. However, there are fewer templates, animation forms, and fonts available than in PowerPoint.
Usability:
The ease of usability is high. Any Google user can pick it up and use the application seamlessly.
There are also 

open communities

 and 

self-service online forums

 for customer support. So the users need not worry about troubleshooting any issues.
2. Zoho Show
Zoho Show is one of the best modern presentation softwares available online. It is mainly designed to create visually engaging presentations for free on any device.
Pricing:
Zoho Show is free to use. You just need a valid mail address or mobile number to get started.
Special Features:
User Interface
Zoho Show's key feature is the contextual and minimalist 

user interface

 that allows you to create presentations in your style.
Templates
It is pre-loaded with 100 plus professional presentation templates suitable for start-up pitch decks, sales presentations, etc.
Central Presentation Repository
With Zoho Show, you can create a presentation as a team. It houses a central presentation repository that helps retrieve created presentations and makes collaboration much easier for all the teams.
Upload PPT
You can

 upload your existing presentations in formats like ppt, pptx, ODP, and PPS and continue customizing them with no hassle in Zoho Show.
Remote Broadcasting
Y

ou can broadcast your presentations on big screens and control them through a smartwatch, Chromebook, or android tv, for that matter.
Usability:
The ad-free user-interface lets you create compelling presentations with no distractions and take them to the next level.
The central organization library allows us to repurpose the slides and work together effectively, even in bigger teams. You can also give role-based access and permit individual members to work cross-functionally.
3. Animaker Deck
Animaker Deck is the world's first avatar-powered presentation software to create wow-worthy slide decks without any professional experience in no time.
Pricing:
Animaker Deck is available in the following pricing plans,
Free plan where users can create presentations by just creating a free account in the app.
Slides Pro plan, at $20 per month, offers users premium bundles and an import PPT feature.
The Animaker Pro plan, at $49 per month, gives full access to the animation suite and access to unlimited slides, premium bundles, priority support services, and the import PPT feature.
The Enterprise plan is catered for small to big organizations with unlimited custom character creation, a dedicated account manager, and all the features available in the Animaker Pro Plan.
Special Features:
Character Builder
The best part about Animaker Deck is the Character builder, where you can create your custom avatars and use them as brand ambassadors or mascots. You can also use the pre-built animated characters in your slide decks and bring them to life.
Professional Templates 
Animaker Deck houses more than 50 unique handcrafted presentation templates to choose from and create a pitch-winning deck. You also have the option to create a presentation from scratch.
Customizable Backgrounds
There's an option to customize the background of the slide deck entirely according to your presentation style and needs.
Integrations 
Users can also access stock images and GIFs from Pixabay, Giphy, and Unsplash. This helps users to use stock images from the library itself instead of searching the internet for appropriate images.
Storage Space
More importantly, the users get 

25 GB of storage space

 to upload their files into their presentations.
Import PPT
Animaker Deck has an "import PPT" feature that allows the users to upload their presentations in the PPTX format

 and easily edit them as needed.
Brand Kit Manager
The Brand Kit manager enables bigger teams to efficiently manage their presentations and maintain uniformity and brand continuity throughout the presentations.
Usability:
The user interface is super clean. Animaker Deck is the easiest presentation software to use.
Animaker Deck offers real-time collaboration when creating presentations and lets team members review and work together productively.
4. Prezi Present
Prezi Present is an online presentation software known for non-linear types of presentations. Its open canvas helps view and organize the contents as a whole rather than the traditional linear type of presentation.
Pricing:
Free Trial – Prezi Present offers 14 days free trial and gives access to other Prezi products as well.
Premium – Users can upgrade to a premium subscription available as Basic, Individual, Business, and Student/Educators plans.
The premium plans start from $7 to $16 per month. In addition, students and Educators can subscribe to the premium plan starting at $3 per month and get access to track progress in class.
Special Features:
Smart Structures
Prezi comes loaded with an intelligent structures feature that enables the user to efficiently arrange the contents of the presentation with simple click-and-drag actions.
Zoom Reveal Feature
Your content is revealed as you zoom in to start your presentation, unveiling the necessary details in a non-linear fashion

 like a story.
Conversational Presentation
Prezi is designed as a conversational presentation software that reduces navigating back and forth continuously between slides.
Present over video
Another critical feature of Prezi is present over video. Users can present their content along with their videos on the same screen.

 This makes the presentation much more engaging and keeps up the personal connection in remote meetings.
Templates 
Prezi also offers designer templates to jump-start your presentations and not worry about starting them from scratch.
Presenter View
Prezi comes with a Presenter view feature that helps you to leave notes, prompts, and talking points only you can see while you present.
Upload Option
There's also an option to upload your own slides and turn them into a dynamic, engaging Prezi presentation and improve the content you already have in 10 minutes or less.
Usability:
Prezi's user interface is comparatively difficult to understand right off the bat for the users. Therefore, the users would have to go through a learning curve to use the full potential of the Prezi app efficiently.
Prezi also offers a slack integration for teams that enables them to work together on more significant projects. Live collaboration makes it easier for every team member to create a presentation and share it with anyone via a dedicated link.
5. Visme
Visme is another well-known presentation software to create interactive presentations, documents, data visualizations, and other branded content.
Pricing:
Visme is available in the following plans:
Basic plan 

is available for 0$

Starter plan

 starts at $12.25/month annually

Pro plan

 at $29/month annually

Visme for Teams plan

 with Custom pricing
Special Features:
Templates
Visme comes with pre-built presentation templates across different genres for the users to choose from and successfully create a compelling presentation.
Library
Visme's library offers tons of assets like icons, properties, stock images, motion graphics elements, and data visualization elements that users can easily include in their presentations with just a few clicks.
Animations and Transitions
Visme allows the users to add Animations and Transition effects to the contents of the slide deck. This helps to make the presentation interactive for the audience.
Live Collaboration
Also, visme offers real-time collaborations where users can work together, review the changes, and provide feedback instantly. Moreover, users can share their projects online easily.
Brand Kit
Visme offers a Brand Kit feature, a brand design tool to create brand colors and fonts and maintain your brand style throughout the presentation.
Sharing
Users can share the created presentation to different online mediums in a jiffy by using the share feature. Additionally, the users can also track and analyze the shared presentation.
Usability:
Visme is designed so that even users with no design knowledge can pick it up.
Remarkably, the user interface and customization options are very straightforward and do not require too much time from the user to create an interactive presentation successfully.
6. Keynote
Keynote is a presentation app by Apple and is accessible to Apple Users straight from the App Store. The Keynote app equips powerful tools and dazzling effects, making it easy to create stunning and memorable presentations.
Pricing:
Users can download and use the Keynote app for free straight from the App Store.
Special Features:
Illustrations 
Users can create diagrams or illustrations that bring the slides to life with their Apple Pencil on their iPads.
Real-time Collaboration
The Keynote app provides real-time collaboration that enables the teams to work together, irrespective of the device type (Mac, iPad, iPhone, or PC).

Every team member gets a hand in designing the presentation with beautiful charts, customizing the images, and adding cinematic effects.
Dynamic Backgrounds
Keynote offers dynamic backgrounds that help to create sleek presentations. Also, you can add over 700 Apple-designed shapes, photos, videos, music, image galleries, and charts to illustrate your critical points in the presentation.
Sharing 
It even lets you take pictures and scan documents with your iPhone, and 

Continuity Camera

 

will send them straight to Keynote on your Mac.

With Keynote, you can seamlessly present with your team. Multiple presenters can take turns controlling a single deck — from anywhere — on Mac, iPad, and iPhone. Also, the Rehearse Mode lets you practice on the go in an all-in-one view.
Usability:
Keynote's intuitive interface is super user-friendly, comprises all the essential tools up front, and is easily accessible.
Additionally, with Scribble for iPadOS and Apple Pencil, handwritten words will automatically be converted to typed text. With this, the users can take notes quickly, edit a presentation or annotate the text.
7. Slidebean
Slidebean offers a Pitch Deck Builder to create an investor-winning pitch. Then, with the help of artificial intelligence, it helps to craft stories and stand out from the monotone crowd.
Pricing:
Slidebean is available in the following plans,
Basic Plan, at $0 per month, offers unlimited presentations, access to free startup lessons, free document templates, and an accelerator programs monitor.
All-Access Plan starts at $171 billed annually, and includes everything in the Basic Plan and additionally offers sharing and exporting presentations, access to 30,000+ investor contacts, and much more.
Special Features:
Extensive Tool kit
Slidebean's Pitch Deck Builder comprises an extensive toolkit that hand-holds the users in creating a stunning pitch deck.
Automated Pitch
With Automated Pitch Deck builder, you can create a stunning pitch in a few steps and it is very useful to startups with fewer resources.
Templates
Slidebean offers well-vetted and successful venture-winning templates with top brands like Airbnb, Uber, and Peloton as the basis.

About 300+ of the best pitch deck templates from the most successful venture-backed startups are pre-loaded inside this presentation software.
Real-time collaboration
The premium plans of Slidebean offer real-time collaboration features.

You can also track and view activity in slides.

Financial modeling templates and Investor CRM are also available to help the startup founders design presentations.
Usability:
The AI integration makes Pitch Deck Builder very easy for anyone without professional design experience.

Also, the templates are entirely customizable and can be edited per your needs.
8. Beautiful.ai
Beautiful.ai is an online presentation maker for startups. Creating winning pitch decks, marketing plans, or sales proposals is possible with Beautiful.ai in minutes.
Pricing:
Beautiful.ai is available in the following plans,
Pro Plan starting at $12 per month, is suitable for individual users.
Team plan starts at $40 per month per user, includes everything from the Pro Plan, and offers a centralized slides library.
Enterprise Plan is available for organizations under custom pricing, unlimited team resources, and everything from the Team plan.
There's also an option to create a single presentation under a monthly plan at $45 for ad-hoc projects.
Special Features:
Pitch Decks
Beautiful.ai is aimed at helping bootstrapped companies create pitch-winning decks. Thousands of 

startups

 secured funding and closed deals by creating slide decks with this refreshing presentation maker.
Custom Branding
Custom Branding of slides, Version history, Stock media library, and Powerpoint import are the critical features of the Beatiful.ai presentation maker.
Collaboration 
A collaborative workspace allows teams to work in unison and brainstorm ideas together.
Templates
Customizable templates help any entrepreneur to modify their slide decks according to their needs and preferences.
Usability:
The user interface is so straightforward that even beginners and users without prior familiarity with graphic design can create presentations easily.
9. Genial.ly
Genially is an online tool for making creative presentations from scratch or with pre-built templates.
Creating interactive presentations with professional designs, dossiers, reports, business proposals, and enticing pitches are all made possible with Genial.ly.
Pricing:
Genially comes under the following plans,
Free plan gives access to unlimited presentation creation but with restricted features.
Education plan starts at $4.99 per month, billed annually.
Master plan starts at $20.82 per month, billed annually.
Special Features:
Cloud Storage
Presentations created in Genially are automatically stored in the cloud. So any change made will get updated instantly.
Gamification 
Genially templates also offer a Gamification option where users can use the presentation templates solely for quiz type or simple Q&A

slide decks.
Analytics
When slides are shared with clients or prospects, genially Statistics help monitor views and content engagement.
Templates
Genially helps users create a storytelling-based presentation with the best templates. Users can also apply a custom logo, colors, and fonts to the slide designs and align the presentation with their brand image.
Privacy
Privacy is never a concern with Genially. You get to control the access to your creations, be it public or privately shared presentations.
Usability:
Genially's templates are easy to edit and don't require any design knowledge to modify them.
The minimalistic workspace makes the user feel at home. You can also easily share the Genially created presentation links and embed them into a website, blog, or LMS(Learning management system)

.
10. Slides
Slides is an online suite for creating modern presentations. Unlike traditional presentation software, there's no need to download anything. Slides let you create professional slide decks and work with collaborators to make an awe-inspiring presentation without any hassle.
Pricing:
Slides app is available in the following plans,
Free plan gives access to limited presentation creation. However, the content will be publicly viewable and include ads. Also, users get 250 MB of storage size to create up to five decks.
Lite plan starts at $5 per month, billed annually. It includes 1 GB of storage space, one collaborator per deck, and an export to pdf feature.
Pro plan starts at $10 per month, billed annually. It offers unlimited storage, three collaborators per deck, custom CSS, and a Google Analytics feature.
Team plan starts at $20/month when billed annually and includes features like endless collaborations, a shared media library, and custom branding.
Special Features:
Open source tool
Slides is the only presentation tool with a fully open-source format. You get access to your presentation's complete source code.
Customizations
Presentations can be made in HTML, CSS, and JavaScript formats. Rich customization options using CSS.
Export
Export a copy and present it offline or store it on your web host.
 Present Mode
You can control what your viewers see with the help of a Present Mode. You can even use your phone as a remote control with direct access to your speaker notes during a meeting, conference call, or on stage.
Customizable Team Editor
Slides offer a customizable editor with which you can easily edit your company's assets and themes and as well as leave comments/feedback and notifications when working together.

There's also a Media library loaded with stock images, videos, and slide templates that help to make your whole team work better.
Usability:
Slides user interface is very friendly. The editor is built in a minimalistic manner that even beginners can get the hang of it once they start.
And that's a wrap!!
To sum up, all these presentation tools carry out the same tasks as PowerPoint. Still, they are less expensive and much more intelligent, with features like character builder, live collaboration, cloud storage, and automated saving.
We hope we saved you from death by powerpoint. Try out these powerful alternatives for your future presentations.