Animaker's YouTube Channel hits 100K subscribers and wins the 1st YouTube Creator award!
YouTube is a go-to resource for everyone who wants to create, learn, tutor, educate, market, sell and for a myriad of other reasons. That's why when we launched Animaker in 2014, we created a YouTube channel with one goal: to inspire new video creators by showing them a world of possibilities within Animaker. Over the years, we've started creating a series of informative and engaging videos to help our users get the most out of Animaker and to educate the budding content creators by sharing useful tips, strategies and best practices to make a mark in the content creating space. Today, we're pleased to announce that our YouTube community has
crossed 100K subscribers!
Cue the Confetti!🎊 As a token of appreciation, YouTube honored us with the
'Silver YouTube Creator'
award for crossing more than 100K subscribers on the Animaker's YouTube Channel!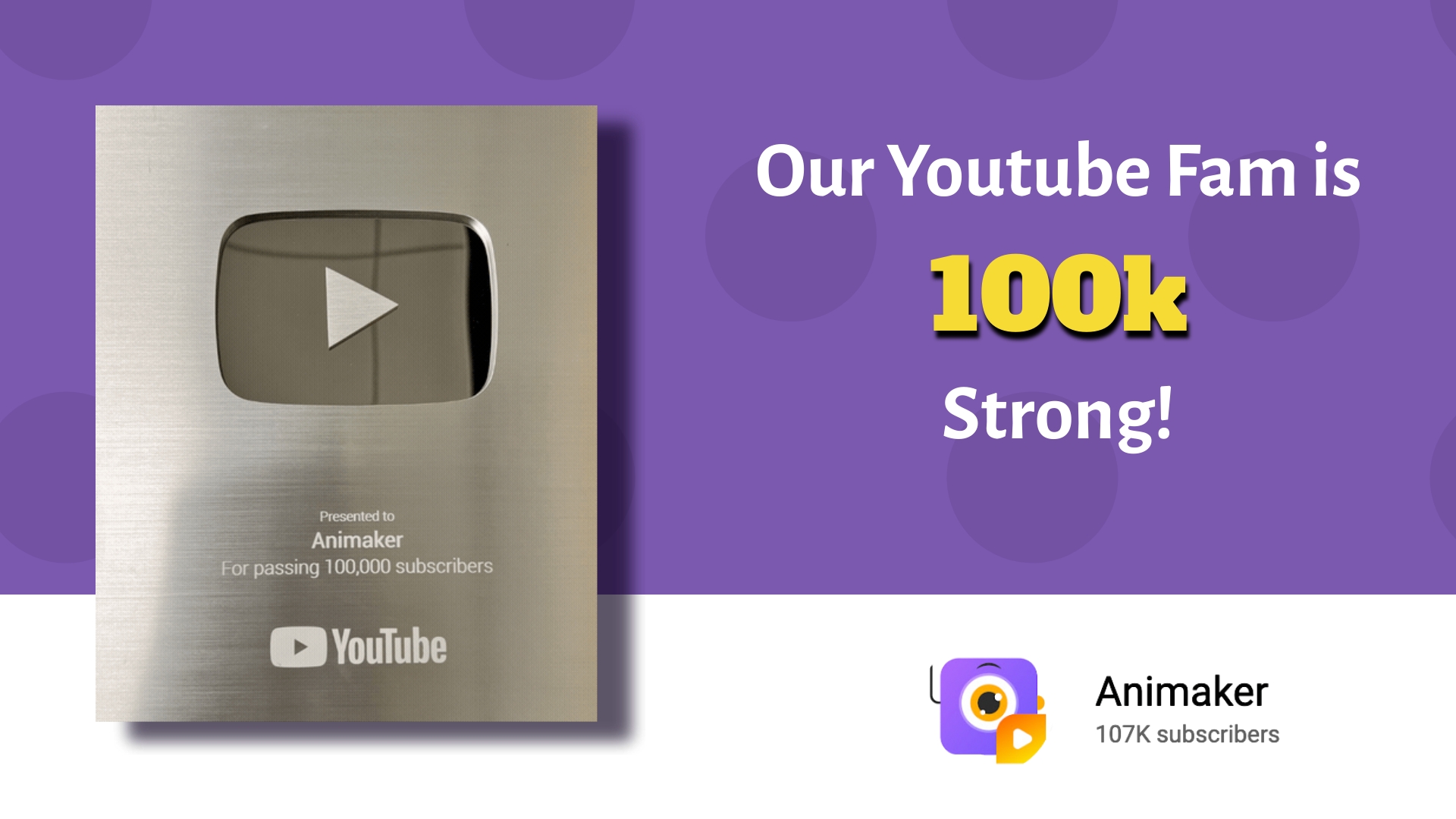 This award is indeed special to us because we were not full time content creators on YouTube. What started as a simple effort to help the aspiring content creators has helped us reach new heights!
Content Creation - The need of the hour:
Of late, if you want online authority, every company has to be a media company, and every person has to be a content creator. We foresaw this in advance and started creating quality content in our YouTube channel even before the creator economy has taken off to the skies. Our content also helped the content creators to understand about the Do's and Don'ts in the online world and to connect with their audiences. But we also had another important role in front of us to help the content creators.
To develop a product that is simple but powerful enough to solve big problems in the video marketing space.
Therefore our team started building Animaker 3.0 from ground level as an ultimate swiss knife of creativity in today's content powered world. With 20+ new features and 250+ major and minor updates in Animaker 3.0, the content creators can create studio quality video content from the comfort of their browsers. To know more about the groundbreaking features of Animaker 3.0, check it out
here
!
How do we help our subscribers with the YouTube content?
With a tremendous increase in the volume of digital content these days, a creator has to be publishing high quality video content on all platforms. To boost their content quality in every way possible, we've got various series of videos posted on our YouTube Channel on a regular basis. Let me list out a few:
How-to Videos:
Think of the numerous times you searched for 'How to' do something on your internet search? We all know that tutorials are a great way to help the users know more about the product and to help them solve different video creation challenges. Therefore, our team has created numerous step-by-step tutorials covering an umpteen set of 'How-to' videos on our YouTube channel. You will find tutorials for everything as simple as
How to make Animated Characters
to complete In Depth tutorial of
How to make Animated Videos
. Some of our videos even got millions of views so we can proudly say that we were able to help millions of users solve their video making challenges. Have a look at the video below which helped almost 3 million people to create Animated videos:
Animaker Shorts:
The average view duration of videos has decreased tremendously with the increase of bite sized video formats like TikToks, Reels and YouTube Shorts. So, to help the users get the most out of the videos they watch, we've introduced
Animaker Shorts
- short videos in less than 60 seconds to help them create videos on par with the current trend.
Animaker Genius Talk:
Animaker Genius Talk taps into the expertise of successful industry leading professionals like
Guy Kawasaki, Rand Fishkin
etc sharing their insights and advice. Through these interviews, you will hear them sharing their prowess and telling useful tips, strategies and best practices about video marketing. In the videos below, you will find Guy Kawasaki's wise thoughts on Social Media & life lessons and Rand Fishkin's SEO strategy. Apart from these, we have various videos about our Product launches, our CEO's Keynote speech and a lot more! You can check out the complete playlist of videos
here
!
We will continue to update our playlists throughout the year so that the users can know more about Animaker and to learn the best content creating hacks!
Never ending love from our users!
Though we're happy that we managed to inspire 100,000 creators around the world with our YouTube Channel, there's one thing that kept us motivated to keep creating content all these years:
The love and support of our dear users!
💌 Here's a quick glimpse of our users' gracing the YouTube comments section with their love and appreciation: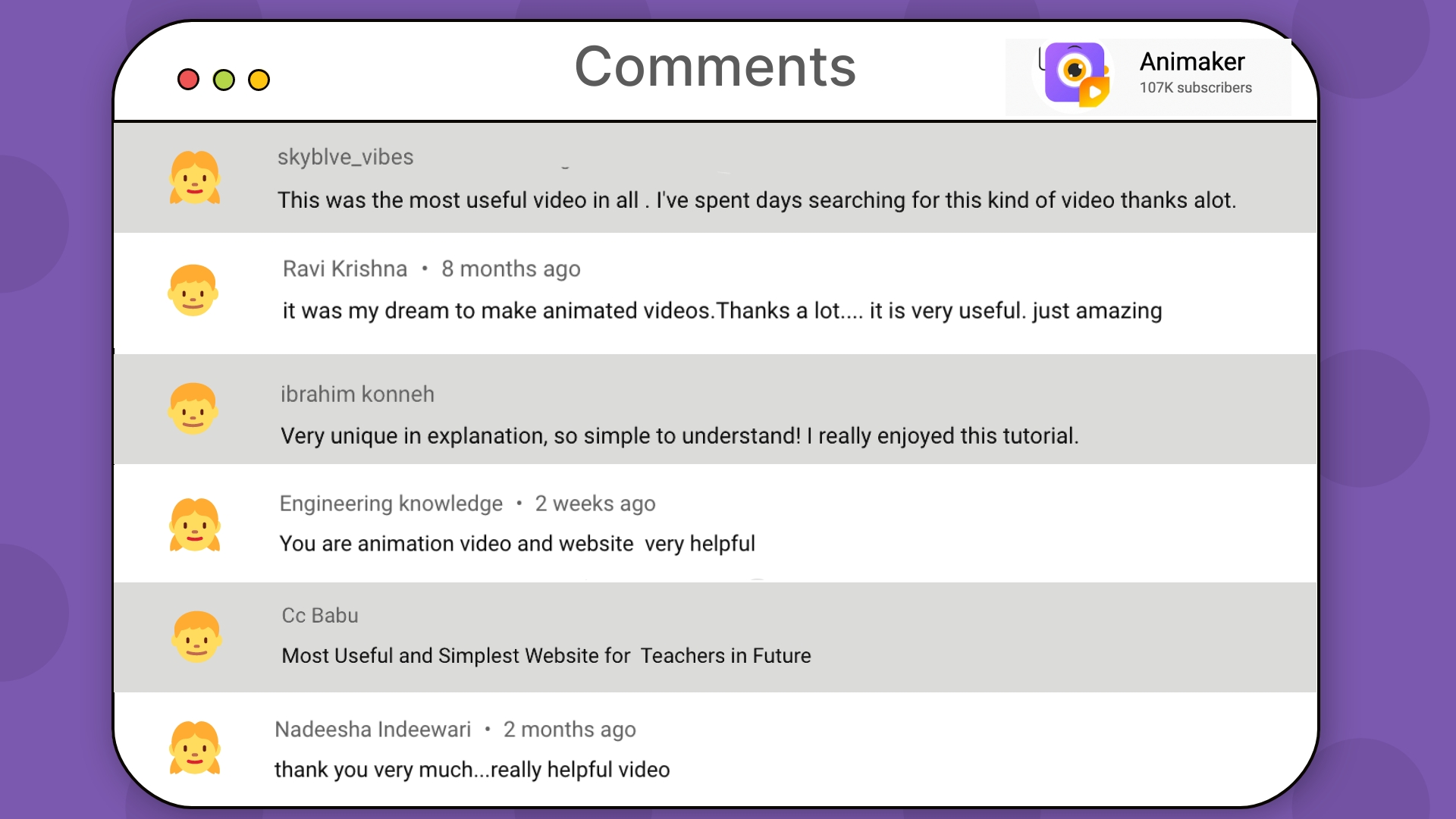 It's an honor to see all your support and appreciation for all the videos posted on our YouTube channel. We're indeed glad to see that the tutorials and hacks posted on our channel helped so many of you create kickass videos using Animaker! We are forever grateful for the love and support our YouTube community showered towards us. We owe this growth and this award to you, our users! Thank you for motivating us with your love and impactful feedback.
Now… Onto 1 Million Subscribers:
We've reached our first milestone in our YouTube channel. Our next goal is to move onward and upward to reach 1 Million Subscribers for our YouTube Channel. So, Buckle up! The journey towards 1 Million subscribers will be even more promising and rewarding for our users! We've more ideas coming up every single day and a whole new team is working on creating and localizing the content for our YouTube channel! Yes, going forward you will see videos in languages apart from English too! Woo Hoo… I can hear a sigh of relief from the non-native English speakers! We are also creating a new series of videos called
'Creator's Series'
to bring the stories of successful creators around the world to you! But, we can't reveal more at this time! We'll see you with more updates about this in our upcoming posts. Until then, Stay tuned!