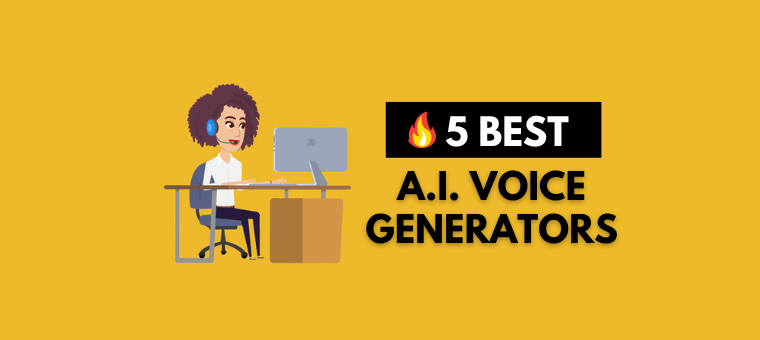 5 Best AI Voice Generators Online [💯Complete Review]

10

min read
It is officially the era of A. I. – Artificial Intelligence. New AI-based technologies are developing at a rapid pace in almost every field. 
Artificial Intelligence (AI) has had a profound impact on the world, bringing both opportunities and challenges and shaping the future in many ways.
Some of the most notable impacts include:
Automation of tasks: AI has enabled the automation of many routine and repetitive tasks, increasing efficiency and freeing time for more strategic and creative work.
Enhanced customer experiences: AI is being used to provide more personalized and convenient experiences, such as recommendation systems and chatbots.
Increased productivity: AI is used to optimize business processes and increase productivity, leading to improved profitability and competitiveness.
Following the footsteps of this ongoing trend, now there are AI voice generators that help us create the perfect voiceover for our videos, podcasts, or other social media needs.
So if you have been searching for the best AI voice generator in the market, you have come to the right place.
From an ocean of AI voice generators available online, I have narrowed down to the 5 best ones that are miles ahead of the rest. For each generator, I have given an overview, highlighting their key features and pricing in this article. 
Let's jump right in, 
1. Animaker Voice
Overview
Animaker Voice is the most straightforward, free online voice generator to convert text into speech. The advanced AI engine of Animaker Voice allows you to create the best possible human-like voice overs online. 
Animaker Voice comes loaded with about 300+ unique human-like voices in more than 40 global languages. So, if you require a voice for an art film, an audiobook, a video game, or any other project, Animaker Voice is sure to have the voice that will satisfy your requirements.
You just need to create a free account (no credit card is required) and start creating your voices right away. That's bonkers, right?
Key Features
Animaker Voice gives you complete customization of how your voices should sound. 
Here are a few features that Animaker Voice offer,
Gender options– Here, you can choose between Male and Female voices.
Language options – Here, you can choose a language for the voice. Animaker's Voice Generator comes packed with more than 40 different global languages.
Voice options – Here, you can choose from different voices available based on the Gender and Language that you have chosen. 
Auto-Enhancement feature – The Auto Enhance option is an AI-based neural-voice enhancer that automatically enhances the voice output without manually optimizing other options, like breath effect, speed, pitch, etc., to the selected voice.
Newscaster feature – You can use the Newscaster feature to make your voice sound like a newsreader.
Impressive, ain't it? Well, I am not done yet. There's much more too.
Animaker Voice also offers options to control the Pitch, Speed, and Volume of the voice.
Pitch – You can control the pitch of the voice from low to high.
Speed – You get to control how fast the voice pronounces the text.
Volume – Adjust the loudness of the voice by using the volume option.
As a bonus feature that stands apart from the rest of the other best ai voice generators in the market, Animaker Voice also offers a Whisper feature. 
Yes, you read it right! With the Whisper effect, you can now make the AI voice sound like its whispering a  secrete. How cool is that
The best part is that Animaker voice also comes with Free Downloads – You will get up to five free voice downloads per month as a free user. You can download these voices in .mp3 format.  
There's an endless possibility of creating the best human-like voices from Animaker Voice. So give it a try today – Sign up with Animaker Voice.
Also, check out the tutorial link to easily learn the steps to convert text to speech with Animaker Voice!
Pricing
Animaker Voice is available in the following pricing plans,
Free Plan – Export up to five voices for free per month. Access to all the features.
Voice Pro Plan – It starts at $19 per month (billed annually). Offers up to 100 voice downloads per month, unlimited project creation, auto-enhancement feature, priority support, and 200+ premium human-like voices to choose from.
Enterprise Plan – Depending on the team size and the company's needs, custom pricing options are available under the Enterprise plan. It offers up to 1000 voice downloads each month and includes access to all of Animaker Pro's features. 
2. Play.ht
Overview
Play.ht is a text-to-voice editor that can create realistic ai voices from the text. It uses the synthetic voices from Google and Amazon Polly to generate audio content from the uploaded or entered text. Additionally, thanks to AI, it can adjust its voice to match the style and tone of any text you enter.
Key Features
Premium Voices
Play.ht offers 200+ different voices that speak in 100+ languages, including different accents for American, British, Canadian, and Australian English. 
Blog to Audio
Play.ht has a special feature to convert blog posts or articles into audio format with the in-built plugin. 
Download Format
You can download the audio files as MP3 and WAV files and quickly translate text into a human-sounding voice.
Simple User-Interface
Even if you are not an expert in AI speech generation, the interface is simple to use.
Play.ht Addons
Play.ht provides a Chrome addon for WordPress and Medium. By downloading and utilizing the Chrome Extension, you can quickly add audio to your WP or Medium stories by downloading and utilizing the Chrome Extension.
Pricing
Play.ht provides four premium packages, 
Personal plan's monthly starting price is $19. This is suitable for assignments at school and content proofreading. The drawback is that you will not receive commercial rights for reuse, and podcast hosting is also not included. On the other hand, it offers limitless previews and downloads.
Professional plan's monthly starting price is $39. The main bonus feature of this plan is premium voices. Additionally, you receive exclusive commercial rights and audio players that can be customized. This plan even includes podcast hosting.
Growth plan is available for $99 a month. You receive everything that is covered by the Professional plan under this one. In addition, you also receive a pronunciation database and an automatic audio generation feature.
3. NaturalReader 
Overview
NaturalReader Commercial is an AI voice generator that enables you to swiftly convert text to speech and download them as audio files. With the help of artificial intelligence, synthesized audio with the best natural-sounding voices is generated from the text easily.

Key Features
Smart Voice Technology
NaturalReader Commercial allows users to choose 176 voices from 27 different languages, including regional dialects like Canadian French, Brazilian Portuguese, and US Spanish, to create voiceovers.
Studio Editor
NaturalReader Commercial includes a Studio Editor that enables you to apply particular voices and speeds to chosen text passages and quickly rearrange sections using drag and drop. The main component of this voice over software is the Studio Editor.
Pronunciation Editor 
The Pronunciation Editor allows you to alter or enhance a word or phrase's pronunciation using word substitution or phonetic symbols.
Business Licensing
A commercial license from NaturalReader enables you to use the audio publicly or for redistribution. And as a result, you are permitted to use the audio in your YouTube videos, corporate training videos, eLearning modules, public broadcasts, and other official or commercial activities.
Pricing
Natural Reader Commercial premium membership is accessible through the following monthly subscription, 
A yearly subscription is also an option, with a Single Plan costing $49 and Team Plan costing $79, respectively (for a four-member team).
On monthly billing, they offer a Free Plan, a Single plan for $99, and a Team plan for $204 for four people. When compared to market norms, the cost of this specific voice generator is on the high side.
4. Resemble.ai
Overview
Resemble.ai is a developing AI voice generator alternative in the market. It allows you a great deal of control over the voices and enables you to create believable AI voices. There are several speech customization options available to make them sound more realistic. Resemble.AI is excellent for video voiceovers.
Key Features
Speech to Speech 
You can transform your voice into the target voice with a real-time speech-to-speech feature. Inflection and intonation of the voice can be personalized as per your needs.
Realtime Voice Cloning
You can introduce an infinite amount of emotions to the created voice without any hassle.
Resemble Fill
You can combine both natural and artificial voices for a seamless voice output. Mix synthetic information with your own voice recordings and effortlessly add, remove, or replace any speech. 
Flexible APIs
Utilizing the low-latency Resemble API tool, you can quickly construct production-ready integrations, acquire already-existing footage, make new clips, and even instantly generate voices. 
Other Integrations
With Resemble, you can add personalized AI voices to your other favorite tools and create high-quality AI content. 
Pricing
Resemble.ai is available in two plans,

Basic Plan – this is a pay-as-you-go model for custom voices. It is charged at $0.006 per second of voice generation. English is the only language offered in this plan, along with ten different voices. 
Pro Plan – custom pricing only available. Under this plan, you get unlimited voices, projects, and audio downloads. Voice Creation API and Speech to Speech features are also included. 
5. Murf.ai
Overview
Murf is an online AI voice generator for creating text-to-speech voiceovers and voice-over videos. It employs state-of-the-art text-to-speech software to create a speech that sounds natural, and the audio can be altered by selecting from various accents and voices.
Key Features
Versatile Voiceovers
You can create voices in 20 languages from 130+ different voices. In addition, realistic voice overs are produced with AI technology for e-learning, business presentations, and video games.
Murf Studio
Creating "voice-over videos" and presentations is simple with Murf Studio. The "voice over video" can be seamlessly stitched together by adding your text, turning it into audio, and matching your text blocks with your images in a matter of minutes.
Timeline feature 
There's a timeline feature in the Murf studio. By adding films or photographs and adjusting the timing of these elements using the blocks in the bottom timeline, you may create the perfect video timing in minutes. 
Free Music
You can use the royalty-free audio files already included in Murf Studio's built-in collection for your projects. Based on use cases, such as explainer videos, presentations, advertising, and moods, including joyous and serene, each background music file has been labeled so that you can quickly find what you need. 
Pricing
Murf.ai is available under the following plans, 
Free plan – No downloads are available for this free AI voice generator, but it allows for a single user and 10 minutes of transcription and voice generation. This isn't truly a free version, more of a trial option.
Pro Plan at $26/month – Offers unlimited downloads, commercial usage rights, 48 hours of voice creation, and 24 hours of transcription per year. Additionally included are chat and help features.
Team Plan at $52/month – Up to 3 users, 144 hours of AI text-to-speech, and 72 hours of transcription per year are included.
In conclusion, multiple AI voice generators are available online, but the ones highlighted here offer the finest functionality, adaptability, and usability. 
It can be challenging to choose the best solution given the wide range of choices, but we hope that we helped you to narrow down your options after reading our review and now know what to look for in an online AI voice generator.