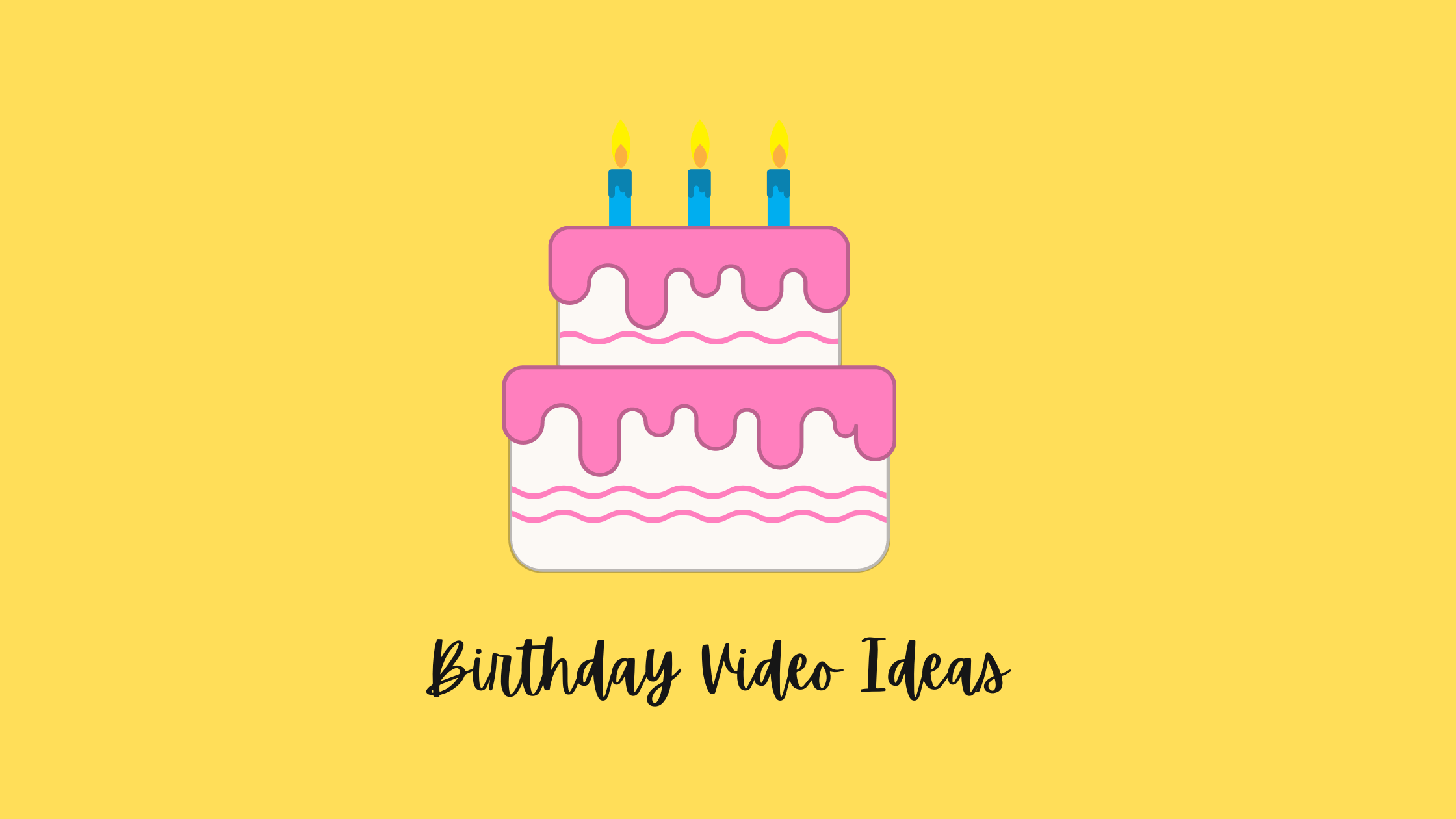 5 Birthday video ideas for a dazzling birthday

6

min read
Birthdays are all about blessings, surprises, happiness, and of course, presents!
Particularly presents from the closest bunch.
Usually, we end up getting our friends and family gifts that they already have or the ones that may ultimately wear out. 
We think of presents that are materialistic and forget to add a personal touch to them.
What if you can DIY your gift?
No, we're not talking about pen stands from disposable Pepsi cans.
What if you could create a video that has all the memories put together or a video that reveals secrets about the one celebrating the birthday, or perhaps a compilation of all video wishes from friends and family nicely put together?
Yes, the videos that you can create for your loved ones' birthday can be creative, heartwarming, and of all a memory that can last forever.
So in this article, we'll be seeing:
How to make a Birthday video in 4 simple steps
Before we jump on to different happy birthday video ideas, let's first understand how to create a birthday video in a few simple steps.
How to make a birthday video? 
You can make a cool birthday video in just 4 simple steps with the free birthday video maker.
1. Pick a template or start from scratch
Choose from hundreds of birthday video templates and pick the one that you like the best or if you have different plans, go ahead and start from scratch.
To do this, head over to the Animaker app and log in if you already have an account. If not, sign up for the Animaker account and log in. Once you are inside the app, move over to the moments page from the dashboard.
Search for "birthday" and find loads of birthday templates that you can choose from. If you want to create your own, click on the blank template.
2. Customize the way you want
Replace any element on the template with your choice of animated texts, images, characters, backgrounds, properties, colors, and more, or upload your own assets. The library on the left side has all the stock and animated assets, properties, and music that you can choose and replace.
Pick a music track that best suits your video from the collection of royalty-free music tracks on the Animaker library
4. Download the video
Once you are happy with what you have created you can download it to your PC or even directly post it on social media and tag your birthday buddy.
Now that we know how to create a birthday video on Animaker, let's see the various birthday video ideas you can come up with!
5 Happy Birthday video Ideas
A trip down the memory lane birthday video
From one birthday to the next is a whole circle of 365 days of memories, milestones, important events, and more. Making a special year in review birthday video can help the person celebrating the birthday feel special and look at all the happy moments they've come past.
It will help them gain a lot of positivity and feel all the good vibes on their special day.
To create a year-in-review birthday video, all you need to do is collect the details about all the significant happenings in the past year from friends and family and the things that you already know.
If there are photos and clips from the special moments, you can add them to the video, insert texts, properties, music, and more!
But, if there are not many video clips or photos, you can still work with characters, animations, and stock assets available within the tool that tell the story effectively!
Wishes and greetings from friends and family
One of the best birthday wishes video ideas is making a compilation of all the wishes from friends and family in a video is the sweetest gesture you can do for someone on their birthday.
The birthday video wishes ideas need not be just people yelling "Happy Birthday". The video can be made interesting, quirky, and fun with a host making the video in an interview format where a lot of questions can be asked about the person celebrating the birthday that will make it a creative birthday video message idea.
Some birthday video message ideas include – spill out some secrets, share their favorite memory together, or talk about the person. All the video clips can be arranged together and to top it up, you can add screen effects, transitions, music, properties, stickers, and more!
Birthday stories for Instagram, Facebook & Snapchat
Birthdays are not all about just personal video wishes. You can create videos and post them on social media as well.
Instead of just writing "Happy Birthday" on the Facebook wall, or hunting down a photo and overlaying it with a birthday wish, you can get creative and make a special birthday video wish in minutes.
You don't even have to spend a lot of time in making these videos as templates that suit the vertical trend are readily available on Animaker itself.
You can get creative with your stories by making a video with the vertical video maker and post them on your Snapchat, Instagram, and Facebook stories!
Birthday Quotes
A simple yet exciting way to make the person celebrating the birthday feel special is through birthday quotes.
Birthday quotes are short, sweet, and gives you scope to get creative with the images and videos. You can upload the clips and images of the one celebrating the birthday and make it creative by matching it to the quote.
You can personalize the video by collecting quotes from friends and family and put it together in the video along with their photos or even the people saying the quotes out loud!
Compilation of all birthdays celebrated
Whether it is a sweet sixteen or a spicy sixty, it would be a great idea to make a video album that is a collection of all the birthdays celebrated ever!
Whether these memories are on old photo albums or digitally stored, or someone narrating about it – it can all be put together in a single video by making a beautiful trip down memory lane.
It can bring back a lot of sweet memories and make the one celebrating the birthday feel special and pampered. 
Wrapping Up
Cakes, presents, and parties.
This is what you could possibly think of when I say "Birthdays".
Birthdays are fun when celebrated the right way! 
But, I am sure now you'd realize how videos can make birthdays more special in so many different ways ranging from invites to thank you notes!
So, whether you are throwing a party for a friend, we hope these happy birthday video ideas have got you thinking about all the awesome things that you can plan.
If you have other cool and funny birthday video ideas that you think we must know, feel free to drop a comment and we'd love to hear from you!