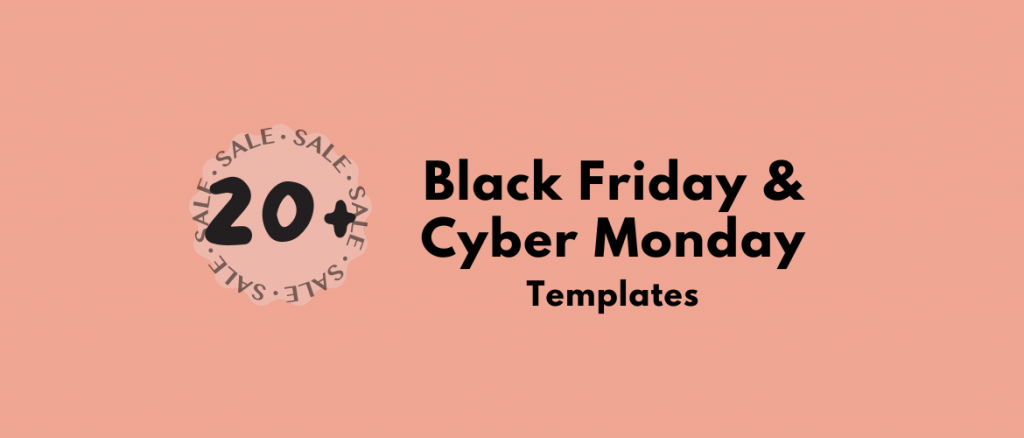 20+ Black Friday & Cyber Monday Templates to Skyrocket your Sales!

15

min read
The year-end is here, and so are the sales, discounts, and offers!
Who doesn't want to enjoy the opportunity of grabbing goods at the lowest prices?! 
That's where the whole glory of Black Friday and Cyber Monday lies. 
What are Black Friday and Cyber Monday?
The day following Thanksgiving is commonly known as Black Friday, and the following Monday is called Cyber Monday. These two days are among the busiest shopping days of the year. 
While Black Friday is all about shopping in physical stores, Cyber Monday is its online version. 
Retailers wanting to attract holiday shoppers provide exclusive deals and discounts. Shoppers flock to take advantage of huge discounts, resulting in a flurry of sales.
Check out how crazy the shopping frenzy was during the Thanksgiving weekend of 2021! 
Source: http://bit.ly/3hZ2FeZ
This proves that whoever you are, retailer or consumer, these shopping days will benefit you!
If you are looking for ways to spread the word about these awesome days, here's Animaker, a DIY video-making software that helps you to create promo videos.
Animaker has now doubled the Black Friday & Cyber Monday promo templates, offering you more options. 
Are you ready to check out some of Animaker's 20+ coolest Black Friday and Cyber Monday Templates? 
Let me take you on a ride!
Top 20+ Black Friday and Cyber Monday Templates
Animaker has customizable templates for Black Friday and Cyber Monday that'll help you promote your special offers in a captivating and efficient way. 
Instead of creating your own promo or sales videos from scratch, I suggest you pick any of the following templates and customize them based on your context and brand.
Black Friday Templates
Let's check out some of the engaging and interesting black Friday video templates. 
1. Black Friday – Clock is Ticking
Have you heard about the "fear of missing out" strategy to attract more customers?
Here's a template that starts with the FOMO concept, helping in boosting your sales video for your store.
You don't need to be an expert in customizing the template. You can edit them by simply clicking on the icons, characters, backgrounds, and music from the timeline, and there pops up the menu section from where you can choose the alternatives.
Try out this template for free and explore a different strategy to market your video.
Edit the template
2. Black Friday Sale Ad
Black Friday = Bag Friday! 
Let's bag 'em all!
Here's a sales video template exclusively to promote the Black Friday sales. This modern template has a dark blue and red theme. The music syncs with each scene's visual layout. 
You may customize the character from the first scene or duplicate it to make its presence in all the scenes. The placeholders, texts, and cropped backgrounds can be personalized based on your brand.
Try it for free and give your audiences the most awaited discounts. 
Edit the template
3. Black Friday Electrifying deals
You really can't escape from these electrifying electronic Black Friday deals!
When the sale gets bigger and better, the time to promote the sale also anchors!
Create your sales video with this template to display amazing deals, discount offers, and images. Pair it up with a proper brand impression, special effects to hold the audience's attention, and some engrossing music. Voila! Your perfect promo video is ready!
Tap the editable button below and enjoy editing the whole template. 
Edit the template
4. The Big Black Friday Sale
How can your customers overlook your amazing deals, especially when you promote them through 2D animations?
Check out this engaging vertical template. One of the biggest advantages of vertical videos is that they're made for mobile exclusively. The vertical video format has become so ubiquitous that it's what users expect to see. 
Additionally, you can also add animated characters and give them your voice. Once you are done, share it on your profile's story. 
Impressive, right?
Showcase your deals to your customers through unique promo videos. Edit this template now!
Edit the template
5. Black Friday – The Greatest Sale
It's time for the Black Friday countdown to begin. It's time for brands to spread the word about offers and discounts.
If you are one such brand offering amazing deals, impress and excite your audiences by promoting the deals digitally. 
Wondering how? 
Try out this free amazing editable promo template. Post it on your social media profile and announce the endless deals you offer. This would be more than enough to keep your followers engaged and make them rush to your store!
Edit the template
6. Black Friday Sales Promo on Jewellery 
Showcase the Black Friday Sales and offers to the world through a sparkling video template from Animaker. 
Every element in the slides is totally customizable. Replace the pictures with your brand model/ambassador and your products. 
Let the diamond-like effect highlight the quality of the jewels your company owns.
Customize the video for free; come on!
Edit the template
7. Black Friday is Back
When Black Friday is back, the deals are back too!
Try out this magical black-themed sales promo template that announces a 60% offer on Apparel. Who wouldn't want to grab on to such sweet discounts?!
Use it as it is, or change the content as per your brand's needs!
This template lets you customize the background, texts, and music. You can also add additional scenes if you want to showcase more such deals. 
Check out this apparel sales video and impress your shoppers!
Edit the template
8. Black Friday Sale on Kitchenware
Looking to upgrade your marketing plan on promoting the sales for kitchenwares?
Check out this infinitely customizable video template! It perfectly recreates kitchenware aesthetics by displaying various discounted products. 
How authentic & professional do these font patterns and colors look?! 
You may customize anything while editing this template and make it your own sweet video.
Try it out for free!
Edit the template
9. Black Friday Sale on Electronics
Who doesn't like to own the latest electronics?
This could be the best video template for your retail outlet store to list the different electronics up for sale this Black Friday! 
This template lists each product neatly with its name, an attractive picture of the product, an offer price, and a small description, which explains everything that's needed for a nice, clear promo.
Try it out for yourself!  
Edit the template
10. Black Friday Super Sale
A Quick & catchy square post that can shine on your social media feed!
Any brand can use this customizable template that says a Black Friday sale is going on. This template has a yellow and black theme, making it very bright! You may replace the theme, text, music, and whatnot!
Check this customizable template for free!
Edit the template
11. Black Friday Offers
Fridays are fun and special by themselves!
And when they come with discounts, offers, and sales, they are Fri'Yayyyyyy'!
If you already have a store or an outlet for your fashion brand, then check out this incredible template that talks about the offers. 
This vertical template is entirely customizable, providing highly effective fashion visuals. It begins on a high note, wanting to communicate enthusiastic offers in an animated way.
Check out this template for free and pull in your audiences to shop more. 
Edit the template
12. Steal deals for Black Friday
Black Friday is all about sales and deals!
If you wanna announce the discounts you offer, check out this modern, handy-to-edit template. It features a friendly color palette made up of yellow and black shapes and is filled with shopping images.
The bouncy animations make the video very inviting and exciting to watch. 
Try out this yellow-black combined template which invites shoppers!
Edit the template
13. Black Friday Best Deals
Vertical-sized promo videos that can be repurposed as Instagram Reels, YouTube shorts, etc., can drive a ton of engagement and value.
Riding alongside the trends is fun, right?
Check out this template that can keep users coming back to your brand to stay abreast with the updates on the offers and discounts. 
Try out vertical videos this Black Friday! 
Edit the template
14. Black Friday – Crazy Shopping
For shopaholics, Fridays are all about shopping. With Black Friday, the deals and offers will simply encourage them to "add to their carts" more!
This template lets your shoppers know about more discounts you'd planned to offer. 
Check out this template which is crazy, bright, and friendly. Promote your sales, discounts, and offers with simple yet effective content.
Try this template for free!
Edit the template
15. Black Friday – Furniture Sale
Looking for a template that announces the sales of your Home furnishings?
When it's Black Friday, retailers and dealers slash prices left and right in the name of getting consumers the best deals on all furniture, crockeries, and more. It's also a great time to score that elusive piece of kitchen set at a nice discount. Let's take these awesome pro templates and re-create them.
Try this customizable template for free to promote your offers on your furniture and crockery business.
Edit the template
Cyber Monday Templates
Let's check out some of the engrossing and fascinating Cyber Monday video templates. 
16. Cyber Monday – The One-Time Sale
Cyber Monday – The only Monday that most people eagerly await!
Such a special Monday has to be promoted more engagingly and interestingly, right?!
Here's an interesting and dashing promo video template from Animaker that does just that!
This template helps you personalize your video backgrounds, texts, and also music tracks. But I personally suggest you not replace the music track because it is very peppy! If you still want to change it, you can choose from Animaker's 30K+ music tracks and customize the promo videos according to your needs!
Make a dashing promo video and pull in more eyes.
Edit the template
17. Cyber Monday Apparel Sale
Convincing customers to buy things from your store would involve a lot of effort. But, when discounts and offers are involved, it is an easy peasy task!
Check out the promo template below that triggers your audiences to shop their favorite apparel.
This pitch-perfect sales video is crafted with pleasant, colorful backgrounds and models. The properties, texts, and backgrounds are all customizable. 
Try it out for free and attract your customers to shop more!
Edit the template
18. Cyber Monday Gadget Sale
Are you planning to drop some hot deals and run exclusive promo ads this Cyber Monday?
Check out this amazing template where you can customize your flashy deals, change to some rocky music, and present your product pictures. 
Show off as many products on sale and lure your customers into buying them. After all, isn't that what Cyber Monday is all about?
Check it out right now! 
Edit the template
19. Cyber Monday Deal with Free Delivery 
When it comes to online shopping, the delivery fee is the factor that most shoppers despise! This is because, sometimes, the delivery fee is greater than the actual goods' fee!
So this Cyber Monday, if you are a brand that is big-hearted to offer a discount on your products and also deliver them for free, then this template is the perfect option for you!
Check out this amazing promo video template that lets you customize everything, including the gradient colors, animations, icons, texts, and music tracks. Additionally, you may color your thoughts of creativity in it. 
Highlight the importance of deals and free delivery through this perfect Cyber Monday promo template!
Try it out for free!
Edit this template
20. Cyber Monday Meme
Are you looking for a cute social media video post for Cyber Monday? Something short, sweet, and funny?
Check out this Clean and Minimal meme video. The quirky assets and the clean effects make this meme video a versatile way of revealing the sales-sy day. 
Oh, and the sound effects included are very peculiar too.
Check out this cutest meme video template!
Edit this template
21. Cyber Monday Beauty Sale
Won't you be super excited to announce the super sale on Cyber Monday for your Beauty products?
Hook your audience with this colorful and pleasant beauty products sales video. Create your own scene templates by adding add eye-catching properties, including slide transition effects, and deliver a strong sales pitch with a creative storyboard.
Try it out now for free, and sweep your beauty customers off their feet!
Edit this template
22. Cyber Monday – Biggest Sale
Announce the biggest sale of the year for Cyber Monday!
This template is a 3-scened quick video that quickly lists the most required details of the offers and the products. 
However, you can customize each scene, add new scenes if you want to include any additional discounts or information, and replace the music and background colors, the fonts, and the effects as well.
Check this out for free and personalize the template based on your context.
Edit this template
23. Cyber Monday Sale
Thanks to Cyber Monday, and cheers to the deals that are unleashed on this hectic Monday to cool us down and take us off our Monday Blue!
Here's a Cyber Monday sales template that lets you customize the music, effects, fonts, dashing animations, shades, icons, and whatnot! Additionally, put your hands on creating custom characters or adding interesting, smart moves to your icons. 
Add all you can to construct the best promo template and see the customers flooding in!
Try it out for free now!
Edit this template
24. Cyber Monday Sale – Story/Shorts 
Here's one of the best customizable video templates in a vertical format that quickly talks about the cyber Monday sales, the discounted rate, and of course, the brand. 
It is so irresistible that your customers won't be able to stop themselves from splurging their money!
Start personalizing the template to your brand's theme. 
Edit this template
Despite the templates shown above, with Animaker, you can create your own custom promo videos and GIFs, thanks to the Black Friday Video Maker and Cyber Monday Video Maker.
We hope this article has helped you design the perfect Cyber Monday and Black Friday Sales Videos. Explore more templates, create a video by editing templates, or start creating a video from scratch.
Got any questions? Drop them in the comments section. We will be more than happy to help you.