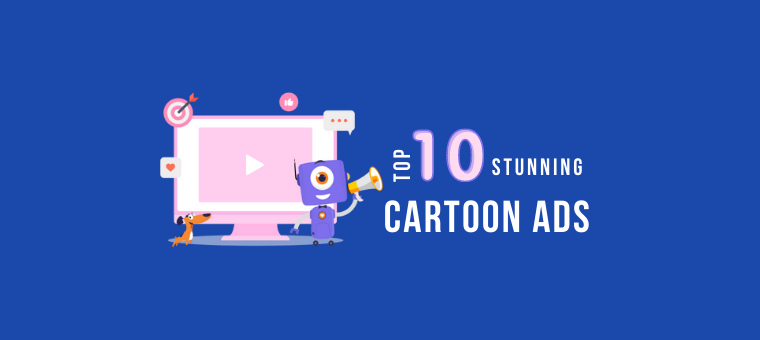 Top 10 Stunning Cartoon Ads Templates – Editable & Free

8

min read
Cartoon videos are one of the most effectively used advertising trends.
Wondering why all top brands prefer Cartoon ad videos?
That is because cartoon videos deliver information more –
Entertainingly

Effectively &

Efficiently 
Across the globe, cartoon ads have proven to be more engaging to audiences. Animated video ads grab audiences' attention quickly and hold it until the video ends. The power of using animation in ads helps emphasize the content, making it even more appealing. 
This easily helps obtain higher engagement rates, a higher number of hot leads, and greater brand awareness.
A lot goes into creating an engaging animated ad video that pulls the audience into your video world. Here's why Animaker has created ready-made cartoon ad templates, which are 100% customizable. 
Animaker is a DIY video-creating online application that has helped over 15M users create amazing videos within minutes. 
Now, let's explore a few Cartoon Commercial templates from Animaker that anybody can use or re-create. 
The templates below help you customize the fonts, backgrounds, characters, and even the theme. If you like it, simply click the 'edit the template' button and start customizing it based on your concept. 
Property listing Cartoon AD
Looking out to advertise your real estate properties? Or, do you own a homestay that can be used as a vacation rental?
Use this template below, which speaks about a property's interior & exterior amenities. Then, edit it by adding your property's details and facilities and create the most fantastic ad ever!
To make it more engaging, you can add effects for your texts, icons, shapes, and transitions between scenes. Don't forget to add pictures of your property!
Try out this customizable template now!
Edit this template
Are you a serious entrepreneur who runs a car rental business? 
Or is your business something related to rental? 
Ah! You are looking at the right template here (below). 
An animated explainer ad video takes the trust of your customers to the next level, having the engagement rate alive. If you have different business models, you can address each of them and their USPs, just like this template below.
Customize it as you wish and see your rental business flourish!
Edit this template
Travel agency Cartoon Promo
Are you running a business that helps users plan their entire trip? Do you have customizable tour packages for different places?
Check out this template that will attract users to pick up your services. For example, if you have a dozen services included in your packages, you can display them in a colorful manner. You can also add infographics or stats that express the number of people who prefer your services. 
Show your users why you are the best with this awesome template!
Edit this template
Product Explainer Cartoon AD
Looking for ways to promote your perfect product in the perfect way? 
Well, make use of cartoon ads! Explain the benefits of your product, add its social media handles, add testimonials from existing users, etc. In short, let the viewers know everything they must know about your product!
Here is an apt product explainer template that does just that! You are just a few lines away from a fantastic animated ad with practical and professional content, character, and context.
Edit this template
Have a beauty parlor, or are you planning to have one? Here's a beautiful, customizable template that you can use to give your audiences the trust and the confidence to hop into your parlor (brand).
Check out this beautiful Beautician AD template and edit every element to suit your needs. 
Do you have a brand color? Then go on and apply it to the video! Try it for yourself. 
Edit this template
Are you a fitness fanatic? Besides working on yourself, would you also like to train others to be fit? 
Then check out this ultimate cartoon ad which explains to your audience how necessary fitness and being healthy is. Not just that, this ad gives your audience a positive perspective on how your training can change their lifestyle. 
Bonus suggestion – To make the video ad more engaging, you can even customize the character in it and make it resemble you. How about that?
Edit this template
Are you associated with the medical field? Are you a pro with your surgical tools but just a beginner with video-making tools?
Don't worry; Animaker is here for the rescue!
Imagine your patients receiving a customizable video message from you! Doesn't that sound exciting? 
You can create short and cute video prescriptions for your patients, which can help promote how you care for each patient. 
Also, the advice or tips that you present can be a sweet surprise for your patients.
Let's add joy to each of your patient's health! Create amazing & engaging cartoon videos instantly and pass them on to your patients using this template!
Edit this template
A juice bar or a restaurant owner?
Start your marketing video by proffering a couple of (health) tips. For instance, check out the video template below. 
Let all your ads speak about improving and developing customers' health. For example, show people how your restaurant's curated recipes can help them take the healthy route. This way, your business might gain more engagement and, consequently, customers!
Start customizing this impressive template based on your bar/restaurant's menu and drag in moreeee foodies!
Edit this template
Departmental Store Cartoon AD [Thank you – Shopping]
Who doesn't wish to thank their customers?
Yes, we know you do!
Check out this unique template that's already ready-made and helps you to thank your consumers for shopping with you. Go on and customize this template and share it with your valued customers. 
Let's make their day!
Edit this template
Restaurant/Pub Cartoon AD 
Looking to invite people to your party? Here's an animated video ad that pulls in more peeps to your event. 
Wanna convey the menu items of your restaurant/ announce the dress code for your party/  advertise the offers and discounts at the Pub? Use this multi-purpose template!
Animate into a short, crisp video that delivers all the information in a short stretch. 
Thanks to this template's stunning colors and upbeat music, it would be perfect for you to promote any event!
Edit this template
Psstt.. These 10 topics are just for you to get an idea of the different types of AD templates. Then, explore the Animaker dashboard to edit the 1000+ templates available and create your own masterpiece!
Enough with the words; it's video time!
Character animated ads are fun, exciting & engaging! 
So what are you waiting for?
Just search -> Click -> Edit -> Download!
Experience Simple & Effortless video making for FREE! 
If you are wondering how to create such cool, unique cartoon ads by yourself, check out this video.
Alternatively, you can also read this guide on How to create a cool cartoon video and create your own cartoon ad effortlessly. 
Hope this article helped you find some awe-struck cartoon AD ideas that can be readily used for your business!
Got questions? Add them to the comments section below. We will be more than happy to help you out!