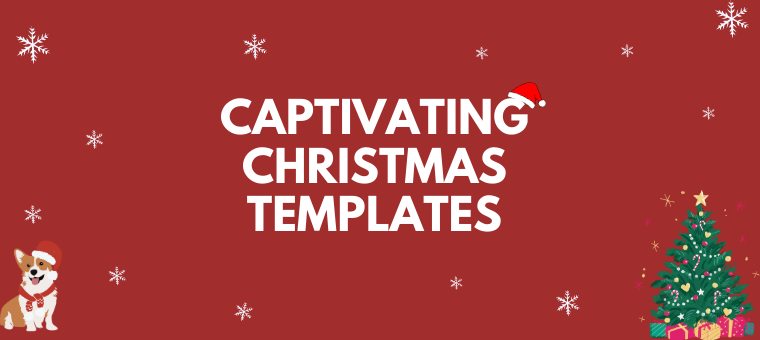 20+ Captivating Christmas Video Ideas to Charm your audience

13

min read
HO-HO-HO! Hello December!
December = Holiday season, and Holiday season = Excitement!
It's that time of the year – a time filled with joy and happiness!
It's that time of the year when Santa excites us all with his presence!
It's that time when we shower everyone with cute gifts!
This Christmas season, surprise your loved ones with unique gifts other than regular snow globes and cozy sweaters!
But how, do you ask?
For a change, you can create a heartfelt video for your dear ones and make them feel very special and loved.
Sounds interesting, right?
Don't worry; we are here to help you devise some awesome Christmas video ideas!
To develop those super-cool Christmas video ideas into stunning videos, we will use Animaker. Animaker is an online DIY-video-making software that helps you create awesome animated and live-action videos.
Check out these Christmas video ideas from Animaker. Choose one of them and create your animated Christmas video now.
1. Green-themed Christmas Video 
How nice would it be to receive a personalized Christmas video wish?! 
This Christmas video template is made to give your loved ones that "special" feel!
It typically includes festive items, background music, and pre-made animations that can be easily edited to fit your needs. 
Additionally, you can create your own customizable character in the video, which showcases a couple of interesting actions to represent how lively and fun your Christmas can be.
Try out this red-green-themed personalized Christmas template.
Edit the template
2. Snow Man Christmas Video
If you love snowmen, this template is for you! 
This Christmas template comes with various seasonal assets, including Christmas trees, lights, snowflakes, the famous Santa, and a snowman, my favorite asset in the Animaker library. You can use the template as it is, or you can replace the assets and the background music and add some sound effects to create a festive atmosphere for your video. 
With this easy-to-use template, you can quickly and easily create a professional-looking video in no time.
Start creating your own festive masterpiece Christmas video today! 
Edit the template
3. Christmas Video with Personalised Pictures
Are you looking for a festive, easy-to-edit, personalized Christmas video template where you can add your cute pictures?
This Christmas video template is the perfect way to share your holiday memories with friends and family. With a colorful and festive theme, this template is cool to work on.
Simply add your own photos and text and customize it based on your personal style to create a unique and personalized Christmas video.
So why wait? Get into the holiday spirit with this Christmas video template and share your festive memories with the ones you love.
Edit the template
4. Christmas Wishes
Yayy! Christmas is coming!
Here's an elegant Christmas template that helps you convey wishes. The mild blue-based template allows you to customize the characters, the background, music, effects, and all that you see on screen. 
In this video, you will notice one adult and one kid character. But, if you want to add more characters, yesssss!! – with Animaker, you can create, customize and plug in as many characters as required.
Check out this BLUEtiful customizable template.
Edit the template
5. Christmas Sale Announcement
Festive season = Sale season!
So, the Christmas Sales tactics go without saying!
This festive season, offer your customers attractive discounts and lure them into visiting your online/offline stores. 
Here's an amazing Christmas sale announcement template that is editable and presentable in a vertical format. You can customize the offer percentages, add on some attractive sale-ey copies and your brand logo, and add some Christmas stickers as toppings. 
The best part is, since the video is in vertical format, you can easily use it to announce your sales via Instagram reels, Youtube shorts, Whatsapp statuses, Titktok, and so on.
So, what are you waiting for? Start customizing your Christmas sales template for free!
Edit the template
6. Christmas Day
When Xmas is nearing, we wish nothing but only joy to everyone around us!
How about warming up your loved ones' day extra by sending them a Christmas video wish?!
Here's an interesting customizable Christmas template for that! 
This template has a cute poem as its script. But, if you're a writer who enjoys penning down witty puns, or if you have found some joyful poems on the internet, you can go on and replace the existing script. 
Additionally, you can customize everything, from editing the background image to trying out a different font from Animaker's text library.
Let's keep your Christmas wish video ready! 
Edit the template
7. Merry Christmas and Happy New Year
Holiday wishes are on the way…
The world waits for the year-end holidays, which start with Christmas and end with New Year. 
Let's celebrate by wishing our dear and near ones this holiday season by sending them a cute video. Try out this editable Christmas template and re-create the video as you wish.
Check out this template for free!
Edit the template
8. Christmas Lights
When Christmas comes closer, lights glow, and happiness spreads!
Here's an editable template you can use to wish your ones near and far. There're three characters in the video, and if you wish to have more than just three, you can. Customization of characters is also possible. 
Try out this template and create your own Christmas video!
Edit the template
9. Merry Christmas from Family
Looking for a family Christmas wish video?
You're looking at the right template! This Christmas video is made exclusively for families, especially those who send out "From our to yours" festive season wishes.
You can customize the music, texts, add your favorite animations to the characters, and edit the characters to resemble your family members.
What are you waiting for? Create one which can be sent from your family.
Edit the template
10. It's Christmas Time
Snuggly coats, warm sweaters, Snow, and hot chocolate – don't these things remind us of Christmas? 
Let's nudge everyone about the things that makes a nostalgic holiday.
Here's a Christmas editable video template that is made for you to bring back memories of Christmas. 
Customize the template for your favorite activities during Christmas and share it with your loved ones.
Edit the template
11. Christmas Day Video
Looking for a square video to be uploaded on your Instagram wall?
Check out this short, cute, warm square video expressing Christmas wishes. You can edit the video by adding your chosen lines and also download it as a GIF if required. 
Check out this template for free!
Edit the template
12. Merry Christmas Video – Postcard
Holly Jolly – a video postcard for this Christmas!
Here's an impressive video postcard with vibrant and dynamic animations. You can customize the template by replacing the picture with your family picture and adding or removing the Christmas icons. Choose any because you have 70K+ icons to select from the Animaker library.
Edit this cute, animated postcard video template for free!
Edit the template
13. Christmas Day Wish
Excitement blasts off the roof when Christmas is coming. And that's why you need to keep calm!
Try out this vertical Christmas video template that becomes a reminder post on the holiday season that's coming up. Customize this template which can be uploaded as a story post, Reel, or Shorts.
Check out this template for free!
Edit the template
14. Christmas Video
Christmas is about gifts in socks, under the Christmas tree, and in any secret place.
Wish your audiences luck in getting their best gifts through this amazing video. Check out this editable template, where you can customize all the elements that you see on the screen. 
Try it out for yourself!
Edit the template
15. Merry Christmas Mobile Version
An adorable mobile version of the Christmas video template is here for you!
Check out this vertical-sized Christmas video template that can be sent to all your family and friends on the occasion of Christmas. You can give it a personalized touch by uploading your picture or your name as well. 
Edit this mobile version-ed Christmas video template for free!
Edit the template
16. Christmas Magic
Wish your dear ones a magical Christmas by sending them a Christmas wish video! 
If you are looking for a versatile Christmas video template design, this template is suitable for you.
This red-themed video template holds adorable wish texts and engaging effects around them. 
Are you RED-dy to try this template?
Edit the template
17. Wish you a Merry Christmas
Have you been naughty or nice this Christmas?
Whatever be it, we all deserve an awesome Christmas.
Share the mystical Christmas spirit with your loved ones on this wonderful holiday using this video template. Create a charming Christmas video that they will enjoy watching and cherish for a long time. 
Customize the video as you wish and add a heartwarming message, and get your video today!
Give this Christmas video template a try!
Edit the template
18. Happy Christmas
Christmas is canceled! 
Whatttt!!???
Nahh, just kidding! 
A lil' bit of humor is always good!
Let's give your loved ones a little shock and surprise them with a Christmas wish at the end. Check out this interesting Christmas template with a twist.
Edit the template
19. Christmas Wishes – Jingle Bells
Jingle all the way…
Some classic songs and carols mark Christmas, and Jingle Bells is one among them.
This video template is Animaker's version of the famous song!
Let's make your Christmas even more festive with this beautiful Christmas wish video.
Check out this colorful square-sized Christmas template that gives joy with the sound of the bells. 
Try this jingle bells template for free!
Edit the template
20. Christmas Gifts
Rejoice in the Christmas season with your family and friends!
Share the joy of your family with others by wishing them on this exquisite occasion. In this template, you'll be able to see stock images as the background, with simple texts on the top. 
You can replace the images with your family pictures and add your favorite lines on the images to wish your dear ones.
Check out this amazing, editable family Christmas template!
Edit the template
21. Merry Christmas Smooth Video 
How about a smooth and soothing Christmas video?!
Check out this template with a mild, relaxing video of a Christmas tree in the background. The music, text colors, and video altogether make the video so light and calm.
Let's get started on editing them for free!
Edit the template
22. Santa Claus is coming to Town
Here's an ultimate Christmas video with Christmas trees, snow, reindeer, Santa Claus, his most awaited gifts, and his sleigh. 
It is made with stock videos. You can also add your other favorite Christmas items, such as candles, snow globes, stockings, candies, and lots more, from Animaker's huge library collection. 
Try out our free online Animated Christmas video maker. 
Edit the template
Wasn't that an awesome list of Christmas video ideas?
Instead of saying the common, boring, "We wish you a Merry Christmas and a Happy New Year!", change how you convey your wishes to your people!
Get started with using these easy-to-use, attractive Christmas templates!
Do drop in your comments on your favorite template and if you have more Christmas video ideas to add to the list.
To learn more about customizing templates, you can simply watch this tutorial video for more information –
Got any queries? We will be more than happy to help you!