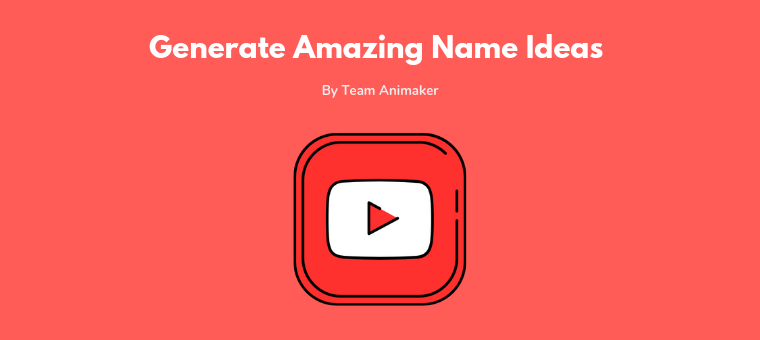 How to Generate YouTube Channel Name Ideas: The Complete Guide

5

min read
Choosing a name for your YouTube channel can be as hard as choosing a name for a newborn baby.
It's the first decision you'll make in your journey towards becoming a successful YouTuber. Even some of your favorite YouTubers would have had a tough time choosing a name for their own YouTube channels.
It is very important to give a catchy name to your YouTube channel because it will be tagged to all your videos, in your channel's homepage and even in YouTube's search results.
However, coming up with a cool name for your YouTube channel can be intimidating, as the stakes are very high. But to make things easier for you, we've put together this simple guide on how to name your YouTube channel.
We've covered:
Tips to generate Youtube channel name ideas
Top 3 YouTube channel name generators
1. Tips to generate Youtube channel name ideas
Decide your channel category
Firstly you should decide the category your YouTube channel will fit in. Usually, most YouTube channel names fall under these 4 categories:
Choosing a personal YouTube channel name
Choosing your own name is the easiest approach and could really come in handy if you're planning to be the face of your YouTube channel.
Check out Casey Neistat's YouTube channel.
Casey is a "You only live once, make it count" kinda person. Over the years, he has been sharing his Vlogs on his YouTube channel and has a huge base of over 10.5 million subscribers.
Not just Casey, there are many other Internet Personalities and Entrepreneurs who have made it big in YouTube by naming their YouTube channel after their own name.
If you think you can follow in their footsteps, here are a few things that can come in handy:
#1. Make sure your name is unique
If there is someone with the same name as yours, look for ways to differentiate. For example, check out the examples below,
You see what I'm talking about?
#2. Go for a stage name
If your name is too hard to pronounce or it is too long, you can always consider an online name for yourself and your YouTube channel.
For example, PewDiePie's real name is Felix Arvid Ulf Kjellberg. Today his channel has a fan base of over 75 Million subscribers.
#3. Use Concatenations
Using concatenations is a great way to stand out from other channels on YouTube. You can simply combine your name or initials with another term that best describes your channel and make it your channel name.
Check out Marques Brownlee. His channel name is a concatenation of MKB (Brownlee's initials) and HD, as he uploads videos only in HD quality.
Choosing a business YouTube channel name
You haven't got much choice here, your channel name should be the same as your business name. Else, your customers will have a tough time recognizing it.
However, here are a couple of points you should keep in mind:
#1. Beware of Social Media Availability
It is helpful to have your YouTube channel name match your other social account names. This way your address will be the same everywhere and make it easy for your customers to find you.
#2. Beware of Domain Name Availability
As your business channel continues to grow on YouTube, you'll want to start building traction off of it. Having a matching YouTube Channel Name and domain name can help you with that.
2. The ultimate list of channel name generators to come up with YouTube channel name ideas.
Having read the above tips, if you still need some extra inspiration for your channel name you can always turn to the channel name generators for some quick ideas.
Here are a few tools you should check out:
Spinxo is the go to tool for YouTube channel name ideas. It instantly suggests you the name you're looking for.
Just type in the Topic & Niche you're focussing on and any related keywords, then click on spin. Spinxo instantly provides you with 30 unique channel names. Chances are you'll immediately love one of the 30 suggestions, else you can click on spin again for more suggestions.
You can also alter the keywords for more alternate channel name ideas, note down few which you think are cool and catchy and finally decide on one.
Kparser is not exactly a channel name generator, but if you're looking for an SEO specific channel name, this tool can come in handy.
Just input the seed keywords related to the niche you're targeting and hit start to generate SEO specific keywords. Then you can mix and match these keywords to come up with a channel name or input it into spinxo for more suggestions.
Name Generator is another simple tool you can look up to for inspiration on YouTube channel names. Just enter any word that you'd love to have in your channel name as prefix or suffix and click on generate for suggestions.
The only drawback with this tool is that it won't display all suggestions at once. You have to keep on hitting the generate button for more channel name ideas.
Additional Resources:
NameChk: Use this to check for availability of your channel name as a domain name and user name on other social media channels.
Change your channel name: Tells you how to change your YouTube channel name if you already have a YouTube channel.