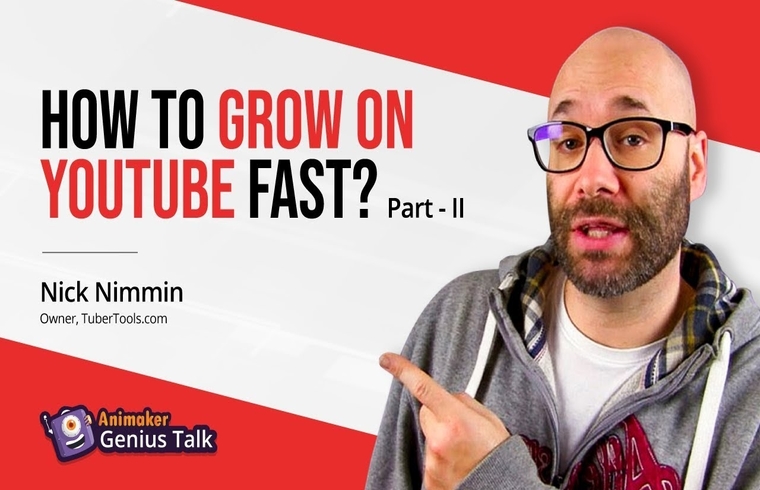 How to Grow My YouTube Channel? Part – II [Video]

2

min read
"How can I grow my YouTube channel", this is a question that lingers in the mind of every YouTuber. It doesn't matter if you are just starting out or you already have a huge following, there are always a few ways to improve.
This is the second part of our conversation on Animaker Genius Talk, with successful YouTuber and Live streamer Nick Nimmin to find out the answer to the existential question of the YouTube world, "How to grow my YouTube channel?".
Nick is a successful YouTuber and live streamer with a YouTube channel that has over 250,000 subscribers. He specializes in creating content that helps other YouTubers make better videos! YouTubers from across the globe join his weekly live stream, "Nimmin Live" to learn amazing tips and engage with fellow content creators!
Quotes
People end up finding other creators to collaborate with because of my live stream (8:00)
I don't find myself watching IGTV anymore (18:28)
YouTube for me and making video content has changed the trajectory of my life (25:14)
Questions on the Show
3 biggest mistakes that youtubers are doing right now? (0:50)
How did live stream really help you grow your channel? (7:29)
Tell us your thumbnail secret? (10:40)
Inside the Genius Mind
Favourite youtuber apart from yourself (14:09)
Most interesting viral YouTube video that you saw recently (14:16)
One reason why anyone should become a YouTuber and one reason why they shouldn't (15:30)
Is IGTV an existential threat to YouTube? (18:14)
Can you imagine a world without YouTube? How would that world be? (20:45)
How can you translate the skyscraper strategy into YouTube? (22:51)
One message you want our audience to take from this interview what would that be? (24:34)