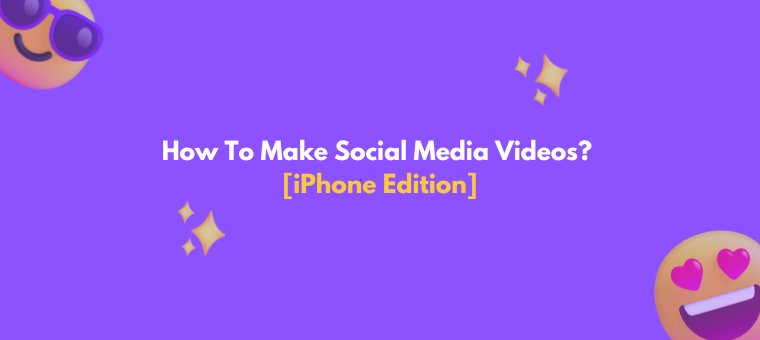 How to make Social Media Videos? [iPhone Edition]

7

min read
If you're looking to improve your social media videos, congratulations! You just took the first important step. Your will to put in the effort has brought you to the right place.
This article will help all the individuals and businesses out there looking to up their video creation game and get better results. Especially the beginners who are passionate about making an impact through social media marketing.
Here's what you can expect to learn in this article,
So let's get started!
1. What is the best way to make social media videos using an iPhone?
Do you remember the first time you downloaded an iOS App for making videos for social media?
You either had a brilliant idea that you wanted to visualize.

Or you wanted to

leverage your business by making videos for social media marketing.

 
However, one of these factors would have affected your experience.
Ease of Use:

You

spend hours watching tutorials and reading FAQs just to understand the app interface.

Watermark: The time you spend detailing your videos becomes ineffective as a big watermark gets placed over your content.
But you don't have to worry about this anymore.
Try the Animaker App. It helps you create videos for social media quickly and smoothly!
The Animaker App gives you access to 1000+ free video templates (including free social media templates, free business templates, free YouTube templates, and loads more.)
You don't have to be a professional

video content creator to use the Animaker App.

The UI is designed to help even first-time users create videos within 10 seconds.

It is one of the fastest free video editing apps available!
And

it's watermark-free!

That's right, Animaker App is a free

mobile video editor with no watermark!
So, in short, the Animaker App is the best mobile app for a beginner to achieve their video goals!
2. How to make videos for social media using the Animaker App?
Before we begin, ensure you have downloaded the Animaker App to follow the steps below.
In case you haven't yet,  please click on the link below.
Click here to download the Animaker App from the Appstore!
Follow these steps to make social media videos in 10 seconds or less!
Step 1: Creating an account in Animaker
After downloading the app, register or sign in to your Animaker Account.
Step 2: Choosing the right video size for social media videos
Once you log in, you will be directed to the Dashboard. Here's where you can choose the dimensions of the social media video post you would like to begin with.
Here are a few pointers that might help you choose the right one.
"Vertical" size works well for Story Posts (Instagram Story, Facebook Story, Snapchat Stories, YouTube Shorts, Whatsapp statuses, etc.)
"Horizontal"

size works well for videos longer than 1 minute. These are very popular on platforms such as Facebook, YouTube, and LinkedIn.

"Square"

size works well for short and engaging posts on Instagram, Facebook,  and LinkedIn.
Once you choose the size, you will be directed to the templates section.
Step 3: Choosing a template
You will find a huge list of pre-made templates ready for use here. You also have the option to choose a blank project and build from scratch.
However, templates are the best option for creating a video in 10 seconds or less.
 Now, to choose a template, 
You can either explore the template section by scrolling through it.
Or if you are looking for a specific template (such as promotions), you can also search for it directly
These results are cool, aren't they?
Tip: Just tap on the template to preview it. You can also preview other templates by scrolling up or down, similar to how you might have swiped up or down to view Instagram Reels. 
Step 4: Customizing the video in 10 seconds or less
Here's the fun part. Animaker App gives you a super quick video editing option to help you make videos in 10 seconds! 
After you select a template, you can easily swap the texts, images & videos in it in just a few clicks!
Here, I have selected a promotional template that can be leveraged by clothing brands. I want to customize this to talk about the upcoming Autumn Sale.
So here's how I do it.
Just under each scene of the template, the swappable elements of the scene are listed. 
In the first scene, the swappable elements are
2 Texts ("Fashion" & "Sale") and

2 Images (Yellow and Orange)
i)  To swap the texts : 
Choose the text you would like to change the content from the listed swappable elements. 
 ii) Similarly, to swap the images & videos: 
From the listed swappable elements, choose the image/ video you would like to change and click on the "Swap" button
Choose the new image/ video either from "Stocks" (to replace it with high quality stock assets).
Or from the "Recent" section (to replace it with files from your phone).
And that's it! Sounds easy, doesn't it?
Just by repeating these steps,  you can easily create studio-quality videos in seconds!
Step 5: Downloading your videos for free!
Once you're done customizing your video, click on the "Done" button.
It will direct you to the preview screen, where you can check out the preview of the video and download it.
One of the biggest advantages of using the Animaker App is that you don't have to spend a penny to download the video without a watermark.
How is this possible? 
To make sure that our users get access to premium quality videos at zero cost, Animaker App follows an ad-supported model to achieve this. With it, users have the luxury of downloading videos without any watermark.
So you don't have to stress anymore. After all your efforts to create your video, unlike other apps, the Animaker App won't force you to upgrade to download videos without a watermark.
Here's the preview of the video we just edited.
3. Bonus: How to make Advanced Video Edits?
Incase you would like to detail your video further, Animaker App provides you with the "Advanced Edit" option.
The "Advanced Edit" feature gives you access to pro editing features at your fingertip. 
For example, with the "Smartmove" feature, you can add various kinds of unique movements to elements used in the video and make it more engaging. 
Similarly, you can also add text animations, Camera Effects, choose from 70k+ Props & Shapes, etc. All these features will further help you detail your video project.   
In case you would like to try a different music track rather than the one present in the template you chose,  you can select from 30k+ premium music tracks.
These are meticulously curated and categorized across different genres so you can easily find the perfect music track for your videos.
So what are you waiting for? Start creating your video content in Animaker Video Maker now! 
In case you still haven't downloaded the app yet,  here is a QR code that you can quickly scan to download the app!
If you have any questions regarding the app, please feel free to drop them in the comments below. I will be more than happy to answer them!