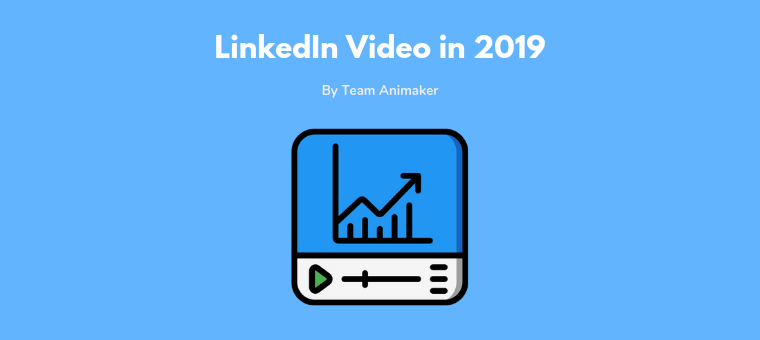 LinkedIn Video in 2019: The Ultimate Guide

9

min read
Creating a marketing strategy without videos is like sending a paper plane into a war zone.
There's no doubt that the war will be lost the very first day.
The same is true for your marketing strategy. You might have a lot of quality content but without videos, you won't be able to get the most out of your content marketing efforts.
Why?
Because there is a major shift in the kind of content that people are consuming today!
What used to work before won't work now.
Today people consume videos more than any other type of content. Given a choice, 72% of people would rather use video over text to learn about a product or service.
And unlike other forms of content, videos don't tell, it shows. And that's why videos are so powerful!
2015 was the era where video marketing began and since then it has seen YoY growth in terms of adoption.
Social media platforms have been leveraging video for years, and LinkedIn appeared to be lacking behind until it launched videos in 2017 and decided to go all-in on B2B videos.
In terms of engagement, LinkedIn videos outperformed text where LinkedIn members spend 3x more time watching video content over static ones.
Now 87% of businesses use video as a marketing tool and 83% of marketers say video gives them a good ROI.
Via Giphy
Enough of stats! Let's learn how you can leverage the true power of videos on the world's largest professional network.
Don't worry if you are new to LinkedIn videos, I will cover everything in this guide.
And if you are already familiar with the basics, you can use the table of contents below to navigate between different sections of this guide.
LinkedIn Video: What You Need to Know
How to Use LinkedIn Native Videos
Let's roll!
LinkedIn Video: What You Need to Know
Simply put, it is the feature provided by LinkedIn which enables users to publish video content in the form of native videos and Video Ads.
Before this update, the only way to share videos on LinkedIn was to upload it on YouTube/ Vimeo and then add that link to your post.
It was a two-step process, but now with this update, you can directly upload a video on LinkedIn.
So you might ask me "we are already using videos on all other platforms then why use videos on LinkedIn as well?"
Well, the answer remains the same whether it's LinkedIn or other social media. For engagement, branding, sales, and good ROI.
Also, since LinkedIn is a B2B platform it's a great place to showcase products to your clients or potential customers.
And as more than 80% of senior executives watch more online video today, it's a great place to target these people and sell with the help of videos.
Moreover, videos can be consumed easily and in less time. And at professional platforms like LinkedIn where users consider time as money, videos have proven their mettle.
Out of 51% of video marketers who have used LinkedIn video as a channel, 84% found it to be an effective strategy.
So, before it gets too late, it's better to ride the wave and get the most out of LinkedIn videos.
Now let's dive deep into types of LinkedIn videos and see how you can use it to the fullest.
Types of LinkedIn Videos
Embedded Videos
Earlier when LinkedIn video functionality wasn't available brands tend to embed their videos in their LinkedIn posts by just pasting the video link in the video.
The video link used to generate a thumbnail along with the description as shown in the image below.
Still, a lot of brands practice this and the major reason for doing so is to repurpose the existing video content which they have already created and posted on YouTube and Vimeo.
But even after the introduction of LinkedIn videos, even if this looks like an old school technique, it's still a decent way of repurposing your existing content.
But there are a few shortcomings of using embedded video on LinkedIn which will impact your reach and engagement. The major one being there's no autoplay option. Embedded video doesn't autoplay and that's why it will not elicit a high level of engagement.
That's where LinkedIn native videos become your best bet for getting more engagements and reach!
Native Videos
Unlike embedded videos, LinkedIn native videos allow you to directly upload a video that's between 3 seconds to 10 minutes in length to your feed.
And the great thing about the native video is that it will autoplay without any sound which proves to be an engagement magnet for the videos.
A recent study by Social Media Hub says that Facebook Native videos have up to 86% higher reach. This shows how powerful native videos are.
LinkedIn Video Specifications
How would you feel if you create an amazing video and then realize that the format and the size of your video are not supported by LinkedIn?
Well! You might end up acting like this panda!
Since I don't want you to turn into a panda and act like him, I am listing down all the formats, sizes and recommendations which will help you create great videos for LinkedIn.
LinkedIn Native Video specifications:
Video Length – 3 secs to 10 min
File size – 75 kb to 1 GB
Resolution – 256×144 to 4096x 2304
File format – MP4, MPEG-1, MPEG-4, AVI, FLV, MKV, QuickTime, WebM, H264/AVC, VP8, VP9, ASF, WMV2, and WMV3
Orientation: Portrait, landscape, and square
Aspect Ratio: 1:2.4 to 2.4:1
Audio format: AAC or MPEG4
Video captions – SRT format
Pro tip – The best performing videos on LinkedIn are typically under 15 seconds. But while using native videos you should keep them long enough to deliver your message clearly. So, for creating a native video the recommended length is 15-90 seconds.
LinkedIn Video Ads specifications:
Video Length – 3 secs to 30 min
File size – 75 KB to 200 MB
Resolution

360p (480 x 360; wide 640 x 360)
480p (640 x 480)
720p (960 x 720; wide 1280 x 720)
1080p (1440 x 1080; wide 1920 x 1080)

File format – MP4
Orientation: Landscape, and square.
Aspect Ratio: 1:2.4 to 2.4:1.
Video ads created with a 1:1 aspect ratio should have a minimum resolution of 600 x 600px, and a maximum resolution of 1080 x 1080px.
Audio format: AAC or MPEG4
Upload Limit – 25 videos in Campaign Manager within 24 hours.
Uploading devices – Desktop computer, not from your mobile device
Video captions – SRT format
Pro tip – LinkedIn recommends keeping your video ads under 30 seconds for brand awareness and consideration goals.
And for demand generation, LinkedIn suggests creating longer videos.
An internal study by LinkedIn found that long-form content drove as many clicks and views as shorter videos because they help tell a more complex product or brand story.
How to use LinkedIn native videos
Using native videos on LinkedIn is pretty easy. As easy as 1-2-3!
While uploading from the desktop you need a pre-recorded video and while using mobile devices you can upload a pre-recorded video or you can record a live video.
Now let's quickly see the steps involved in uploading a video on different devices.
For Desktop
1. Click on Start a post or directly click on the video icon.
2. Select the video you want to upload.
3. Write a description for your video, along with relevant hashtags.
4. Click on the 'Post' button.
For Mobile
1. Click on the post button on Android/iOS (at the bottom of newsfeed) or video icon in the share box on iOS (at the top of newsfeed)
2. Click on the video icon (If you choose to click on the video icon instead, it will directly take you to the screen shown in the 3rd step).
3. Click on the red record icon to record the video. You can also toggle between front and rear camera by clicking the camera icon available at the top right-hand side corner of the screen.
4. Once you are done with the recording. You can also add stickers and text from the icons shown at the top right-hand side corner of the screen. Once you have recorded the video, click on the arrow located at the bottom right corner of the screen.
5. Now add a description and #tags to your video and click on the post button on the top right-hand side corner of the screen.
Tips
Just like adding icing to the cake can make a tasty cake delicious. Similarly, by following these recommendations you can market your video on a whole new level.
As native videos play automatically, the first few seconds of your video are very crucial for user engagement.
So, while creating a video make sure you are able to grab the viewer's attention in the first 10 seconds of the video.
Storytelling helps to increase the watch time of a video. It makes people watch your video for a longer duration. So, it's very important that you convey your messages in the form of a story.
Consider adding subtitles to your videos as the videos on LinkedIn will autoplay with the sound turned off.
Before creating a video it's always good to decide on the objective of the video. It will be great if you can attach a goal to it because that will help you measure the performance of your video against your goals.
For branding:
• Position yourself as a thought leader
• Tell your brand story
• Share stories of customer success
For conversions:
• Show a quick demo of your product
• Give a sneak peek of your webinar
• Preview your event
As consumers are trusting videos for making a purchase decision, it becomes of high importance for a company to leverage that channel to increase sales and user engagement.
Don't just think, start using LinkedIn video today! Try different strategies and see for yourself which strategy works best for your business.
Let me know what you feel about LinkedIn videos and your experience with it. Also, if you have any suggestions for the blog just drop a line in the comment section below.