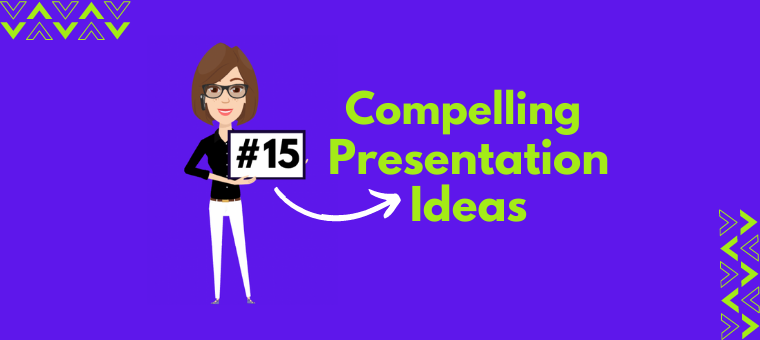 15 Compelling Presentation Ideas To Entice Your Audience [in 2023]

15

min read
Coming up with Presentation Ideas that capture and hold your audience's attention might be pretty challenging.
You'd want your audience to be hyped up for what you have in store and have them glued to the screen until the end of the presentation. 
This is the goal of every presenter, whatever their presentation topic is. If you are pondering how to develop an excellent presentation idea well, you have come to the right place.
This article covers the A to Z of presentations, and we have compiled the top 15 presentation ideas to awestruck your audience by all means!
What is a Presentation?
Presentations are means to communicate ideas, explain concepts, and pass on knowledge in the form of slides. They are used in meetings and classrooms, and information is typically passed via text, graphics, and audio delivery.
Presentations can be long or short, depending on their purpose and the intended audience.
In general terms, an effective presentation should have several points:
A strong opening statement that draws the audience's attention

An informative introduction that provides context for the rest of the presentation

A clear focus on presenting information attractively

A summary that collates all the points discussed 
Types of Presentations
Presentations should be as distinctive as your brand and the information you're attempting to convey. However, several presentation formats are utilized by teams and sectors alike.
Therefore, you must choose the presentation style that will work best for your audience before considering which slides to use or how to arrange your content.
The most common types of presentations are
Informative presentations

Instructive presentations

Persuasive presentations

Decision-making presentations

Inspirational presentations
What makes a Presentation interesting?
In this era of fast-paced life, people's attention stays on a topic only for a few seconds. Since presentations usually deliver huge pieces of information, they tend to become boring or overwhelming for the user.
The purpose of the presentation is to deliver important information in the most effective, concise, and precise way possible.
To hold the audience's attention for a long time, a unique method of delivery is required. Additionally, a presentation must be two-way and interactive to make a stand and hook the audience to all slide decks. 
This is where Animaker Deck comes in. You can create super easy animated presentations and break all the stereotypes with Animaker Deck – World's 1st Avatar Powered Presentation Software.
The advantage of using Animation Deck is that you don't need to have advanced technical knowledge. 
Compelling Presentation Ideas
We have developed 15 compelling presentation ideas to fuel your creativity. Follow these tips and prepare a stunning presentation like never before.
1. Focus on the Intro Slide
Having a stunning opening act is very essential for every presentation. The first few seconds from the start of the presentation set the tone and draw in the audience to give their fullest attention to the presentation. 
Whatever the topic of your presentation, you can make it more engaging and exciting by creating a visually appealing Intro slide.
You can highlight the topic of the presentation, use animated characters, incorporate modern font styles, and pull every feather out of your creative hat to seal the deal with the best intro style possible for your presentation.
It's imperative to make the audience anticipate throughout the presentation to get the best results.
The above intro slide is from Animaker Deck, which discusses employee awards and recognition policies.
Organizations/Brands should create thoughtful and appealing opening slides to create the right setting for the audience and successfully convey their missions and goals.
2. Follow a theme
Amuse your audience by following a theme in your presentation.
Choosing a unique theme relevant to the topic of the presentation will add some zeal to the slide decks and readily impress the crowd. 
There are several theme-based presentation templates available online. For instance, take a look at this Product Launch presentation template on Animaker Deck. It adopts an orange and black theme that perfectly matches the product mockups in it. 
Edit this template
To make things easier, Animaker Deck offers a bunch of slide templates. Each template follows a different theme and has been designed by skilled experts. So, you don't have to worry about designing a presentation from scratch with an impressive theme.
But if you must, you can also customize the themes by adding your brand colors, introducing new graphic elements, and what not!
Follow a theme and present a neat looking slide deck!
3. Use Animated Characters
It's high time you break all stereotypes and infuse some life into the presentation!
Change from blunt texts and boring solid colors to visually eye-catching elements such as Animated Characters. 
However, are you thinking, "I have no prior expertise in animation or character creation. So how am I going to make it?"
Well, don't worry!
With an online presentation maker like Animaker Deck, you can now personalize the slide decks with pre-made animated avatars or even easily create one on your own using the character builder option.
It is a super simple drag & drop interface that allows creating animated characters in a jiffy.
You can choose the gender, skin tone, apparel, accessories, and almost everything to create your own animated characters.
Adding some personality to your slide decks and hooking your audience with these custom characters is super easy for everyone now.
To learn more about creating animated characters, check out the link provided.
4. Spice up the deck with storytelling
When you want to communicate your message, you must tell a story. It's not enough to just tell the facts; you need to make the information come alive for your audience.
You can turn the existing presentation into an engaging one through storytelling.
Take your audience on a journey with you as you present the information to them. Tell them about how and why something works, how it was created, and why it's important.
You can even use stories to illustrate points or have characters interact with each other to get across complex ideas.
With Animaker Deck, you can design and arrange your slide decks in such a way that you reveal every information one after the other in the most engaging way possible.
This can be done with the help of animated characters, illustrations and relevant icons instead of the conventional way of presenting.
This way, you can spice up your presentation and withhold the audience throughout the duration of the presentation.
5. Customize the background
Choosing the right background is vital to set the tone of your presentation and making it look more incredible than all the other traditional presentations.
Be it a school project, sales huddle, or VC pitch presentation, whatever the subject of your presentation, a relevant and matching background will exponentially increase the quality and effectiveness of the information being presented. 
Do not worry about how to create a background. Animaker Deck offers a vast library of pre-built backgrounds spread across all the possible presentation subjects.
You can straightaway choose a background and match the topic under discussion. 
The best part is, if you want to show some variety, you can add unique backgrounds to each slide individually instead of maintaining the same BG throughout.
This is a whole different level of customization available for free!
6. Match the slide designs to the brand style
Introducing brand images and brand elements into your presentation is a brilliant way to add personality to the slide decks. Not just that! It is also a great strategy to incorporate your brand into the audience's mind subliminally. 
You can tweak the slide decks with the brand colors in the background and put out the information using the right font styles that brings out the brand's essence to life. 
This way, a cohesive slide deck can help your audience to retain more information about your brand and in turn increase their "top-of-the-mind recalling ability". 
Take a look at this example slide above, the background color, font style and colors are matched to the Animaker brand.
You can also incorporate brand logos and mascots to increase the flavor and personality of your presentations.
Also, Animaker Deck offers an upload feature of upto 25 Gb of storage capacity for every Pro User. Hence, you can easily upload all your brand videos, images, logos, and essential infographics onto your slide decks.
7. Tweak the font style and color
Worried about your slide decks getting bombarded with too much information? A simple solution would be to utilize the right font styles to highlight only the key facts or information.
The presenter can further explain the key points to the audience. This way, your slide decks won't be overcrowded with text and will give a pleasant feeling to your audience. 
Animaker Deck comes with a load of pre-built font styles that you can easily customize according to your liking. You can choose between the different options available, change the font color, size and even add animation effects to the fonts.
All of the customizations are possible and paves way to produce a captivating end result. 
8. Include creative motif designs
One of the brilliant ways to make your presentation professional, branded, and consistent is by incorporating motif designs throughout the slide decks. Motif designs can be created by combining vector graphics, shapes, or icons. 
Edit this template
You need not be a professional designer or illustrator to achieve this kind of design in your slide decks.
Using Animaker Deck, you can create your own motif design by combining various elements or to save time, you can also make use of the pre-built presentation templates on Animaker Deck.
These templates have numerous cool motif patterns designed by experts. You can use these designs as they are or you can customize them to your liking.
9. Impress with Illustrations
One of the simplest methods to make your presentation more entertaining and interesting is to include illustrations. They not only offer a human touch, but they also make difficult or abstract ideas easier to understand. 
Check out this slide with an illustration.
Worried that you aren't a skilled illustrator? Well, you needn't be! Using Animaker Deck, which offers an in-built library of drag-and-drop illustrations, anyone can now incorporate illustrations into the slide decks!
The Property section of the Animaker Deck app provides access to numerous illustrations to choose from. You can use them to match any scenario or subject of the presentation.
Do not rely solely on text-only, uninteresting presentations anymore.
Use illustrations to express your points interestingly!
10. Play around with transitions
Another simple way to make your presentation more interesting is introducing transitions in-between slides.
Transition effects will entice the audience to be attentive and eagerly anticipate the next slide to a great extent. 
Check out this example from Animaker Deck, where you can add super cool transitions with a single click between each slide.
Ripple, Stripe, Fade, Special are a few of the transition effects. You can add any of these transitions to your slides and make them more engaging for the audience.
11. Incorporate Creative Icons
Presentations can be made more engaging and you can hook the audience throughout your slide decks. This requires elements beyond simple words and images!
Layering objects like creative icons is a smart approach to increase visual interest and attention span of the audience. 
You can also combine several icons together to generate unique visuals and trending designs.
Conveying the right message with the relevant choice of icons makes it easier for the audience to comprehend the information in the most effective way possible. 
Animaker Deck offers a huge library of shapes under the Property section that can be used as a drag-and-drop element in the slide decks.
Also, you can add entry and exit animation effects, change the colors, size, etc; and totally customize these elements to your liking.
12. Highlight Data through Graphs
Presenting information and facts through graphs will provide greater insights on the subject of discussion and also keep the audience engaged throughout the presentation.
The presenter can save a lot of time with the advent of graphs and charts in their presentations. 
Using Animaker Deck, you can create your own custom charts and visualizations. You can change the color, size and transparency of the charts.
Even adding visual effects to the charts can be done with a few simple clicks. This way you need not worry about presenting huge amounts of raw data to the audience anymore.
13. Add Interactive Shapes
Effortlessly turn any mediocre run-of-the-mill presentation into a more entertaining and lively presentation by incorporating interactive elements in your slide decks.
With Animaker Deck, introducing Interactive elements into your slide deck and conveying every message crystal clear to the audience is a cakewalk.
Animaker offers a variety of gradient shapes and shapes with text to choose from. You can easily add them to the slide deck with a simple click.
The below images are a preview of the gradient shapes and shapes with text that are available in the Deck App.
Gradient Shapes
Shapes with Text
You can use a combination of gradient and plain shapes to convey the message to your audience in the most appealing way. It also helps us to be concise and get the information to the point. 
For instance, in the below slide, check how an important announcement on employee recognition is conveyed using gradient and plain shapes in matching pops of color.
It's more appealing than the traditional block of texts and dull-colored slide decks. 
Apart from Shapes, we have Speech bubbles as another important interactive element.
You can incorporate Speech bubbles with dynamic font templates to help build a two-way interaction between your presenter and the audience. This adds such a boost to your presentation and makes it a memorable experience. 
Speech Bubbles can be used as interactive elements in your presentation to encourage the audience to participate, involve them in the discussion, seek their opinions, and ask questions to keep them engaged throughout the presentation. 
For instance, the above slide showcases an interaction between two colleagues in an office setting with the help of speech bubbles. This way, you can turn any presentation topic into an engaging and interactive one for the audience.
You can search and find the Speech bubble from the Property Section of the Animaker Deck app.
14. Choose the images wisely
Apart from using properties in the slide decks, it is also common to incorporate images to add more meaning to the presentation.
However, it is very crucial to find the relevant images to convey the information to the audience without causing confusion. 
Searching for stock images is one of the most time-consuming tasks in any design project. In general, many designers and agencies rely on stock photography to help them complete projects.
The problem is, most of the time, you have to spend hours searching for the right images that will give your project character, style and expression.
However with Animaker Deck, you get access to a huge library of stock images across various topics that can be added into the slide decks with a simple click action.
And the best part is, you also get 25Gb of storage space to upload and use your own custom images relevant to the topic of the presentation.
15. Add a touch of humor 
You can bring life to your slide decks and keep the audience entertained throughout the duration of the presentation by adding a touch of humor. 
You can accomplish this by introducing memes and GIFs into your slide decks. Relevant, timely touch of humor in between the slides will help you to keep the audience hooked and in a light mood.
Animaker Deck, in partnership with GIPHY, provides access to millions of trending Gifs for every scenario that you can use to make your presentation lively.
Also, there's an upload feature offered in Animaker Deck, via which you can add your own custom GIFs and memes to the slide decks. 
What is the 10-20-30 rule in presentation?
As Apple's Guy Kawasaki once advised, 
Have no more than 10 slides in your presentation

Present no more than 20 minutes

Use a font size of at least 30 points
How to create presentations using templates?
Making a presentation online is now simpler than ever, thanks to Animaker Deck.
With the help of Animaker's online presentation software, you may access over 50+ exciting presentation templates with free stock properties, pictures, transition effects, and animations, in addition to hundreds of brandable templates and customization options. 
In short, these templates have incorporated all the above-mentioned interesting presentation tips/ideas into them, ready and available for you to use and awe your audience!
You can also create your own slide deck from scratch by following all the tips mentioned.
Sounds so great to be true, right?
Give it a shot and see for yourself. Don't wait! Create a free account now with Animaker Deck and crush all your presentations from here on!