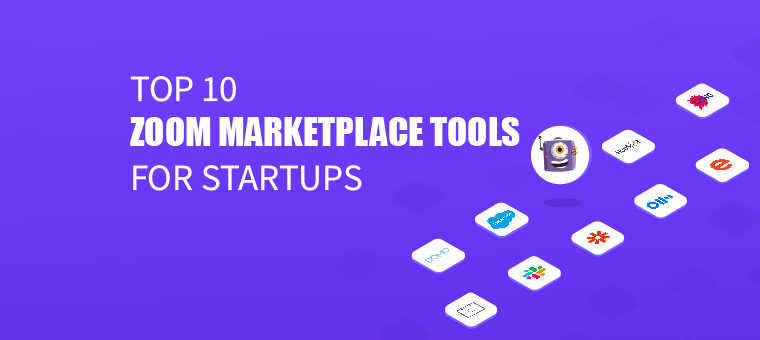 Top 10 Zoom marketplace tools for startups

8

min read
The ZoomBoom
Undeniably, online meetings have become indispensable during this pandemic. Virtual Team collaboration applications are now at the heart of all businesses. They enable business owners to ensure that their workforce remains productive and thrive through video, file sharing, chat, in any environment. Videos keep alluring the masses and classes- globally. Moreover, Video has been there far too long. It's one of the few benefits of this pathetic pandemic. This acceptance has caused Zoom and other video providers to pop and rise their fortune in recent times. Essentially, the market is growing. Remote work may be here to stay!
With the current situation posing challenges to businesses everyday Zoom has gone the extra mile to solve them more effectively with its ease of use.
10 Cool tools to enhance zoom experience:
Zoom shows off new ways to its consumers to take their Zoom experience to the next level through its long list of apps available to download in the Zoom App Marketplace. If you're looking to make Zoom an indispensable part of your day-to-day remote work life, then one or more of these apps will be useful.
Similar to browser extensions, these apps are available to users without having to leave and open them elsewhere. Most of these apps are free. So, you can work from home without missing a beat.
Here are 10 of those cool Zoom apps.
1.
Animaker:
Animaker is an all-in-one drag-and-drop video maker that lets anyone create animations and live-action videos without any video making experience. Now, you can access all your Zoom video recordings right within Animaker! Animaker brings you a super quick way to add your Zoom video recordings directly to Animaker's library. No more downloading and uploading! 
Once you've imported the video recordings, they're readily available for you to edit and enhance for various use cases.
With Animaker, you can trim, crop, rotate, flip, and adjust your video recordings. Also, with just a simple click, you can apply beautiful readymade transitions, character actions and expressions, and eye-popping text animations.
Connect your Zoom account to Animaker in as few as two clicks!
With Animaker's Zoom app, you can:
Search and import just the right video recordings from your Zoom account.

Seamlessly manage and organize your video recordings.

Easily switch between and import from different Zoom accounts.
2.
Salesforce:
The Zoom app for Salesforce is filled with features that make meeting with teammates, clients, and leads only a few clicks away. Some of those great features include automatic logging of Zoom activity in a user's Salesforce history, integration with Zoom Phone, meeting recording that stores in Salesforce, automatic campaign creation, and more.
Close business faster with Salesforce by seamlessly meeting with your customers and efficiently managing your sales calls.
Supercharge your productivity by leveraging Zoom Meetings and Zoom Phone from your Salesforce environment.
With a few clicks, you can seamlessly start a Zoom Meeting with your contacts and record your conversation in your Salesforce activity history. Schedule or start a Zoom Webinar, add leads and contacts as registrants, and track participation as a part of that contact's details.
Additionally, use the Zoom Phone dialer to easily manage your inbound and outbound sales calls, automatically log call activity, and pop contacts directly from the Salesforce interface into Zoom Phone.
Automatically create Salesforce campaigns when Zoom Webinars are created.

Automate syncing Zoom Webinar attendee information and webinar participation to contacts.

Approve, deny, and cancel webinar registrations natively through Salesforce.
3.
Gong.io:
Gong's Revenue Intelligence Platform captures your customer interactions, understands these interactions, and delivers insights.
Gong for Zoom Phone enables you to leverage Gong's Revenue Intelligence platform with your Zoom cloud phone system. Any meeting scheduled within G Suite or Office 365 is captured by Gong to provide you better visibility and insights into how deals are progressing to enable you to improve your sales performance.
Gong helps your team collaborate, provide feedback, and work together as a lean mean selling machine. Gong uses your team stats and industry benchmarks coupled with AI and shows you what works.
4.
Hubspot:
You can integrate with HubSpot meetings to build stronger relationships with your prospects and leads.You can automatically send dial-in and conference call details to your HubSpot prospects and turn every meeting booked in your HubSpot CRM into a Zoom meeting.
When someone registers for a Zoom webinar, they're created as a contact in HubSpot.
You can also promote your Zoom webinars with HubSpot workflows to send them automated event reminders, follow-up emails, and more.
Track Zoom webinar attendance and Recordings in HubSpot CRM.
Create lists and views in the HubSpot CRM based on Zoom webinar activities. Use contact properties to see when contacts register and attend webinars and how long they typically stay. View zoom recordings directly on the contact timeline.
5.
Domo:
Domo is the Business Cloud, empowering organizations of all sizes with BI leverage at cloud scale, in record time. With Domo, BI-critical processes that took weeks, months or more can now be done on-the-fly, in minutes, at unbelievable scale. 
Domo's Zoom App enables organizations to understand productivity, collaboration and service utilization to better enable organizations to maximize their investment in Zoom. Through the Domo platform, users can get detailed insights through intuitive dashboards and visualizations to understand in real-time their company's current Zoom activity. Instantly see how many meetings are taking place, how long meetings are lasting and how many people are participating. Find detailed metrics to understand productivity and collaboration patterns, understand service usage and from an IT perspective support the organization's use of Zoom with deep insights. 
6.
Google Calendar or Calendly:
Zoom also has a Google Calendar app that adds the option to schedule, start, and join Zoom meetings right from Google Calendar. Zoom can be added to a Google Calendar event by choosing it as the conferencing option, so there's no need to open the Zoom app in order to meet remotely with Zoom.
With Calendly you can automatically schedule meetings for you and include unique Zoom video conference details for each team member and thereby, shave off your team' s time.
Connect Calendly + Zoom to automatically add video conferencing details to your calendar events and meeting reminders so everyone is prepared and on time.
Automatically generate unique Zoom conference details for every meeting you schedule.

Eliminate the need to manually enter or remember conferencing details for all your meetings.

Update meeting details in real time when rescheduling or canceling.
7.
Slack:
Zoom integrates with Slack in a similar way to Gmail and helps to streamline your workflow and communications . It lets Slack users schedule, start, record, join, and do many of the functions of the Zoom app from right inside Slack.
Start or join Zoom Meetings with one click

See real-time how long the Zoom Meeting has been running

Keep an eye on who joins or leaves your Zoom Meeting

See the duration and participant summary for your Zoom Meeting after it ends

Share Zoom Meeting recordings from any Slack channel or group direct message

Make a Zoom Phone call from any Slack channel or group direct message
The Zoom integration for Slack can be installed individually by the Slack user with a Zoom account or be deployed by the Zoom account admin to the whole organization with a few simple steps.
8.
Zapier:
Online automation tool Zapier can integrate with Zoom in countless ways. It can automate tasks like sending invitations when creating a meeting, automatic webinar registration upon customer payment, and more. Zapier said it has over 1,500 app integrations that can connect to Zoom through its platform, so it could be worth a try if you need to find ways to save time.
9.
Otter.ai:
Otter.ai integrates with Zoom to provide interactive transcripts in real time and post meetings. Participants can view, highlight, comment, and add photos to create shared meeting notes collaboratively.
At a time when most meetings, events, and classes have gone virtual, remote workers and students struggle to listen and pay attention while taking notes. Businesses and schools need help capturing information accurately and making it accessible instantly.
This integration includes two capabilities:
Live Notes: All meeting participants can open the Otter.ai Live Transcript in the LIVE menu at the top of the Zoom window. Log into Otter.ai to highlight, comment, and add photos to the live meeting notes. Available to Otter for Teams subscribers only.

Post-Meeting Transcription: Otter.ai will automatically download Zoom cloud recordings for transcription. Available to all Otter.ai users.
To set up, please follow the instructions at https://blog.otter.ai/zoom
10.
Eventbrite:
Sell registrations to your Meetings and Webinars and automatically sync participants with the Eventbrite integration
Monetize your Meetings and Webinars by selling tickets and accepting donations with the Eventbrite app. Easily create an Eventbrite event that pulls in details from your Zoom Meeting/Webinar and syncs registrant information from Eventbrite back into Zoom.
Learn more about your registrants

Sync attendee information with your Zoom account

Customize your event

Use the Online Events Page to create a custom experience for your attendees

Customize when attendees can access links and assets

Monetize your content

Create multiple ticket types and offer different price points for a single event

Collect donations  

Simplify the attendee experience

Easily set a limit for the number of registrants allowed

Attendees automatically receive unique links to access your Zoom Meeting/Webinar

Automated emails are sent to attendees 2 days, 2 hours, and 10 minutes before your event

Communicate with registrants before and after your events
Thus, demonstrating just how imperative these apps are to today's business workflows.  Incredibly, these cool apps are a great boon to the modern workforce.
Comment to let us know how you leveraged one or more of these apps in your day-to-day work life.